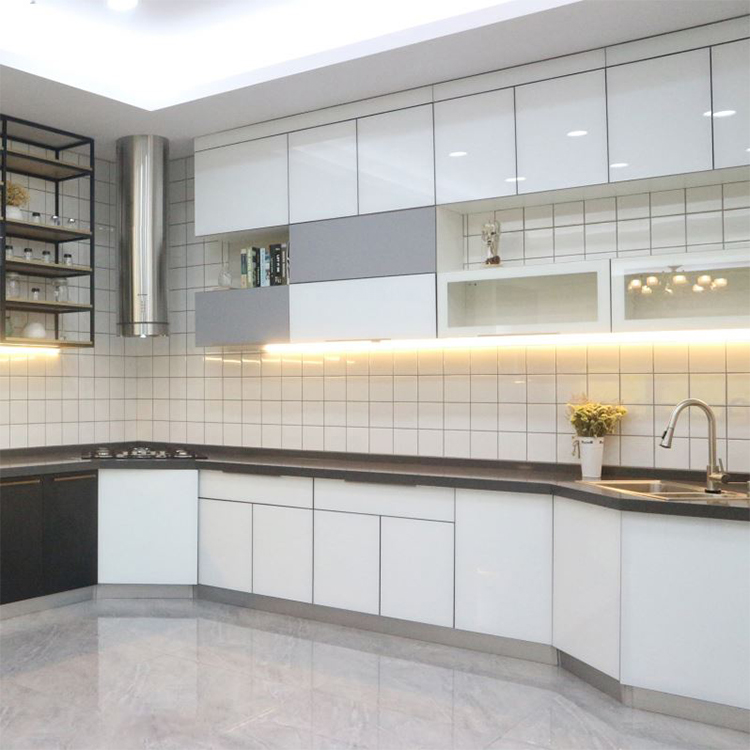 Aluminum Kitchen Cabinet
Hanseceramictile.com is one of the China's top online wholesale aluminum kitchen cabinet vendors, suppliers and exporters, manufacturing high quality kitchen cabinet at affordable aluminum kitchen cabinet prices.
There are 10 Aluminum Kitchen Cabinet designs in total. The cost of aluminum kitchen cabinet is between 80usd/Meter to 100usd/Meter.
Each Hanse best price hot sale aluminum kitchen cabinet online is of high quality and complies with international quality standards to ensure that we only offer the very best.
In addition, gorgeous aluminum kitchen cabinet are available at Hanseceramictile shop. If you are finding wholesale kitchen cabinet for home indoor & outdoors, you are at the right place! Welcome to buy kitchen cabinet online China from Hanse!
Hanse - the professional Foshan China aluminum kitchen cabinet manufacturer & supplier will continuously work on improving the designs of saunas to ensure that you get the best import home kitchen cabinet products for your project!
Buy cheap aluminum kitchen cabinet for sale at Hanse to make your body in a relaxed state, relieve tension and reduce stress!
Samples can be sent on the premise of the user's shipping fee, and the manufacturing cycle is generally 30 days.
Hot Products
What Is Aluminum Kitchen Cabinet?
Aluminum kitchen cabinets were first introduced to the Malaysian market in 2008. It is considered a breakthrough in the kitchen cabinet world because aluminum is superior to wood-derived cabinets. As the name implies, aluminum kitchen cabinets are made entirely of aluminum and do not involve the use of any wood-derived materials. An all-aluminum kitchen cabinet, not limited to the door or front panel. You'll find various cabinet components, such as backplates, cabinets, drawers, and shelves, made of aluminum. For all the benefits of aluminum, the growing demand for aluminum kitchen cabinets makes these cabinets the first choice for kitchen cabinets.
Aluminum Kitchen Cabinets For Sale Online
Hanse is a company specializing in R & D, production and sales of various kitchen supplies, kitchen lights, kitchen tiles and kitchen cabinets. We are committed to helping consumers create a high-quality smart kitchen cultural life, and win customer recognition for cost-effective products and services. Steady development and great market achievements have been achieved.
As a leading company in the industry, we are deeply committed to delivering the finest range of aluminum kitchen cabinets available in all styles and full colors. The product is absolutely durable, safe, hygienic, termite-free, waterproof and dust-proof, and aluminum kitchen cabinets also come with smooth finishes that are hardly found in other types of kitchen cabinets. Buy aluminum cabinets from Hanse and upgrade your kitchen interior!
Advantages Of Aluminum Kitchen Cabinets
-Durable, Fire Resistant, Pests Resistant and Anti-rust, Among materials most commonly used for kitchen cabinet include wood, particleboard, MDF and HDF, Aluminum is the best.
-Lasting Performance and Waterproof.
-Chemical Resistant and Hygienic.
-Ease of Cleaning and Maintenance.
-Perfect for Different Climate.
-10 Customizable Designs and Colors.
See All Aluminum Kitchen Cabinet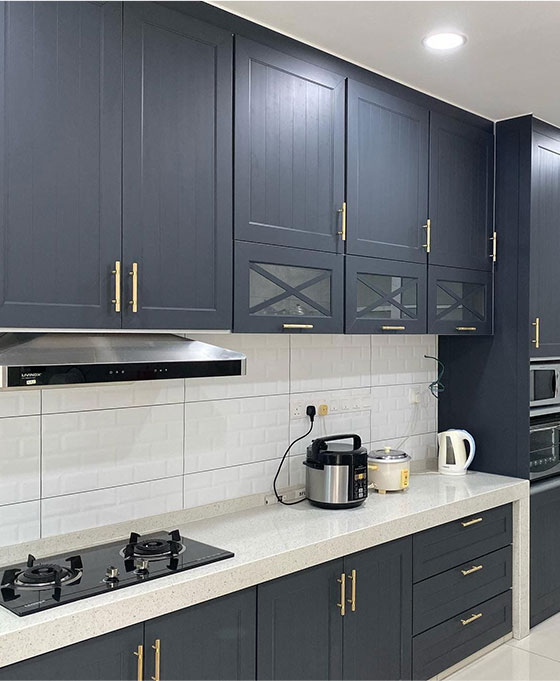 Disadvantages Of Aluminum Kitchen Cabinets
1.Clanging Noise
When closing a cabinet door or drawer, aluminum kitchen cabinets may produce noise from the jingles of metal. But don't worry! This problem can be solved easily at Hanse. Hans uses high-quality soft hinges imported from Germany, and with clever installation, all cabinet doors and drawers can be closed quietly and smoothly.
2. Soft Metal
Since aluminum is light and soft, it may be prone to indentation. To overcome this natural weakness of aluminum, Hanse proposed a solution using thicker aluminum plates with specially designed backing structures. This combination allows Hanse to produce thousands of solid, load-bearing and durable aluminum kitchen cabinets that stand the test of time.
3. Design Limitations
Most found the metal appearance of aluminum kitchen cabinets limited to modern and modern designs. Hanse makes the breakthrough in aluminum kitchen cabinet design by offering some of the latest styles, including traditional classic wood grain, elegant mirror glass, and stylish crystal white design.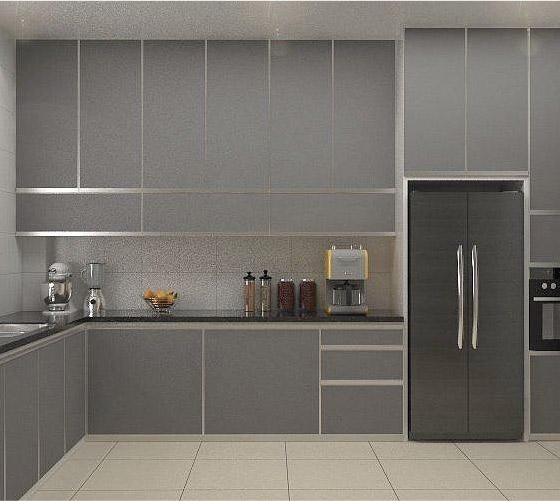 Why Buying Aluminum Kitchen Cabinets Online Hanse
If you are working on a home improvement or kitchen interior design, you may be confused whether to choose a wooden or aluminum cabinet. It is questionable that the kitchen needs not only functional flawlessness, but also visual masterpieces. Wood and aluminum are the choice for kitchen cabinets, but recent trends have left wood lagging behind because of its myriad flaws, and aluminum has won by its great advantage. Hans is one of the leading manufacturers of aluminum kitchen cabinets in China, because Hanse is more concerned with quality than quantity. We have gained trust of many good customer feedback and keep excellent track records in terms of quality and workmanship.
Hanse aluminum kitchen cabinets are made of high strength, premium aluminum. It is durable to withstand against long term pressure and impact from daily activities. Unlike normal aluminum cabinets, Hanse's cabinet is made up of multiple aluminum plates. This particular structure provides the cabinet with stronger support and more durable than normal aluminum cabinets. Beyond that, Hanse aluminum kitchen cabinets have an unparalleled appeal. If you want to blend styles, we provide you with the aluminum kitchen cabinets you need. You'll find out what you're looking for in the best aluminum kitchen cabinet shops.