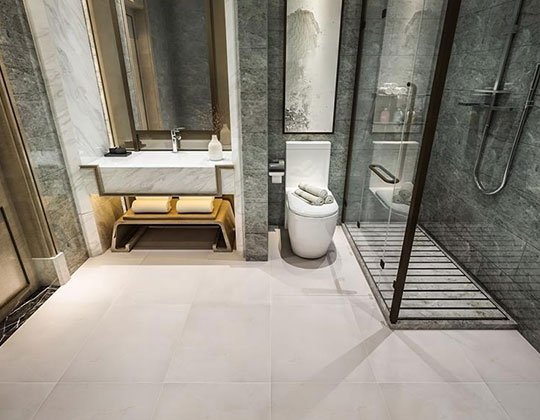 Hanseceramictile.com is one of the most reliable wholesale bathroom floor tiles vendors in Foshan China, manufacturing high quality tiles at low bathroom floor tiles prices.
Bathroom Floor Tiles designs contain

14 colors

,

7 finishes

,

8 features

and

15 sizes

,

173 bathroom floor tiles

in total.
All the hot selling cheap bathroom floor tiles products are of strict quality and produced by standardization of the management.
Buy cheap Hanse bathroom floor tiles for sale to add a touch of taste and personality to your house now!
In addition, gorgeous bathroom tiles and floor tiles are available at Hanseceramictile shop. If you are looking for wholesale bathroom tiles or wholesale floor tiles designs, you are at the right place!
Hanse - the professional Foshan China bathroom tile manufacturer & supplier will continuously wok on improving the designs of our bathroom tiles to ensure that you get the best import bathroom tile products for your project!
Hot Products
Related Search
Looking for the best bathroom tile flooring supplier & manufacturer which could offer wholesale tiles of high quality? You are at the right place! Here at Hanseceramictile shop, we provide a wide range of non slip bathroom floor tiles at best price, an array of colors, sizes, shapes, finishes and styles are available for you to choose, creating your dream bathroom!
Bathroom Floor Tiles - Why Install Floor Tiles For Bathroom
Bathroom is the place to have a deep relaxation time whether it is big or small, colorful or plain, it will give you some peaceful moments. Many consumers hope to have a spacious and relaxing bathroom space to wash for a day's fatigue. The main decoration of the bathroom is ceramic tile. No matter the wall or the floor, the smooth ceramic tile is often used for decoration. Therefore, in order to create a good bathroom, we must choose high-quality tile flooring products. There should be careful, thoughtful and well-considered details when selecting the flooring tiles. What we need to pay attention to in bathroom tile flooring is the water-proof ability. So, the reason we install floor tiles for bathroom is to prevent water and anti-skid.
See All Bathroom Floor Tiles Products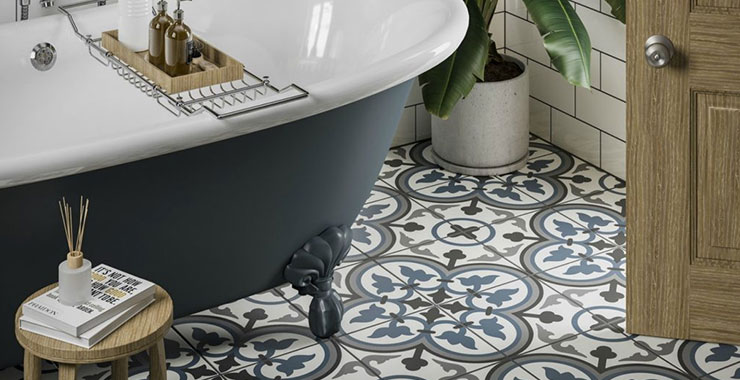 Our Range Of Sizes, Patterns And Colors
Deciding on a colour scheme for your bathroom can be a daunting task, but you'll be surprised when you browse our selection of bathroom tiles floorings. From classic bathroom colour combos like white with pale blue and cream with terracotta, to less obvious shades such as black, dark red, deep brown and light grey, you'll have a wide variety of colour options. Our range also includes all kinds of ceramic, encaustic-effect tiles in rich, exotic patterns such as mosaic tile, stone look, subway & metro, marble look, wood effect tiles, etc. Our the specifications of our bathroom flooring tiles design are available from 300×300mm, 600×600mm to 120×2400mm. No matter what bathroom floor tiles ideas you have in your mind, traditional or contemporary, modern or retro, our tile designs in patterns can meet your needs.
Bathroom Floor Tiles In Your Choice Of Material - What Is The Best Type Of Tile For Bathroom Floor
Homogeneous/full body:
The full body tile is made by pressing the rock debris under high pressure, and its surface is not glazed with the same color on both sides. The surface of the full body tile is rough, so the anti-skid performance is better, which is perfect for bathroom floor. At present, most of the anti-skid tiles on the market belong to the full body tile.
Mosaic tiles:
Mosaic floor tile is generally composed of dozens of small tiles to form a relatively large tile, because there is a gap between the smaller tiles, so as to enhance its skid resistance. We rarely see mosaic tiles installed in bathroom flooring, but it's still perfect for bathroom so as to prevent falling down.
Glazed tiles:
Glazed tile refers to the tile whose surface has been treated by firing glaze. The surface is glazed, with strong anti pollution ability. Although the anti-skid property is not as good as that of the full body tile, it is better than that of polished tile and vitrified tile, can be installed for bathroom floor.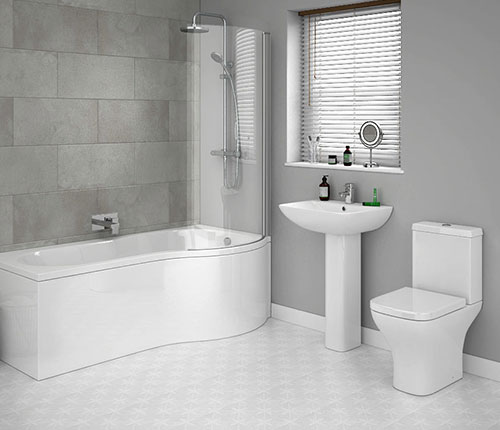 Our products
Good quality with favorable price.

For bathrooms floor tiles, it need the lowest water soaking rate to make sure the tiles do not set in too much stains and also it will keep the bathroom dry and clean. With technology upgraded, our factory made the floor tiles to satisfy such needs. Quality is always the chief priority in our manufacturing process. However we have the best price in the market to be more competitive.

Stylish.

We have a full bathroom floor tiles ideas for customers to purchase. Like black and white tiles, the classic look that never goes out of style which can be arranged with different patterns and sizes. Subway tile, the simple and durable one which has full sizes and colors in our store. It can be laid horizontally, vertically to suit your bathroom's decorative style. Those are just two examples. Our designers always take research on the bathroom floor tiles trend in order to ensure our products being unique and advanced.

Easy to clean.

As we applied the newest glazing technology in tiles making, the tiles which produced by us will not absorb much stains and they can be wiped easily with water. It can obviously save you some time on cleaning and give you a clean and tidy bathroom.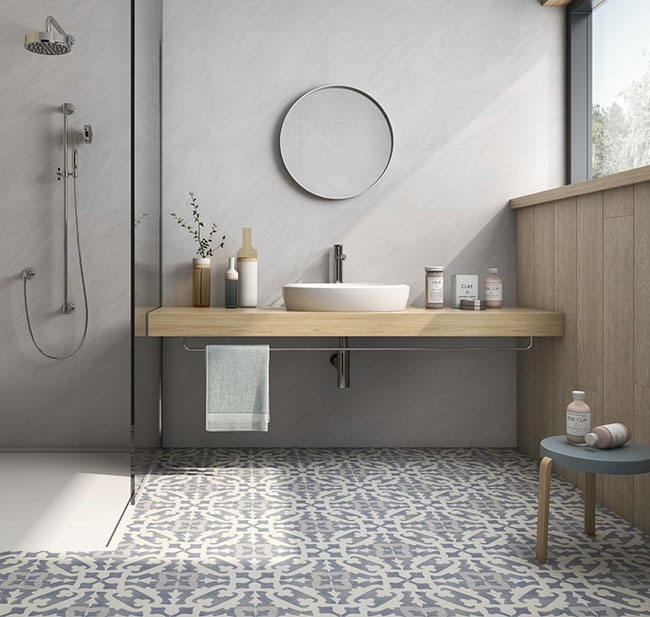 Other Bathroom Tiles
Other Floor Tiles