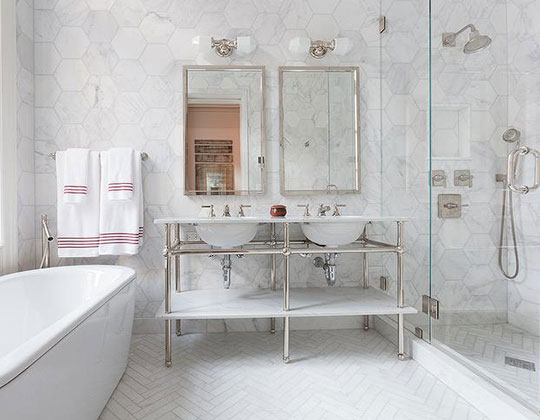 Hanseceramictile.com is one of the most reliable online wholesale hexagon wall tiles vendors in Foshan China, manufacturing high quality tiles at low hexagon wall tile prices.
Hexagon Wall Tile designs contain

10 colors

,

1 finishes

,

4 features

and

1 sizes

,

9 hexagon wall tiles

in total.
All the hot selling cheap hexagon wall tile products online are of strict quality and produced by standardization of the management.
Buy cheap Hanse hexagon wall tiles for sale to add a touch of taste and personality to your house now!
In addition, gorgeous hexagon tiles and wall tiles are available at Hanseceramictile shop. If you are looking for hexagon tiles or wholesale wall tiles designs, you are at the right place! Welcome to buy floor tiles online from China Hanse!
Hanse - the professional Foshan China hexagon tile manufacturer & supplier will continuously wok on improving the designs of our hexagon tiles to ensure that you get the best import hexagon tile products for your project!
Related Search
Hexagon Wall Tiles - Great For Unique Wall Design
Hexagon Wall Tiles or polygon wall tiles are a good original choice to change the monotonous design of a wall floor. Hexagonal wall tiles give the walls a personality and are universal in almost any space, and can be used in any style you might think of, no matter how bold or subtle. The Hexagon wall tiles create a luxurious feel in the large and small rooms, which complement the rustic and modern furnishings. Nowadays Hexagon Wall Tiles is used both in the living area and in commercial objects and is available in various designs.
See All Hexagon Wall Tile Products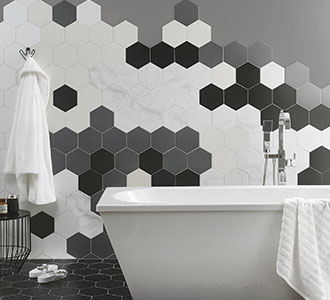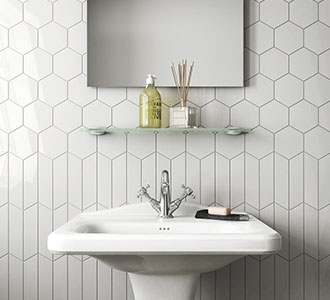 Buy Quality Hexagon Wall Tiles For Bathroom, Living Room, Bedroom, Kitchen
Our hexagonal wall tiles series is absolutely gorgeous and versatile, so if you like this look, don't worry! Hanse Hexagon wall tiles are characterized by high resistance, delicate design and easy cleaning. With their smooth, rough texture, volume or aged appearance and colorful designs, allow you to create an infinity of original, bright, fashion, modern rooms. The six-edged shape wall tiles offers a variety of options for refurbishers and builders as they come in a variety of colors, finishes, materials and sizes. Our Hexagon wall tiles are predominantly made of sturdy porcelain stoneware which ensures a long service life.
Benefits of Hanse Hexagonal Wall Tiles
Hexagon Wall Tiles are available in various materials, colors, sizes, textures, patterns, styles, etc. Rich styles can meet any project needs of customers. We are a professional ceramic tile manufacturer and can provide customers with professional customization and OEM services.

Application: Living Room, Bathroom, Kitchen, Restaurant, Office, Entryways, Indoor and Outdoor Spaces
Materials: Porcelain tile, Ceramic tile, wooden tile, natural stone tiles, and more
Color: Gray, White, Beige, Black, Blue, Brown, Golden, Yellow, Green and more
Finish: Polished, High Gloss, Matte, Textured, Mirrored and more
Size: 175x200mm, 250x290mm, etc.

Carefully selected raw materials, excellence in technology, each Hanse hexagon wall tile has undergone strict quality inspection before leaving the factory, all ensure great quality, durable, versatility and long lasting time
Dirty resistance, easy cleaning and maintenance are the characteristics that every of our hexagonal wall tiles should have. Versatility ensures easy installation of the hexagon wall tiles, without spending too much time on design, you can use few simple hexagonal tiles to lay out a bright pattern on wall.
We provide factory direct selling prices below the market average price. You do not need to pay any extra fees to any middlemen, so that customers get the most profitable prices, save costs and get value!
Whether it is a small batch of trial orders or stock orders, or a large number of customized production, we can ensure timely delivery and always provide you with a thoughtful one-stop service.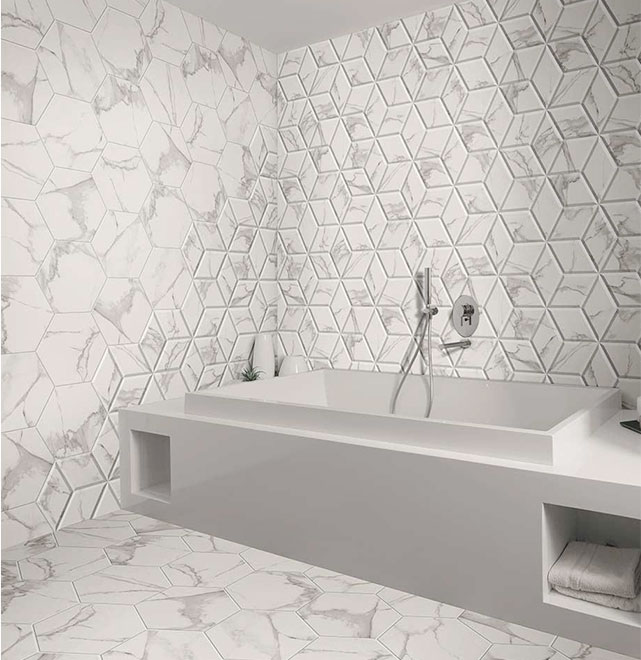 How To Install Hexagon Wall Tiles To Create Unique Style?
The single hexagonal tile creates good decor effect on wall, such as the decoration of the entrance wall of the home, which is simple and elegant without losing the personalized display. Hexagonal tiles are the same as ordinary tiles, and there are different textures on the surface to choose from. The way of laying and requirements should be completed according to ordinary tiles.
Monochrome wall paving, it is recommended to match with other tiles, do not cover all four walls. Floor tiles can be selected from cement, wood look and stone grain effects.
The decorative effect of the two-color hexagonal tiles wall is perfect after partial embellishment. The wall is mainly painted with latex paint. The area of using hexagonal tiles can be large or small, which enhances the overall decorative effect of the space and the level of art.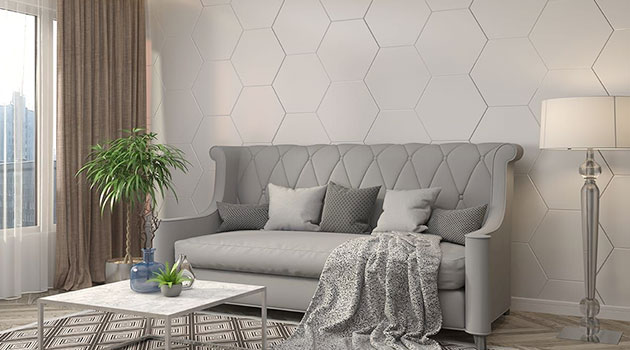 The multi-color hexagonal tile laying presents a wonderful effect like art. If you don't know how to match hexagonal tiles, you can't make mistakes in black and white and gray. Whether it is a regular combination or a random combination, you can create a memorable wall surface.
The bathroom is also very suitable for using hexagonal tiles, and bathrooms with more colorful wall tiles look more refreshing. The wall and floor of the bathroom can be decorated with hexagonal tiles to create a visually extended effect, making the entire bathroom more lively and full of vitality.
Smaller-size hexagonal tiles are mostly used for balcony and other spaces. Although the decoration effect is a bit dull, there is still no lack of taste and texture.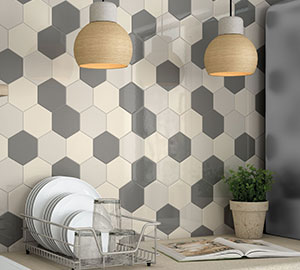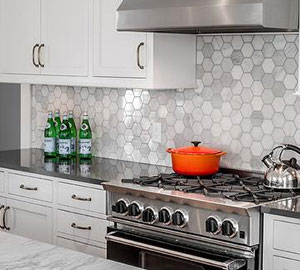 How To Choose Right Hexagon Wall Tiles For Your Room?
Whether you choose ceramic or marble hexagon wall tiles, the basic principles for installing them are the same regardless of size and shape. However, for larger flat areas, large-sized tiles can be easier to lay and produce a good smooth appearance; smaller tiles and mosaics have greater flexibility and are great for uneven or curved areas, but they still Can achieve smoothness.
With regard to color and finish, many decisions depend on personal preference, but you may also need to consider the size of the room and natural lighting. For example, choosing lighter tones and bright finishes in smaller areas will brighten the room and make the room feel larger. Similarly, bold colors and matte textures can make a larger space more distinctive.
When selecting hexagon wall tiles, you should also consider the applicable environment. For example, in wet areas such as bathrooms, you should choose hexagon wall tiles with low water absorption and waterproof; while the kitchen is a place with a lot of stains, usually glazed tiles are ideal choice with strong anti-fouling ability; in the living room, the bedroom can choose more decorative hexagon wall tiles.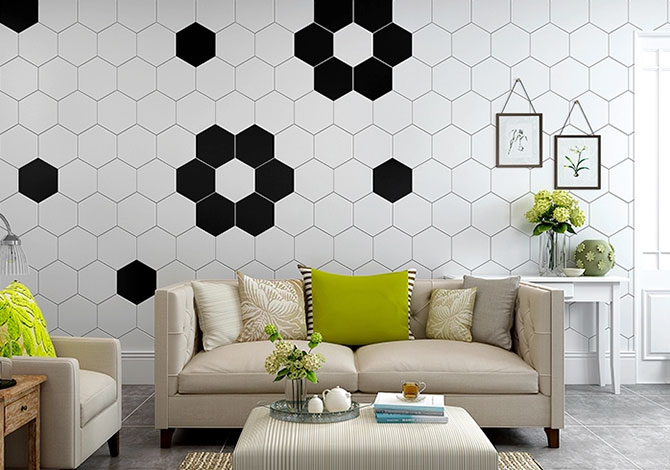 How To Clean Hexagon Wall Tiles?
For Hexagon Bathroom Wall Tiles
Regular universal cleaners or glass cleaners help prevent daily dirt on tiles: just pour a small amount of splashes into warm water and then use a cloth to clean the tiles. When finished, wipe with a microfiber cloth. In addition, formulations such as rinse aids or shampoos can also resist daily soiling on tiles.
For Hexagon Kitchen Wall Tiles
When cooking, the back of the kitchen is always stained or greasy. It is best to use detergent and warm water to solve this problem. Soap helps resist particularly stubborn dirt. Soak the stain, then wipe it off with a rag.
For Hexagon Wall Tiles In Living Room & Bedroom
Because the wall tiles in these rooms are usually not contaminated by excessive dust, water and stains, regular cleaning and maintenance are required on a regular basis.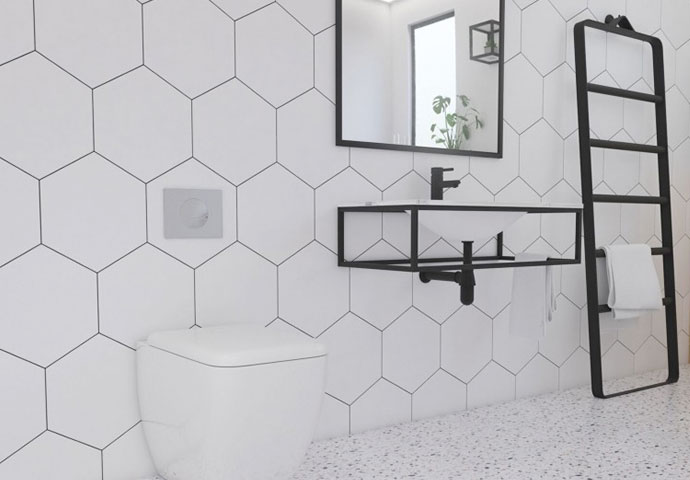 Other Wall Tiles
Hot Products