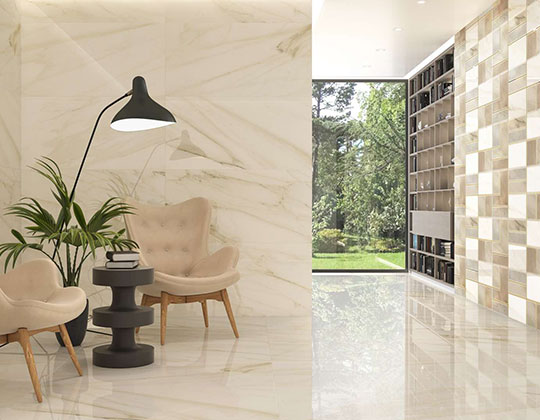 Hanseceramictile.com is one of the most reliable online wholesale gold tiles vendors in Foshan China, manufacturing high quality tiles at low gold tile prices.
Gold Tile designs contain

8 colors

,

3 finishes

,

3 features

and

5 sizes

,

8 gold tiles

in total.
All the hot selling cheap gold tile products online are of strict quality and produced by standardization of the management.
Buy cheap Hanse gold tiles for sale to add a touch of taste and personality to your house now!
In addition, gorgeous mosaic kitchen tiles online, mosaic wall tile, ceramic floor tile, ceramic wall tile, wood floor tile are available at Hanseceramictile shop. If you are looking for tiles designs, you are at the right place! Welcome to buy floor tiles online from China Hanse!
Hanse - the professional Foshan China tile manufacturer & supplier will continuously wok on improving the designs of our tiles to ensure that you get the best import tile products for your project!
Related Tiles
Related Search
Buy China Best Tiles With Wholesale Golden Tiles Price
Looking for luxurious bathroom, bedroom, kitchen tiles that don't cost the earth? You are at the right place! A large selection of golden tiles design available from Hanse Tile including gold marble tiles, gold ceramic tiles, gold porcelain tiles, gold glass tiles with different sizes, styles and finishes. Choose Hanse golden tiles to welcome guests to your home with a warm, gorgeous, golden entryway!
See All Gold Tiles Products
Why Choose Gold Color Tiles For Floor & Wall
Gold is a color that many people like very much now, which is noble, brilliant, it is the color of the sun, representing warmth and happiness. More and more people will choose it in the choice of ceramic/porcelain tiles, the gold tiles are not on only used on the floor, but also can be pasted on walls to decorate walls. Any room can benefit from a stunning golden feature wall & floor. You can make your fireplace the focal point of your living room, enhance your kitchen with a beautiful gold tile backsplash, create a unique house with shiny appearance.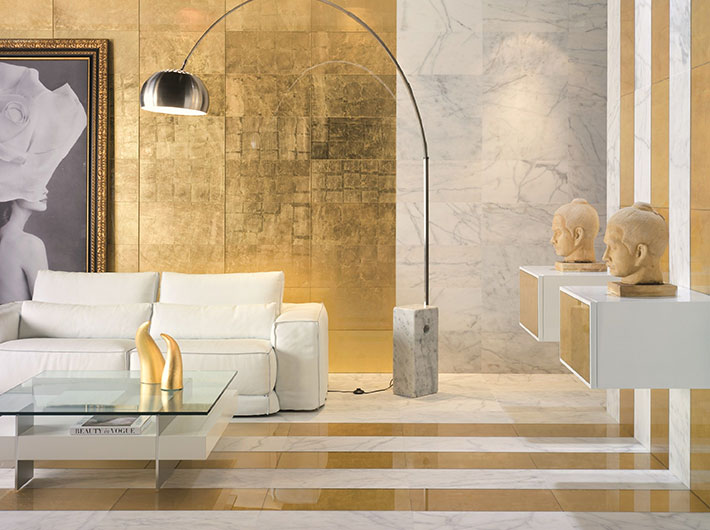 Gold Tiles Design Ideas
Gold mosaic tiles for bedroom
Add some romance to your bedroom with small gold tile backsplash acting as a headboard. The decoration style should be European style. With mosaic texture, which greatly increases the three-dimensional sense of the bedroom space. Put two digital oil paintings you like on it, which will surely meet your pursuit of taste. Each grain of elements can perfectly combine the natural impression and Mediterranean style. It is a peaceful and warm life in the family.
Gold Tiles For Hotel
Gold has always been a symbol of wealth and dignity. Gold tiles can be used to paste on the lobby of the hotel, which is magnificent. If consumers come in, they will be overwhelmed by the noble temperament there, and will feel that they are in line with their own identity and taste, and won the praise of consumers.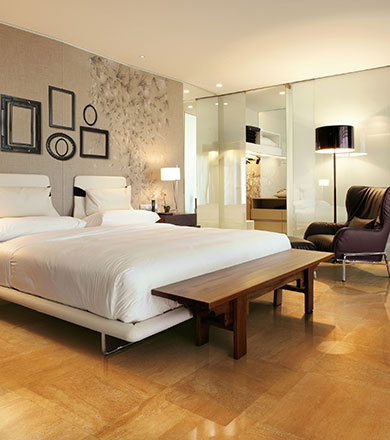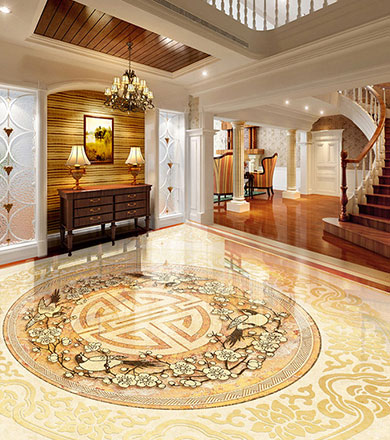 Black and gold floor tiles KTV
The gold color tile reflects the shining light, which gives people a sunny luster and metal texture from inside to outside. A dark lamp should be installed under the gold tile, so as to better set off the gold color. Match with dark brown color or black can create romantic atmosphere. However, this kind of light is usually set in some high-end KTV, so as to improve the quality of life and will attract more consumers to consume again.
Gold backsplash tile for bathroom
Gold is also the color of the sun, giving people a sense of steadfast and warm. Choose golden tile for bathroom wall, not only is it shining with golden light, it is also a warm color, but it is more bright. When you look in the mirror, you can observe yourself very well, whether it is on the face, massage or making a mask, it is very nice to enjoy the fun. And it breaks through the monotonous feeling of the original bathroom, so that it is full of confidence and vitality, highlighting its own personality. Now unwind in a decadent, luxurious spa-like gold tile bathroom!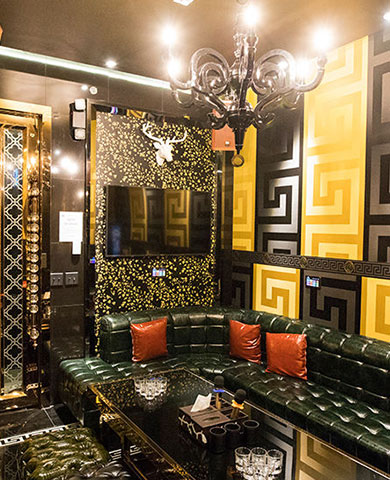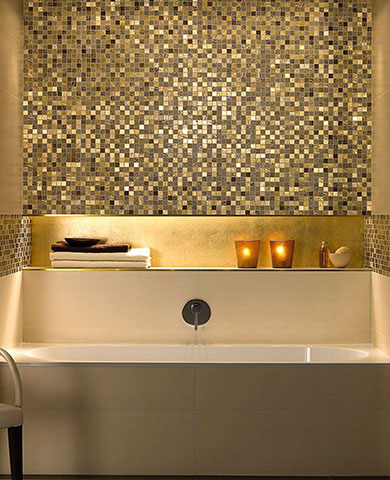 Gold Tiles Maintenance - How To Take Care Of Golden Tiles Floor & Wall
Gold tiles for floor/wall can be washed with detergent or soap when they are usually planned.
When cleaning gold tiles, you can use soapy water and some ammonia water to make them more shiny.
Golden color tiles should be waxed regularly, preferably every few months.
If the gold floor tile or wall tile has scratches, it can be repaired with toothpaste.
If there is ink, it can be dissolved with hydrochloric acid, and the effect is very good.
Why Choose Gold Tiles Hanse
At Hanseceramictile shop, we understand that the right tile has the power to make any internal and external design project a stunning success. That's why we have a wide range of best floor/wall tiles gold cheap in different sizes, shapes, materials, finishes and patterns for you to select. With so many variations, you're guaranteed to find the perfect product for your interior and exterior tile project. We promise that you enjoy the most affordable gold tiles price. Each Hanse best gold color tiles for sale complies with international quality standards to ensure that we only offer the very best. Now, decorate the room with Hanse golden floor tiles or wall tiles, bringing the glamour of radiant light.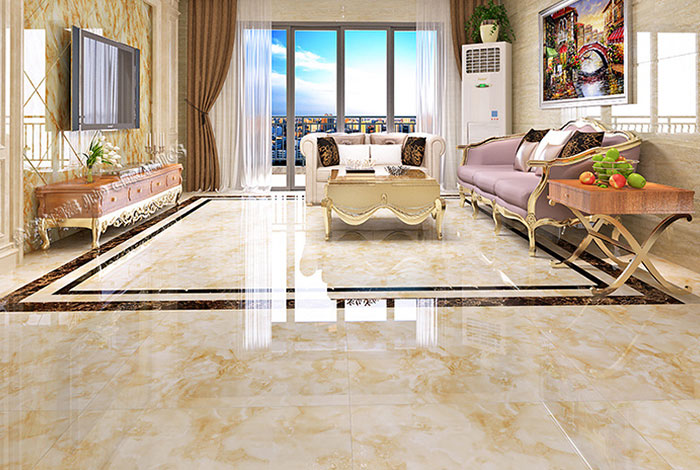 Get Our Gold Tiles Prices List - How Much Does Gold Tiles Cost
The cost of gold tile material for indoor & outdoor depends on a few factors. These include: gold tile, style, color, size, sales tax, shipping, delivery fees and where you buy it from. If you are looking to buy gold tiles, there are a couple of the most well-known manufacturers of gold tile products in the market.
And one of the largest independent online ceramic & porcelain gold tile distributors in China - Hanseceramictile offers the best quality wholesale gold tiles for bathroom, kitchen, living room, bedroom and outdoors. The price for gold tile on sale Hanse is the most affordable compared with other ceramic & porcelain gold tile manufacturers & suppliers in China, range from 0.40 USD to 9.00 USD. So, whether you want to give your home a fresh new look or you want a durable flooring option for your new home or office, Hanse's cheap price gold tiles for sale online will be your ideal choice. You can buy gold tile online here with best service, fast delivery and safety guarantee. Get our cheap gold tiles prices list and buy gold tiles China now!
Hot Products