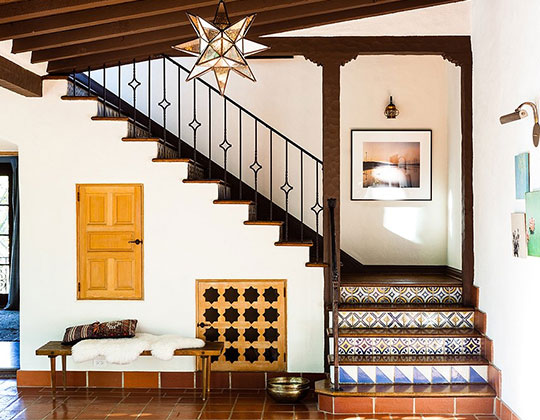 Hanseceramictile.com is one of the most reliable online wholesale stair tiles vendors in Foshan China, manufacturing high quality tiles at low stair tile prices.
Stair Tile designs contain

6 colors

,

3 finishes

,

3 features

and

4 sizes

,

11 stair tiles

in total.
All the hot selling cheap stair tile products online are of strict quality and produced by standardization of the management.
Buy cheap Hanse stair tiles for sale to add a touch of taste and personality to your house now!
In addition, gorgeous are available at Hanseceramictile shop. If you are looking for wholesale stair tiles designs, you are at the right place! Welcome to buy floor tiles online from China Hanse!
Hanse - the professional Foshan China stair tile manufacturer & supplier will continuously wok on improving the designs of our stair tiles to ensure that you get the best import stair tile products for your project!
Related Tiles
Related Search
Stair & Step Tiles
Stair & step decoration for the home renovation is a link that can not be ignored. In duplex, villa, attic, and other home spaces or outdoors, stairs become the link between the upper and lower floors, not only practical but also has a certain decorative effect. The well-designed staircase makes the space natural and elegant. Different stairs bring different aesthetic feelings, or rotation, or straightness, making people keep their eyes on. If you often see such an artistic stair in your life, it will also be interesting to climb the stairs.
Stair Tiles Design Ideas - How To Decorate Your House With Step Tiles Floor
Romantic Mediterranean: Blue and white are the most classic collocations of Mediterranean style, pure white walls, sky blue stairs, and hand-painted Lavender flakes between the steps, just like walking along the coastline of the Mediterranean area. A good design must have a soul. The soul characteristics of Mediterranean style can be described as: "romantic feelings in blue, pure beauty and natural beauty with the same color of sea and sky and bright sunshine".
Chic industrial style:
Choose white stair wall tiles with black stair floor tiles, simple and clean. Create a stair cabinet under the stairs to store wine and expand the storage space as much as possible.
Simple European style staircase tiles:
Simple white hardwood railings with warm color wood handrails and stair floor tiles, clean and fresh color, warm and elegant. The corner of the stairs has been transformed into a kitchen, making full use of the space. The space under the stairs has been transformed into a bookcase.
Attractive patterned stair riser tiles:
The use of patterned tiles for stair risers, bold to break the visual sense of boredom, become a unique and beautiful home landscape. When the colorful colors converge on the stairs, it is very eye-catching. When walking, there is a moving movement under your feet. It's amazing!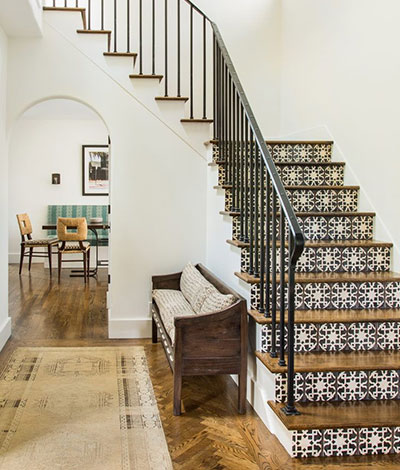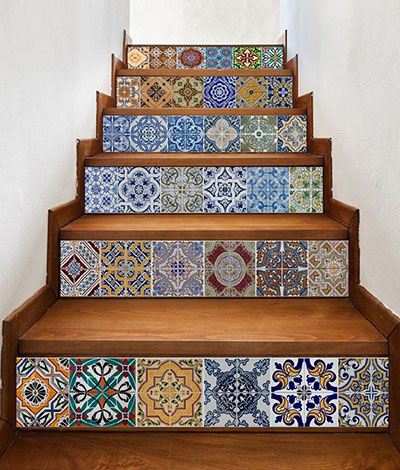 Which Tile Is Best For Stairs & Steps?
There are many tiles on the market. The most common tiles are glazed tiles, polished tiles, vitrified tiles, and mosaic tiles. Among them, the polished tiles, vitrified tiles, and mosaic tiles are suitable for stair tiling.
Polished stair tiles:
Polished tile is made by repeated grinding, its surface is very smooth and flat, with very good wear resistance, very high hardness, suitable for use in most indoor spaces except toilet, kitchen, and indoor environment. On the basis of the use of infiltration technology, polished tile can make a variety of stone-like and wood-like effects. It's unique and eye-catching on the stairs.
Vitrified step tiles:
The vitrified tile can also be laid on the stairs. The vitrified tile is a relatively new kind of ceramic tile at present. Its surface is very smooth and clean, without any air holes. It is made by firing at high temperatures. Its hardness is harder than the polished tile, and its wear resistance is very strong. It is also very beautiful and atmospheric when installed on the stairs or risers. The price is high, but its absolute value is higher than the price.
Mosaic step tiles:
Mosaic tile can also be pasted on the stairs. Mosaic is a very special kind of tile. Its appearance is composed of about ten small tiles into a large brick, which is very exquisite. It is widely used in small indoor walls and large outdoor walls and floors with its small size and rich colors. It will be a very beautiful picture pasted on the stairs.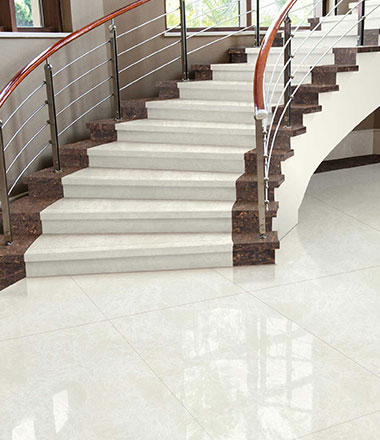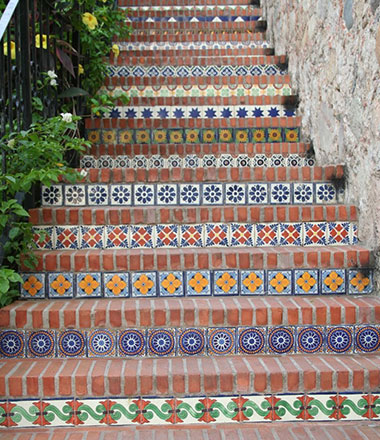 Step & Stair Tiles Installation - Step By Step Guide On How To Tile Stairs
Clean and remove obstacles.
Setting out and positioning.
Apply water and sweep slurry (plain cement mortar).
Paste the vertical plate (side plate) with mortar.
Semi-dry mortar leveling.
Paste the bedplate with plain cement mortar.
Edge mortar compaction.
Remove the excess mortar for the next step.
Clean and wipe to finish the surface layer.
Repeat the above steps to pastedown continuously.
Apply water for curing once after 36 hours.
Finally, apply grout sealer and keep the stair tiles flooring clean.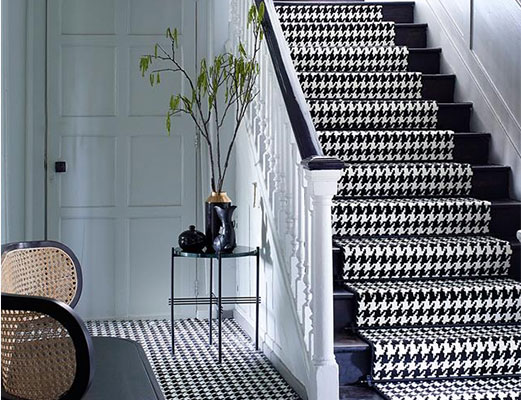 Ceramic Vs Wood Tile, Which One Is Better For Stairs & Steps?
Wood Tile
Pros:
Good comfort. In order to ensure the wear-resistant life of the floor, most of the public places with a large amount of wear choose floor tiles, while living areas such as bedrooms choose wood floors. That's why so many customers are laying floor tiles in their living rooms and wood floors in bedrooms.
Beautiful and natural.
Cons:
It needs regular maintenance. Cleaning is quite difficult.
The price is higher than that of the same-grade floor tiles.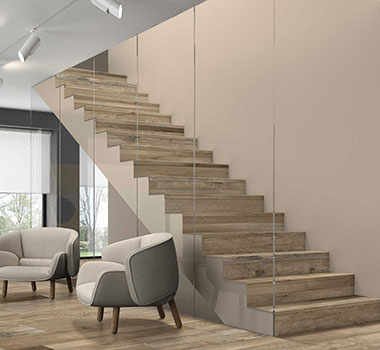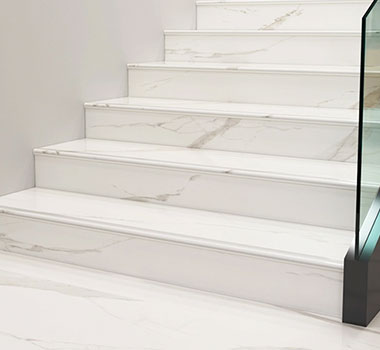 Ceramic Tile
Ceramic tiles

can be decorated in every corner of the house, and the effect is very good. It's beautiful whether it's in the living room or in the kitchen.
Ceramic tiles are easy to take care of. Good ceramic tile has the antifouling ability, as long as the mop gently cleans it. Wood floor is different, it is very difficult to clean, but also easy to damage, which is why so many people use ceramic tiles.
Ceramic tile is very heat-resistant. The general temperature will not cause harm to the ceramic tiles. Moreover, the ceramic tile is fired, and some chemicals are difficult to corrode it.
It's easy to fix the damaged tiles. If you find the broken tiles, you can directly uncover them and replace them with a new one of the same type.
Hanse Affordable Stair Tiles For Sale - Chinese Stair Tiles Manufacturer, Supplier, Exporter
If you are looking for import tiles from China to create beautiful and durable stairs & risers, Foshan Hanse Industrial Co., Ltd will be your best choice for buying import tiles cheap. Being a stair tile manufacturer in China, we always take care of the safety features of the tiles. While choosing tiles for stairs & risers, the most important feature is safety. Foshan tiles stairs Hanse have self-embossed grouts, anti-skid property, and are available in full-body, polished, matte, glazed, glossy, and more staircase tiles texture. Wholesale step tiles sizes range from 300x300mm, 300x600mm, 600x1200mm to 1000x2000mm. The Hanse stair & riser tiles colors are available in white, black, yellow, grey, blue, and mix colors. Even you can visualize room on our tile visualizer which gives you a rough idea of how it will look after laying tiles.
Application Areas Of Hanse Stair & Riser Tiles:
Residential Sector
Commercial Sector
Bathroom Sector
Flooring
Kitchen Area
Indoor Wall
Outdoor Wall
Interior Design
Elevation Sector
Terrace Area
Why Buying Stair Tiles Hanse
At Hanseceramictile shop, we understand that the right tile product has the power to make any interior and exterior design project a stunning success. That's why we have a wide range of beautiful stair tiles design for homes in different colors, sizes, shapes, textures, and patterns. With so many variations, you're guaranteed to find the perfect Chinese floor tile product for your staircase & riser project. We promise that you enjoy the most affordable stair tiles price in China. Each Hanse wall tiles and floor tiles for stairs & steps comply with international quality standards to ensure that we only offer the very best. Now, browse Foshan best step tiles collection in China!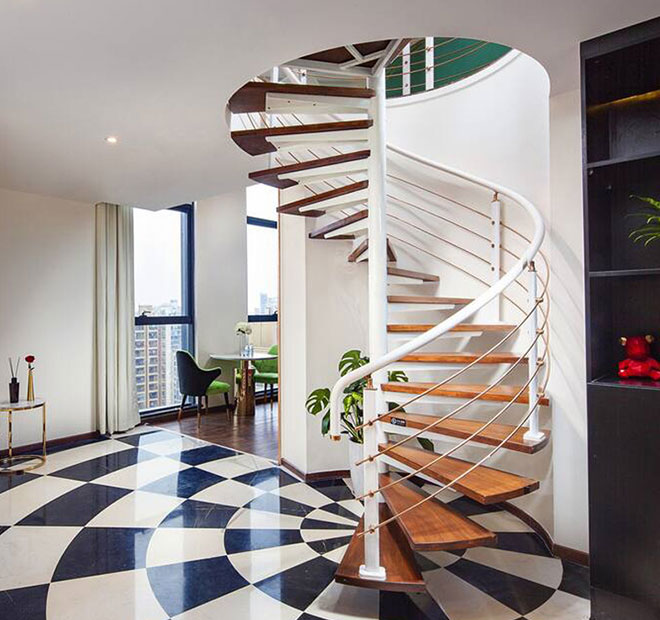 Get Our Stair Tiles Prices List - How Much Does Stair Tiles Cost
The cost of stair tile material for indoor & outdoor depends on a few factors. These include: stair tile, style, color, size, sales tax, shipping, delivery fees and where you buy it from. If you are looking to buy stair tiles, there are a couple of the most well-known manufacturers of stair tile products in the market.
And one of the largest independent online ceramic & porcelain stair tile distributors in China - Hanseceramictile offers the best quality wholesale stair tiles for bathroom, kitchen, living room, bedroom and outdoors. The price for stair tile on sale Hanse is the most affordable compared with other ceramic & porcelain stair tile manufacturers & suppliers in China, range from 1 USD to 100 USD. So, whether you want to give your home a fresh new look or you want a durable flooring option for your new home or office, Hanse's cheap price stair tiles for sale online will be your ideal choice. You can buy stair tile online here with best service, fast delivery and safety guarantee. Get our cheap stair tiles prices list and buy stair tiles China now!
Hot Products