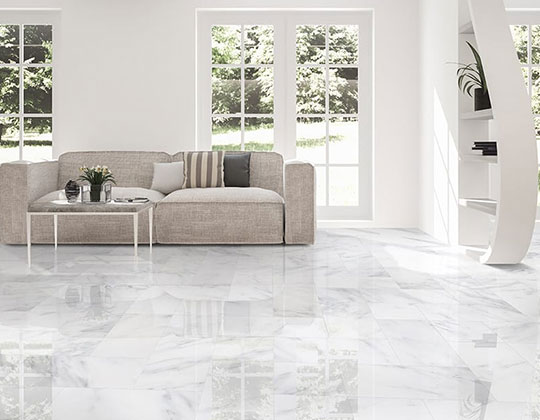 Hanseceramictile.com is one of the most reliable online wholesale floor tiles vendors in Foshan China, manufacturing high quality tiles at low floor tile prices.
Floor Tile designs contain

15 colors

,

8 finishes

,

9 features

and

19 sizes

,

433 floor tiles

in total.
All the hot selling cheap floor tile products online are of strict quality and produced by standardization of the management.
Buy cheap Hanse floor tiles for sale to add a touch of taste and personality to your house now!
In addition, gorgeous ceramic floor tiles online, wood floor tile, porcelain floor tile, kitchen floor tile, bathroom floor tile are available at Hanseceramictile shop. If you are looking for wholesale floor tiles designs, you are at the right place! Welcome to buy floor tiles online from China Hanse!
Hanse - the professional Foshan China floor tile manufacturer & supplier will continuously wok on improving the designs of our floor tiles to ensure that you get the best import floor tile products for your project!
Related Tiles
Related Search
Tile Flooring - Why Floor Tiles
Floor Tiles are a kind of floor decoration material, also called ceramic tile flooring which is made from clay. It is hard, pressure and wear-resistant, and it can prevent moisture. Porcelain floor tile and ceramic floor tile are mostly used for the grounds and floors of commercial and residential rooms. Some are glazed and have a decorative effect. There are many varieties of floor tiles designs and a lot of room for selection. According to the material, it can be divided into glazed tiles floor, full-body tile floor (anti-slip tiles), polished tiles floor, vitrified tiles floor, etc. As a large-area ground material, floor tiles use their own color and texture to create a different style of indoor rooms or outdoor environments. When choosing porcelain & ceramic tile for flooring, not only do you need to consider whether it makes a room's overall style - looks nice and gorgeous, but also should think over the practical - if it is affordable, easy-care, and durable?
See All Floor Tiles Products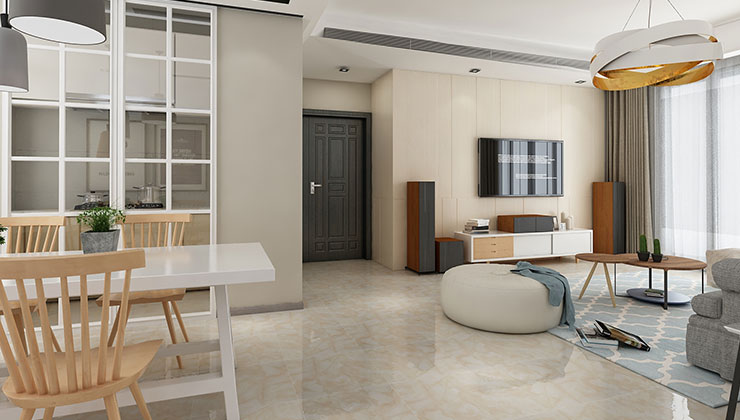 Foshan China Floor Tiles For Sale - Buy Tile Flooring At Cheap Price
Are you looking for the best of all Chinese floor tile suppliers & wholesalers? Hanse is a landmark company in the manufacture of ceramic & porcelain floor tiles in China. Our selection of floor tiles wholesale is the perfect choice for your flooring project. With a wide range of colors, sizes, materials, good quality, stylish designs, and affordable floor tiles price, our floor tiles on sale are extensively used in living and commercial buildings. In addition, Foshan Hanse tiles for flooring are widely recognized and trusted by domestic and abroad customers, can meet continuously changing economic and social needs. You can feel comfortable buying cheap floor tiles in China.
Benefits of Buying Floor Tiles Hanse
Why should you buy floor tiles Hanse Foshan China? Here are some benefits:
- A wide assortment of Chinese floor tile choices available. The variety of porcelain & ceramic floor tile colors, patterns, shapes, and styles that our porcelain & ceramic tile flooring for sale comes in is a large part of its appeal and popularity, custom floor tile designs accepted and OEM service offered:
Application: Buy Floor Tiles For Living Room, Bathroom, Kitchen, Restaurant, Office, Entryways, Indoor, and Outdoor Spaces
Materials/Design: Floor Mosaic Tile, Stone Look, Wood Look, Marble Effect, Matt, Ceramic, and more
Color: Gray, White, Beige, Blue, Brown, Golden, Yellow, Green and more
Finish: Polished, High Gloss, Matte, Textured, Polished, Glazed, and more
Size: 300x300mm floor tile, 300x600mm floor tile, 200x900mm floor tile,

600x600mm floor tile

, 800x800mm floor tile, 1000x2000mm floor tile
- Good quality is guaranteed with top-grade materials, advanced production technology, and strict quality control for Hanse floor tiles Foshan China
- Reasonable prices for floor tiles quoted according to customer's requirements
- Volume large or small, we can handle it all, as we own our floor tile manufacturing facility so that we can keep all wholesale floor tiles production of in-house
- Free design, cost-effective and time-saving production plans, one-stop service for tile flooring purchase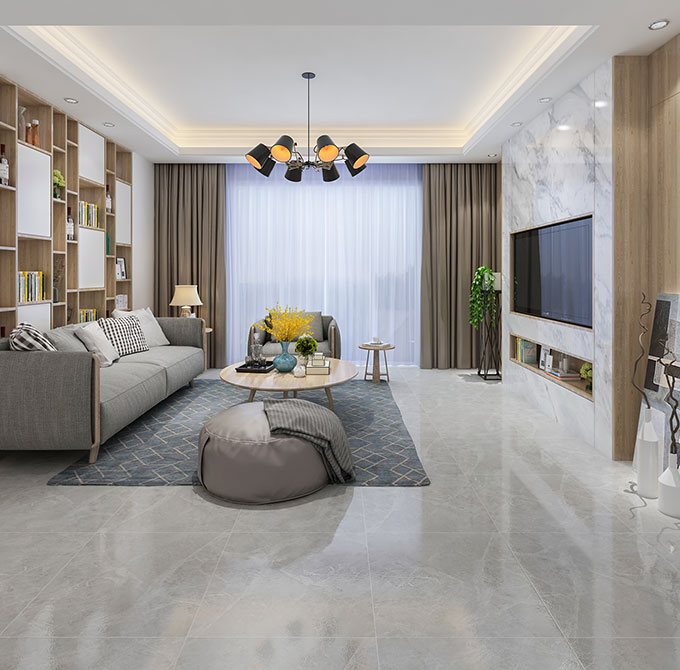 Floor Tile Ideas
Simple modern style:
If you desire a more simple and fashionable approach to your interior, our series of polished and marble floor tiles can meet your requirements. With collocation of light grey, white and black color, These stylish floor tiles can create a personalized and bright visual space, as well as being resistant to water, stains, and scratches - meaning your home can enjoy a grand and beautiful finish for years to come.
Industrial haven:
If you desire a more contemporary approach to your interior, we have a range of visually striking black and grey subway floor tiles with hard matt finishes. Don't let the dark colors fool you, however - these floor tiles will inject lively urban energy into any space, making a modern interior statement that will remain on-trend for years to come.
Mediterranean style:
For a style flooring solution guaranteed to add the finishing touch to your romantic home, we have a selection of value mosaic and rustic floor tiles you'll love. Using mosaic tiles for shower floor, match with white, blue, or beige, creating a feeling of grandeur that will never go out of style.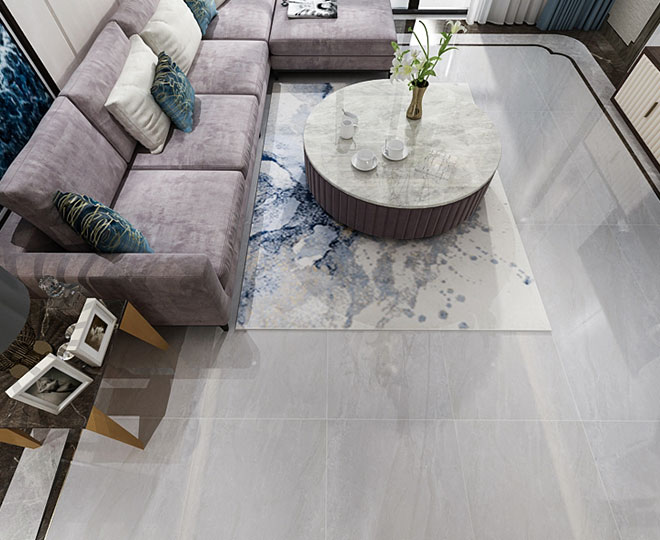 Raw and rustic:
For a rustic flooring solution guaranteed to add the finishing touch to your folksy home, Pastoral style tiles can be selected. The pastoral style emphasizes returning to nature, reflecting the vicissitudes of nature and the ancient texture. In floor tile selection, Hanse wood-like tiles with brown color can your best choice, with wood grain effect, reflecting a delicate and pretty decoration style. Buy hanse cheap tiles for wood floors to create a raw and rustic feeling in your house now.
Floor Tiles For Home
Ceramic & porcelain floor tiles for the kitchen:
There are many kinds of Foshan China floor tiles materials, including glazed tiles, full body tiles, polished tiles, polished tiles, and mosaics. Polished or matte tiles floor can be used in large areas such as kitchens. The kitchen is in a high-temperature environment, so the floor tile colors for the kitchen should be light or cold. The light color kitchen floor tile can make people feel that the space is expanding and extending, avoiding the deep color from making people feel dull and depressed in a narrow space.
With a sleek and chic finish, the tiled living room floor is the practical choice for busy homes and can be beautifully cozied up with soft-pile rugs and plenty of soft furnishings to match. High-hardness and wear-resistant floor tiles are required for the living room. If you pursue noble and elegant effects, the floor tile colors for the living room should be brown-yellow, or light cream, which can create a soft and warm atmosphere for the room and make it look nobler in appearance.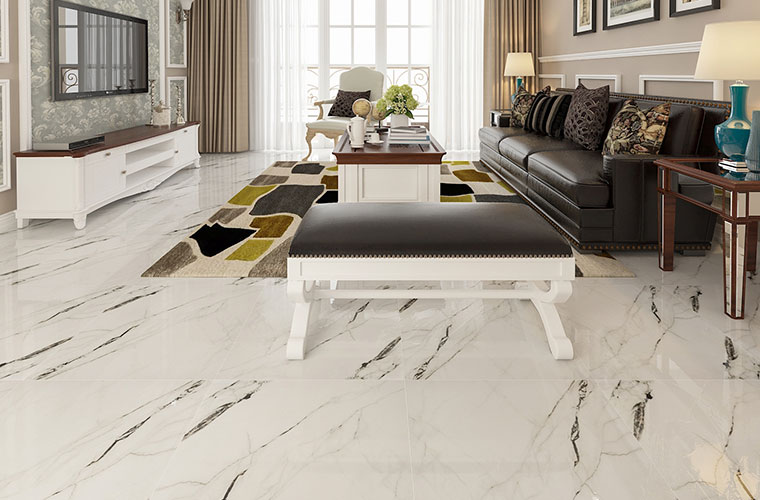 Floor tiles for bedroom:
The bedroom is the most comfortable space in the house, choosing tiles for the bedroom floor gives you an opportunity to combine cozy furnishings with cutting-edge style. There are amazing series of bedroom floor tiles designs including wood-like tiles, marble tiles, mosaic wood tiles which can create a warm, comfortable, and natural feeling.
Floor tiles for bathroom:
Bathroom is a functional place, often in a wet state, so when choosing floor tiles for shower or bathroom, R10 anti-skid tiles are well suited. From luxurious European style tiles to vintage-inspired ceramics, our broad range of tiles for bathroom floors is designed with safety in mind, allowing you the freedom to design the bathroom of your dreams. Our wide range of wood effect flooring tiles with low maintenance, durable, wear-resistance features can be your ideal choice. If you want to make your bathroom functional, choose to add a massage bathtub or steam shower room.
Floor Tiles for outdoor:
Floor tiles aren't just limited to transforming the inside of your home, either - they work wonders in transforming outdoor spaces, too. At Hanseceramictile shop, our floor tiles are suitable both for outdoor and indoor areas. Whether you want to create a fashionable garden, fully display a natural and unsophisticated atmosphere, or looking to spruce up a tired patio, outdoor floor tiles Hanse will bring you some inspiration.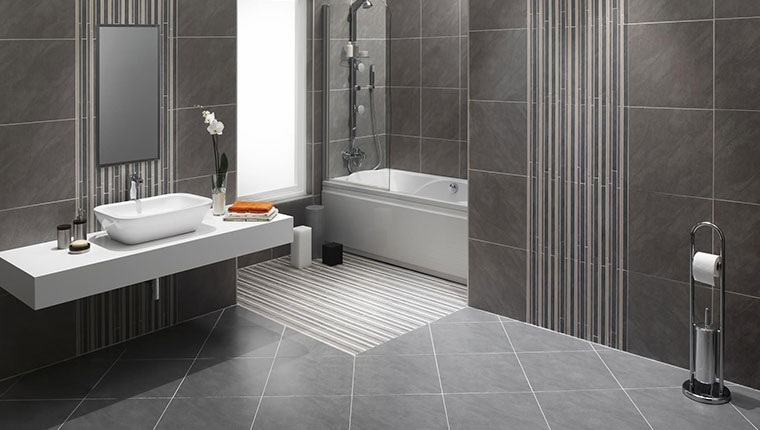 What Is The Best Color For Floor Tiles Foshan China?
Yellow Floor Tile
Yellow is a more used color tile, warm yellow floor tiles, always make us feel warmer. This set of living room's overall color is warm and comfortable, with bright colors of furniture and goose yellow walls, showing a warm and popular living room home decoration.
Dark Green Floor Tile
Similar to black dark green floor tile, which is laid in the fresh toilet, and more reflect the simple design sense of the toilet. But this kind of floor tile color, collocation is still pickier, so we should be careful. Therefore, there is no final conclusion as to what color the floor tiles are good. It depends on the actual situation.
Light Blue Floor Tiles
Dreamy blue and white bathroom design, blue and white gradual change tile covering the whole space, as if taking you into the ocean world. The blue and white gradation floor tile color is especially suitable for Mediterranean style decoration, fresh and soft, giving a relaxed experience.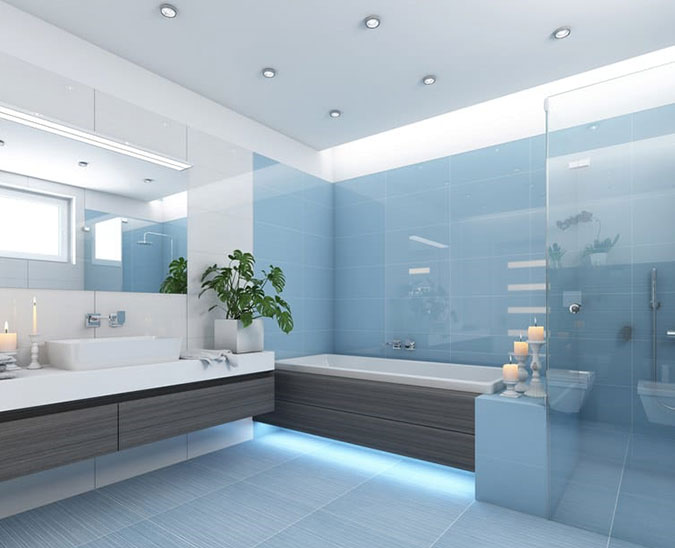 Get Our Floor Tiles Prices List - How Much Does Floor Tiles Cost
The cost of floor tile material for indoor & outdoor depends on a few factors. These include: floor tile, style, color, size, sales tax, shipping, delivery fees and where you buy it from. If you are looking to buy floor tiles, there are a couple of the most well-known manufacturers of floor tile products in the market.
And one of the largest independent online ceramic & porcelain floor tile distributors in China - Hanseceramictile offers the best quality wholesale floor tiles for bathroom, kitchen, living room, bedroom and outdoors. The price for floor tile on sale Hanse is the most affordable compared with other ceramic & porcelain floor tile manufacturers & suppliers in China, range from 1.70 USD to 49.00 USD. So, whether you want to give your home a fresh new look or you want a durable flooring option for your new home or office, Hanse's cheap price floor tiles for sale online will be your ideal choice. You can buy floor tile online here with best service, fast delivery and safety guarantee. Get our cheap floor tiles prices list and buy floor tiles China now!
Hot Products