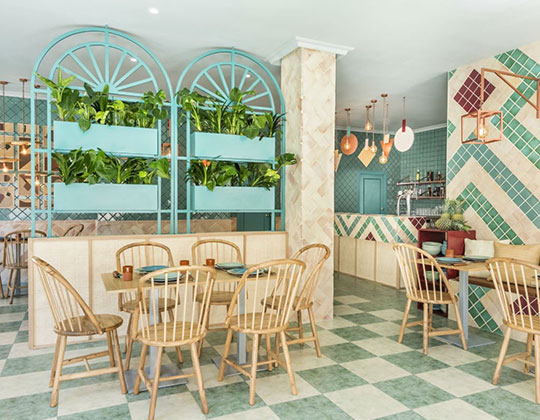 Hanseceramictile.com is one of the most reliable online wholesale green tiles vendors in Foshan China, manufacturing high quality tiles at low green tile prices.
Green Tile designs contain

16 colors

,

3 finishes

,

4 features

and

6 sizes

,

10 green tiles

in total.
All the hot selling cheap green tile products online are of strict quality and produced by standardization of the management.
Buy cheap Hanse green tiles for sale to add a touch of taste and personality to your house now!
In addition, gorgeous mosaic kitchen tiles online, mosaic wall tile, ceramic floor tile, ceramic wall tile, wood floor tile are available at Hanseceramictile shop. If you are looking for tiles designs, you are at the right place! Welcome to buy floor tiles online from China Hanse!
Hanse - the professional Foshan China tile manufacturer & supplier will continuously wok on improving the designs of our tiles to ensure that you get the best import tile products for your project!
Related Tiles
Related Search
Green Tiles, Wall & Floor Tiles
Green is a color of energy and life, it is normally associated with fertility, harmony and freshness. So green tiles can bring a touch of nature to your home. It's perfect for kitchen backsplash or bathroom wall. Choose from vibrant lime green tiles to more subtle shades such as olive green floor tiles.
Green is also a popular color. It looks comfortable. Among all the colors, green is one of the most difficult to match. If it's well matched, it will make the home fresh and lively, young and lively, with a very strong sense of natural freshness. If it's not well matched, it's easy to become too strange and ugly.
See All Green Tiles Products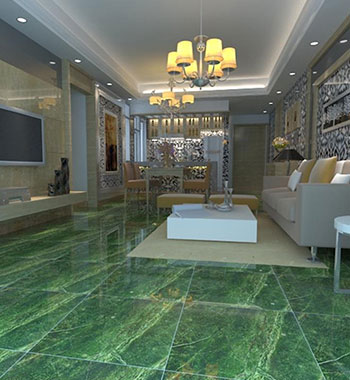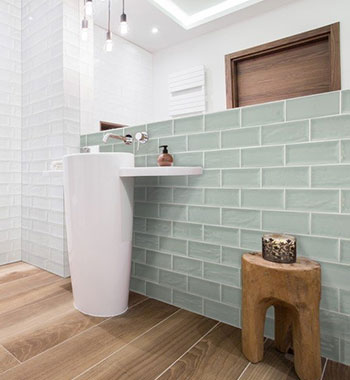 Why Choose Green Tiles – What Are The Advantages Of Green Tiles?
Green tile is very environmental friendly, living in the room decoration will not cause harm to the body, compared with other decoration materials, it will not be said that there are many formaldehyde and other harmful substances.
This color tile is also a lot of charm in decoration. The decoration style created by this kind of tile is very popular
The tile in green color is also very good in collocation, because many people like the fresh and simple decoration style. This kind of tile happens to simply complete the design concept people need for such decoration.
Green tile is also convenient for cleaning and maintaining. Green tile has the types of light and matte. No matter which kind of tile is dirty in life, it is a special tile that is easy to clean. We can finish the cleaning as long as we use soft wet linen cloth.
Green tiles can be used as a whole in white, transparent and simple furniture design, and such tiles can be designed with perfect environmental protection effect in indoor and outdoor, it's widely used.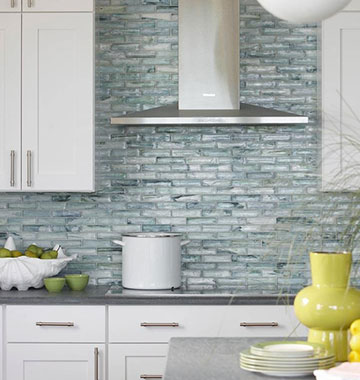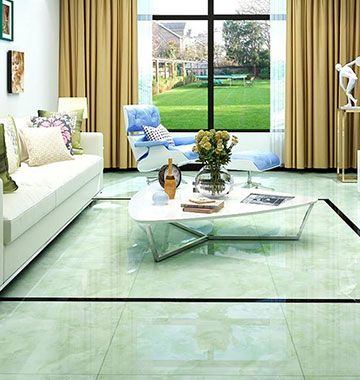 Green Tiles Design Ideas
Gorgeous bathroom with green tiles:
Color collocation has always been a more tangled topic for people. When decorating a house, the bathroom first shows floor tiles in front of people. Many people hope that their bathroom tile matching looks more suitable for the overall decoration style, regardless of fashion trend, the most important thing is that the overall feel comfortable. So, what color is the bathroom floor/wall tile? Nothing is more perfect than tiles green color! One awesome way to bring green colors into your bathroom is with ceramic or porcelain tile or glass mosaic tile.
Chic green tile kitchen backsplash:
No matter how bright or bold you want your kitchen space to be, green kitchen backsplash ideas will help you get there. Create an industrially chic accent wall /backsplash in your kitchen with green subway tile. Or use the glass tile green color which owes its uniqueness to its bold, urban shape. The space around the tile can create an industrial feeling that also gives the tile a distinguishing factor in any design. Plus, the soft green variants soothe down the more masculine elements of the tile.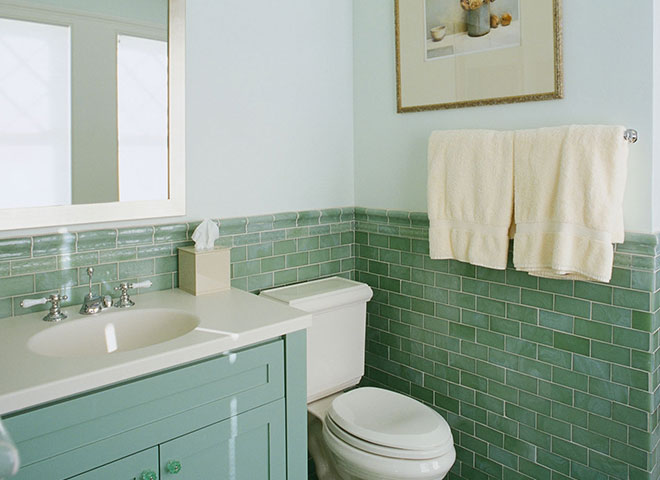 Light Green Tiles Color Matching – How To Match With Light Green Tiles
Green also comes in a variety of shades including light green, dark green, emerald green, forest green tiles and blackish green. The most popular is light green among them. Then what color can you match with light green ceramic and porcelain tiles?
- White

Light green tiles wall with white floor tiles or accessories is a perfect match. Only in this way can you feel clean, bright and elegant. And white is a versatile color, used for home decoration, giving people a clean and pure feeling.

- Black

Light green belongs to dark color system, and black also belongs to dark tone. Therefore, two of the same tone will make people feel comfortable. This kind of match will feel solemn.
- Grey

Any color can match grey, it depends on how you match it. Therefore, grey can also be matched with light green, atmospheric.

- Light yellow

For light green tiles, it's pretty good to match with light yellow. Among the seven colors of rainbow, green and yellow belong to the middle color, and they will be bright and charming when matched.
China Wholesale Green Tiles Supplier Hanse - Buy Green Tiles Backsplash, Wall, Floor Online
Foshan Hanse Industrial Co., Ltd is the China top ceramic/porcelain tiles manufacturer, we've been engaged in offering all kinds of colors tiles, including the green floor/wall tiles (light green tiles, dark green tiles, forest green tiles) at cheap price. These green tile designs are appreciated for their scratch and stain resistance, widely used in shopping arcades, supermarkets, banks, hospitals, restaurants and entrance halls. In addition to these, our green tiles products are available in varied designs, textures, colors and sizes and materials, green subway tiles, green glass tiles, mosaic tiles in green color also available at Hanseceramictile store. We've curated our collection of green wall tiles to reflect the hottest style trends in 2020, as well as the most classic style principles. And these green tiles for bathroom, kitchen will help you create a breathtaking look.
What Are The Advantages Of Hanse Textured Tiles Flooring/Wall
Hanse Green Floor Tiles Design

Novel style
Top decorative capacity
Stain resistance

Hanse Green Tiles Manufacture

All green tiles products are comply with international
quality standards
Experienced team of ceramic tiles designers
Strict quality inspection before packaging

Hanse Green Tiles Service

OEM service
Timely delivery
Timely response
Get Our Green Tiles Prices List - How Much Does Green Tiles Cost
The cost of green tile material for indoor & outdoor depends on a few factors. These include: green tile, style, color, size, sales tax, shipping, delivery fees and where you buy it from. If you are looking to buy green tiles, there are a couple of the most well-known manufacturers of green tile products in the market.
And one of the largest independent online ceramic & porcelain green tile distributors in China - Hanseceramictile offers the best quality wholesale green tiles for bathroom, kitchen, living room, bedroom and outdoors. The price for green tile on sale Hanse is the most affordable compared with other ceramic & porcelain green tile manufacturers & suppliers in China, range from 0.40 USD to 70 USD. So, whether you want to give your home a fresh new look or you want a durable flooring option for your new home or office, Hanse's cheap price green tiles for sale online will be your ideal choice. You can buy green tile online here with best service, fast delivery and safety guarantee. Get our cheap green tiles prices list and buy green tiles China now!
Hot Products