Hanseceramictile.com is one of the most reliable wholesale silver grey tiles vendors in China, manufacturing high quality tiles at low silver grey tiles prices.
Silver Grey Tiles designs contain

0 colors

,

0 finishes

,

0 features

and

0 sizes

,

0 silver grey tiles

in total.
All the hot selling cheap silver grey tiles products are of strict quality and produced by standardization of the management.
Buy cheap Hanse silver grey tiles to add a touch of taste and personality to your house now!
In addition, gorgeous tiles are available at Hanseceramictile shop. If you are looking for wholesale tiles designs, you are at the right place!
Silver Grey Backsplash & Floor tiles, Top Ceramic Tiles Manufacturer In China
Silver tiles are increasingly popular in today's design schemes and can add a real vibrancy to any setting. Most people pave silver grey tiles for kitchen because silver grey is a kind of stable and peaceful color, It also gives people a sense of elegance and brightness. Silver grey kitchen wall tile or floor tile can increase the modernity of space. Like most colors, silver grey tiles contains a wide range of features such as silver grey wood look tiles, silver grey ceramic tiles, silver grey glass tiles, silver grey mosaic tiles.
We provide a collection of silver grey tiles designs in various size formats including mosaics, in both gloss and matt finishes. Whether you're looking to use them as floor or wall tiles, these tiles really do give off a stylish, sophisticated look that is sure to brighten up your home. You can create an on-trend feature wall/floor with our silver grey color tiles China in your living room, kitchen, bathroom, or even take it outside.
See All Silver Grey Tiles Products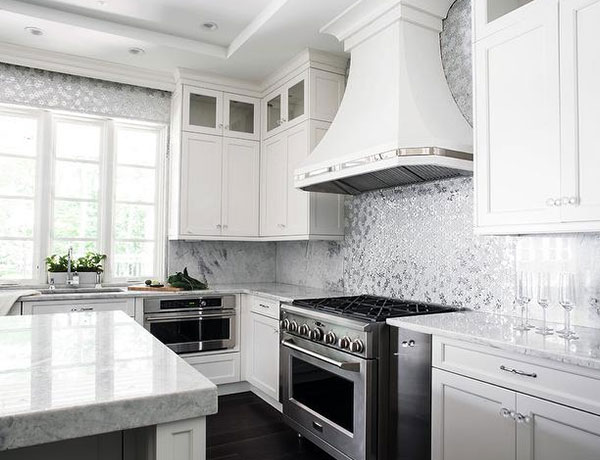 Silver Grey Tiles Matching, Design, Decoration
- Black and White

The collocation of black and white and grey is the model of modern style home furnishing. Black and white patterns are like silhouettes, without the cover of color, there is nothing simpler than this. No matter it's full of black and white mosaic, or black and white pattern, no matter with dark grey, light grey or silver grey tiles, it can explain the essence of modern simplicity.

- Grey Blue

Grey blue is a kind of color of grey and dark blue, which is a little colder than grey. People who focus on decorating the room in a cool and serious way can choose grey blue to match with silver grey. For example, the color of TV wall, tea table surface and lampshade can be added to these details to gradually create the desired feeling.

- Red

Red accessories undoubtedly make the whole room focus on red, people can ignore the silence and cold feeling brought by grey, which makes the whole room lively and warm. Red with silver grey can reflect the strong conflict of the host's inner world.