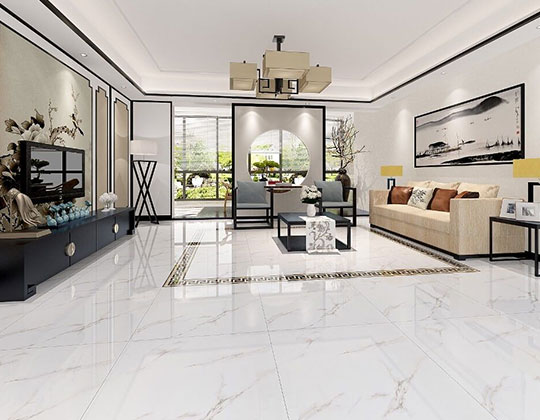 Hanseceramictile.com is one of the most reliable wholesale ceramic floor tiles vendors in China, manufacturing high quality tiles at low ceramic floor tiles prices.
Ceramic Floor Tiles designs contain

13 colors

,

7 finishes

,

5 features

and

16 sizes

,

161 ceramic floor tiles

in total.
All the hot selling cheap ceramic floor tiles products are of strict quality and produced by standardization of the management.
Buy cheap Hanse ceramic floor tiles to add a touch of taste and personality to your house now!
In addition, gorgeous ceramic tiles and floor tiles are available at Hanseceramictile shop. If you are looking for wholesale ceramic tiles or floor tiles designs, you are at the right place!
Hot Products
Ceramic Floor Tiles - Best Choice For Tile Flooring
Ceramic floor tiles are particularly popular due to their robust and healthy properties, are very environmentally friendly as building material. Hardly say there is any building material is more natural than ceramics - the raw materials used have been more or less unchanged for thousands of years: the main material in the production of ceramic tiles is clay, to which mineral additives such as quartz, feldspar or kaolin, and sometimes also calcite or fluorspar, are added. It's hard to think of a more versatile flooring material than ceramic floor tiles, because of their beauty and their perfect technical properties, ceramic floor tiles are conquering ever larger areas of public building but also of private living.
See All Ceramic Floor Tile Products
Advantage of Ceramic floor tiles

Durable and difficult to crack
Easy to clean and maintain
Impenetrable to water and stains
Environmentally friendly and health
Endless surface design and treatment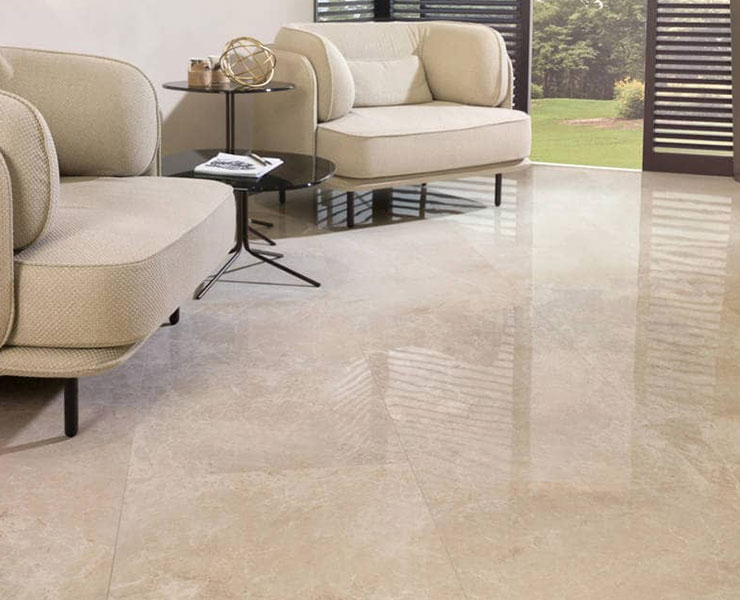 Shop Durable & Classic Ceramic Floor Tiles At Hanse
Welcome to buy cheap but top-grade Ceramic Floor Tiles from Hanse, we are China Leading Tile Wholesaler! Longevity, easy maintenance, hygiene of the our Ceramic Floor Tiles as well as an almost endless variety of colors, surfaces, formats and decorations in connection with ever better technical properties ensure the leading position in market of Hanse ceramic floor tiles. With square, herringbone, rectangular, hexagonal, matte and various features, which are widely used as coverings for the floor, work surfaces, and other surfaces both indoors and outdoors.
Benefits of Hanse Ceramic Floor Tiles

Variety of finishes, sizes, formats, patterns available
Top-grade raw materials used, durable and long server time
Wide range choices for living room, bathrooms, kitchens, outdoor, etc.
Both competitive prices for in-stock tiles or custom production
Thoughtful and meticulous pre-sales and after-sales service
Reliable customized packaging and timely shipment.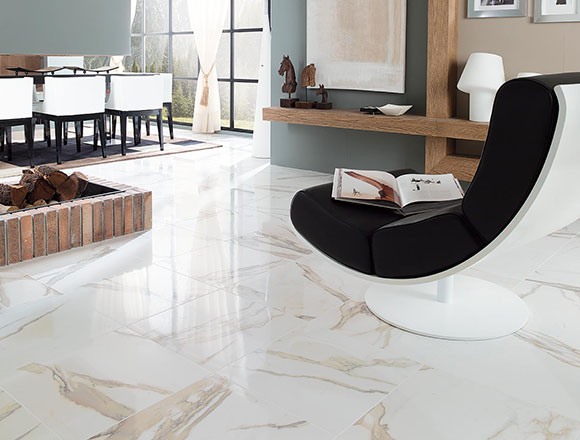 Choose The Right Ceramic Floor Tiles For Your Rooms
Ceramic tile flooring have become the most widely used in private residences and commercial places. As floor tiles that must withstand human traffic, they should have the characteristics of wear resistance, dirt resistance, water resistance, and non-slip. The different surface treatments and patterns make the ceramic floor tiles better meet the special needs of different environments. Which Ceramic floor tile should you choose for your flooring project?
Glazed Ceramic Floor Tiles
Glazed tiles are coated with a layer of glaze on the surface of the floor tiles, which can make the surface of the floor tiles smoother, brighter, and more convenient to clean. In addition, it has the characteristics of low water absorption and strong stain resistance, so it is widely used in living rooms, kitchens, bedrooms, dining rooms and so on.
Unglazed Ceramic Floor Tiles
The surface of the unglazed ceramic floor tile is not glazed, and the decorative effect is antique, elegant and chic, simple and natural. At the same time, because of its rough surface, it has the characteristics of non-slip and abrasion resistance. Bathroom and other public places, such as indoor halls, aisles and outdoor walkways, squares and other areas.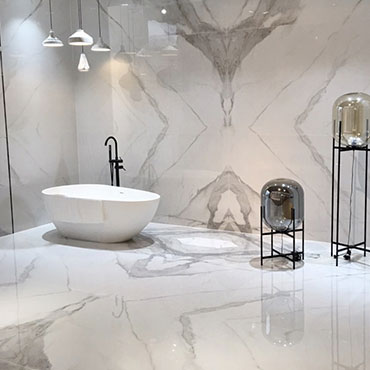 Polished Ceramic Floor Tiles
The surface of the ceramic floor tile is polished, hard and wear-resistant, and has high bending strength, making it more suitable for use in indoor spaces except toilets and kitchens. Its anti-dirty and anti-slip characteristics are also convenient for cleaning and maintenance in the later use of decoration and paving. Polished tiles have a variety of imitation stone and wood patterns, making them very suitable for living rooms, walkways, squares and other places.
Vitrified Ceramic Floor Tiles
Vitrified ceramic tile is the strongest of all floor tiles, not only with noble hue, elegant texture, and good decorative effect; but also has the characteristics of waterproof, moisture-proof, wear-resistant, low water absorption, acid and alkali resistance, easy cleaning, etc. Favored and liked by people, it is widely used in living rooms, gates and other rooms.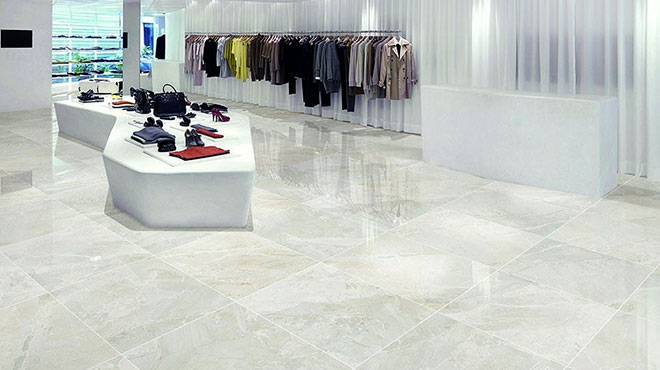 Marble Look Ceramic Floor Tiles
Marble effect ceramic floor tiles have the realistic decorative effect of natural marble and the superior performance of tiles. Not only abrasion resistance is good, but also the construction cost is very cheap. In home and commercial engineering decoration, its figure appears in various home occasions.
Matte Ceramic Floor Tiles
Matte Ceramic Floor Tile is literally a floor tile with relatively low brightness. It is not only very beautiful, but also has the characteristics of wear resistance and high hardness. The matte glazed surface is relatively easy to suck dirt, but it will not penetrate into the glazed surface and can be removed with common cleaning agents. Matte tile are better for human eyes under strong light, and the visual effect is also very good.
Patterned Ceramic Floor Tiles
Patterned Ceramic Floor Tiles are literally explained as the floor tiles have patterns, which are divided into roller printing, screen printing, and inkjet printing. Through different printings, tiles that match different decoration styles, such as classic style and modern style, can meet the needs of different consumers.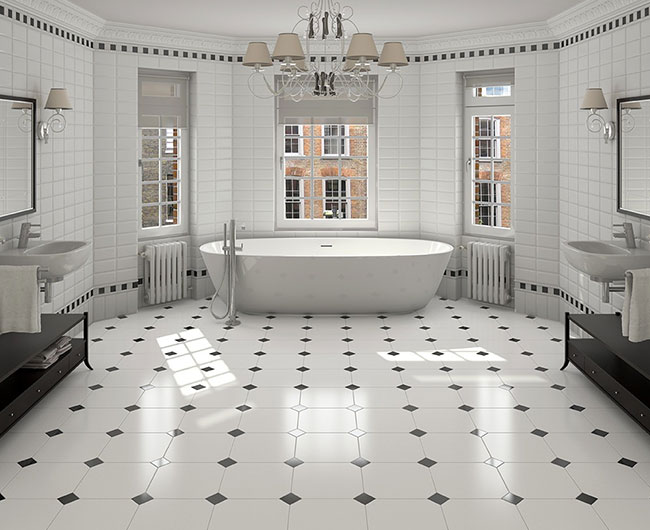 How To Lay Ceramic Floor Tiles?
Ceramic Floor Tiles Installation Brief Steps & Tips
Step 1: Prepare The Laying Surface
Several laying surfaces are suitable for ceramic tiles. The most recommended sub-floors are concrete, plywood and fiber cement panels.
Before starting to lay tiles, check that the substrate is perfectly prepared. It must be solid, healthy, clean, and dry for a perfect tiling!
In the case of a very porous surface, it is advisable to apply a layer of adhesive mortar using a brush and allow it to dry before starting to lay the tiles.
Remove the baseboards and doors from the room as well as any element that represents an obstacle and can be temporarily moved.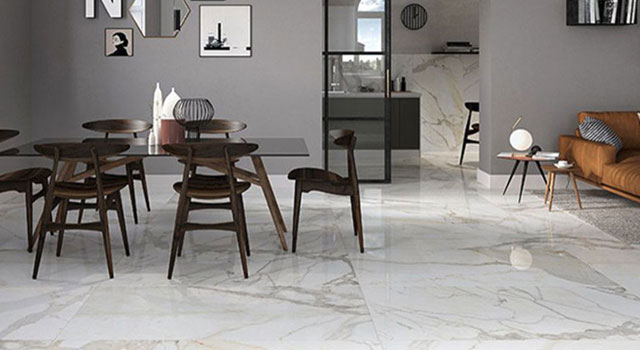 Step 2: Set Laying Plans & Draw The Reference Lines
The laying plan consists in determining the arrangement of the tiles for an aesthetic purpose, it is the way the tiles will be laid in relation to the surface of the room and the distribution of the cuts.
Taking the form of tracing laying lines that will ensure the alignment of the tiles. In general, two perpendicular lines are drawn and the laying is started at the crossing of these two lines. You can choosing your laying plan: installation from the entrance to the room, installation from the center of the room, installation along the wall.
Step 3: Apply Cement Adhesive
Prepare the adhesive mortar by mixing the powder and water according to the manufacturer's recommendations.
Spread the adhesive mortar with the trowel flush with the layout over a width slightly greater than that of the row of tiles and comprising 5 or 6 tiles.
Trace grooves in the mortar with the serrated side of the trowel to give it its final thickness.
Step 4: Lay Ceramic Floor Tiles
Lay the first tile in a slight side movement to make it adhere well.
Refer to the reference lines to ensure that the tile is correctly laid and that it is square. Adjust as needed.
Tile the surface and insert braces between the tiles to ensure uniformity of the joints.
Check that all the ceramic floor tiles are at the same height by exerting light pressure on the too high tiles using a rubber mallet or a wooden block.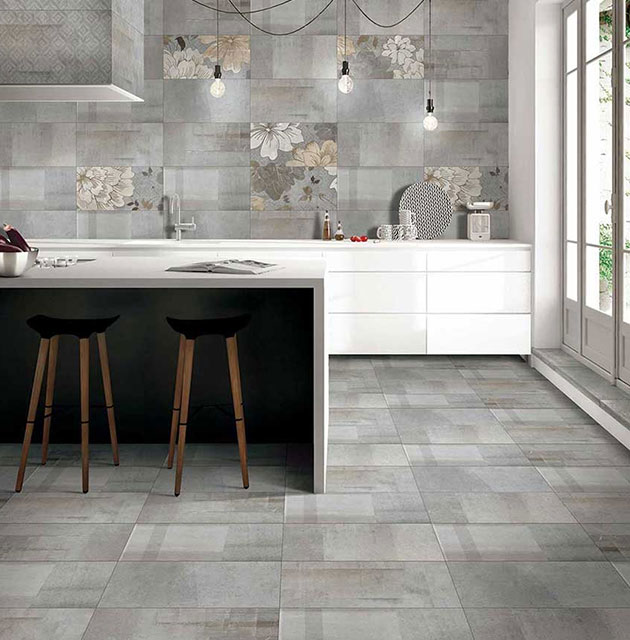 Step 5: Cut Ceramic Floor Tiles To Match Wall or Angle
At the end of the line, you will certainly have to cut tiles to match the wall or a prominent angle.
Superimpose a tile without glue exactly on the last whole tile laid. Then place another tile and slide it up to 1 cm from the wall (for the tile joint).
Then draw a reference line on the tile below. Using the tile cutter, cut the tile while pressing on your path.
Apply the mortar to the piece of ceramic floor tile and lay it on the floor.
Step 6: Make The Ceramic Floor Tile Joint
After 24 hours of drying, prepare your joint mortar.
Place your creamy product on 4 to 5 square meters of surface then spread immediately with the rubber squeegee.
Do not forget to pass it diagonally to the joint lines to avoid digging and recovering the excess on the tiles. Repeat the operation until the finish.
If a whitish veil appears on the ceramic flooring tiles within 15 to 20 minutes, rub in a rotary manner with dry cloth. 45 minutes later, you can smooth the joints with a damp sponge.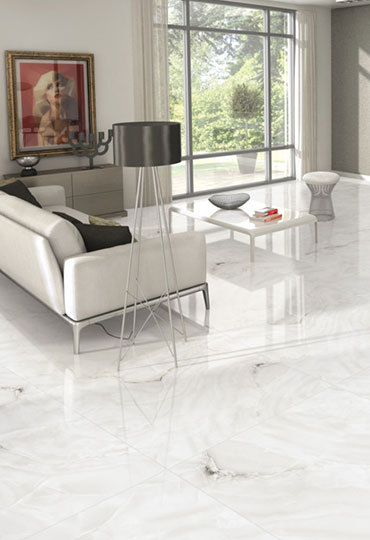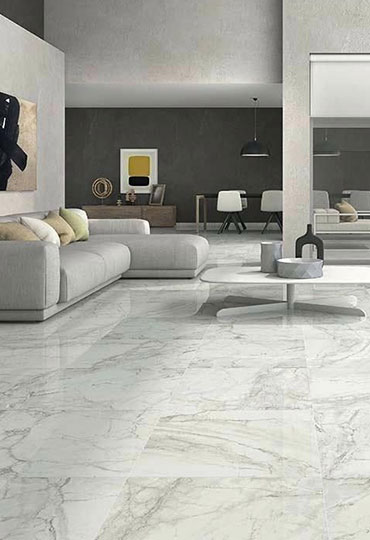 Other Ceramic Tiles
Other Floor Tiles