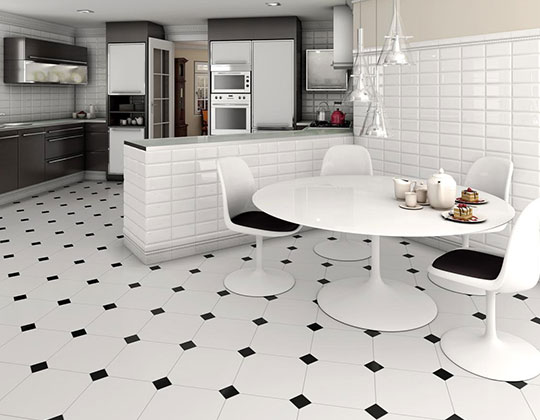 Hanseceramictile.com is one of the most reliable online wholesale octagon floor tiles vendors in Foshan China, manufacturing high quality tiles at low octagon floor tile prices.
Octagon Floor Tile designs contain

1 colors

,

1 finishes

,

1 features

and

1 sizes

,

1 octagon floor tiles

in total.
All the hot selling cheap octagon floor tile products online are of strict quality and produced by standardization of the management.
Buy cheap Hanse octagon floor tiles for sale to add a touch of taste and personality to your house now!
In addition, gorgeous octagon tiles and floor tiles are available at Hanseceramictile shop. If you are looking for octagon tiles or wholesale floor tiles designs, you are at the right place! Welcome to buy floor tiles online from China Hanse!
Hanse - the professional Foshan China octagon tile manufacturer & supplier will continuously wok on improving the designs of our octagon tiles to ensure that you get the best import octagon tile products for your project!
Related Search
Octagon Flooring, Octagonal Tiling for Floor - Octagon Floor Tile
Octagon is an eight-sided polygon that alternates two types of edges. Octagon floor tile is getting popularity around the world in recent years, octagonal tiles designed according to the octagon and small square allows a diversity of classic designs, combining with traditional octagon size and other shapes, octagon flooring is ideal for bathroom, kitchen and even every room in the house. Octagon flooring tiles shows a stable structure and reliable feeling, increase a Victorian look to your home with the octagon porcelain floor tiles, octagon ceramic floor tiles and octagon mosaic floor tiles.
See All Octagon Floor Tile Products
Why Choose Octagon Tiles for Floors?
Symmetrical figure and exquisite appearance
Elevate your interior design effectively
Suitable for numerous bold or subtle style
Specific aesthetic even without complex pattern
A host of sizes, colors and materials can be selected
Octagon Floor Tile Designs & Ideas
1. Monochromatic octagon & patterned dot
Baked earth color octagonal tiles match small square with rich patterns and different tones can create a unique, classic, vintage and chic flooring, suitable for wood or bamboo furniture.
2. Black octagon & white dot
Black-white is one of the most classic and popular color combination, which is easy to match any other style and suitable for the modern home decor. Fashion, simplicity and comfort.
3. Combines contemporary and rustic styling
Each octagonal tile boasts a unique design that appears hand-painted for an artisanal look, to show both modern and traditional styles.
4. Local design
In the entrance area, apply octagonal floor tiles in three colors of dark grey, light grey and white to make the area more convenient for cleaning and allows a perfect transition with the wood floor.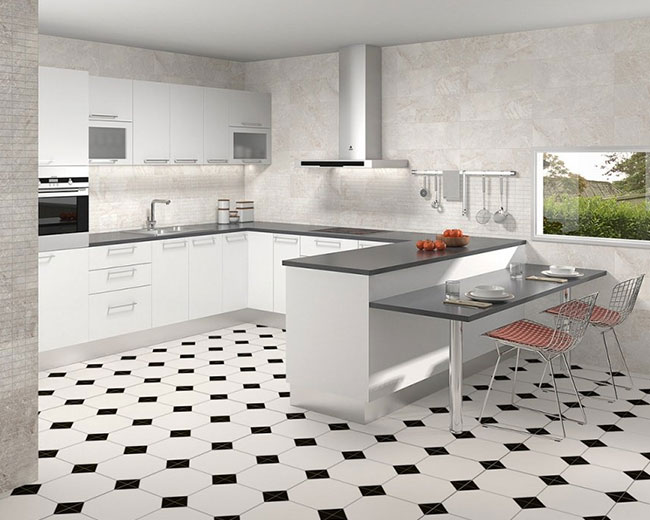 How to Install Octagon and Dot Tiles for Flooring?
To lay octagonal floor tiles, you need to prepare some tools including measuring tape, scissors, tile nippers, mortar, trowel, grout, grout float, grout sponge, chalk, tile wet saw, flat board, etc.
Measure the wall farthest from the door lengthwise, find the center point and draw a chalk line from it.
Pave the tile along the chalk line at the wall far from the entrance. Practice to lay out a complete tile, which consists of a octagon and four dots.
Cut the tile to be installed on the perimeter of the room according to the patterns.
Check the flooring if is suitable for dry layout.
Apply a thin and uniform layer of mortar on the floor.
Put the octagon tile on the mortar and press it until stable and compact. You can also lay a flat board over the tiling and strike it with a rubber mallet.
Leave the mortar for 24 hours until it's dry.
Spread the grout into the lines and clean excess grouts.
Leave the grout for 10 minutes until it's dry and then use a wet sponge to wipe the tile and rinse it with clean water.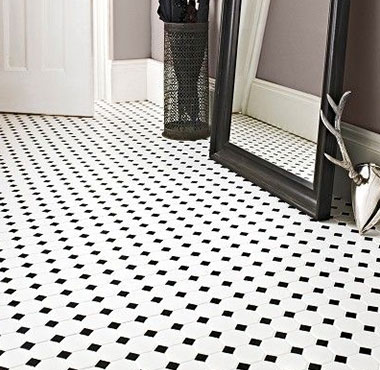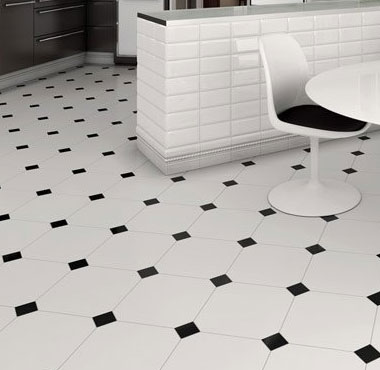 Cheap Octagon Floor Tiles for Sale - China Top Wholesale Octagonal Tiles Manufacturer
Based on years of experience and strong production capabilities, Hanseceramictile.com is ready to provide the satisfying solution for your upcoming octagon floor tiles project, our marble look octagon tile or mosaic octagon flooring or other types designs can well integrated with your home decoration. We have the greatest selection of durable and quality octagon flooring tiles available online at the best prices. A lot of specific graphics are provided to give you a better idea for octagon floors, which are available in white, black, etc. Matte, honed, polished, glazed, unglazed, glossy and lappato are offered for differ surfaces.
Our Range of Octagonal Floor Tiles - Sizes, Finishes, Applications
We have the most classic black and white ceramic octagon tiles for floor and wall, available in different sizes, finishes and applications, more designs can be expected.
Sizes: 300 x 300mm, 600 x 600 mm, customized, etc.
Finishes: polished, glazed, unglazed, honed, matte, gloss, etc.
Applications: bathroom, washer, toilet, kitchen, swimming pools, etc.
Why Choose Hanse Octagon Floor Tiles
Waterproof, anti-slip and corrosion resistance
Highest quality standards and strict inspection system.
Natural beauty, elaborate design and realistic look
Carefully selected and packaging, reliable protection
Consistent in size, dimension, specifications and surface finishes
Factory wholesale octagon floor tiles prices and rapid delivery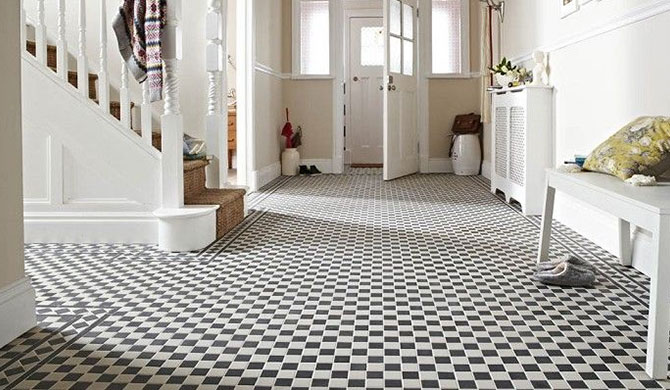 Other Floor Tiles
Hot Products