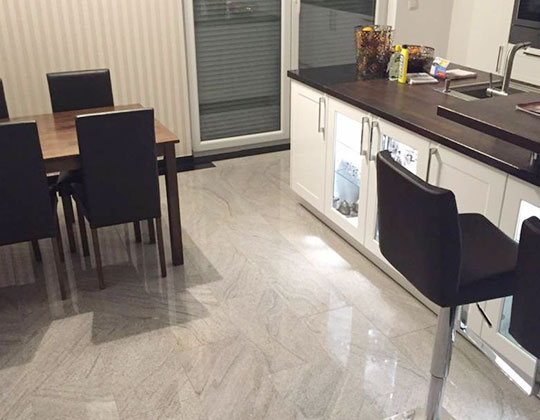 Hanseceramictile.com is one of the most reliable wholesale granite floor tiles vendors in China, manufacturing high quality tiles at low granite floor tiles prices.
Granite Floor Tiles designs contain

4 colors

,

3 finishes

,

1 features

and

4 sizes

,

5 granite floor tiles

in total.
All the hot selling cheap granite floor tiles products are of strict quality and produced by standardization of the management.
Buy cheap Hanse granite floor tiles to add a touch of taste and personality to your house now!
In addition, gorgeous granite tiles and floor tiles are available at Hanseceramictile shop. If you are looking for wholesale granite tiles or floor tiles designs, you are at the right place!
Hot Products
Granite Flooring - Granite Floor Tiles
Granite tiles are made of igneous rock formed in volcanic activity, given outstanding strength, acid-resistance, scratch resistance and durability. With the development of tiles processing technology and design concept, granite floor tiles are increasingly used in the home and commercial areas. Granite flooring has exceptional resiliency, neutral shades, long-lasting shine, stain resistance and antibacterial surface, provides a more healthy, safe and beautiful living environment and adds the building value. More importantly, granite floors can last almost lifetime without deliberate damage even in significant foot traffic space.
See All granite floor tiles Products
Why Choose Granite Tiles for Floors
The most natural vein, texture and appearance
Exceptional durability, hard to damage
Impenetrable to liquid, suitable for wet areas
Can withstand heavy traffic
Low maintenance, easy to clean
Reduce allergies or asthma symptoms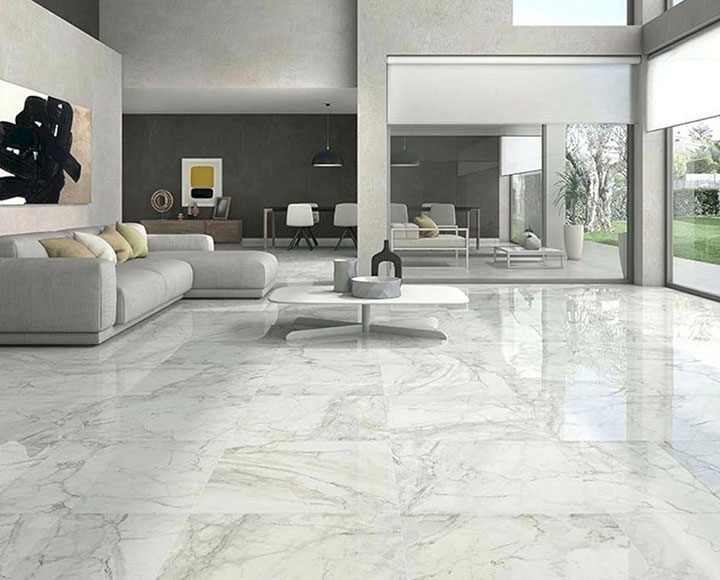 Granite Floor Tile Designs & Ideas
Earthy style:Natural granite floor tiles, and wood wall tiles create the earthy feel and natural look, matching your white bathtub, marble countertops.
Oversized design:Large granite tiles from floor to ceiling can add the sophisticated air in your room, create a luxurious space, match well with sculptures, classic paintings, shiny lamps and lanterns, etc.
Ultra white:Cover your minimalist bathroom or shower with small crisp white, grey or other single colored tiles, to achieve sleek modern appeal and embellish with different colors.
Granite Floor Tile Construction Technology & Installation Instructions
Floor cleaning: clean the floor before paving, remove the concrete and construction residue, old tiling, paint, etc., and keep dry.
Set out horizontal lines, pre-lay to confirm layout: pre-install the tiles according to the size of flooring and tiles, in the same room, the half of a tile should be not more than one line in horizontal and vertical direction. Set the horizontal line based on layout plan and part the area correctly.
Wet the ground and mix the mortar: there are two kinds of mortar can be used, one is the 1:4 semi dry mortar used as cushion, the other is 1:3 mortar used for bonding.
Lay the mortar base: adopt dry laying, the mortar should be in proper humidity, it's better to brush cement slurry with water cement ratio of 1:0.4 or 0.5.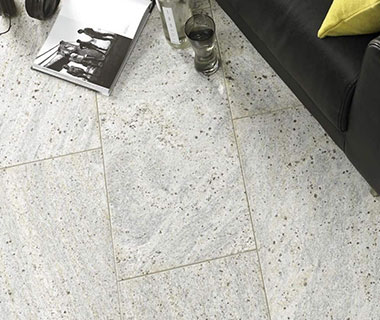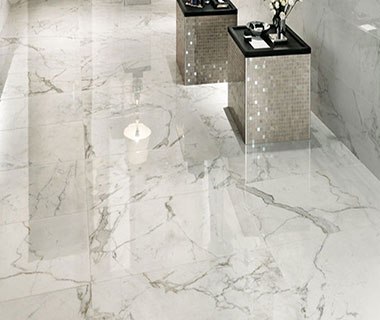 Laying trial: check out if there is hollowing and there is any error between the edges and corners of the granite tile and the adjacent tile.
Apply the mortar on the bottom of tiles evenly: the thickness should be not less than 1cm.
Pave: use a rubber hammer to knock, adjust the horizontal line and the levelness of floor tiles, as well as the gaps.
Surface cleaning: clean the dust and mortar on the surface of the granite floor tile
Spread grout: clean the dust and impurities in the tile gaps, apply pressure to force the grout into the gaps, then wipe out excess grout before it hardens.
Sealing and protection: leave it until completely hardened, clean it with sponge and warm water. The cardboard or color strip cloth of the packing box can be used as the protective layer to prevent the pollution and damage of the floor tiles caused by the following work.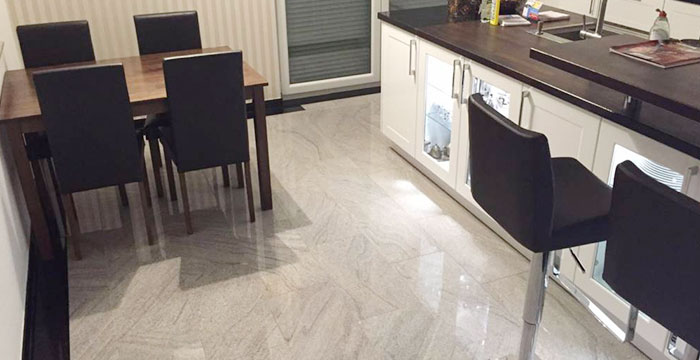 Granite Floor Tiles for Sale - China Granite Tiles Supplier, Manufacturer, Store
Hanseceramictile.com is an accomplished granite tiles supplier with 18 years experience in granite flooring manufacturing and processing, offering a collection of granite floor tiles for sale, with a range of popular colors and unique patterns, we can provide an ideal option for your flooring project, for example, polished granite tiles are perfect choice for fireplaces, kitchen, basements, hallways, foyers, and bathroom floors. It's available in 600 x 600 mm, 800 x 800 mm, 24"x24", 12"x12", and more sizes your required. Not only for attractive granite floor tile designs, we also focus on optimal function and quality of our granite flooring.
Our Range of Granite Floor Tiles - Sizes, Colors, Applications, Surface Finishes
Hanse is a top China tiles supplier manufacture quality granite floor tiles with a range of sizes, colors, and surface finishes, and used for various applications.
Sizes: 300 x 450, 300 x 600, 300 x 300, 600 x 600, 600 x 1200, etc.
Colors: grey, black, white, beige, brown, etc.
Finishes: polished, glazed, glossy, textured, unglazed, etc.
Applications: bathroom, kitchen, living room, outdoor, etc.

Why Choose Hanse Granite Floor Tiles

Full equipped processing machines, skilled manufacturing and packaging workers
Efficient management team and strict inspection from cutting to shipment
Multiple appealing design and varying styles for different likes
Guaranteed quality and high durability
Low maintenance and versatile for a range of areas
Exceptional performance and properties
Reasonable granite floor tiles and fast delivery time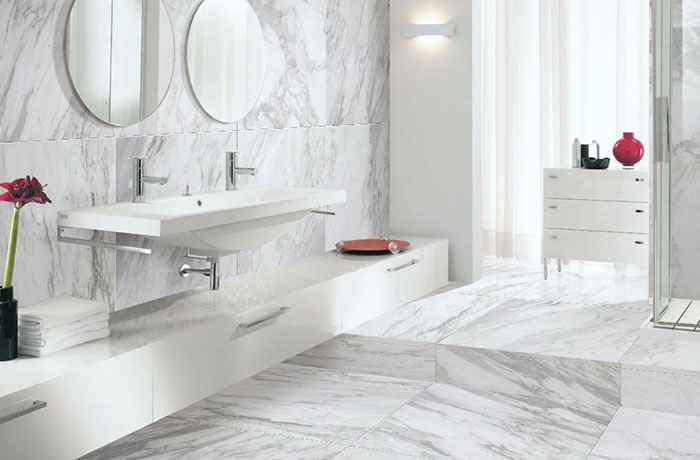 Other Floor Tiles
Other Granite Tiles