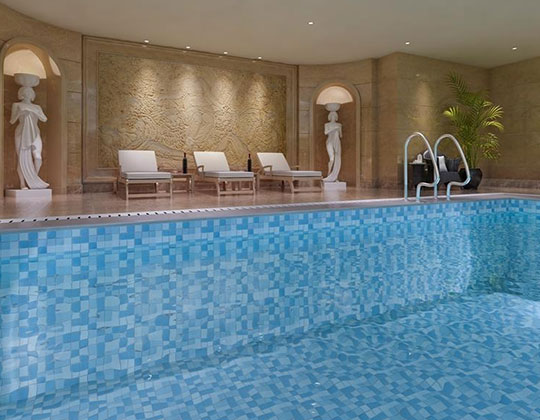 Hanseceramictile.com is one of the most reliable online wholesale pool tiles vendors in Foshan China, manufacturing high quality tiles at low pool tile prices.
Pool Tile designs contain

10 colors

,

3 finishes

,

2 features

and

2 sizes

,

27 pool tiles

in total.
All the hot selling cheap pool tile products online are of strict quality and produced by standardization of the management.
Buy cheap Hanse pool tiles for sale to add a touch of taste and personality to your house now!
In addition, gorgeous are available at Hanseceramictile shop. If you are looking for wholesale pool tiles designs, you are at the right place! Welcome to buy floor tiles online from China Hanse!
Hanse - the professional Foshan China pool tile manufacturer & supplier will continuously wok on improving the designs of our pool tiles to ensure that you get the best import pool tile products for your project!
Related Tiles
Related Search
Why Choose Tiles For Swimming Pool?
With the continuous improvement of living standards and rapid economic development in recent decades, people have begun to pay more and more attention to a healthy lifestyle. Swimming and fitness is the first choice of citizens. Then choosing suitable tiles for the swimming pool is very important. Walking barefoot by the edge of a swimming pool on a warm, safe floor, before going into the pool to cool off and stepping on the same floor, is a luxury now accessible to many. Swimming pool tile, its glaze is specially made, so it's corrosion-resistant it is the first choice for regular swimming pools. If you don't have a field of swimming in, you can choose to install a spa endless swimming machine to practice in your house outdoors.
See All Swimming Tiles Products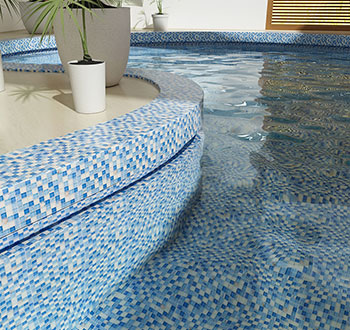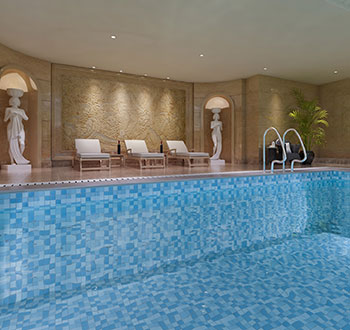 Pool Tiles Ideas - What Type Of Tile Is Best For Swimming Pools
Mosaic pool tiles:
Mosaic tile is widely used in small areas of indoor walls and small areas of outdoor walls or floors. It is mainly divided into ceramic/porcelain mosaic tiles and glass mosaic tiles. Swimming pool mosaic tiles should be able to fully meet the physical characteristics of water pressure resistance and immersion resistance, as well as the artistic requirements of color and texture. Mosaic pool tiles have a way of completely transforming a space. Choose from simple stone to playful graphics and enjoy the artsy and vibrant effect.
Glass pool tiles:
Glass tile is nonporous and especially durable. It's fire-heat and frost-proof. Combine radiant sunshine, pristine water, and glistening glass, and the result is jaw-dropping. Specially treated nonslip glass tiles are the luxurious finishing touch to the pool of your dreams, reflecting the sun to create a mesmerizing effect. Have your pool come alive by choosing a glass tile in one of the available mosaics, sizes, color combinations, and finishes. They are easy to maintain, last a lifetime, and lend water clarity that cannot be duplicated.
Artificial stone pool tiles:
Stone effect tiles make a very nice water line in a pool. These items can be used against the waterline and as a pool feature wall.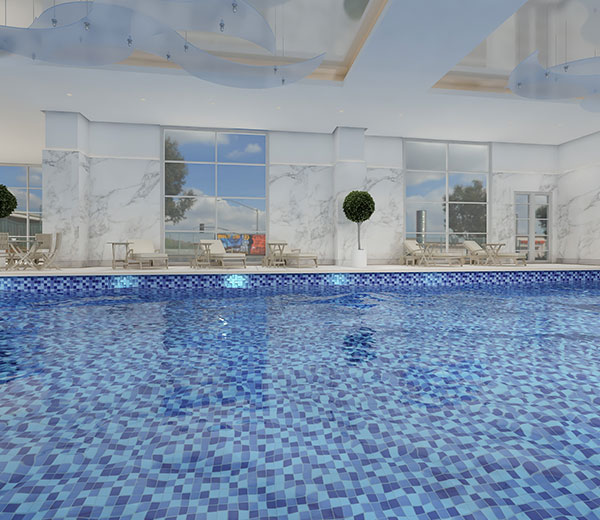 Porcelain pool tile:
Porcelain tile is the most common choice for swimming pools. Because of its density, porcelain tile is strong enough to stand up to being exposed to water and other outdoor elements. This makes porcelain an ideal choice for waterline tile, as it will survive being submerged without causing any damage or needing a significant amount of upkeep. Porcelain tile is also easy to install and easy to clean, along with being soft to the touch. (Swimming Pool Tile Idea)
Mosaic Swimming Pool Tiles Installation Tips - How To Install Mosaic Tiles For Pool
Check construction materials. Before construction, it is necessary to check whether the purchased pool mosaic tiles are enough to pave the entire construction site according to the size of the construction site. At the same time, as different mosaic tiles have different specifications, it is necessary to confirm that the batch combination on-site meets the specification requirements of the construction site.
Smooth wall foundation. Before paving, it is necessary to level the construction site to make the whole wall smooth and smooth enough so that the next pool mosaic tiles can fit the wall perfectly.
It is necessary to use measuring tools to accurately record the exact position of each mosaic pasted, and then draw lines to determine it.
According to the different properties of the materials, we need to mix different proportions of tile adhesive to ensure that the mosaic pool tiles are firm enough.
Because mosaics are all pasted with nets, they can be directly applied to the pool walls and floors with tile adhesive. Lay the mosaic tiles vertically.
Reinforce. After each mosaic pool tile is positioned, tap the mosaic surface with a board to make it firmly attached to the wall/floor.
Fill the grout. Use a small spatula, take a small amount of grout, and slowly fill the grout.
Clean. Prepare two buckets of water with detergent, to clean the stubborn residues in the construction process. One with clean water, to wash the residues in the previous process. In this process, it is better to wipe with a sponge until the sponge's surface is clean.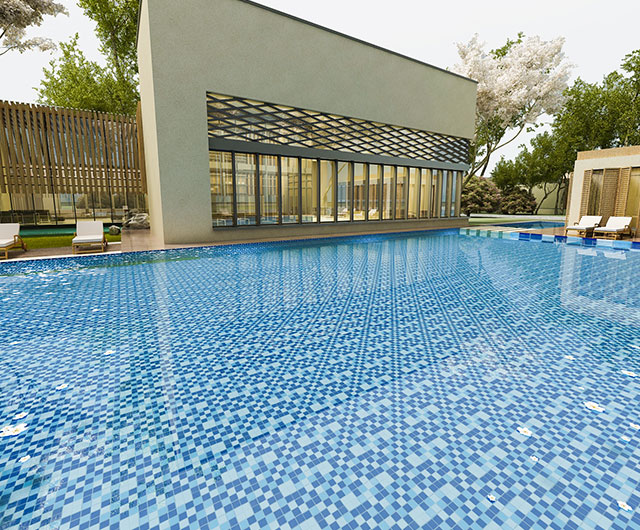 Buy Cheap Swimming Pool Tiles Online - Best China Hanse Pool Tiles Supplier & Manufacturer
Hanseceramictile offers a wide range of cheap swimming pool tiles including outdoor swimming pool tiles and indoor pool tiles. Every tile we supply is of superb quality. All the tiles are made from high-fired porcelain/ceramic, the type of tile we recommend for pools or waterlines. Hanse swimming pool tiles options are verified, the collocation is perfect, provides customers with a one-stop, specialized construction swimming pool tiles decoration material supply service. Our floor /wall tiles for the swimming pool edge have been designed to ensure perfect aesthetic continuity inside and outside, thus eliminating the aesthetic boundaries between interior and exterior floors. Have all the technical and aesthetic characteristics to meet every need for floorings on the edges of private and public swimming pools.
Our Range Of Pool Tiles - Colors, Shapes, Finishes, Materials
When ordering our waterline swimming pool tiles, you have several different finishes to choose from including matte, smooth and glossy, textured, polished, and unglazed. Our pool tiles include porcelain pool tile, R10 non-skid, stone mosaic, ceramic mosaic, marble mosaic, glass pool tile, and other significant materials. The color choices range from bright yellow, soft beige, fresh blue, vibrant green, romantic pink, and classic brown. Regarding the shape options for swimming pool tiles floor/wall, traditional square, and rectangular tiles is a staple of our online range.
Features Of Swimming Pool Tiles Hanse

Non-skip
Stain resistance
Wear resistance
Excellent finish
Strong construction
High strength
Long-lasting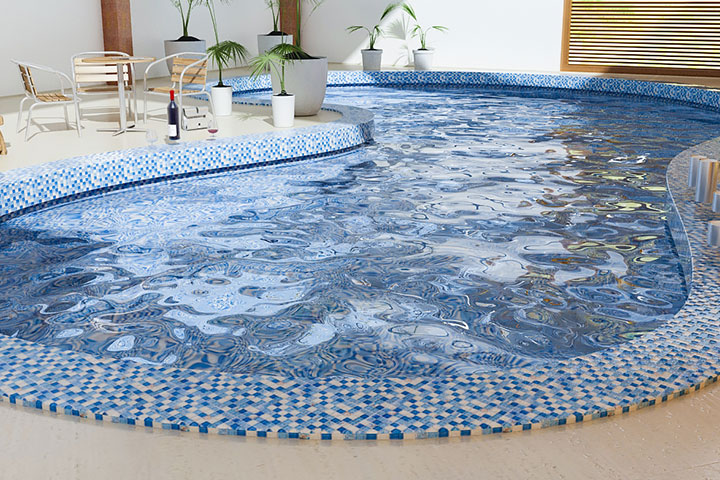 How To Get Rid Of Calcium Deposits On Pool Tile?
Calcium deposits on pool tiles are a common problem that can be caused by hard water, high pH levels, or other factors. Here are some steps you can take to remove calcium deposits from your pool tile:
Drain the pool: Before you begin cleaning the tile, it's essential to drain the pool to a level where you can easily access the tile.

Mix a cleaning solution: Mix equal parts of water and white vinegar in a spray bottle. You can also use a commercial tile cleaner specifically designed to remove calcium deposits.

Apply the cleaning solution: Spray the cleaning solution onto the tile and let it sit for several minutes to allow the acid in the vinegar to dissolve the calcium deposits.

Scrub the tile: Use a soft-bristled brush or sponge to gently scrub the tile, paying extra attention to areas with heavy calcium buildup.

Rinse the tile: Use a hose or pressure washer to rinse the tile thoroughly with clean water. Make sure to remove all traces of the cleaning solution.

Refill the pool: Once you have cleaned the tile, you can refill the pool to its normal level.
It's important to note that if the calcium deposits are particularly stubborn or have been present for a long time, you may need to use a more aggressive cleaning solution or hire a professional pool tile cleaning service. Additionally, you may want to adjust your pool's pH levels or invest in a water softener to prevent calcium buildup in the future.
Why Buying Pool Tiles Hanse
At Hanseceramictile shop, we understand that the right tile has the power to make any internal and external design project a stunning success. That's why we have a wide range of the best swimming pool tiles cheap in different colors, sizes, shapes, finishes, and patterns for you to select. With so many variations, you're guaranteed to find the perfect product for your pool project. We promise that you will enjoy the most affordable swimming pool tiles price. Each Hanse's best floor tiles and wall tiles for the swimming pool comply with international quality standards to ensure that we only offer the very best.
Get Our Pool Tiles Prices List - How Much Does Pool Tiles Cost
The cost of pool tile material for indoor & outdoor depends on a few factors. These include: pool tile, style, color, size, sales tax, shipping, delivery fees and where you buy it from. If you are looking to buy pool tiles, there are a couple of the most well-known manufacturers of pool tile products in the market.
And one of the largest independent online ceramic & porcelain pool tile distributors in China - Hanseceramictile offers the best quality wholesale pool tiles for bathroom, kitchen, living room, bedroom and outdoors. The price for pool tile on sale Hanse is the most affordable compared with other ceramic & porcelain pool tile manufacturers & suppliers in China, range from 1 USD to 100 USD. So, whether you want to give your home a fresh new look or you want a durable flooring option for your new home or office, Hanse's cheap price pool tiles for sale online will be your ideal choice. You can buy pool tile online here with best service, fast delivery and safety guarantee. Get our cheap pool tiles prices list and buy pool tiles China now!
Hot Products