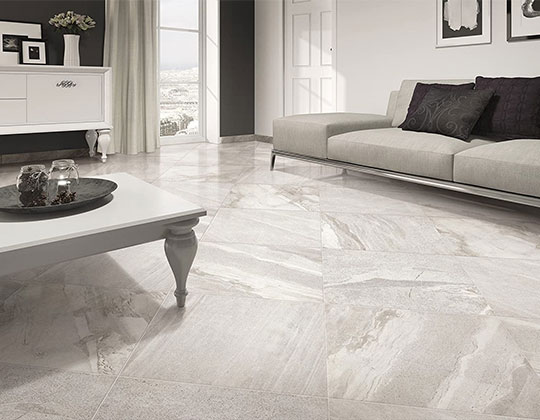 Hanseceramictile.com is one of the most reliable online wholesale glazed tiles vendors in Foshan China, manufacturing high quality tiles at low glazed tile prices.
Glazed Tile designs contain

17 colors

,

8 finishes

,

9 features

and

27 sizes

,

797 glazed tiles

in total.
All the hot selling cheap glazed tile products online are of strict quality and produced by standardization of the management.
Buy cheap Hanse glazed tiles for sale to add a touch of taste and personality to your house now!
In addition, gorgeous are available at Hanseceramictile shop. If you are looking for wholesale glazed tiles designs, you are at the right place! Welcome to buy floor tiles online from China Hanse!
Hanse - the professional Foshan China glazed tile manufacturer & supplier will continuously wok on improving the designs of our glazed tiles to ensure that you get the best import glazed tile products for your project!
Related Tiles
Related Search
What Are Glazed Tiles?
A glazed tile is a ceramic or porcelain tile with a layer of glaze applied to the tile's surface. The glaze is a liquid coating made from glass materials that are applied to the tile body and then fired in a kiln at a high temperature to fuse the glaze to the surface of the tile. The glaze creates a smooth, glass-like finish that can come in various colors and patterns.
Glazed tiles are popular for use in interior design applications, such as bathrooms, kitchens, and living spaces, as they are durable, easy to clean, and come in a wide range of styles. Glazed tiles can be used on both floors and walls, and are available in a variety of sizes, textures, and finishes. Some glazed tiles are designed to mimic natural stone, while others may have a glossy or matte finish.
Glazed tile is the most common door/wall tile in the decoration, and most suitable for indoor use, due to its wider range of styles and colors and strong anti-fouling ability. Porcelain glazed tiles and ceramic glazed tiles are therefore very often laid in places where the floor can easily get wet and will remain non-absorbent for a lifetime.
See All Glossy Tiles Products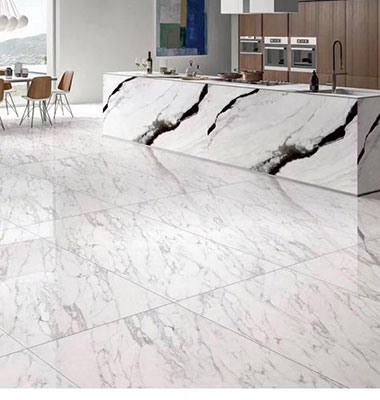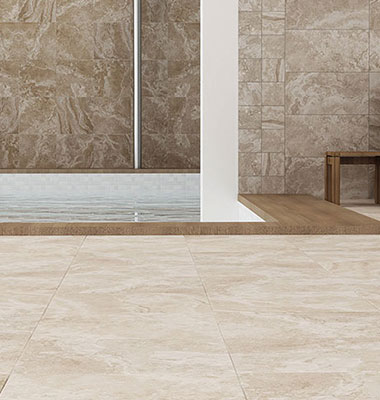 What Are The Pros And Cons Of Glazed Tiles?
Advantages:
Gazed tile comes in rich colors, patterns, and specifications, has features of convenient cleaning, large selection space, and is suitable for kitchen and toilet. Glaze tile surfaces can be made of various patterns and styles, more colorful and patterned than

polished tiles

.
The surface strength of glazed finish tile will be much greater, which can be used as both wall and floor. Compared with vitrified tiles, the biggest advantage of glazed tile is anti-seepage, and stain-resistant. Most of the glazed tiles have perfect anti-skid degrees, R10 tiles with a glazed finish can be a great choice. Moreover, various patterns can be fired on the surface of the glazed tile with various styles.
Impervious, seamless splicing, arbitrary shape, very good toughness, basically no fracture, and other phenomena.
Disadvantages:
Glazed ceramic/porcelain tiles have the disadvantage of being more slippery when wet than unglazed, but this can be largely overcome by purchasing textured surface tiles.
The surface is glazed, so the wear resistance is not as good as

polished tile.

In the process of firing, we can often see pinholes, cracks, bending, color difference, and water ripple spots on the glaze.
Based on the water absorption. The good quality tiles have a good press, high density of pressing, high firing temperature, and good porcelain, so the water absorption is also small.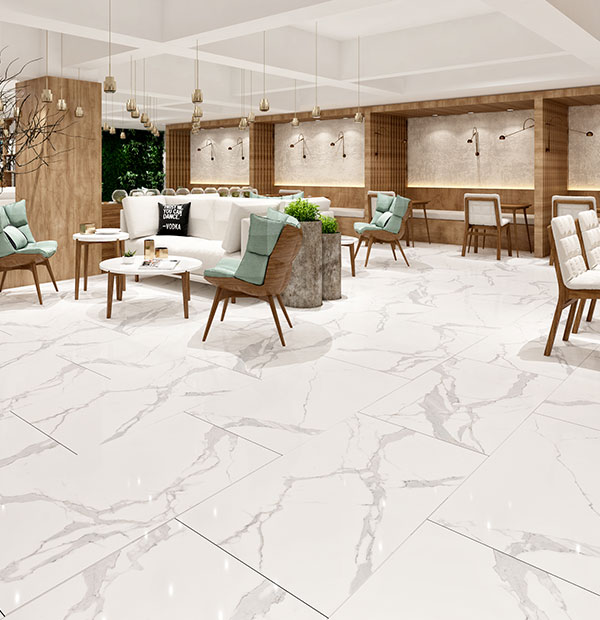 Glazed Tiles Design Ideas
Accent kitchen backsplash:
Using accents of hexagon glazed tile can add a beautiful pop of color to any space. If you're adding a strip of contrasting tile like in the kitchen below, you'll want to ensure that the whole top part is glazed for a clean look.
Chic retro bathroom wall:
Keep it simple with a chic subway tile bathroom. For this one, we simply cut the tile to create a straight line down the edges of the installation without disrupting the brick layout pattern and glazed the sides.
Living room floor:
It's better to install tiles with higher brightness for the living room floor, in this respect, glazed finish tile is the best choice. Glazed tiles are polished professionally, with a bright and clean surface, which can effectively improve the brightness of the interior.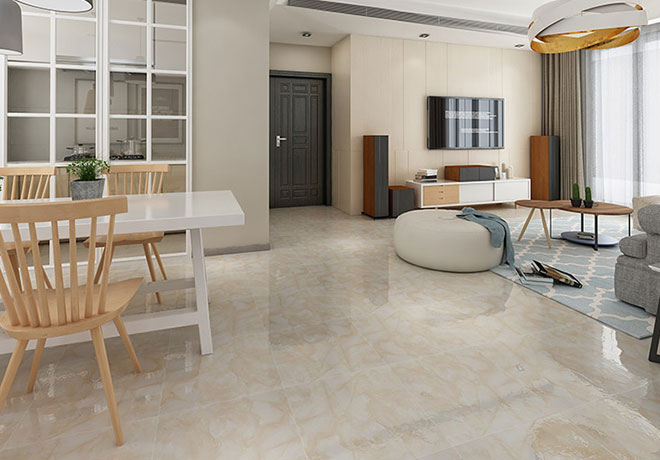 How To Clean Glazed Tiles Flooring?
Sweep or vacuum the tile to remove any loose dirt or debris.

Mix a cleaning solution: For everyday cleaning, you can mix a solution of warm water and a mild detergent or all-purpose cleaner. Alternatively, you can use a commercial tile cleaner that is specifically designed for use on porcelain tiles.

Apply the cleaning solution: Use a mop or sponge to apply the cleaning solution to the tile. Make sure to cover the entire surface of the tile.

Scrub the tile: Use a soft-bristled brush or scrubber to gently scrub the tile, paying extra attention to any grout lines or areas with stains or dirt buildup.

Rinse the tile: Use a clean mop or sponge to rinse the tile with clean water. Make sure to remove all traces of the cleaning solution.

Dry the tile: Use a clean, dry towel or mop to dry the tile surface. This will help to prevent any water spots or streaks from forming.
It's important to avoid using harsh abrasives or acidic cleaners on glazed porcelain tile, as these can damage the surface of the tile. Additionally, you should avoid using steam cleaners on glazed porcelain tile, as the high heat can cause the tile to expand and contract, which can lead to cracking or other damage.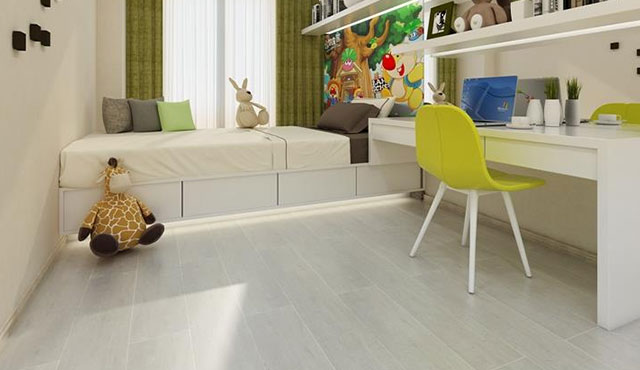 How To Install Glazed Tiles Flooring & Wall
Seam Reservation: When paving, there is a 2mm gap between the tiles to reduce the stress caused by the expansion and contraction of the tiles.
Treatment of corner: When grinding the corner, first use a glass knife to cut out the glaze to be polished off, to avoid porcelain collapse and affecting the appearance.
Treatment of dislocation paving: To achieve a certain artistic effect, dislocation paving is adopted. Pay attention to leaving 1mm more seams based on the original seam.
Treatment of glazed tile cutting: The tiles cut shall be laid in an inconspicuous place in the corner with the cutting face inward. Try to avoid sticking it on the center of the wall to affect the beauty. If it can not be avoided, the section should be kept neat and avoid rotten edges.
Selection of cement: The hardness of cement shall not be higher than 400 to avoid breaking the glaze and producing porcelain collapse.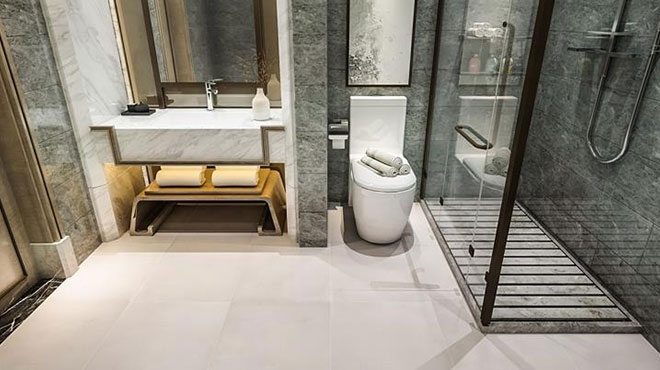 Buy Glazed Tiles Floor & Wall Online - China Top Glazed Tiles Manufacturer & Distributor
Want to change the tile of your floor, wall, or staircase and you are looking for suitable glazed tiles with top quality and stylish design? Do not search anymore! Hanse - Your specialist in manufacturing ceramic and porcelain glazed tiles for walls, floors, and stairs of the latest generation at the best price on the market, giving fresh air to your bathrooms, kitchens, stairs, or your local business! Hanse glazed finish tiles come in a multitude of sizes, from standard 600x600mm to large format 1200x2400mm. They are available in a variety of colors, ensuring that you can find the perfect tile to complement your home and style. We accompany and advise you throughout your project!
Application:

Kitchens, Bathrooms, Laundry rooms (Roofing tiles, Flooring tiles, Wall tiles, Partition tiles)

Types In Materials:

Ceramic glazed tiles & porcelain glazed tiles according to materials; glossy glazed tiles & matte glazed tiles according to gloss.

Appearance:

An infinite selection of colors, finishes, textures, and styles, is achieved using inkjet printing technology.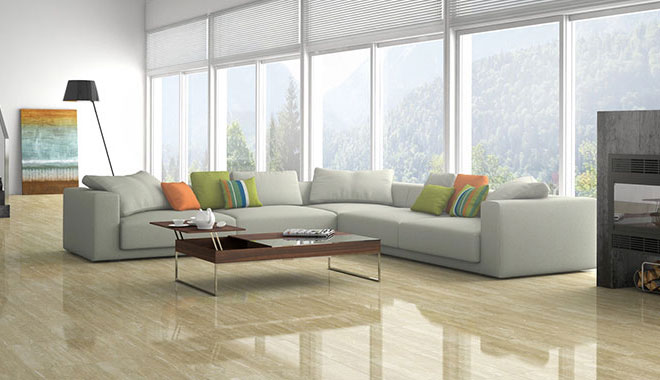 Performance:

Tiles have many colors, are highly moisture, are stain-resistant, and are widely used on walls and floors.

Specifications:

Square glazed tiles have 152 × 152mm, 200 × 200mm, rectangular glazed tiles have 152 × 200mm, 200 × 300mm, etc., and commonly used glazed tiles have thicknesses of 5mm and 6mm.

Laying attention:

Wall tiles should be laid from the bottom to the top, and the ground should be leveled. And pay attention to the treatment of the waterproof layer. The tile surface should be flat and the angle should be accurate.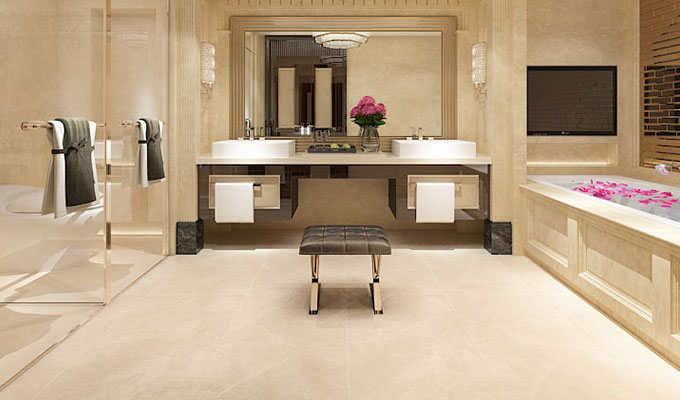 How To Glaze Tile Floors?
Glazing a tile floor is not an easy DIY project as it requires specialized equipment and expertise. Glazing is usually done at the manufacturing stage, where the glaze is applied to the tiles and then fired in a kiln to fuse them to the tile surface.
If you have unglazed tile floors and would like to give them a glossy, glazed finish, you may be able to achieve this by applying a sealer or coating to the surface of the tile. There are a variety of products available that can be used to seal or coat tile floors, such as epoxy coatings, urethane coatings, and acrylic sealers.
Before applying any sealer or coating to your tile floors, it's important to thoroughly clean the surface of the tile to remove any dirt, debris, or other contaminants that may interfere with adhesion. You may also need to sand or etch the surface of the tile to create a rougher surface that will help the sealer or coating adhere properly.
It's important to follow the manufacturer's instructions carefully when applying any sealer or coating to your tile floors. You may need to apply multiple coats, and you'll need to allow sufficient drying time between coats. It's also important to avoid using harsh chemicals or abrasive cleaners on your newly glazed tile floors, as these can damage the surface of the sealer or coating.
Get Our Glazed Tiles Prices List - How Much Does Glazed Tiles Cost
The cost of glazed tile material for indoor & outdoor depends on a few factors. These include: glazed tile, style, color, size, sales tax, shipping, delivery fees and where you buy it from. If you are looking to buy glazed tiles, there are a couple of the most well-known manufacturers of glazed tile products in the market.
And one of the largest independent online ceramic & porcelain glazed tile distributors in China - Hanseceramictile offers the best quality wholesale glazed tiles for bathroom, kitchen, living room, bedroom and outdoors. The price for glazed tile on sale Hanse is the most affordable compared with other ceramic & porcelain glazed tile manufacturers & suppliers in China, range from 0.19 USD to 300 USD. So, whether you want to give your home a fresh new look or you want a durable flooring option for your new home or office, Hanse's cheap price glazed tiles for sale online will be your ideal choice. You can buy glazed tile online here with best service, fast delivery and safety guarantee. Get our cheap glazed tiles prices list and buy glazed tiles China now!
Hot Products