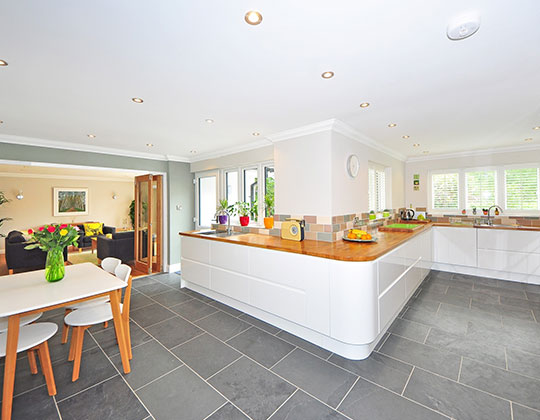 Hanseceramictile.com is one of the most reliable wholesale kitchen floor tiles vendors in Foshan China, manufacturing high quality tiles at low kitchen floor tiles prices.
Kitchen Floor Tiles designs contain

14 colors

,

8 finishes

,

9 features

and

17 sizes

,

217 kitchen floor tiles

in total.
All the hot selling cheap kitchen floor tiles products are of strict quality and produced by standardization of the management.
Buy cheap Hanse kitchen floor tiles for sale to add a touch of taste and personality to your house now!
In addition, gorgeous kitchen tiles and floor tiles are available at Hanseceramictile shop. If you are looking for wholesale kitchen tiles or wholesale floor tiles designs, you are at the right place!
Hanse - the professional Foshan China kitchen tile manufacturer & supplier will continuously wok on improving the designs of our kitchen tiles to ensure that you get the best import kitchen tile products for your project!
Hot Products
Related Search
Floor Tiles For Kitchen , Best Floor Tiles Design In China
The clean, tidy, relaxed and pleasant kitchen makes people feel particularly comfortable and warm, makes people think of delicious food involuntarily, and feels the happiness of home life. And the floor tile decoration of the kitchen absolutely plays a key role. Installing Hanse tile for kitchen floors is always a smart, stylish decision. Its easy-to-clean, waterproof and durable nature means that it's well suited to prevent spills, messes and heavy foot traffic.
Kitchen Floor Tiles Manufacturer In China - Buy Floor Tiles For Kitchen Of Unique Sizes, Shapes And Colors
With such a diverse selection of kitchen tiles to buy online, the only problem you'll have is choosing your favourite! Kitchen floor tiles come in various shapes and sizes, such as hexagon, square, herringbone, so too do Hanse kitchen floor tiles ideas. We offer an incredible range of ceramic/porcelain tile designs from small, medium, large, mosaic, subway, and more patterned kitchen floor tiles! Slate, marble, stone and ceramic tile that looks like wood are the most popular at the moment for both rustic or contemporary kitchen tile designs. So introduce a new look to your floor spaces by adding some Hanse kitchen floor tiles from now!
See All Kitchen Floor Tiles Products
Features & Benefits Of Kitchen Floor Tiles Hanse

- Authentic wood effect tile replicates real hardwood
- Incredibly realistic reproduction of natural grain
- Durable porcelain construction
- Suitable for indoor and outdoor tile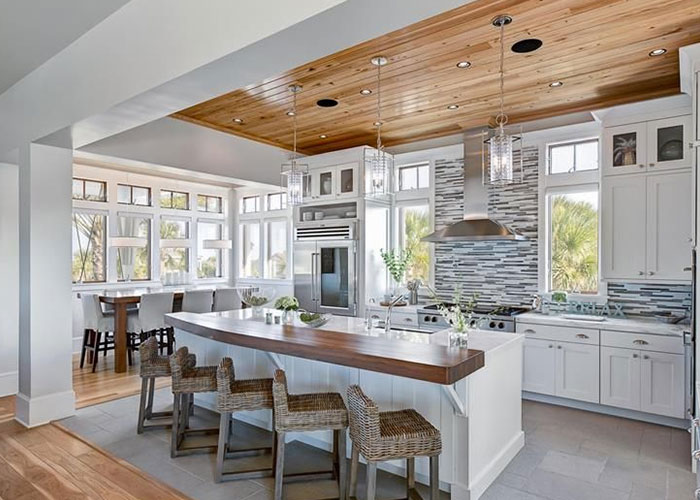 Kitchen Floor Ties Ideas - Color Matching Of Kitchen Floor Tile
Whether you're after classic or ultra-modern design, we have an extensive selection of kitchen floor tiles to suit your needs - and here are a few ideas to get those creative juices in full flow for pulling off your dream kitchen.
Modern simple style:
Keep things simple without compromising on style by creating your own ultra-modern kitchen design. The white glazed floor tile is a simple and clean appearance. The overall white color gives a neat effect, while the smooth surface is also very easy to clean at ordinary times.
Fresh and elegant:
The kitchen with fresh feeling, light gray is definitely the first choice of color matching, with light patterns on the tiles, integrated into the white cabinet, there is a difference with it. There are a few decorative tiles occasionally, which brings a different life.
Pastoral style:
Brown rustic tiles, imitating the natural color too deep and light, are more suitable for matching with the Pastora style kitchen. The antiskid surface also ensures certain safety in kitchen operation.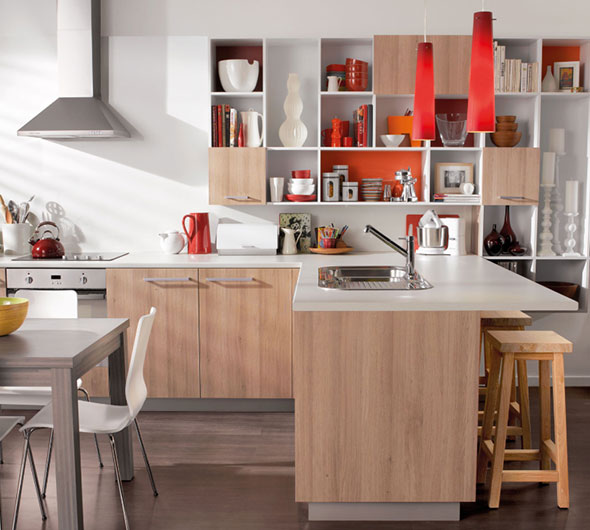 Playful patterns:
Patterned tiles have become a mainstay in home interiors and are a fantastic way to add flair to any kitchen, whether you want something striking or a little more subtle. Design a unique pattern with unconventional hexagon kitchen tiles that are perfect for creating visual zones in large, open-plan kitchens.
Mediterranean style:
Blue is the typical performance of Mediterranean style. The soft collocation of beige and blue, the pure color ceramic tiles are fresh and natural, and will not bring tedious feeling to the kitchen. The natural blue mosaic tile brings magical effect to the kitchen.
Retro style:
Imitating the natural stone pattern, the contrasting combination of marble color and white brings an active atmosphere to the retro style kitchen. The stone grain and wood grain of dark cupboard echo each other, have natural feeling, complement each other with the whole design inside the kitchen.
Wonderful wood:
With wood-effect tiles you can create a myriad of interior decor styles that will stand the test of time and require very little maintenance. From Pastoral style kitchens to Mediterranean style or luxurious minimalism, there are infinite styling ideas for incorporating wooden tiles into modern kitchens.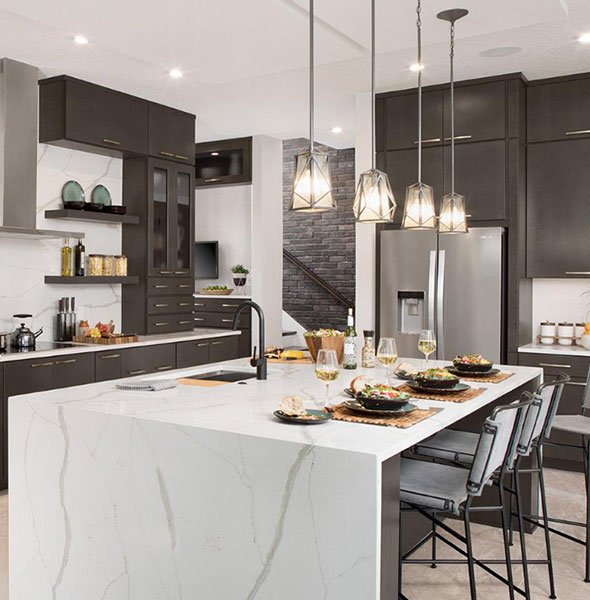 Kitchen Floor Tile Selection - How To Select Best Tiles For Kitchen Floor From Hanse Tile Manufacturer
1. Specifications & Sizes

The space of the kitchen is not large, and the cabinets occupies a large area. So in fact, the area of floor tiles is very small. When we choose the kitchen tiles, the smaller specifications is better - 300×300/600×600 kitchen floor tiles can be your best choice. In this way, when we lay and paste the tiles, we can keep the reasonable matching of the space.

2. Colors

Usually, the kitchen has the problem of high temperature and oil smoke, so we should choose the cold color tone and light color when paving the ceramic or wood look kitchen tiles for floor such as white, light green, brown, light grey tiles. These colors will make us feel the breath and coolness of Spring under high temperature. And cold color can also make the kitchen appear spacious and clean, making people feel that the space is expanding.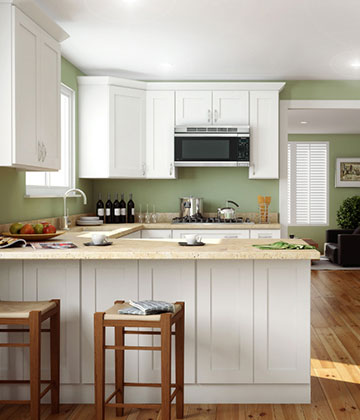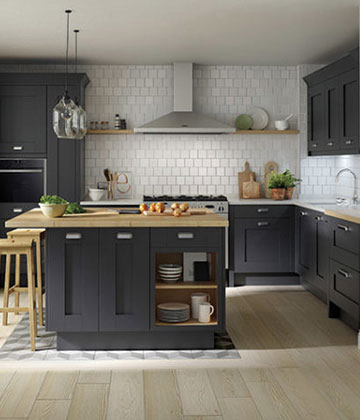 3. Finishes

Our ceramic/porcelain floor tiles are made of various finishes, including glazed, matte, full body, honed, lappoto, textured, glossy and polished tiles. For the kitchen, the first choice is glossy or matte tiles.

Matte tiles: Many people think that matte kitchen tiles are not easy to handle, but in fact, matte finish ceramic tiles are more conducive to clean and maintain, and delicate, simple luster can also create fashionable results.
Full body/homogeneous tile: The tile which has lower water absorption and better wear resistance is widely used in kitchen floor. The surface of the full body tile is not glazed, and the material and color of the front and the back are the same, with good skid resistance.
R10 tiles: R10 antislip tile has rough surface, high anti-skid coefficient, you will not fall easily when there is water in kitchen floor.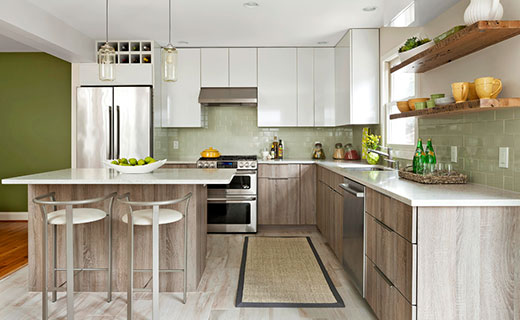 Other Floor Tiles
Other Kitchen Tiles