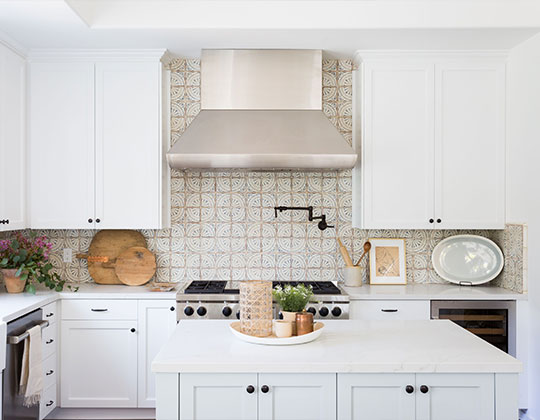 Hanseceramictile.com is one of the most reliable online wholesale kitchen backsplash tiles vendors in Foshan China, manufacturing high quality tiles at low kitchen backsplash tile prices.
Kitchen Backsplash Tile designs contain

15 colors

,

5 finishes

,

4 features

and

5 sizes

,

30 kitchen backsplash tiles

in total.
All the hot selling cheap kitchen backsplash tile products online are of strict quality and produced by standardization of the management.
Buy cheap Hanse kitchen backsplash tiles for sale to add a touch of taste and personality to your house now!
In addition, gorgeous kitchen backsplash tiles are available at Hanseceramictile shop. If you are looking for kitchen backsplash tiles designs, you are at the right place! Welcome to buy floor tiles online from China Hanse!
Hanse - the professional Foshan China kitchen backsplash tile manufacturer & supplier will continuously wok on improving the designs of our kitchen backsplash tiles to ensure that you get the best import kitchen backsplash tile products for your project!
Related Search
Kitchen Backsplash Tiles Make You Fall In Love With Cooking
Located between the cupboards and your worktop, the backsplash is one of the elements of the room that sets the tone for your decoration. Kitchen Backsplash Tiles are important factors to consider when designing a kitchen. Kitchen backsplashes tiles can change the style of the entire kitchen, they can be popping sounds behind the range, or they can cover the area between the worktop and the cabinet. High-end kitchen backsplash tiles can open a vast world of textures and colors for you to fall in love with cooking delicious meals. Whether your ideal kitchen is rustic, comfortable, modern or stylish, you can use Kitchen Backsplash Tiles to create unparalleled beauty! To bring an artistic and eccentric touch to the room, opt for patterns on your tiled kitchen backsplash. For a fun and contemporary style of cooking, you can also adopt a kitchen backsplash tiles made of irregular, hexagonal, round or diamond tiles and even lay them differently, in chevrons or diagonally.
See All Kitchen Backsplash Tiles Products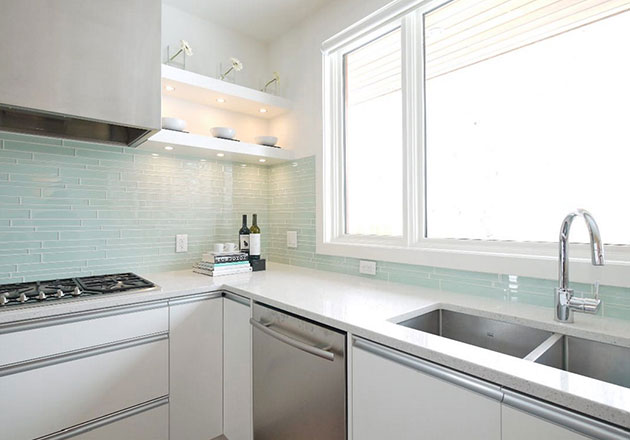 Beautiful, Durable, Affordable Kitchen Backsplash Tiles Wholesale
The Hanse Kitchen Backsplash Tiles collection includes Backsplash Tiles in various materials. Whether you like retro styles, geometric patterns, shiny glass mosaics, or simple solid-color subway shapes, you can find the Kitchen Backsplash Tile you like in Hanse. In order to meet the different preferences of customers around the world, we produce Kitchen Backsplash Tiles in various materials, such as marble, ceramic, stone, slate, etc. We also have a variety of colors and sizes to choose from. Surprising prices and materials make our products loved by customers in many countries. Hanse can be your best Kitchen Backsplash Tiles Supplier and Manufacturer, send your inquiry to us now!
Benefits of Hanse Kitchen Backsplash Tiles

Excellent quality, rugged and durable
Resistant to dirt and mildew, not easy to fade, easy to clean and maintain
Various patterns, sizes, colors and materials to choose from
Lowest factory outlet prices make customers profitable
Attentive service and timely delivery
What Type of Tile Is Suitable For Kitchen Backsplash?
Kitchen backsplash tiles must withstand humidity, heat and chemicals. Indeed :
The tiles near the sink are permanently wet
The splashback tiles behind the hobs are constantly exposed to steam and grease splashes. This part is therefore regularly degreased and cleaned, which requires high chemical resistance.
Kitchen tiles should also be aesthetic and easy to clean.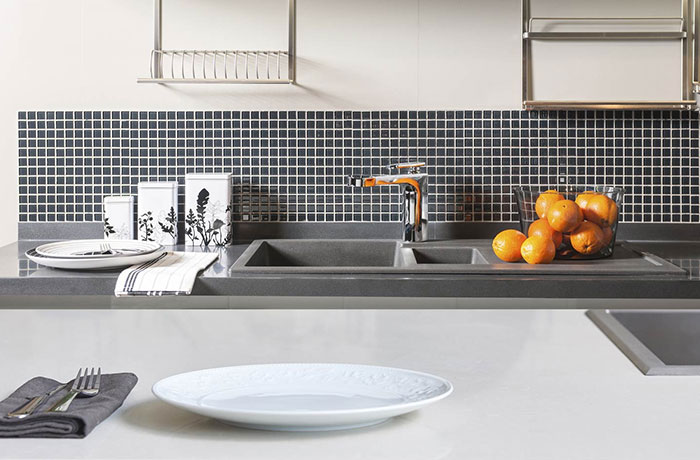 Best Design Ideas of Kitchen Splashback Tiles
The splashback tile impresses its style throughout the kitchen. In terracotta, porcelain stoneware or even natural stone, the different materials make it possible to bring an original texture sometimes singular to the decor, while geometric or deliciously colored patterns, reinvent the kitchen with a touch of modernity. Detailed with some trendy kitchen backsplash tile design ideas, which bring character to any kitchen.
Glass mosaic backsplash tiles - If you want to add a touch of whimsy to your kitchen splashback, the glass mosaic tiles is very interesting: resistant and waterproof, it allows a wide variety of colors and especially to make mosaics. Widely used in water features, it is natural that wall tiles made of glass paste line your walls. In addition to its very easy maintenance, you can find ecological glass paste with models that contain up to 80% recycled glass.
Graphic backsplash tiles to personalize your kitchen wall - This is one of the main trends of the moment, to dare a tonic coating whose implementation composes a visual and original decor. By their forms or their geometric designs, these graphic tiles create an optical rhythm by repeating the patterns. A singular way to personalize its decoration as one could do it with a wallpaper for example. To avoid overloading the atmosphere, it should be used sparingly, applying it to a single wall or section of wall and combining it with a refined decoration.
Wood & Stone effect backsplash tiles - Illusion of optics or real effect of matter, these marble effect tiles, wood look tiles, and other stone effect tiles play with our visual perception to impose their original style in the same way as a trompe wallpaper. Some imitate wood, marble or even metal, while others use relief to impose a light rhythm, the result of which, although discreet, produces an original and personalized effect.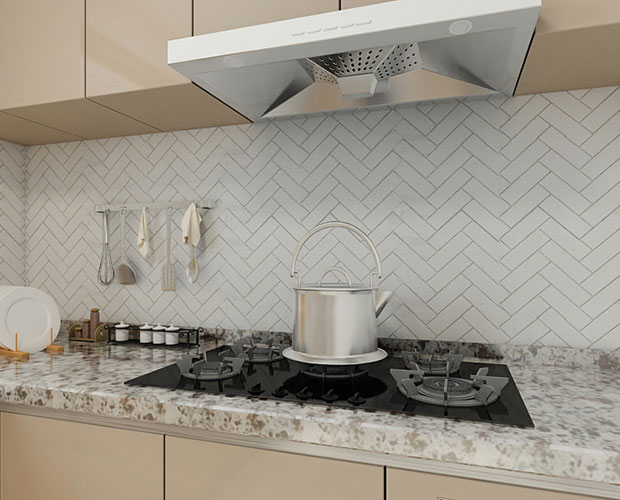 Kitchen splashback tiles with vintage accents - By their retro pattern, this kind of backsplash tiles' ultra-classic shape or just an outdated implementation, these tiles take us back in time. Emblematic of a bygone era, plaster tiles, for example, have made a comeback in our interiors, even if in water rooms we should choose one that is water repellent.
Multipurpose geometric pattern backsplash tiles - In kitchen backsplash, geometric tiles (such as subway, herringbone, hexagon) are the big trend of the moment. geometric backsplash tiles adapts to different styles and makes it possible to revamp walls with elegance and simplicity at the same time. It goes perfectly with a bathroom or urban kitchen, contemporary, vintage, traditional, or even retro. Different sizes and available in several colors, geometric tiles are timeless but can also adapt to different styles of decoration.
Classic looking porcelain/ceramic splashback tiles - Simple by their shape, their appearance and especially their patterns, the most classic tiles are also the ones that get tired the least quickly. Timeless, their discreet and solid shades make it one of the most popular coatings, because they adapt to all styles. Implemented in a linear and repetitive manner, their homogeneous rendering allows them to blend better with the rest of the decoration of the room. But you can also choose to alternate two or more colors to compose a more dynamic rhythm or create echoes with certain elements of the decoration.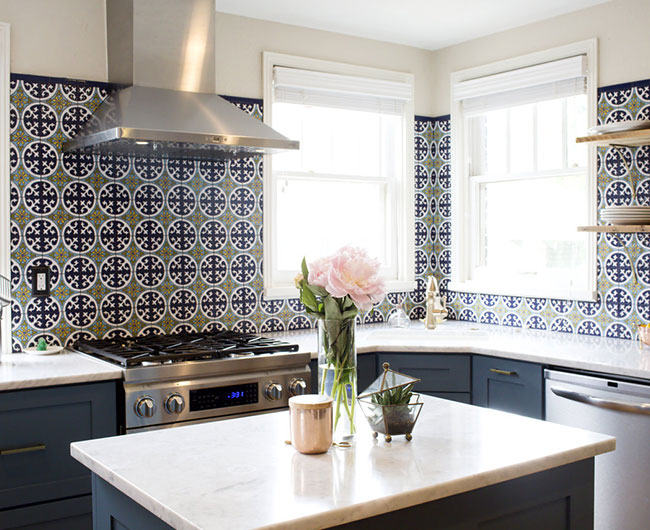 Other Kitchen Tiles
Hot Products