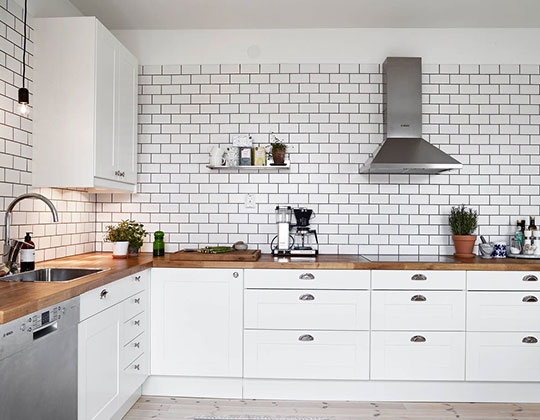 Hanseceramictile.com is one of the most reliable wholesale white kitchen tiles vendors in China, manufacturing high quality tiles at low white kitchen tiles prices.
White Kitchen Tiles designs contain

12 colors

,

7 finishes

,

5 features

and

11 sizes

,

78 white kitchen tiles

in total.
All the hot selling cheap white kitchen tiles products are of strict quality and produced by standardization of the management.
Buy cheap Hanse white kitchen tiles to add a touch of taste and personality to your house now!
In addition, gorgeous white tiles and kitchen tiles are available at Hanseceramictile shop. If you are looking for wholesale white tiles or kitchen tiles designs, you are at the right place!
Hot Products
White Kitchen Tile - White Tiles for Kitchen Floor and Wall
Tiles are great solution to prevent spills and splashes from the kitchen surfaces and create a refresh space. Why to choose white kitchen tile? The pure white tiles can perfectly paired with marble countertops and metal sinks of different colors, and make the kitchen full of vibrant personality, you will have a pleasant mood when you cooking and eating. What's more, the kitchen white tiles applying light and cold tone, which make you more comfortable in the high temperature and oily smoke environment, it also expand the space visually, you kitchen will look more spacious. Pick up white kitchen floor tiles and wall tiles of different specifications according to the area of your kitchen.
See All white kitchen tile Products
Why Choose White Tiles for Kitchen?
Reflect light and make your kitchen more spacious visually
Easy to match any other color
Never outdated, can stand the passage of time
Evoke positive emotion, make people feel good when cooking
Aesthetic pleasing, looks clean, fresh and pure.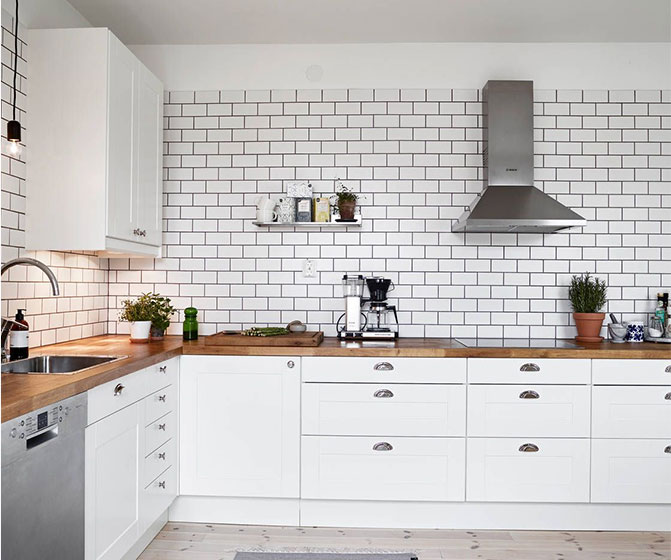 White Kitchen Tile Designs & Ideas
1. Strips: White subway tiles are popular kitchen wall tiles option, if you want to add some feature or make it more attractive, insert several rows of other colored subway tiles in the white tiling, to create a strip, such as olive green, light blue, etc.
2. Subtle texture changes: White tiles offer unlimited kinds of textures, you can apply large sized white kitchen flooring or white wall tile with unique and chic non-repeating pattern to create slight change or connect for a complete image
3. Coverage: If you want to break with convention and build a striking kitchen, full coverage is a design you can consider, especially the white porcelain tile with glossy finish.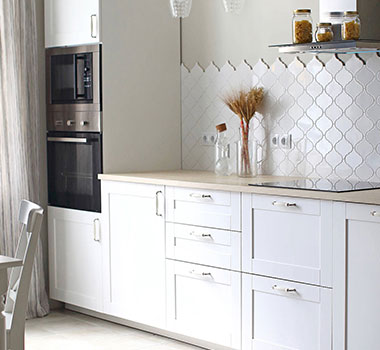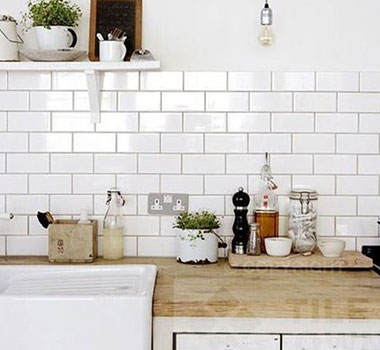 How to Clean White Kitchen Tiles - White Kitchen Maintenance
White tiles make the space look clean and bright, on the other hand, the stains and dirt are obvious under the white contrast, and result in kitchen looks a little grubby. So what's the best method to clean white kitchen tile?
The lampblack on the surface of white tile is easy to clean. First use clean towel wipe it with detergent, if it's not clean, you can cover the tile with paper, pour detergent, leave it for a few minutes, then the lampblack will be attached to the toilet paper.
If the stain layer is thick, you can use a small blade to shovel off the dirt, along the gap of the tile, then wipe it with clean cloth and detergent.
When the lampblack is cleaned, maintain the tile with candle. Apply candle to the grout line of tile evenly, which is helpful for later cleaning.
White flour can also be used to remove oil stains, even better than detergents. Spray a little water on the dirty area, then evenly sprinkle the flour, wait for about 15 minutes. When the flour has absorbed the oil completely, wipe it off with paper. If the stain is stubborn, clean it several times.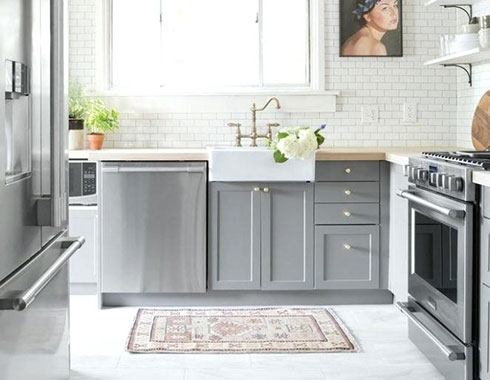 Buy White Tiles for Kitchen Floor, Wall & Backsplash - Cheap White Kitchen Tile Manufacturer and Supplier
At Hanseceramictile.com, you can find an impressive style for your kitchen white tiles ideas, ranging from wood like tiles, subway tiles, industrial tiles, mosaic tiles, glass tiles, stone tiles, porcelain tiles, to ceramic tiles, there are an assortment of white tiles for kitchen with varying materials, sizes, shapes, patterns and styles. Whether you want cozy and rustic kitchen, or modern and stylish decor, our white kitchen tiles product would cover diverse options. Hanse kitchen tiles are versatile for covering your flooring, wall, backsplashes and countertops with its performance of water resistant, chemical resistant, hard wearing and durability, as well as cheap prices and guaranteed quality.
Our Range of White Kitchen Tiles
Hanse White Tiles for Kitchen supply a wide range of materials, finishes, features, designs and sizes.
Materials: ceramic, porcelain, glass, wood, marble, etc.
Finishes: polished, glossy, glazed, etc.
Features: mosaic, rectangle, square, hexagon, etc.
Sizes: 75 x 150mm, 300 x 600mm, 600 x 600mm, 800 x 800mm, 200 x 300mm, 900 x 1800mm, etc.
Application: floor, wall, backsplash, countertops, etc.
Why Choose Hanse White Kitchen Tile

CCC certification, CE certification, ISO14001 certification, and ISO9001 standard
Easy to clean and maintain, long service life without deliberate damage
Beautiful, elegant, classic design and practical function
Vast selection of white kitchen tiles textures, patterns and designs
Add brand new character, elements and feelings to your space
Other Kitchen Tiles
Other White Tiles