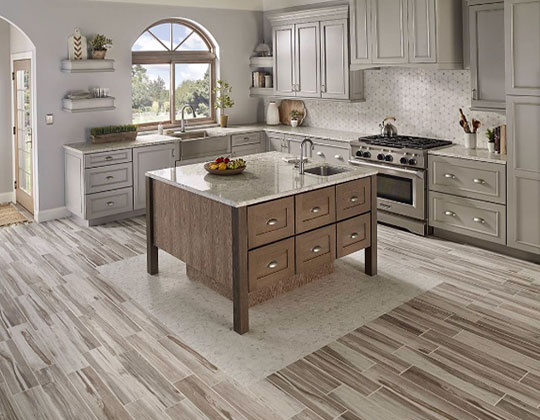 Hanseceramictile.com is one of the most reliable wholesale wood look kitchen tiles vendors in China, manufacturing high quality tiles at low wood look kitchen tiles prices.
Wood Look Kitchen Tiles designs contain

8 colors

,

4 finishes

,

2 features

and

6 sizes

,

47 wood look kitchen tiles

in total.
All the hot selling cheap wood look kitchen tiles products are of strict quality and produced by standardization of the management.
Buy cheap Hanse wood look kitchen tiles to add a touch of taste and personality to your house now!
In addition, gorgeous wood look tiles and kitchen tiles are available at Hanseceramictile shop. If you are looking for wholesale wood look tiles or kitchen tiles designs, you are at the right place!
Hot Products
Wood Look Kitchen Tiles - Wood Effect Tiles for Kitchen
In order to get in touch with nature and enjoy relax feeling, more and more wood like tiles enter our kitchen, living area and rest area. Wood look kitchen tiles reproduce natural characteristics and wood warmth in your home, the water-resistant performance make it better adapt to the kitchen environment, covering the floors, walls and backsplash to protect them from wet and moisture. Choose wood effect tiles for kitchen with matching color to show realistic profiles of wood grain and build brilliant design, you can choose classic tone maple, grey, oak or moka, and popular white, brown.
See All wood look kitchen tiles Products
Why Choose Wood Look Tiles for Kitchen
Easy to clean and maintain, not easy to damage
Price advantage compared to real wood tiles
High density, wear-resistant and waterproof
Natural wood grain on the surface, clear and lifelike
Safe and environmental friendly, strong practicability
Flame retardant, fireproofing and corrosion resistance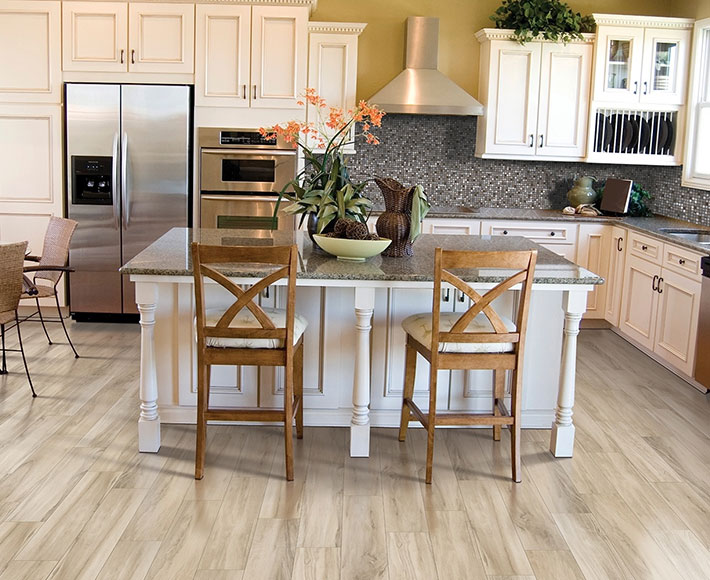 Wood Effect Kitchen Tile Designs & Ideas
1. Easiest Cleanup:
Dark grey or stained wood effect tiles for kitchen flooring, give it natural texture and rustic style, more importantly, it allows easiest cleanup, with extreme durability, you don't need to worry about the children or pets can damage them.
2. Yorkwood Manor:
One of the most popular wood look tile and timeless design with unique, distressed look, in three colors including Birchtree, Pecan, and Deep Walnut, the elegant, diverse color range can complement your wall, floor, countertops and furniture, embody your taste.
3. Highlight:
Use wood look options to make certain areas of kitchens stand out, like door frame, built-in shelving, backsplash, or pair with natural stone surround, to create an eye-catching tile or feature design.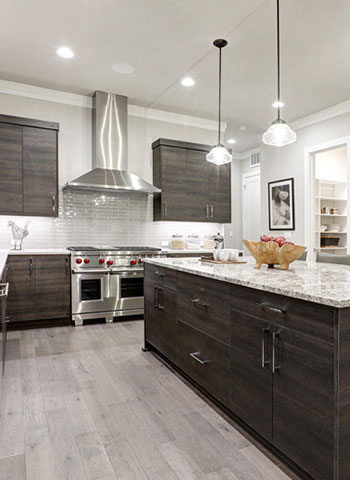 How to Choose Wood Effect Kitchen Tiles?
In addition to the traditional laying method of ceramic wall and floor tiles, which are well shaped and regular, there are also a variety of paving methods for wooden effect tiles, such as herringbone, oblique, rhombus, etc.
Leveling, snapping line: before laying wood like kitchen tile, the surface of the floor or wall of the building to be paved need to be treated, such as ground, interior wall, exterior wall, etc. Remove the surface adhesion and mix it with semi wet cement sand. Snapping line is using a long thin line, applying white ash or ink, marking the central axis of the tile, and then laying according to the line.
Choose and soak tiles: classify the tile and put same types in one area, the wood look tiles should be soaked for a period of time, with tap water or clear water, muddy water, dirty water and oily water are not allowed, the soaking time does not need too long, that is to say, it can be soaked.
Mix and spread mortar: cement and sand shall be mixed in the proportion of 1:2. Take out the soaked wood grain tile, dry the water, evenly apply the cement slurry on the back of the tile, the thickness of the sand slurry is 2-3cm, then pave the wood grain kitchen tile on the cement sand on the ground, and gently tap the tile surface with the wooden hammer until it is flat and the alignment is neat.
Paving: pay attention to the texture sequence and the arrow at the bottom of wood grain tile, the wood hammer shall be knocked to prevent empty knocking, and the force shall be balanced to prevent too large or too small. It is better to use the plastic cross spacer, and use sponge or rag to smooth the overflow cement slurry.
Repair and joint filling: when the wood effect tile is paved and the cement is not completely dried, it can be inspected with eyes or measured with a horizontal ruler, to repair according to the standard if needed.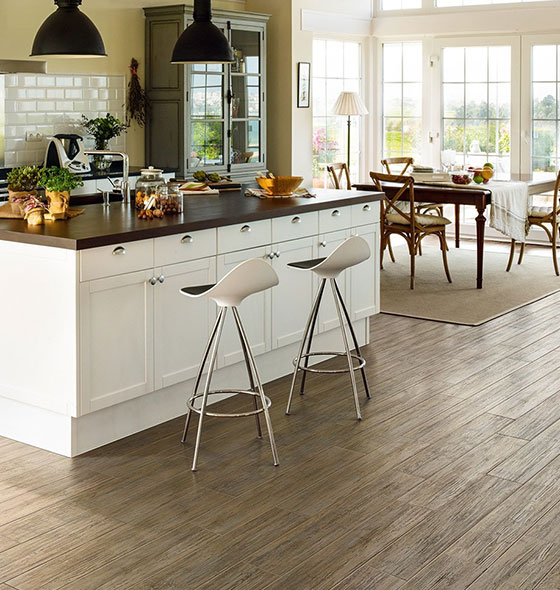 Buy Wood Effect Kitchen Tiles - Quality Cheap Kitchen Wood Like Tiles Supplier & Manufacturer in China
Introducing our wood look kitchen tiles, Hanseceramictile.com offering wide format to demonstrate the rustic appeal of nature. Our wood effect tiles for kitchen present the purest natural features between modern design and furnishing, will bring multiple configuration possibilities for your kitchen floors and walls. Explore our kitchen floor tiles and wall tiles with wood look of different textures, colors, shapes and sizes. Not only available in 300 x 300mm, 600 x 600mm, 800 x 800mm square tiles, you can also find rectangle, triangle, octagon, and hexagon wood effect tiles for kitchens in your home or commercial areas.
Our Range of Wood Effect Kitchen Tiles
Hanse offering a collection of wood effect kitchen tile in different colors, sizes and finishes.
Color: beige, brown, grey, red, white, etc.
Finish: glazed, polished, matte, unglazed, etc.
Sizes: 150 x 900mm, 150 x 800mm, 200 x 1200mm, 150 x 600mm, 200 x 1000mm, etc.
Advantages of Our Wood Look Kitchen Tiles

Comfortable and warm effect throughout your kitchen and home
Improved durability and hardiness, natural wood grains and appearance
Resistant to water damage, scratches and dents
Made from natural clay, sustainable tiling option
Diverse shades and textures range allows you to complement your kitchen colors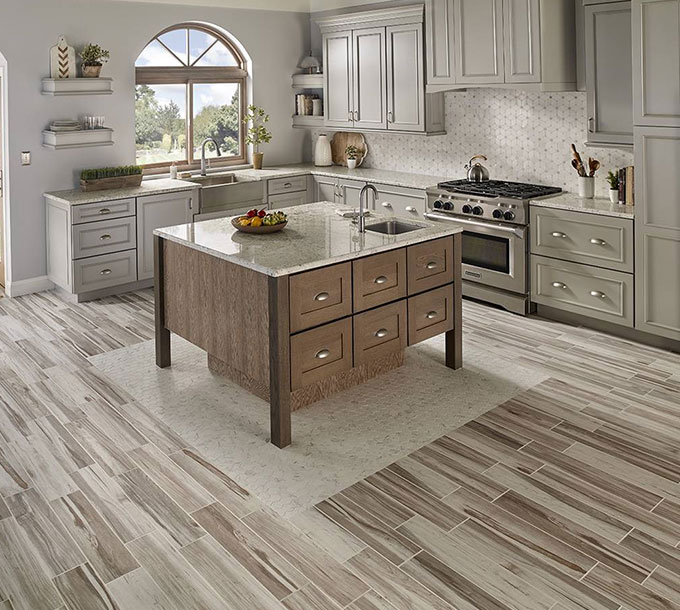 Other Kitchen Tiles
Other Wood Tiles