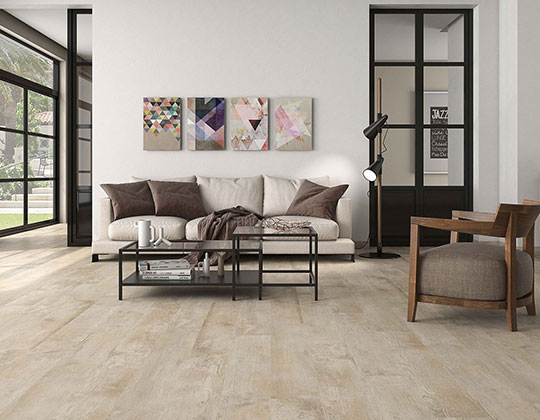 Hanseceramictile.com is one of the most reliable wholesale wood look living room tiles vendors in China, manufacturing high quality tiles at low wood look living room tiles prices.
Wood Look Living Room Tiles designs contain

9 colors

,

4 finishes

,

2 features

and

6 sizes

,

69 wood look living room tiles

in total.
All the hot selling cheap wood look living room tiles products are of strict quality and produced by standardization of the management.
Buy cheap Hanse wood look living room tiles to add a touch of taste and personality to your house now!
In addition, gorgeous wood look living room tiles are available at Hanseceramictile shop. If you are looking for wholesale wood look living room tiles designs, you are at the right place!
Hot Products
Whether you want inspiration for planning wood living room tiles or are building designer wood living room tiles from scratch, Hanse wide range of wood look living room tiles will bring you some inspirations. Buy Hanse wood living room tiles in different colors and styles to create a retro and warm atmosphere to your home!
Decorate Living Room With Wood Look Tiles Flooring/Wall
Nowadays, the wood ceramic tiles are commonly used for home decorations. Wood like tile is also often used in the floor or wall decoration of living room. Living room is an important area of modern household life, so every detail of it can not be ignored. The wood tiles used in the living room floor or wall looks very luxurious and practical, especially very safe for the elderly and children, because wood effect tile is anti-slip and you won't get hurt. Paving wood like tiles can make your living room warm in winter and cool in summer. Since it's available in a variety of shades, wood-look tile flooring is able to match the color palette of any living room.
See All Wood Look Living Room Tile Products
Why Choose Wood Look Tiles For Living Room?
Low maintenance and easy to care for
Long life service, more value for money, safe for the environment
Enlarge living room space and make it warm in winter and cool in summer
Wear resistant, durable, easy to clean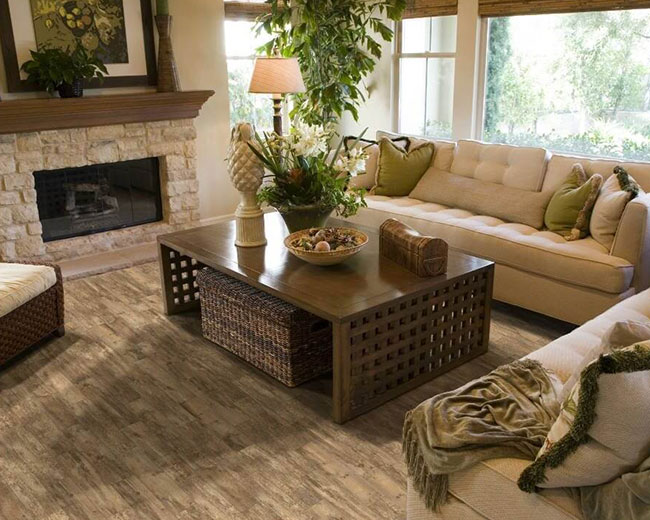 Wood Living Room Tiles Ideas - How To Decorate A Living Room With Wood Look Tiles
The living room is the very heart of a house that tells a lot about the people living in it. It would be more perfect to add some wood effect decorations in it. Whether you'd like to introduce an accent colour with some carefully chosen wood living room wall tiles or you just need something smart, sensible and hard-wearing floor tiles, you'll find a tiling solution that suits you perfectly.
Mediterranean style:
The living room with Mediterranean style, choose blue as the main color. Blue and white sofa and Mediterranean style furniture are matched with wood-like floor tiles, presenting a strong Mediterranean style, warm and comfortable.
Industrial chi:
If your home is blessed with beautiful exposed brickwork, an industrial-style kitchen could be just the thing your property needs to achieve perfection. Focusing on the design of windows, green plants, doors, roofs, lamp, walls, etc. Take the log color as the main tone, the yellow wall, and the black wood grain floor, which highlights the design theme of the retro style.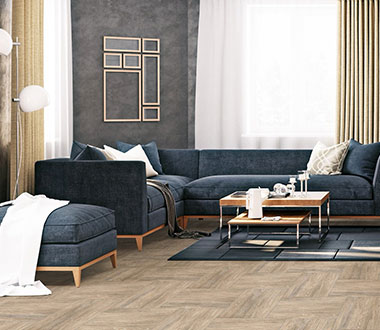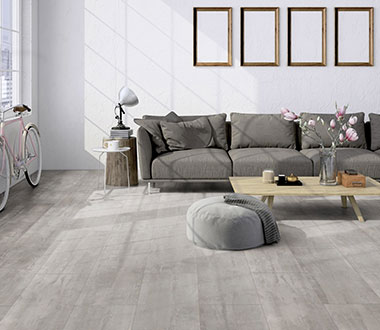 Fashionable and simple style:
The living room takes milky white as the main tone, with white walls, and wood grain gray black floor. The details focus on storage, furniture and other aspects. With green plants and other accessories, it sets off a quiet and elegant modern style, warm up your living room with wood effect tiles flooring.
Light living room wood tiles floor/wall:
If the living room area is not large, the light is generally even dim, it is recommended to use light color wood floor & wall tile, choose light color to appear that the living room will not narrow the space in the field of vision, on the contrary, it can make the living room larger.
Modern living room tile that looks like wood:
Your living room tile can replicate almost any look and feel you want in chic and durable tile. Installing dark wood-look tile can add some modern, dramatic flair. From wood look to lively patterns, the options are endless. Make a bold statement by adding a textured surface. Chic wood mosaic tiles feature modern and elegant designs that bring a vivid sense of style to your space.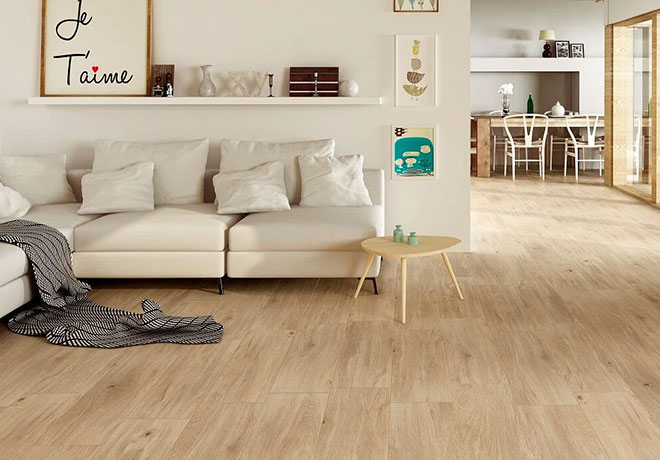 Wood Look Living Room Tiles Installation - How To Install Wood Tiles For Living Room
In addition to the traditional horizontal and vertical tiling methods, there are also herringbone tiling method.
Before laying wood grain tiles in living room, the floor or wall of the building should be treated.
With a long thin line, apply lime or ink, determine the central axis of the tile, and then pave according to the line.
Wood grain tile for living room should be soaked in water before paving, and must be soaked in tap water or clear water. The soaking time does not need too long, and it can be soaked.
Take out the soaked wood like tile, wipe the water stain of the wood grain tile dry, and then evenly apply the cement slurry on the back of the wood grain living room tile, with the thickness of the mortar of 2-3cm. Then lay the wood grain tile on the cement sand surface of the floor or wall, and gently tap the living room wood grain tile surface with the mallet until it is smooth and aligned.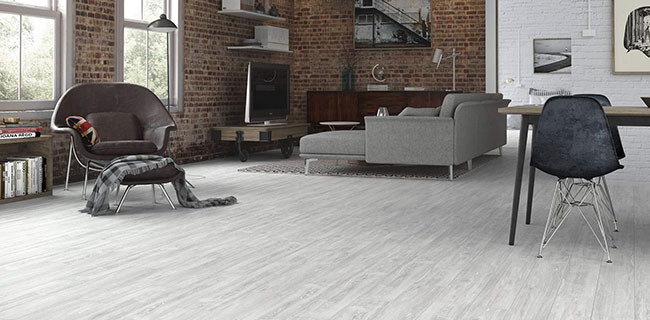 Wholesale Wood Tiles For Living Room Floor & Wall - China Hanse Wood Like Living Room Tiles Manufacturer
Hanseceramictile.com is a reliable an professional tiles manufacturer, providing kinds of wood effect tiles for decorating the living room. Available in various colors, finishes and sizes. Our wood living room tile creates a refined space with a touch of eleganceIts natural, realistic look comes in an assortment of variants that match different living styles: from classic to modern, rustic and minimal. If you're trying to create a warm, inviting, traditional living room interior, Hanse wood tile floor is the effect you want.
Why Choose Wood Effect Living Room Tiles Hanse?
At Hanseceramictile, we understand that the right tile has the power to make any interior design project a stunning success. That's why we have a wide range of wholesale living room tiles tiles with wood look in different colors, sizes, shapes and finishes for you to select, meaning you're guaranteed to find the perfect product for your tile project. All of our living room tiles that look like wood grain are sourced through handpicked suppliers, with strict quality controls, meaning we're able to offer cheap wood look living room tiles that are nonetheless of the highest quality you'll find anywhere. Now, buy ceramic tile that looks like wood for decorating your living room!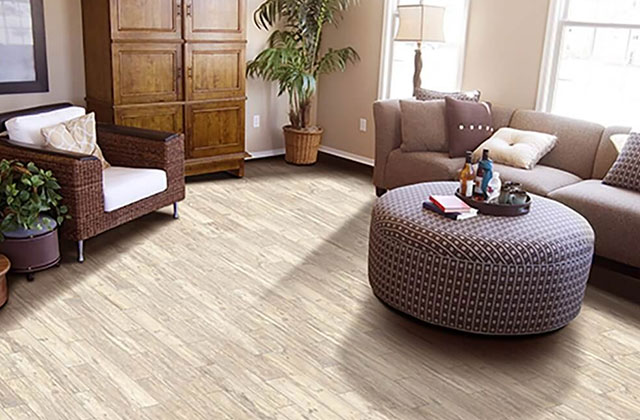 Other Living Room Tiles
Other Wood Tiles