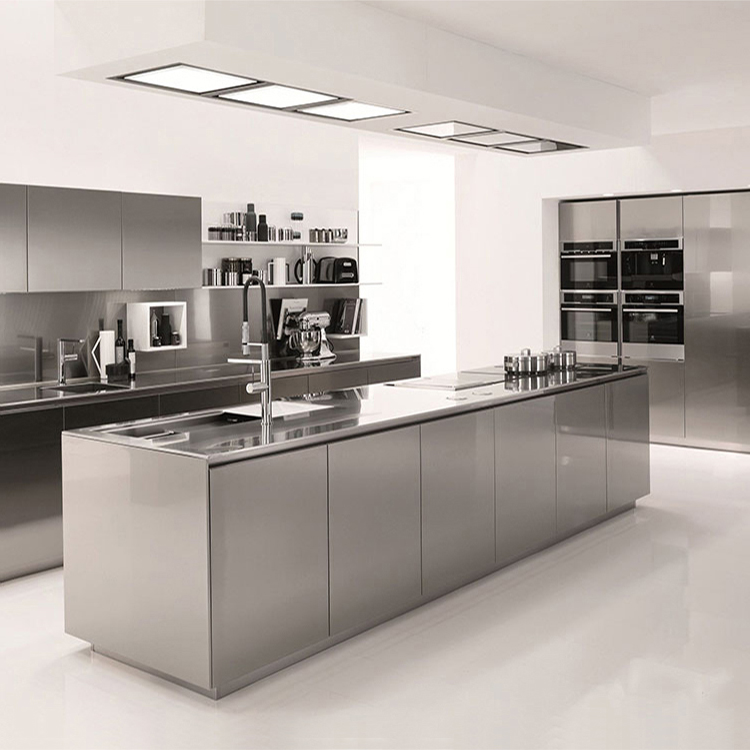 Stainless Steel Kitchen Cabinet
Hanseceramictile.com is one of the China's top online wholesale stainless steel kitchen cabinet vendors, suppliers and exporters, manufacturing high quality kitchen cabinet at affordable stainless steel kitchen cabinet prices.
There are 5 Stainless Steel Kitchen Cabinet designs in total. The cost of stainless steel kitchen cabinet is between 80usd/Meter to 100usd/Meter.
Each Hanse best price hot sale stainless steel kitchen cabinet online is of high quality and complies with international quality standards to ensure that we only offer the very best.
In addition, gorgeous stainless steel kitchen cabinet are available at Hanseceramictile shop. If you are finding wholesale kitchen cabinet for home indoor & outdoors, you are at the right place! Welcome to buy kitchen cabinet online China from Hanse!
Hanse - the professional Foshan China stainless steel kitchen cabinet manufacturer & supplier will continuously work on improving the designs of saunas to ensure that you get the best import home kitchen cabinet products for your project!
Buy cheap stainless steel kitchen cabinet for sale at Hanse to make your body in a relaxed state, relieve tension and reduce stress!
Samples can be sent on the premise of the user's shipping fee, and the manufacturing cycle is generally 30 days.
Hot Products
Wholesale Stainless Steel Kitchen Cabinet At Hanse
Are you looking for the best -quality stainless steel cabinets? Wholesale textured stainless steel kitchen cabinets and 304 stainless steel kitchen cabinets from Hanse, a leading stainless steel kitchen cabinets manufacturer in China. High-quality stainless steel kitchen cabinets from China have a variety of styles and costs to choose from to meet your preferences and needs. Customers from the domestic and international markets can rely on Hanse stainless steel kitchen cabinets to meet their changing economic and social needs. Cheap stainless steel kitchen cabinets can buy with confidence. Tell us, what do you need if you want to customize stainless steel kitchen cabinets. Let us help you choose the best choice for you.
Advantages Of Stainless Steel Kitchen Cabinets For Sale
- 304 stainless steel, made of high-quality 304 stainless steel.
- Durable, Extremely durable, waterproof and heat resistant, perfect for outdoor spaces.
- Hygienic,Formaldehyde-free,mildew-resistant properties make it ideal for kitchen spaces.
- Easy to clean and maintain. You don't need to spend too much time and effort to maintain it.
- Customized Design, mix and match modules to satisfy your kitchen requirements.
- Kinds of materials/finishes/accessories/colors choices.
- Built to withstand extreme heat and humidity
- Various Configuration, a wide variety of modules available to suit every need.
- Health and Environmental Protection. The cabinet is made of stainless steel, which is healthy and environmentally friendly.
See All Stainless Steel Kitchen Cabinets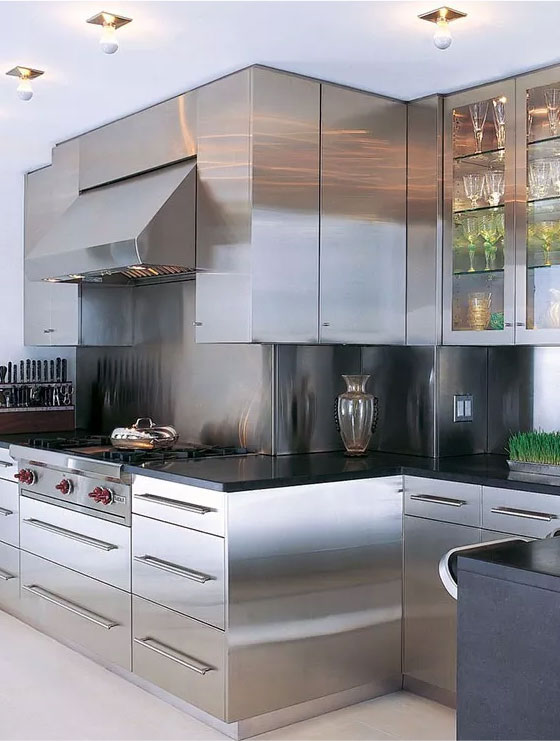 Types of Stainless Steel Kitchen Cabinets
Stainless steel is one of the most trusted materials for kitchen cabinets. It is easy to handle, clean, and high temperature resistant, and its price is lower than other materials, so many individuals love it. Give your kitchen an aesthetic look, and buy stainless steel cabinets from Hanse. Here are a few types of cabinets from which you can choose for yourself: Custom commercial restaurant full stainless steel cabinet, Customize water proofing stainless steel cabinet, Custom design modern outdoor 304 stainless steel cabinet.
Why Choose Hanse Stainless Steel Kitchen Cabinet China
Hanse is one of the top online wholesale stainless steel kitchen cabinets and exporters in China and is committed to creating a cheap and high-quality stainless steel kitchen cabinet. Hanse is driven to provide a comfortable, safe, and zero-formaldehyde kitchen space. What sets Stainless Steel Kitchen apart from the rest is the woodless kitchen concept. The cabinets are 100% wood-free all the way through to the interior of each door panel.
You might think of a stainless steel cabinet as this boring grey fixture will look out of place in a comfortable, non-industrial house, but the truth is there are multiple options. Although the modular version is prefabricated, you can choose to customize the cabinet to use your favorite accessories, hinges, and systems. We provide you with a kitchen cabinet to meet your needs. You'll find out what you're looking for in the best stainless steel kitchen cabinet shop.