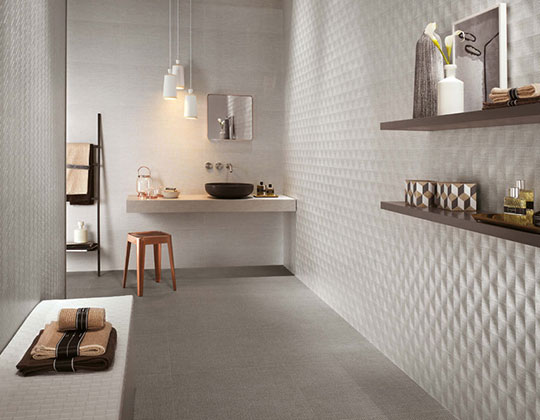 Hanseceramictile.com is one of the most reliable online wholesale 3d tiles vendors in Foshan China, manufacturing high quality tiles at low 3d tile prices.
3D Tile designs contain

1 colors

,

1 finishes

,

1 features

and

1 sizes

,

1 3d tiles

in total.
All the hot selling cheap 3d tile products online are of strict quality and produced by standardization of the management.
Buy cheap Hanse 3d tiles for sale to add a touch of taste and personality to your house now!
In addition, gorgeous are available at Hanseceramictile shop. If you are looking for wholesale 3d tiles designs, you are at the right place! Welcome to buy floor tiles online from China Hanse!
Hanse - the professional Foshan China 3d tile manufacturer & supplier will continuously wok on improving the designs of our 3d tiles to ensure that you get the best import 3d tile products for your project!
Related Tiles
Related Search
The trend of graphic design has passed, and decorative elements with texture and three-dimensional sense have gradually become popular. 3d and sculptural tiles turn your walls and floors into works of art that stand out and make a statement. With textures that range from subtle to dramatic, find one of these artistic designs that speak to you from Hanse selection of 3D floor & wall tile products!.
What Is a Three-Dimensional Tile?
The design and technological innovation speed of ceramic/porcelain tiles are changing with each passing day, from glazed tiles, wood grain tiles, marble tiles, stone tiles, as well as technology from wire mesh tiles, roller tiles to advanced laser printed tiles, the visual effect of the design breaks through the rigid 2D visual effect. In recent years, we have also ingeniously integrated 3D inkjet technology, art and ceramic tile production technology to innovate 3D art tiles, opening the 3D perspective effect of ceramic tile industry.
3-dimensional tiles can "move" the original natural landscape to the home. If you like the sea, you can pave the floor tiles on the toilet floor to simulate the seafloor. Every day you take bath, you will feel like you are at the bottom of the sea and playing with fish. If you like climbing mountains, you can decorate the floor tiles with a waterfall pattern. Even if you stay indoors, you can hear the murmur of mountains and streams, making nature closer.
See All 3D Tiles Products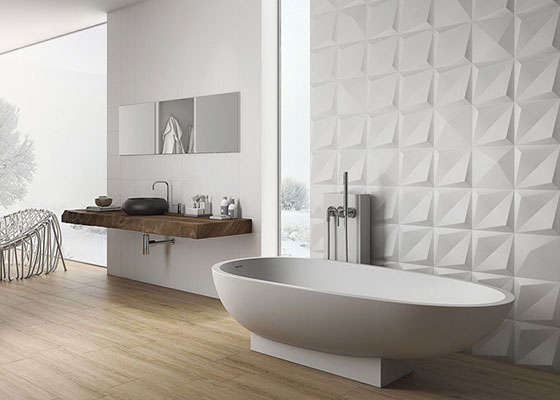 3D Effect Tiles Design Ideas - How To Decorate Your House With 3D Tiles
3D tiles backsplash kitchen:
Tile in the kitchen is nothing new, but you can make a really bold impact with the addition of 3D tiles. Kiss the classic subway tile goodbye and try something truly outside-of-the-box with a wavy textured ceramic tile. This modern tile with 3D effect adds a gentle wave to your kitchen, and you can use it for the backsplash, match with white cabinets paired with gray marble countertops. Cooking or eating in a nice environment in a good mood.
3D tiles for bathroom/shower:
Choose 3d tiles & glass mosaics with 3 dimensions on the one shower wall to give the room a playful look and add a texture to the space you don't often find in bathrooms. These tiny tiles are perfect for areas like the backsplash, around the tub, or to cover the walls in your shower. Or you can just add some 3D sower wall tiles of wavy pattern to give the bathroom a serene feel and resembles the look of a rippling river or stream.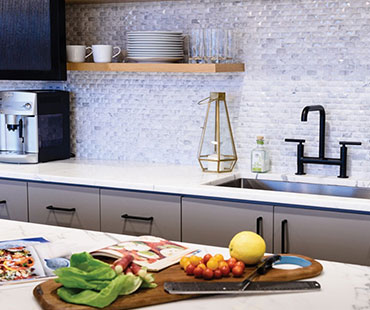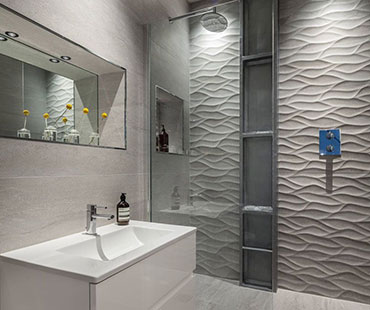 3D wall tiles for living room:
For most people, the living room is the heart of the home. This important space can easily be elevated with an impressive feature wall accented with 3D tiles honeycomb-shaped. 3D hexagon wall tiles with a bit of texture added to them and arranged on only parts of the walls lets you add depth to your living room walls in a stylish way that doesn't feel overwhelming.
Three-dimensional tiles for outdoor:
Whether you're looking to make the most of your small patio or outdoor balcony or want to fit the tiles comfortably in a small or medium-sized floor or walls, small-format three-dimensional ceramic & porcelain tiles are ideal. We have a large selection of small, medium or large size 3D outdoor tiles which will blend in beautifully in your space and give it a wonderfully attractive look.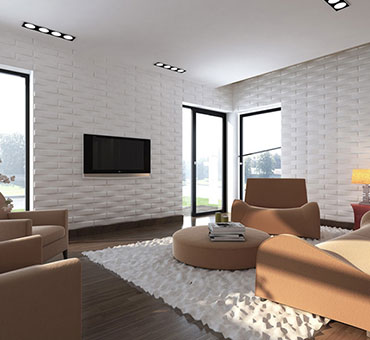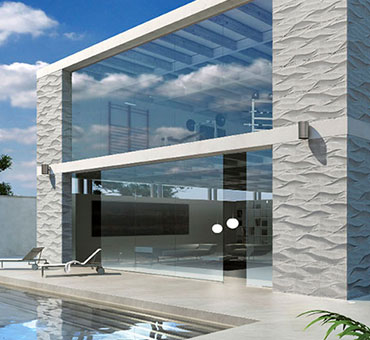 What Are The Advantages Of 3D Tiles For Floor & Wall?
Acid and alkali resistant, long service life: In the production process of three-dimensional tiles, ceramic pigments are usually used for pattern drawing first, and then a layer of Microcrystalline stone glaze is spread on the surface of the pattern, which is fired at a high temperature of more than 1000 degrees. The glaze will seal the pattern after melting at high temperature. Therefore, floor & wall tiles with 3 dimensional have acid-base resistance characteristics under the protection of the glaze surface, and greatly extend the service life.
Smooth surface, bright and crystal clear: Because floor and wall tiles with three dimension usually have a layer of microcrystalline glaze on the pattern, after high temperature dissolution, it will form a thin glass glaze layer, and then after polishing process, it will make the glaze layer more crystal clear and colorful.
Harmless, tasteless and radiation-free: Three dimensional tile is a kind of green environmental protection product, which does not contain any organic ingredients, and conforms to our green environmental protection concept.
Strong artistic effect: 3D tiles for floor and wall are made of advanced ink-jet technology, with rich colors and excellent resolution, which can integrate those famous paintings into the tiles, with excellent effect.
Application scope: At present, 3D tiles are mainly used in indoor floor, bathroom wall, balcony, and other places, bringing people more amazing results.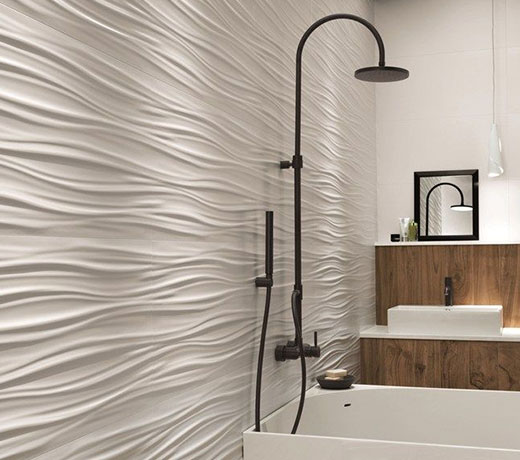 Buy 3D Tiles At Low Prices On Hanse Tile - Chinese Ceramic &Porcelain 3D Tiles Wholesale Vendor, Supplier
Foshan Hanse Industrial Co., Ltd is a China top 3D tiles manufacturer & supplier, exporter, we offer a wide range of wholesale 3D ceramic & porcelain tiles including outdoor 3D tiles, 3D kitchen tiles, 3D bathroom tiles and more indoor 3D tiles. With various of colors, materials, patterns and sizes. All tiles with 3 dimensional effect we supply are made by inkjet technology and of superb quality. And each 3D inkjet tile product complies with international quality standards. Ready to take your space to a new dimension? Come and buy cheap 3D tiles from Foshan China Hanse to make your room stand out!
Why Buy 3D Tiles Hanse
Decorative and functional acoustic surface for residential, education, retail, hospitality and commercial interiors
Highly durable and providing long term stability
Available in a range of contemporary designs and colours
Hanse 3D tiles are lightweight and easy to install
Hanse 3D tiles minimise noise whilst creating unique finishes and features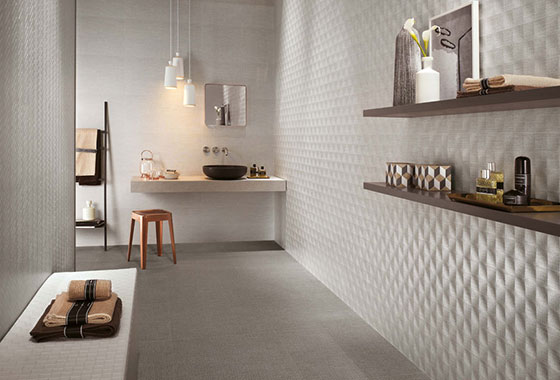 Get Our 3D Tiles Prices List - How Much Does 3D Tiles Cost
The cost of 3d tile material for indoor & outdoor depends on a few factors. These include: 3d tile, style, color, size, sales tax, shipping, delivery fees and where you buy it from. If you are looking to buy 3d tiles, there are a couple of the most well-known manufacturers of 3d tile products in the market.
And one of the largest independent online ceramic & porcelain 3d tile distributors in China - Hanseceramictile offers the best quality wholesale 3d tiles for bathroom, kitchen, living room, bedroom and outdoors. The price for 3d tile on sale Hanse is the most affordable compared with other ceramic & porcelain 3d tile manufacturers & suppliers in China, range from 1 USD to 100 USD. So, whether you want to give your home a fresh new look or you want a durable flooring option for your new home or office, Hanse's cheap price 3d tiles for sale online will be your ideal choice. You can buy 3d tile online here with best service, fast delivery and safety guarantee. Get our cheap 3d tiles prices list and buy 3d tiles China now!
Hot Products