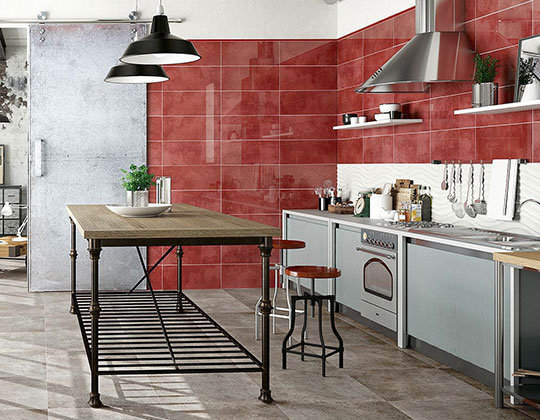 Hanseceramictile.com is one of the most reliable online wholesale red tiles vendors in Foshan China, manufacturing high quality tiles at low red tile prices.
Red Tile designs contain

12 colors

,

4 finishes

,

3 features

and

8 sizes

,

34 red tiles

in total.
All the hot selling cheap red tile products online are of strict quality and produced by standardization of the management.
Buy cheap Hanse red tiles for sale to add a touch of taste and personality to your house now!
In addition, gorgeous mosaic kitchen tiles online, mosaic wall tile, ceramic floor tile, ceramic wall tile, wood floor tile are available at Hanseceramictile shop. If you are looking for tiles designs, you are at the right place! Welcome to buy floor tiles online from China Hanse!
Hanse - the professional Foshan China tile manufacturer & supplier will continuously wok on improving the designs of our tiles to ensure that you get the best import tile products for your project!
Related Tiles
Related Search
Why Choose Red Tiles For Floor & Wall?
Red decoration materials in recent years are more popular, on the one hand, red is auspicious color, red symbolizes heat, vitality, willpower, flame and power. Secondly, red highlights your decoration style. Red tiles are an excellent way of livening up an otherwise dull room. The warm colour will make any room feel cosier and more inviting. And a red tile installed on floor or wall can add a splash of drama to your house, from kitchen, living room to bathroom, something that is very much a modern trend and will keep your home looking fresh and contemporary from the moment it is installed.
See All Red Wall & Floor Tiles Products
Buy Cheap Red Tiles Online – Wholesale Red Tiles Flooring & Wall Supplier In China
The China top tiles manufacturer Hanse has been specialized in producing a wide range of high quality red wall/floor tiles cheap , which are the most popular ceramic/porcelain tiles in 2020, ideal for creating a splash colors, perfect contrast with kitchen or bathroom. Our floor/wall tiles red color come in various sizes, materials, styles and finishes (glazed, polished/glossy, matte, etc) according to customers' requirements. Has features of wear-resistant, acid-resistant, low water absorption. All red tiles products for wall and floor are comply with international quality standards, ensure that we only offer the best! Take a look at Hanse red tiles designs and buy them and you'll soon be convinced that their exciting colour is perfect for your home.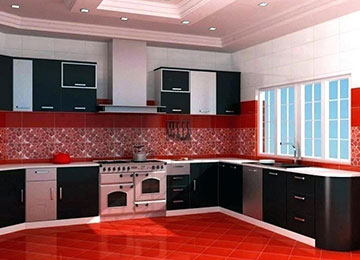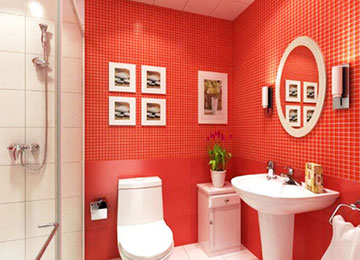 Red Tiles Design Ideas - How To Decorate Your House With Red Tiles Floor & Wall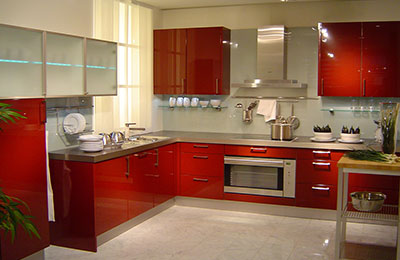 Bright red tiles for kitchen
Kitchen can be paved with red tiles, so that it can effectively create a warm, festive, vibrant cooking environment, fear that cooking is too boring, it is better to try this decoration, can add a lot of fun. One-character closed kitchen, black countertop milk house is strong and easy to handle, simple and fashionable modelling, highlighting the refreshing style, very small endowment.
Red wall tiles bathroom
Inject both pattern and texture into bathroom wall space with exciting patchwork mosaic red tiles, creating a feature wall in a bathroom! The red patchwork mosaic tile material is inlaid on the wall, the unique color individuality is charming, very beautiful and bold, often can make the unusual style and the characteristic, match with white marble tiles floor, creating a distinctive bathroom!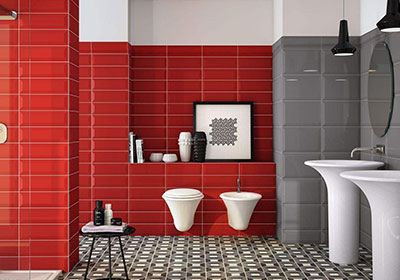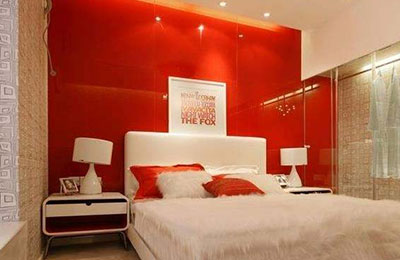 Bedroom floor with red tiles
Red tiles are not only intended for the bathroom or kitchen, but also for the bedroom. The deep tone floor tiles have strong appeal and expressive force, and distinct personality characteristics. For example, the color of the floor tiles with red tone gives a strong feeling. If the walls are painted with bright color paint again, it will appear disharmonious. But choose the ivory color with pink tone, and the red color wood look floor tiles will form a sense of unity.
Which Are Best Tiles For Red Backsplash & Flooring?
Red brick mosaic tiles:
Equally as ideal for creating a kitchen splashback are red brick mosaic tiles. Made from glass, they have a shimmering gloss finish that bounces light around the room. They come in a popular brick-bond layout, and look like mini metro tiles!
Quartz tiles:
If you're bored of looking at blistering stone effect lino or plain wooden floorboards, and you want a floor space with a little more zest, try our characterful quartz tiles. They consist of sparkling granite trapped in coloured resin, with mirror flecks that glisten and glitter under the light!
Subway tiles:
Choose Hanse selection of subway tiles! The red subway tiles will add colour to any kitchen splashback! They have a glossy finish, which is guaranteed to catch the eye of your guests! For best results, use them in herringbone layout.
Wood-like red floor tiles:
The wood like red tiles texture is clear and clear, matching with real wood dining room furniture to create a natural and fresh living room atmosphe re. Selected walnut customized built-in wine cabinet stitching table, will remind people of the fresh taste of nature, take you to enjoy slow life, in many luxury decoration families have such decoration requirements!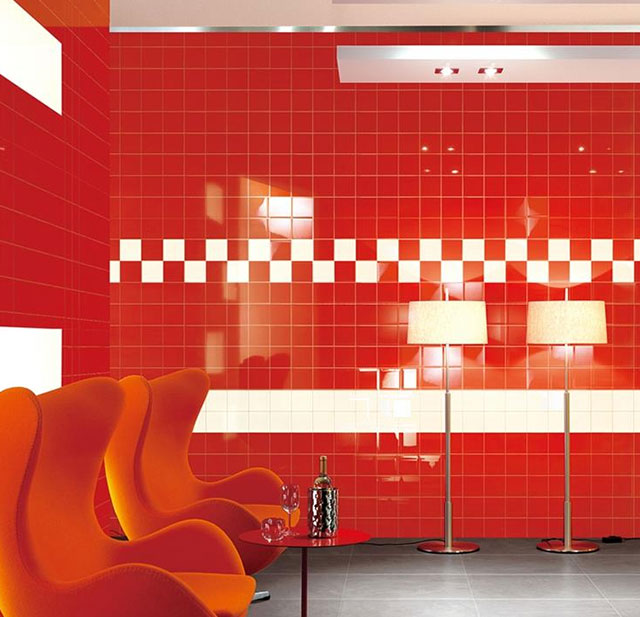 How to Match Red Tiles
In ceramic/porcelain tile design, because the red tile is too strong, the sense of existence is too strong, the design or improper collocation will appear vulgar. However, if color collocation is scientific, red can enhance design taste in seconds. Check the following red porcelain/ceramic tiles matching methods.
Red tiles + solid wood cabinets:
Red ceramic tiles and solid wooden cabinets complement each other, rhombic floor tiles have clear texture, color changes are very distinctive, white porcelain sealants outline different "scrolls", as if tasting different styles of scrolls, cooking has become interesting, life has become colorful. The choice of cabinet can choose the color matched with red color tiles, which seems to be more eye-catching.
Red wood like tiles floor + yellow/green:
Use yellow, green and red to show clarity and enthusiasm while remaining calm. The floor can be installed with red wood tiles and the curtains are blue to contrast. If the wall is installed with red color tiles, the sofa will be bright red or black, with modern accessories, creating a vibrant style.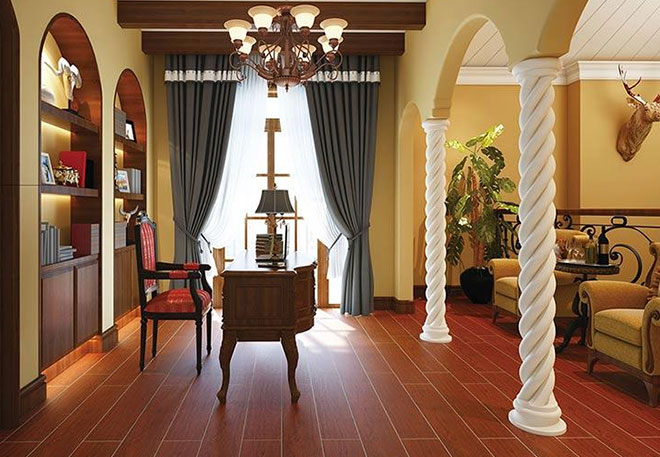 Get Our Red Tiles Prices List - How Much Does Red Tiles Cost
The cost of red tile material for indoor & outdoor depends on a few factors. These include: red tile, style, color, size, sales tax, shipping, delivery fees and where you buy it from. If you are looking to buy red tiles, there are a couple of the most well-known manufacturers of red tile products in the market.
And one of the largest independent online ceramic & porcelain red tile distributors in China - Hanseceramictile offers the best quality wholesale red tiles for bathroom, kitchen, living room, bedroom and outdoors. The price for red tile on sale Hanse is the most affordable compared with other ceramic & porcelain red tile manufacturers & suppliers in China, range from 0.40 USD to 70 USD. So, whether you want to give your home a fresh new look or you want a durable flooring option for your new home or office, Hanse's cheap price red tiles for sale online will be your ideal choice. You can buy red tile online here with best service, fast delivery and safety guarantee. Get our cheap red tiles prices list and buy red tiles China now!
Hot Products