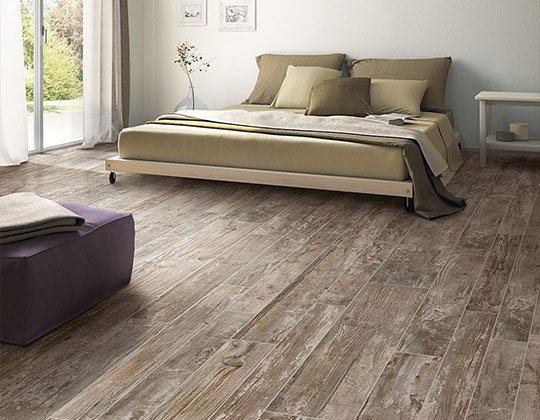 Hanseceramictile.com is one of the most reliable online wholesale wood tiles vendors in Foshan China, manufacturing high quality tiles at low wood tile prices.
Wood Tile designs contain

10 colors

,

4 finishes

,

2 features

and

6 sizes

,

91 wood tiles

in total.
All the hot selling cheap wood tile products online are of strict quality and produced by standardization of the management.
Buy cheap Hanse wood tiles for sale to add a touch of taste and personality to your house now!
In addition, gorgeous wood floor tiles online, 150x800 wood look tile, ceramic wood tile, wood look living room tile, grey wood effect tile are available at Hanseceramictile shop. If you are looking for wholesale wood tiles designs, you are at the right place! Welcome to buy floor tiles online from China Hanse!
Hanse - the professional Foshan China wood tile manufacturer & supplier will continuously wok on improving the designs of our wood tiles to ensure that you get the best import wood tile products for your project!
Related Tiles
Related Search
Looking for a tile product that looks like wood and is easy to maintain and can be used in wet areas without damage? The ceramic & porcelain wood look tiles for the floor/wall can be your ideal choice! Now browse Hanse collection of best porcelain & ceramic wood look tiles design ideas, get inspiration for planning your kitchen/living room/bedroom tiles floor or wall.
Wood Tiles Design, Wood Grain Tiles For Floor & Wall
In-home decoration, nature, green, low-carbon, and retro style is increasingly advocated. Wood-look porcelain & ceramic tile is more and more popular with consumers and widely used in daily decoration space. Wood tile is a kind of floor/wall decoration material that is made of ceramic tile that looks like wood. Although it is the material of ceramic, it has wood grain decoration, which gives people a simple and natural feeling. It's a high-grade ceramic tile product. This wood grain porcelain tile is perfect for families with kids and pets or high-traffic commercial spaces.
See All Wood Tiles Products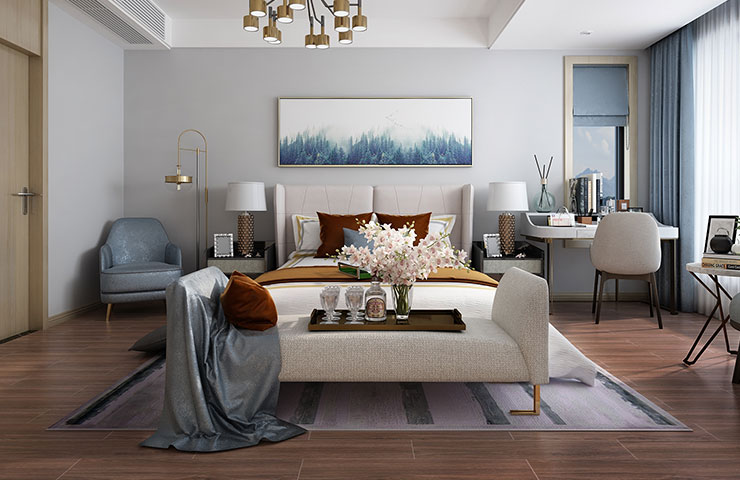 Why Choose Wood Look Tiles Floor & Wall
Beautiful appearance: The porcelain/ceramic tile with wood effect is produced by inkjet, relief, or glaze technology, its pattern is natural lifelike, combined with the excellent characteristics of hardwood tile and ceramic tile so that the product naturally shows the classical and elegant style effect. The living room, bedroom, or kitchen wall & floor with wood effect tiles will create a particularly comfortable and pleasant living environment.
Practical and durable: The porcelain & ceramic wood look tiles for the wall & floor are moisture-proof and corrosion-resistant, easy to clean, wear-resistant, acid and alkaline resistant, and do not need to be waxed and maintained periodically like wooden tiles.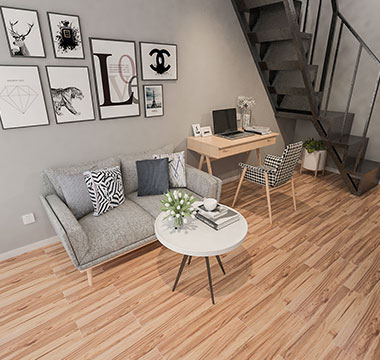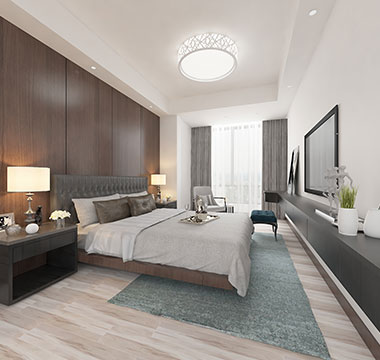 Safety and environmental protection: With good antiskid performance, suitable for families with old people and children. Wood finish tiles are formaldehyde-free, healthy, and environmentally friendly.
A variety of choices: Wood ceramic/porcelain tiles are divided into glazed, polishing, matte, and other types, with different patterns, shapes, and styles, so that we can choose as we like, creating the best wood grain look tile flooring/wall design in the home.
Widely used: Porcelain/ceramic wood look tiles are not only limited to the living room, bedrooms, kitchen backsplash, and other interior spaces, but also widely used in balconies, coffee shops, and other exterior places, which can fully release the personality of the decoration space and enjoy an unrestricted lifestyle.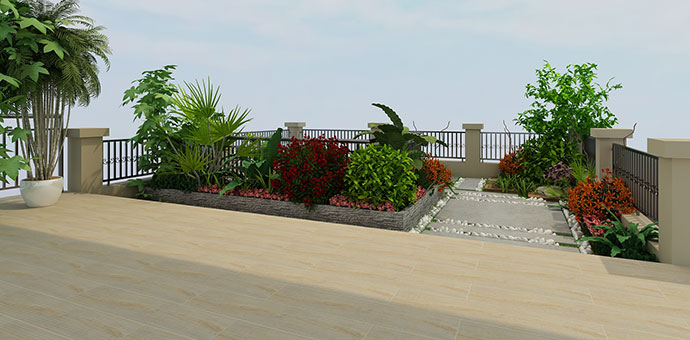 Wood Like Tiles For Any Room
Wood-look tiles for bathroom/shower

:

Love the reclaimed/industrial look in your bathroom? Complement the ceramic wood tile with dark or black hardware, white subway tile accents, and slate flooring.

Kitchen wood tile backsplash:

Your kitchen is a place to gather for meals and entertaining. Create a unique focal point in your kitchen with a wood plank tile backsplash.

Walkway with wood plank porcelain tile:

Whether it's a walkway through your garden or a walkway in an industrial area, wood plank porcelain tile is the ideal tile choice with its many finish options.

Wood tiles for living room

:

Design wall tiles with a wood look, beige sofas with dark wood furniture, elegant and warm atmosphere will be spread in every corner of the room.

Wood effect ceramic tiles

for study:

Choose beige wood tiles walls with beige polished marble tiles to make the whole space especially bright. Match with white curtains which will be the highlight of the whole study. It is a good way to introduce outdoor beauty into the interior so that you can enjoy the peace and warmth of home in the busy city.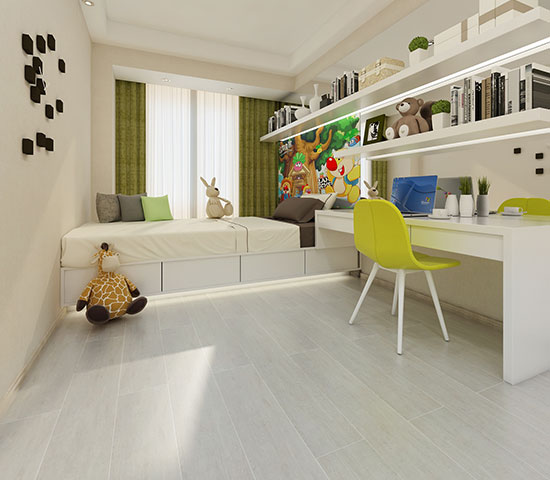 Wholesale Wood Look Tile Supplier - Buy Cheap Ceramic Tile That Looks Like Wood
As a China top wood tile wholesale vendor, Hanse Tile provides a wide range of import wood floor tiles and wood wall tiles for those who want the timeless and beautiful look of wood in an extremely durable tile. Our porcelain and ceramic wood tiles for the floor & wall contain various sizes, colors, and styles. Unlike natural timber, Hanse wood effect tiles for sale are incredibly wear-resistant, really easy to live with, and won't rot or warp when they get wet. With our wholesale wood grain look tiles, you're able to get the gorgeous, natural-looking appearance and feel of hardwood while maintaining the durability of porcelain tile. If you are looking to install a sauna room & steam room indoor, the wood tile is also the perfect choice. In addition to the performance advantages in appearance and internal quality, the ceramic & porcelain wood look tile price is affordable.
Why Choose Wood Effect Tiles Hanse
Hanse porcelain & ceramic wood-like tile has long service life and wears resistance
Hanse wood tile has an authentic look of hardwood and the durability of porcelain tile
Hanse wood-like tile is scratch-resistant and easy to care for families with kids and pets
Hanse wood effect tile has water-resistant for kitchens, bathrooms, laundry rooms, basements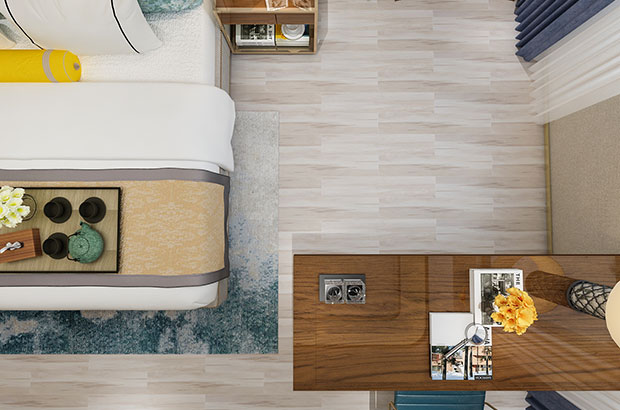 Get Our Wood Tiles Prices List - How Much Does Wood Tiles Cost
The cost of wood tile material for indoor & outdoor depends on a few factors. These include: wood tile, style, color, size, sales tax, shipping, delivery fees and where you buy it from. If you are looking to buy wood tiles, there are a couple of the most well-known manufacturers of wood tile products in the market.
And one of the largest independent online ceramic & porcelain wood tile distributors in China - Hanseceramictile offers the best quality wholesale wood tiles for bathroom, kitchen, living room, bedroom and outdoors. The price for wood tile on sale Hanse is the most affordable compared with other ceramic & porcelain wood tile manufacturers & suppliers in China, range from 4.9 USD to 9 USD. So, whether you want to give your home a fresh new look or you want a durable flooring option for your new home or office, Hanse's cheap price wood tiles for sale online will be your ideal choice. You can buy wood tile online here with best service, fast delivery and safety guarantee. Get our cheap wood tiles prices list and buy wood tiles China now!
Hot Products