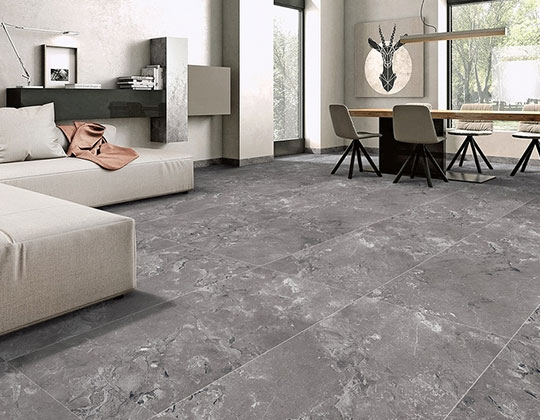 Hanseceramictile.com is one of the most reliable online wholesale living room tiles vendors in Foshan China, manufacturing high quality tiles at low living room tile prices.
Living Room Tile designs contain

16 colors

,

8 finishes

,

9 features

and

19 sizes

,

628 living room tiles

in total.
All the hot selling cheap living room tile products online are of strict quality and produced by standardization of the management.
Buy cheap Hanse living room tiles for sale to add a touch of taste and personality to your house now!
In addition, gorgeous mosaic kitchen tiles online, mosaic wall tile, ceramic floor tile, ceramic wall tile, wood floor tile are available at Hanseceramictile shop. If you are looking for tiles designs, you are at the right place! Welcome to buy floor tiles online from China Hanse!
Hanse - the professional Foshan China tile manufacturer & supplier will continuously wok on improving the designs of our tiles to ensure that you get the best import tile products for your project!
Related Tiles
Related Search
Living Area Tiles, Drawing Room Tiles & Sitting Room Tiles - Tiles for Living Room
The living area is a family zone for people's relaxing and resting, we'll spend quite a long time in it, so great decoration and living area tiles design will create best home environment. Living room tiles, which are used across the wall, floor, ceiling and other sitting room areas, provide an economical choice for long-term living, entertainment, clean, maintain and more. Porcelain tiles, ceramic tiles and wood tiles are common options for living room walls and living room floors. From wood look to lively patterns to glamorous marble, the options are endless. Make a bold statement by adding a textured surface or a distinctive geometric pattern.
Is Tile Good For Living Room?
Whether your living room is large or small, tile is an exceptional choice for flooring and wall. It is more aesthetically pleasing and easier to clean than carpet and more durable than traditional wood floors—without sacrificing warmth or beauty.
See All Living Room Tiles Products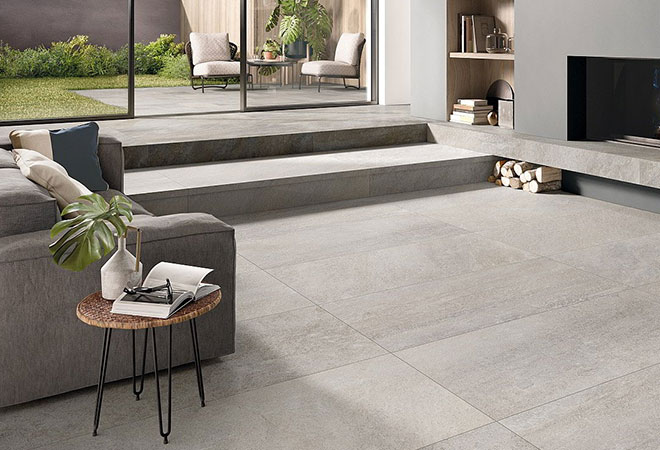 What Is The Best Tile For Living Room?
Wood tile for living room: Wood floor refers to the floor made of wood. There are many kinds of common wood floor, not only cork floor and solid wood floor, but also bamboo floor, composite floor and wood grain floor. Wood tile gives people a warm, soft, natural and comfortable feeling, and has a perfect sound insulation effect. Their unique natural texture makes the home environment very classy.
Marble tiles for living room: Marble tiles are made of marble which are very attractive. The texture of each tile is unique. The quality of the tiles and their natural beauty help to create a range of marble tile combinations of different types, colors, patterns and textures. Therefore, in the densely populated floor and wall decoration of families, hotels, subway stations and airports, stations, docks, etc., high wear-resistant, high-quality finish, waterproof and corrosion-resistant, bright and generous marble tiles are usually used. Choose marble tiles for living room floor must be a good choice.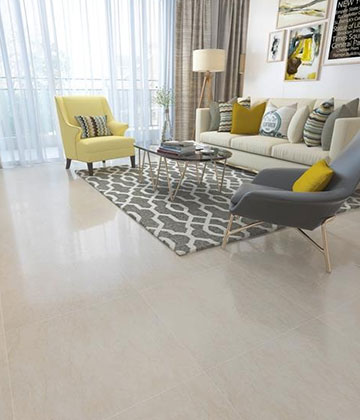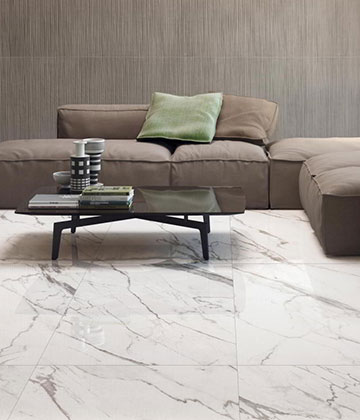 Ceramic/Porcelain tiles for living room: Ceramic and porcelain tiles vary in color, size, pattern, easy to clean and other factors, with a unique charm that other decorative materials do not have. So you can choose the color, layout and size style of the living room floor tile or wall tile according to different decorations to catering to the overall coordination. At the same time, it can also be used as a mosaic of local and small places. If you enter the entrance or corridor, you can collage your favorite graphics and add visual focus. At the same time, most of the ceramic and porcelain tiles are rich in color and texture. Can be used to splice patterns with distinctive personality or characteristics, bringing a beautiful feeling to the living room.
Living Room Tiles Ideas - What Is The Best Tile Colors For Living Room?
When deciding on a tile color, it's important to consider how that will influence the entire room—your walls, furniture and artwork. Don't be afraid to let your personality show with vibrant, contrasting colors and a mix of different shapes and designs. Natural stone and textured tiles add more drama to your space, and neutral-colored tiles can tie elements in the room together. If you like the look of white carpet, consider a clean white tile instead: you'll get the same eye-catching effect while removing any danger of spills and stains. Head over to Most Popular Color For Floor Tiles Living Room 2020 to find out more details.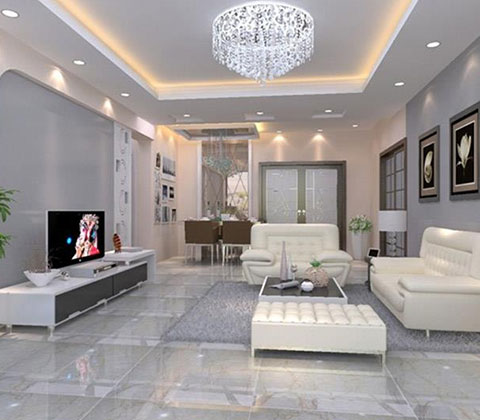 What Are The Advantages Of Laying Tiles On Living Room Wall
High grade: Using it to decorate your home will make it look better, and there are many graphics to choose from. You can also choose a tile wall pattern according to your favorite style.
Good moisture protection: Because the production process is to burn patterns on tiles or carvings and then obtain colors, the visual appearance is a good enjoyment. Basically, the colors will not change again, and the humidity will not be easy to get wet after use like wallpaper.
More fashionable and generous: Wall tiling can look more fashionable. As the highlight of living room decoration, the tile wall can reflect the taste and artistic taste of the owner. Therefore, how to choose the TV background wall and material is very important, and tiling the TV background wall can let you solve this problem.
Good heat insulation: As one of the decoration materials of living room, installing wall tile has the characteristics of sound insulation and heat insulation.
Top China Living Room Tiles Manufacturer - Wholesale Floor & Wall Tiles For Living Room
Foshan Hanse is a professional living room tiles manufacturer that mainly dedicated to wall tiles, floor tiles, porcelain tiles, ceramic tiles, polished tiles, rustic tiles, etc. Living room space like the heart of a house, we need to focus on both beauty and comfort. Follow the latest trend of drawing-room tiles, our living area tile owns reliable suppliers to offer high-quality raw materials, professional production and R&D team to ensure the premium performance of the tiles and multiple living room tiles design and sizes to meet clients' diverse requirement and create a functional and stylish living area for you. Get just the look you want for your living room with Hanse's amazing collection of low price porcelain & ceramic living room tile. Whether your decorating style is classic, contemporary or rustic, you find a tile that is a perfect fit.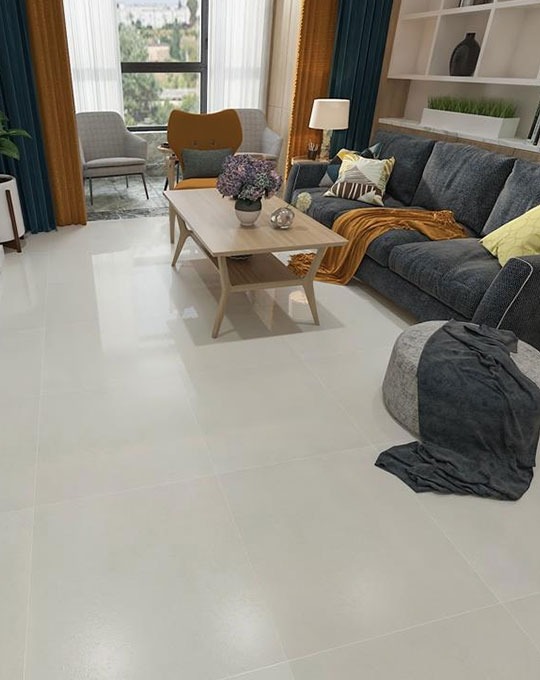 Sizes of Hanse Living Area Tiles For Sale

150*300mm, 300*300mm, 300*450mm,
400*400mm, 300*600mm, 300*900mm,
240*660mm, 500*500mm, 600*600mm,
600*900mm, 800*800mm, 1000*1000mm,
600*1200mm, 1200*2400, etc.

Main Types of Hanse Living Tiles For Sale

Living room ceramic tiles
Living room porcelain tiles
Living room polished tiles
Living room mosaic tiles
Living room rustic tiles

Benefits of Hanse Living Room Tiles For Sale

Fashionable and cost-effective
Well-balanced color, rich patterns and personalized design
Stable color and no fading
High grade and exquisite
Long service life
Strong wear resistance and scratch-resistant
Non-slip, comfortable walking
Environmental friendly
Water absorption and ventilation
Underfloor heating and cooling compatible
Low maintenance cost
Odour and voice free
Get Our Living Room Tiles Prices List - How Much Does Living Room Tiles Cost
The cost of living room tile material for indoor & outdoor depends on a few factors. These include: living room tile, style, color, size, sales tax, shipping, delivery fees and where you buy it from. If you are looking to buy living room tiles, there are a couple of the most well-known manufacturers of living room tile products in the market.
And one of the largest independent online ceramic & porcelain living room tile distributors in China - Hanseceramictile offers the best quality wholesale living room tiles for bathroom, kitchen, living room, bedroom and outdoors. The price for living room tile on sale Hanse is the most affordable compared with other ceramic & porcelain living room tile manufacturers & suppliers in China, range from 2.10 USD to 300 USD. So, whether you want to give your home a fresh new look or you want a durable flooring option for your new home or office, Hanse's cheap price living room tiles for sale online will be your ideal choice. You can buy living room tile online here with best service, fast delivery and safety guarantee. Get our cheap living room tiles prices list and buy living room tiles China now!
Hot Products