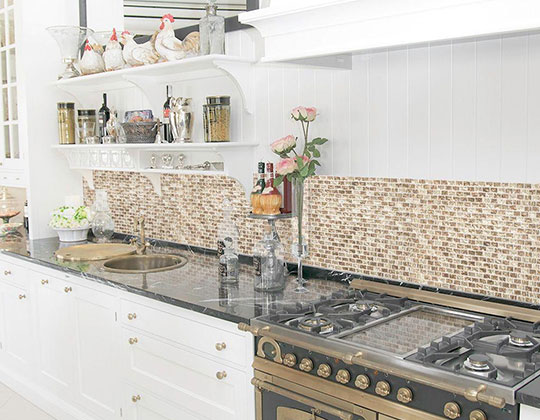 Hanseceramictile.com is one of the most reliable wholesale mosaic kitchen tiles vendors in China, manufacturing high quality tiles at low mosaic kitchen tiles prices.
Mosaic Kitchen Tiles designs contain

16 colors

,

4 finishes

,

6 features

and

1 sizes

,

70 mosaic kitchen tiles

in total.
All the hot selling cheap mosaic kitchen tiles products are of strict quality and produced by standardization of the management.
Buy cheap Hanse mosaic kitchen tiles to add a touch of taste and personality to your house now!
In addition, gorgeous mosaic tiles and kitchen tiles are available at Hanseceramictile shop. If you are looking for wholesale mosaic tiles or kitchen tiles designs, you are at the right place!
Hot Products

Mosaic Tiles For Kitchen Wall, Backsplash, Floor
It's very important to paste tiles in the kitchen, buy mosaic tiles for kitchen is a great choice. As mosaic tiles are loved by young owners, more people are willing to pave mosaic tiles into the floor especially backsplash of the kitchen, which are not only special but also beautiful, and will bring people comfortable visual enjoyment. Because of the small volume of mosaic kitchen tile, you can design them to jigsaw puzzles to produce a gradual effect. If your kitchen is large and the lighting effect is great, these tiles are definitely the perfect choice. Alternatively you can be more subtle by adopting a blend of stone and glass in contemporary linear design, creating wonderful mosaic kitchen basksplash and floor. You don't need to worry about the cleaning.
See All Mosaic Kitchen Tile Products
Why Mosaic Tile Kitchen?
Kitchen is essential to our life. In such a space, we will have many beautiful memories. Maybe it's also a witness of the process from "can't cook" to "master cook". The importance of the kitchen also directly leads to the importance of the kitchen decoration. No matter small details or large aspects, you should be cautious. Generally, young people prefer to use mosaic tiles. Compared with ordinary kitchen tiles, they are beautiful and durable, because mosaic tiles are all ceramic tiles, while ordinary kitchen tiles are ceramic/porcelain.
Buy Wholesale Kitchen Mosaic Backsplash & Floor Tiles - Creating Perfect Kitchen For Your House
Whether you are looking for something contemporary to work with your stainless steel appliances, or something a little warmer and more traditional, you are at the right place for your kitchen mosaic tiles of all designs and styles. As an experienced home decoration material - ceramic tile company in China, Hanse offers a wide variety of wholesale mosaic tile products to create the perfect kitchen. Our collection includes glass mosaic kitchen tile, ceramic mosaic tile, stone mosaic tile, come in various of colors, sizes, styles and finishes. Whether creating a one-of-a-kind tile backsplash treatment in the kitchen or remodeling floors, Hanse wonderful kitchen mosaic tile designs are the perfect choice.
Features & Advantages Of Hanse Mosaic Kitchen Tile

- Easy to maintain, weathering resistant, strong stick force
- Impact resistant, heat insulation, anti-bacteria, no water absorption
- Classic mosaic fully flat unlimited design
- Stable tiles performance and long lifespan
- All kitchen mosaic tiles are of strict quality control and standardization of the management
- Designed and developed by our skilled development team and workers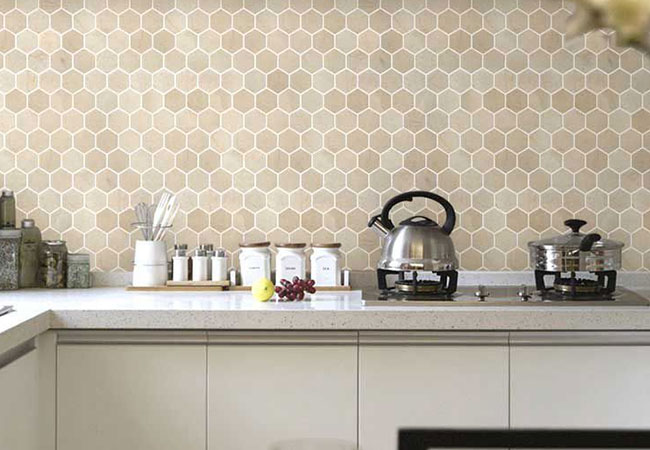 Installing Mosaic Tiles For Kitchen
Kitchen mosaic tiles look fantastic running along your worktop as a decorative feature, equally as a backsplash behind your hob. Then how to lay and set your own mosaic tiles in kitchen?
Check below Hanseceramictile shop's mosaic kitchen tile installing methods:
Make sure the tiles are free from dust or debris. If any is remaining, clean it with a damp cloth - however, it's important to ensure the tiles are dry before installation.
Prepare the tile adhesive mixed according to the proportion, and apply the tile adhesive on the wall or floor with the plastering knife. Pay attention that the amount of application should not be too much. First, apply the glue on the wall, and then apply the glue evenly with the V Notched Trowel.
After the glue is applied, the mosaic tile should be aligned with the gap and paved. Use a V Notched Trowel to stick the mosaic tile tightly. Since each mosaic tile is fixed with a net, after the wall or floor is pasted, the glue shall penetrate into each small grid to achieve the fixed effect.
Allow plenty of time for the adhesive to set.
Keep your setup clean with a damp sponge. Remove any excess adhesive or haze which may still be remaining on the tiles to help create a clean finish.
Once 24 hours has passed, mix the groutand apply it to the gaps between the tiles. The most accurate and mess-free way to do this is to work in sections, removing any excess grout with a clean, damp sponge as you go.
For the perfect finish which will make your tiles sparkle, polish off any remaining haze with a dry cloth or towel.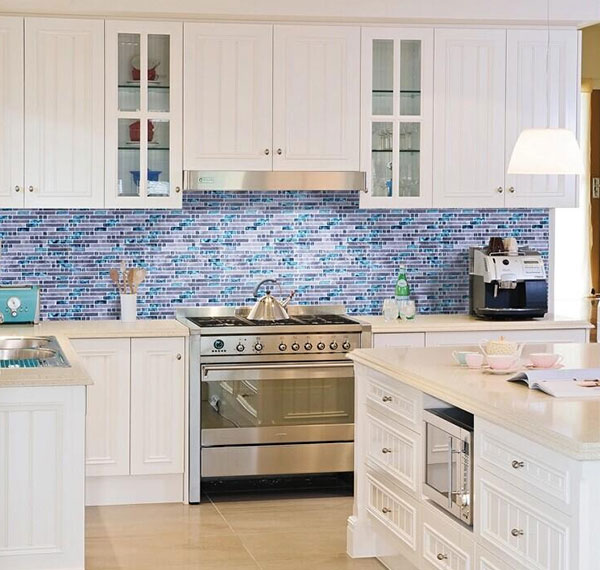 Other Kitchen Tiles
Other Mosaic Tiles