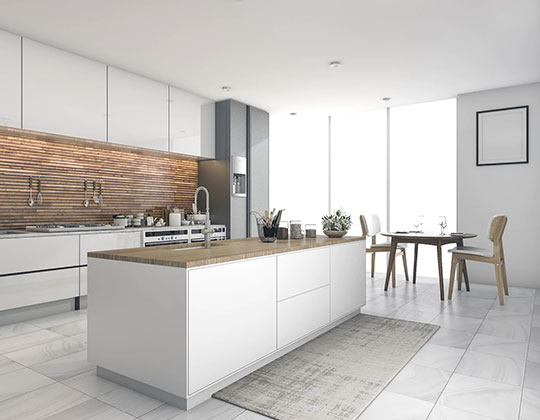 Hanseceramictile.com is one of the most reliable wholesale kitchen ceramic tiles vendors in Foshan China, manufacturing high quality tiles at low kitchen ceramic tiles prices.
Kitchen Ceramic Tiles designs contain

13 colors

,

7 finishes

,

6 features

and

17 sizes

,

175 kitchen ceramic tiles

in total.
All the hot selling cheap kitchen ceramic tiles products are of strict quality and produced by standardization of the management.
Buy cheap Hanse kitchen ceramic tiles for sale to add a touch of taste and personality to your house now!
In addition, gorgeous kitchen tiles and ceramic tiles are available at Hanseceramictile shop. If you are looking for wholesale kitchen tiles or wholesale ceramic tiles designs, you are at the right place!
Hanse - the professional Foshan China kitchen tile manufacturer & supplier will continuously wok on improving the designs of our kitchen tiles to ensure that you get the best import kitchen tile products for your project!
Hot Products
Related Search
Kitchen Ceramic Tile - Ceramic Tiles for Kitchen
Kitchen can be regarded as the heart of modern family, the cooking of every day begins from here. How to create a cozy kitchen? Ceramic kitchen tiles can transform your space style and add unique character in it. If you are looking for a good looking, durable and budget flooring option and wall cladding solution for your kitchen, the ceramic tiles are ideal choices. Kitchen ceramic tiles are suitable the wet environment, because it's moisture-resistant, wear resistant, easy to clean and maintain, and provides superior grip. Not only floors and walls, they are also perfect for backsplashes and countertops.
See All kitchen ceramic tile Products
Why Choose Ceramic Tiles for Kitchen?
Resistant to water and most stains
Suitable for high humidity environment and wet areas
High toughness, not easy to crack
Durable and long-lasting in well-maintained
Easy to wipe and mop ceramic tiles away
Allows numerous patterns and custom designs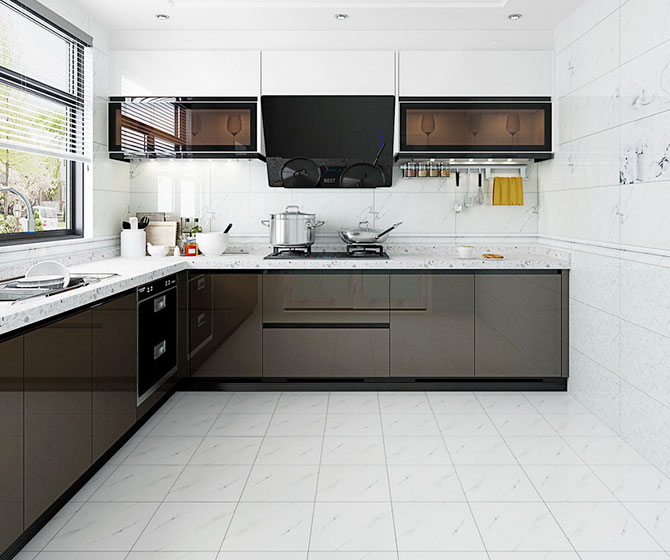 Kitchen Ceramic Tile Designs & Ideas
Industrial style: Industrial style kitchens are born out of the commercial restaurant kitchen, the industrial style ceramic tile, black iron windows, and industrial range hood, the modern cool design is suitable for specialty restaurant.
Exotic design: Patchwork patterned ceramic tiles with national or local characteristics coordinating designs to fit together, increases the richness of your room and break with convention.
New iconic: Dandelion tile is a new designed iconic applied for kitchen walls, consists of striking hexagon and abstract dandelion clock shape, plus matching color, create stunning look on a feature wall.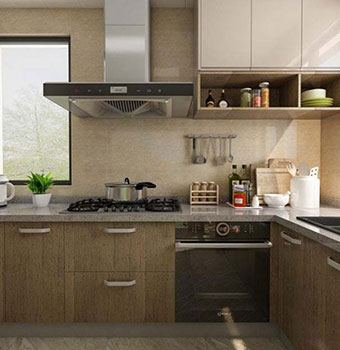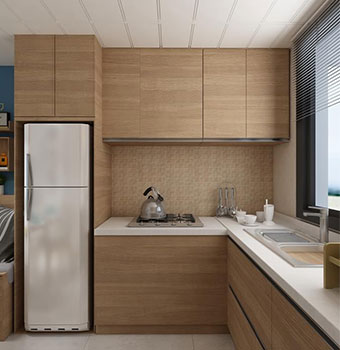 How to Clean Kitchen Ceramic Tiles - Kitchen Ceramic Tile Cleaning Tips
Kitchen is the place where we cook food every day, it will produce lots of lampblack, which makes the kitchen tiles dirty after a long time. Then, how to clean the ceramic tiles for kitchen fast and effectively?
1. Use degreasing detergent with nozzle
Choosing a detergent with a nozzle for degreasing is more convenient and practical, spray it on the dirty place and wipe it with a soft rag.
2. Use an old toothbrush
In fact, clean the ceramic tiles with a toothbrush each day can reduce the workload and decrease the difficulty of work. For small area of oil stains in daily cleaning and the places where it is difficult to clean, like the tile seams, you can use toothbrush, the teeth of brush are small, it can go deep into the gaps for more thoroughly cleaning.
3. Use paper or cotton cloth
Paste the toilet paper or tissue on the tile need to be cleaned, spray the detergent on it and leave it for a while. The detergent will not drip everywhere, and the grease will stick up. Then tear off the paper, use a clean cloth dipped in water to wipe the tile. For the ceramic wall tile with heavy oil pollution, leave the paper towel on the tiles for one night, or use cotton cloth to replace the paper, until the oil stain has been fully absorbed by the paper towel, wipe it with a wet cloth.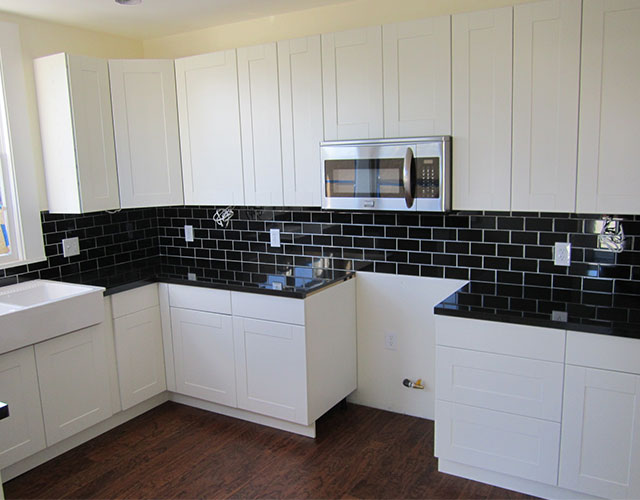 4. Use candle
The surface of the candle is very smooth, even if it is stained with oil, just wipe the candle gently and it will be clean. So it's great material for the work. Apply appropriate amount of candle gently onto the joint and seam of the tile vertically first, then horizontally, to make the thickness of kitchen ceramic tile same as that of candle. After the operation, just use the general detergent to scrub normally when cleaning tile and tile joint at the back of the stove.
Buy Ceramic Tiles for Kitchen Floor and Wall - Kitchen Ceramic Tile Manufacturer and Wholesaler in China
Need some new kitchen ceramic tile ideas? With 18 years experiences in tiles industry, Hanseceramictile.com is your ideal partner offering a wide array of ceramic kitchen tiles products including kitchen flooring tiles, wall cladding, polished tiles, glazed tiles, wood look tiles, marble effect tiles and more, covering extensive selection of finishes, effect, functions, colors, shapes and sizes. We understand the demands of customers and varying trends on the market, with skilled craftsmanship, seasoned workers, enough production base and stock space, makes our kitchen ceramic floor tiles and wall tiles keep innovated design, premium quality, affordable prices and fast delivery.
Our Range of Kitchen Ceramic Tiles
Hanse ceramic tiles products for kitchen is including hundreds of styles, colors, designs, shapes, sizes and finishes, to meet different requirements.
Colors: beige, white, blue, black, brown, grey, gold, green, etc.
Features & Shapes: rectangles, square, mosaic, wood look, marble look, etc.
Sizes: 75 x 150mm, 150 x 800mm, 200 x 200mm, 200 x 300mm, 150 x 600mm, 300 x 600mm, 200 x 1000mm, 600 x 600mm, 600 x 1200mm, etc.
Finishes: polished, glazed, matte, unglazed, glossy, etc.
Why Choose Hanse Kitchen Ceramic Tiles

Fit the fixtures, furnishing and fitting of your kitchen perfectly
One-stop service from material selection to shipment, for all your tiling needs
Professional production technology and world-class quality
An extensive range of ceramic tiles textures, colors, and shapes
Waterproof, wear resistant and chemical resistant, long lifespan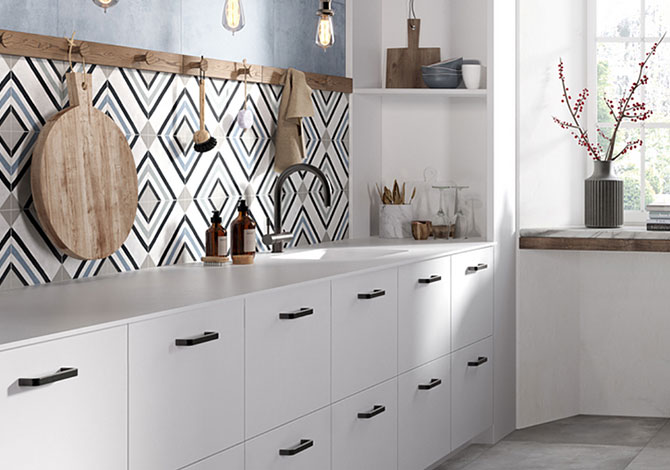 Other Ceramic Tiles
Other Kitchen Tiles