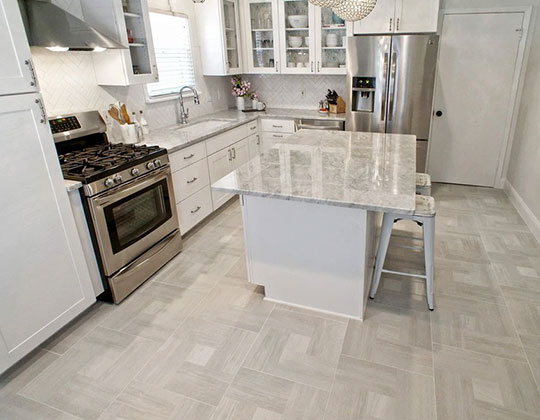 Hanseceramictile.com is one of the most reliable wholesale porcelain kitchen tiles vendors in China, manufacturing high quality tiles at low porcelain kitchen tiles prices.
Porcelain Kitchen Tiles designs contain

11 colors

,

6 finishes

,

3 features

and

13 sizes

,

83 porcelain kitchen tiles

in total.
All the hot selling cheap porcelain kitchen tiles products are of strict quality and produced by standardization of the management.
Buy cheap Hanse porcelain kitchen tiles to add a touch of taste and personality to your house now!
In addition, gorgeous porcelain tiles and kitchen tiles are available at Hanseceramictile shop. If you are looking for wholesale porcelain tiles or kitchen tiles designs, you are at the right place!
Hot Products
Porcelain Kitchen Tile - Porcelain Tiles for Kitchen
There would be a mess after cooking in kitchen, it's a little troublesome to clean it, to protect your kitchen, porcelain kitchen tile is ideal solution doubtlessly. The porcelain tiles are made from the mixture of clay and sand, went through heat treated and pressure, which give it higher hardness, density and less holes than common ceramic tile. Kitchen porcelain tiles are versatile enough to cover your kitchen floors, walls, backsplash, and other areas, also easy to wipe with ordinary towel. On the other hand, porcelain tiles for kitchen is also useful method to coordinate and decorate your kitchen, choose porcelain floor tiles and wall tiles with appropriate colors to match your existing cupboards, counters and fittings, make the dining room more harmonious.
See All porcelain kitchen tile Products
Why Choose Porcelain Tiles for Kitchen?
High density in porcelain tiles provides chipping and scratches resistance
Low moisture absorption from humidity and spills in kitchen
Tough enough to hold up heavy to extra-heavy traffic
High durability, increase the value of your room
Maintain the color of tile body for a long time
Popular and versatile with numerous stunning look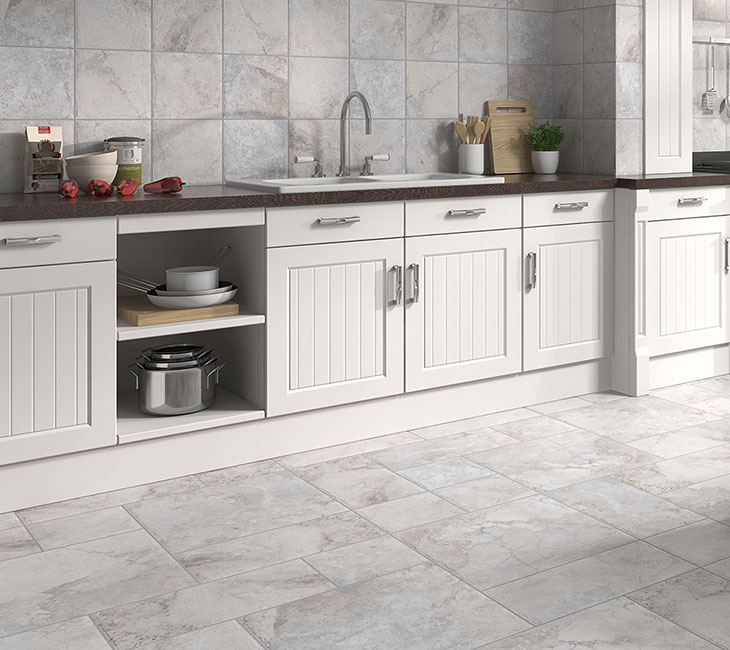 Porcelain Kitchen Tile Designs & Ideas
1. Geometric shape with contrasting color:
Herringbone porcelain tiles or chevron tiles with contrasting color can create a fluid movement over the kitchen wall and backsplash. You can apply some hot colors like forest green and milk white to make two consecutive graphic lines, adds vigor and vitality to your space.
2. Characteristic pattern:
Choose some special, characteristic and symbolic images to your porcelain kitchen tiles, like flowers, birds, landscapes, figures, auspicious patterns, etc., bring a touch of rustic or local charm without introducing bold design.
3. Elegant edging
If you don't want your pure white tiles to look too drab, an elegant edging is a good choice. Patterned small tile, three-dimensional frame, any color or any designs, embellish your kitchen design, to add a sense of refinement.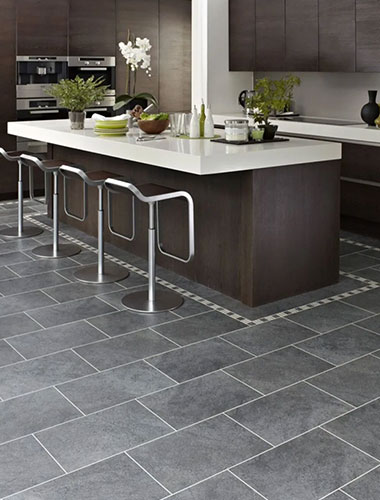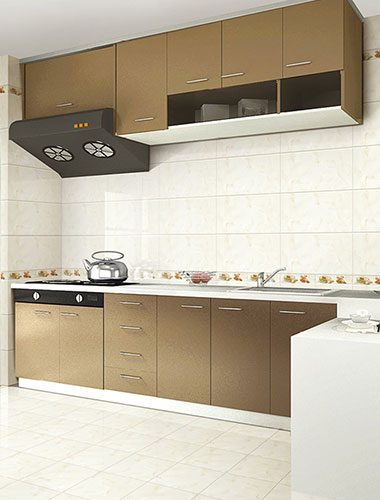 How to Clean Porcelain Kitchen Tile in Daily Life - What Should Pay Attention to?
The cleaning method will change as the type of dirt and stains is different, the surface finishes of tiles will also affect its resistance to water and dirt, here are some tips and methods for cleaning and maintenance of kitchen porcelain tile.
For common stains like ordinary dust, greasy dirt and mud, soapy water or detergent with clean towel is enough. Add some ammonia water and turpentine mixture, the porcelain tiles will become more glossy.
If there are scratches on the tile, spray with a few amount of detergent and toothpaste, wipe it gently and dry it in 1-2 minute.
The glue on the tile is not easy to be removed, you can try banana oil, which has a strong smell of banana, in liquid, colorless and transparent, volatile and flammable, has a good effect to remove the glue on porcelain tile.
Glazed porcelain tile has tight structure between the glaze layer and tile body, the dirt will not penetrate into the interior, you can clean it with cotton cloth and detergent. Do not let the water seep in tiles, to avoid pollution and tile peeling off. Use a brush to clean bumpy tile.
Polished porcelain tile is different, its surface has fine pores, long-term exposure will make it absorb some dust and bacteria, and looks older. Wax it regularly for better maintenance.
When cleaning the seam of grout line of the tile, a layer of Water Repellent can be applied to prevent mold growth.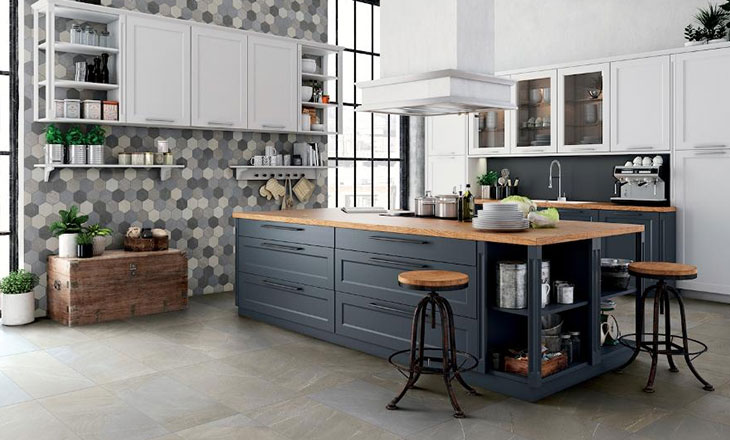 Cheap Porcelain Kitchen Tile for Sale - Kitchen Porcelain Tiles Manufacturer & Supplier
Looking for new kitchen porcelain tile design? Welcome to have a look on Hanseceramictile.com. As a top China porcelain tiles supplier for flooring and wall, we providing a large collection of porcelain tiles for kitchen, from white to grey, from mosaic to hexagon, from matte to unglazed, to help you upgrade your kitchen space with our gorgeous, durable and affordable porcelain flooring and wall covers. You can purchase kitchen porcelain tiles in bulk or small order, picking different styles products to create classic, relaxed, modern, natural or lovely kitchens.
Our Range of Porcelain Kitchen Tile
Hanse provide multiple pleasing options for porcelain tile flooring and porcelain wall tile in kitchen, differs in color, size, shape, finish and textures.
Color: white, black, beige, grey/gray, brown, etc.
Size: 600 x 600mm, 600 x 1200mm, 200 x 1200mm, 200 x 900mm, 800 x 800mm, 150 x 800mm, 150 x 600mm, 1000 x 2000mm, 300 x 300mm, etc.
Shape: rectangle, square, mosaic, etc.
Finish: polished, glazed, glossy, matte, etc.
Why Choose Hanse Porcelain Kitchen Tile

Extensive experiences in porcelain tiles manufacturing and installation
A wide range of great looking, distinct and realistic patterns and textures
Sophisticated equipment, improved efficiency and decreased cost
One-stop shopping, online instant service for prompt response
Premium quality and versatility, multiple styling possibilities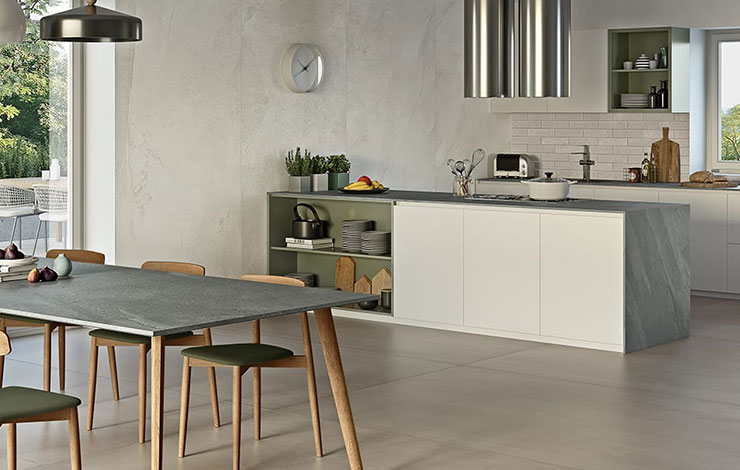 Other Kitchen Tiles
Other Porcelain Tiles