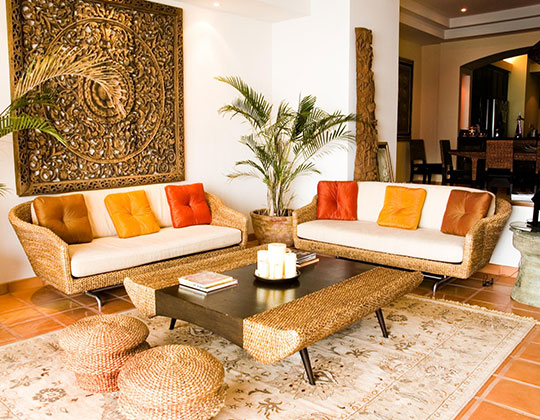 Hanseceramictile.com is one of the most reliable wholesale orange tiles vendors in China, manufacturing high quality tiles at low orange tiles prices.
Orange Tiles designs contain

0 colors

,

0 finishes

,

0 features

and

0 sizes

,

0 orange tiles

in total.
All the hot selling cheap orange tiles products are of strict quality and produced by standardization of the management.
Buy cheap Hanse orange tiles to add a touch of taste and personality to your house now!
In addition, gorgeous tiles are available at Hanseceramictile shop. If you are looking for wholesale tiles designs, you are at the right place!
Orange Floor & Wall Tiles - Made In China Orange Tiles Wholesale
Ceramic tiles orange color can render a quiet and peaceful feeling for the home environment. As orange is a delightful, energetic and appetite-inducing color. It is also the representative color in the warm tone, as well as the healthy color. This kind of warm tone is elegant and simple, can bring a rich and colorful feel to any room where it is installed. Breathe new life into your kitchen, living room, bathroom and bedroom with the unique appearance of orange ceramic tile. Also, choose orange floor & wall tiles for kid's room decoration can improve children's enthusiasm.
Hanseceramictile store offers a wide spectrum of high quality orange color ceramic floor & wall tiles cheap from classic pattern tiles to bright orange metro tiles perfect for home decorations, banks, restaurants, supermarkets and entrance halls. Buy Hanse orange ceramic/porcelain tiles to add a splash of color to your decoration!
See All Orange Tiles Products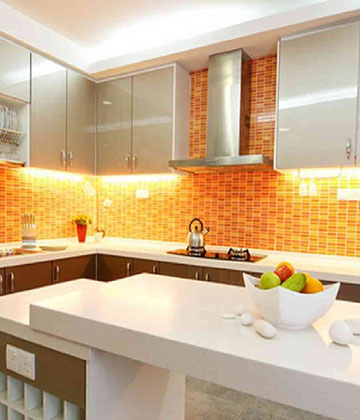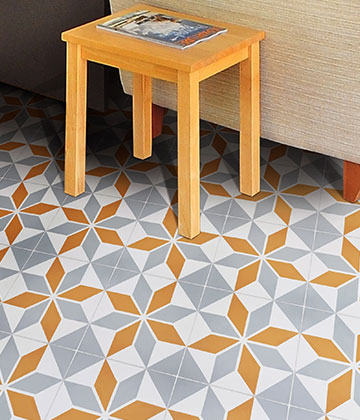 Our Range Of Orange Tiles – Sizes, Shapes, Finishes
Orange tones can bring a rich and colorful feel to any room where it is installed. Hanse stunning orange floor and wall tiles come in various of finishes, sizes and styles. From range stone like tile, orange glass tile, orange metro tile, to orange mosaic tile and travertine tile which add depth and complexity to your flooring and walls. Orange glass tiles lend warmth and excitement to any space you place them in. Glass tile kitchen backsplash, fireplace surround, restaurant -- any surface will come alive with color!
When it comes to finishes, they come in glossy, polished, matte, glazed, textured and more surface with hexagon shape, herringbone shape or square and rectangular shape. Sizes range from small 75×150mm, 300×300mm to large 1000× 2000, 1200×2400mm. These tiles in orange color are sure to add a special shine to all kinds of spaces. Use Hanse orange tile for rustic home decor accents, counters, walls, stair risers and a kitchen backsplash!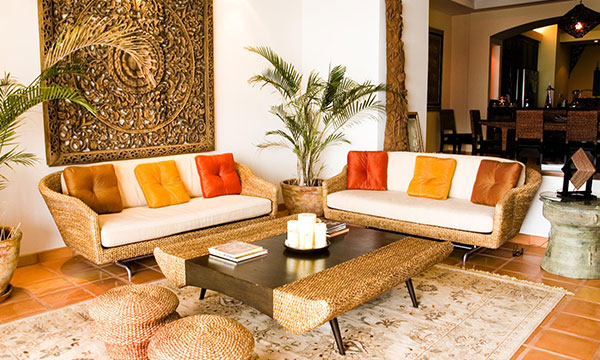 Orange Tiles Color Matching, Decorations – How To Match Orange Tiles
You can make a statement and breathe life into a stark white kitchen with burnt orange wall tiles, or add a sophisticated touch to a grey decoration with a warm rust orange wall tile. A muted orange wall tile can also add vibrancy to a traditional scheme, especially where browns and woods are used.
You can match with red elements to create brilliant light, the light illumination will render the whole space into a lovely orange, makes the whole house warmer.
Orange tiles match with light green and light blue accessories to form the loudest and happiest color. Orange and light yellow have a comfortable transition. Match with white or black will turn the orange color tiles into a steady, implicit and bright color.
Orange Tiles Ideas – How To Decorate Your House With Orange Tiles
Orange kitchen tile backsplash:
Orange table and cupboard can stimulate people's appetite and promote blood circulation. You can even use orange tiles for backsplash in kitchen which can brighter your cooking space. The kitchen is clean and fresh, the whole room is decorated with orange, even any small furniture, bar stool, vegetable basket, the overall color is unified. Presents a happy sense of vision, but also the kitchen atmosphere set off a more warm and harmonious. The design of the bar also makes the space more relaxed and leisure.
Orange bathroom tiles:
If you want something special, bright and rich then the orange color is indispensable. The orange bathroom will always boast of warmth and coziness. This color is often used in combination with white or black. If you want to make your bathroom look sunny, cozy and one-of-a-kind, use orange tiles wall – it will lift your spirits every time you enter the bathroom.
Orange shower tiles:
If you like a lighter touch with your color, you might want to consider a simple subway tile wall. Bright white grout highlights the white tub and surrounding wall, and a darker floor adds a touch of muted comfort. In an overall neutral shower where an accent wall is appropriate, orange ceramic tile can be a great option.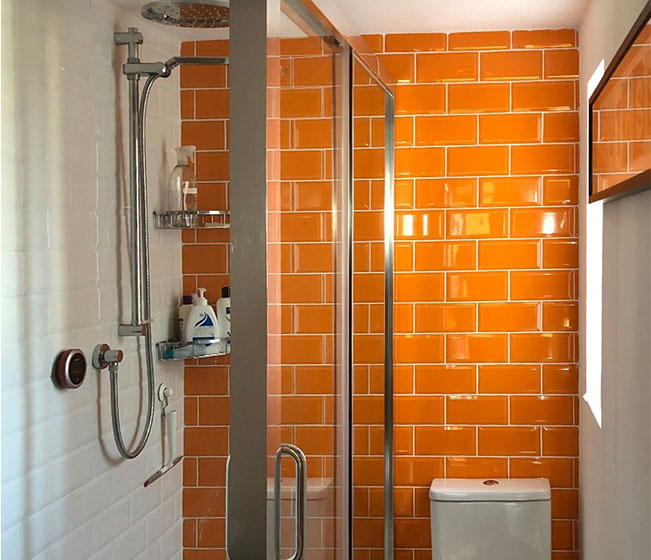 Why Choose Orange Tiles In Bathroom & Shower?
Orange is a super energetic color, which evokes excitement and raises up the spirits. Going much orange in your bathroom is a great way to help you wake up every morning and fill you with warmth and coziness in the evening as this is a very warm color, whether you choose brighter or lighter orange or even elegant rust shades.