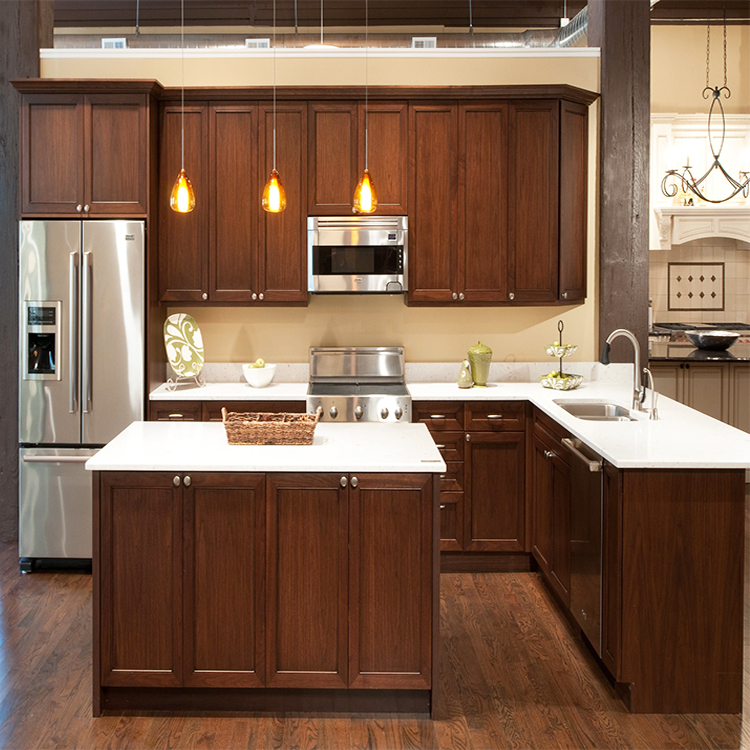 Solid Wood Kitchen Cabinet
Hanseceramictile.com is one of the China's top online wholesale solid wood kitchen cabinet vendors, suppliers and exporters, manufacturing high quality kitchen cabinet at affordable solid wood kitchen cabinet prices.
There are 15 Solid Wood Kitchen Cabinet designs in total. The cost of solid wood kitchen cabinet is between 80usd/Meter to 100usd/Meter.
Each Hanse best price hot sale solid wood kitchen cabinet online is of high quality and complies with international quality standards to ensure that we only offer the very best.
In addition, gorgeous solid wood kitchen cabinet are available at Hanseceramictile shop. If you are finding wholesale kitchen cabinet for home indoor & outdoors, you are at the right place! Welcome to buy kitchen cabinet online China from Hanse!
Hanse - the professional Foshan China solid wood kitchen cabinet manufacturer & supplier will continuously work on improving the designs of saunas to ensure that you get the best import home kitchen cabinet products for your project!
Buy cheap solid wood kitchen cabinet for sale at Hanse to make your body in a relaxed state, relieve tension and reduce stress!
Samples can be sent on the premise of the user's shipping fee, and the manufacturing cycle is generally 30 days.
Hot Products
What Is Solid Wood Kitchen Cabinet
A cabinet is a necessary article in the kitchen. It is mainly used to hold some cooking materials and kitchen tableware. When people choose cabinets, do they choose to customize or buy ready-made ones? In fact, each has its own advantages and disadvantages. Many people prefer solid wood cabinets. A solid wood cabinet usually refers to a cabinet customized with solid wood or solid wood composite as a door panel in the overall cabinet, which is called a solid wood cabinet. Its cabinet body, tabletop, functional hardware accessories, etc. are still composed of the original brand configuration of the manufacturer, with high-grade and beautiful advantages, natural lines, etc. Looking for the best solid wood kitchen cabinets for sale online? Hanse is an experienced solid wood kitchen cabinet supplier and manufacturer in China.
See All Solid Wood cabinet Products
Wholesale Solid Wood Kitchen Cabinets From Hanse - Best Kitchen Cabinet Company China
Solid wood kitchen cabinets factory direct are the specialty of Hanse cabinets company. Buy solid wood kitchen cabinets from us that can be precisely crafted without losing any of their visual charms, it is a wonderful material for furniture. Hanse store is the top wholesale solid wood kitchen cabinets distributor in China, and we can help you find the right solid wood kitchen cabinet design for your needs, given the broad selection of shapes and colors, sizes, and functions that are available. Whether you're searching for modern or classic solid wood kitchen cabinets, our collection allows you to customize your solid wood kitchen cabinets online to fit your lifestyle, you'll find them all here.
Advantages Of Solid Wood Kitchen Cabinet
The material of a solid wood cabinet is all pure solid wood, and the quality of this kind of board cabinet is very guaranteed. Solid wood mainly includes cherry, pine, oak, cypress, etc. These trees have their own unique growth environment, and they also have their own growth patterns. Using these plates to make cabinets can increase the aesthetic feeling of the kitchen. The cabinet made of this material has good moisture resistance and good corrosion performance for some acid-base environments. For a kitchen with many oil stains and a humid environment, a solid wood cabinet is the best choice.
Hanse solid wood kitchen cabinet is very environmentally friendly. It does not contain any harmful additives and formaldehyde gas, which does no harm to the human body and environment. After installing the cabinet, you can check-in immediately.
Disadvantages Of Solid Wood Kitchen Cabinet
Solid wood cabinets are made of solid wood. This kind of material needs certain technology and equipment for processing. The moisture contained in pure solid wood is difficult to remove. If it is made of solid wood containing moisture, the cabinet will be bitten by insects for a long time. Due to the humid environment, the cabinet will also grow moss and other substances, which will not only affect the use of the cabinet but also affect the beauty of the kitchen.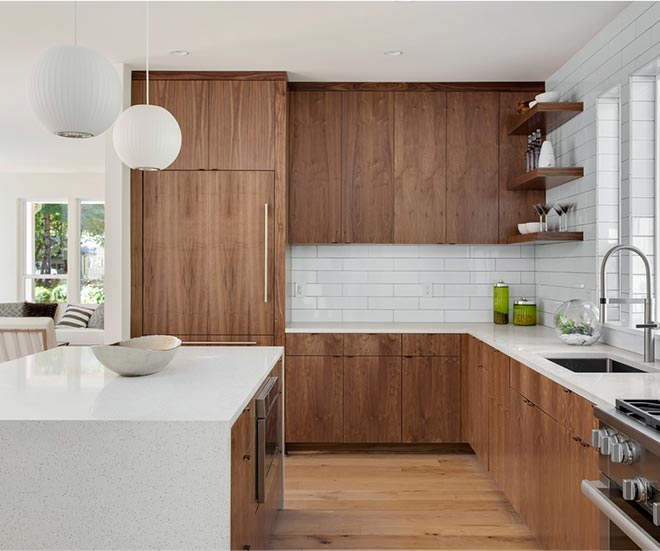 How To Choose While Purchasing Solid Wood Kitchen Cabinet
Look at the cabinet
There are mainly two kinds of cabinet materials for solid wood cabinets in the market: the first is particleboard as the base material and the surface is covered with melamine board. Its texture is close to the solid wood frame, but its color and texture are completely different from the solid wood frame. It can be used as the reference material for cheap solid wood kitchen cabinets. The advantage is that the cost is low and the nail holding force is strong enough. The second kind is a multilayer board. The surface is made of solid wood veneer, which is consistent with the texture of solid wood door panels and is integrated. It has the same texture and color. It is ideal material and can be used for a long time, but the cost is relatively high. It is very popular in developed countries in Europe and America. In this case, consumers should be reminded that for the assembly mode of the cabinet, it is recommended to adopt the three-in-one plus rod tip structure, which will be more firm.
Look at the door panel
Mainly to understand the material of solid wood door panels and solid wood core board. The material of solid wood door panels is divided into hardwood and cork. Hardwood is not easy to deform, difficult to process, and high cost; On the contrary, cork is easy to deform, the processing is relatively easy and the cost is relatively low. There are mainly two kinds of the solid wood core board. One is that the density board is the base material and the surface is pasted with skin, which has a texture close to that of solid wood, with the advantage of low cost; The other is a pure solid wood core board, which is made of the same material as the frame and has the same color and texture. It is an ideal core board material. But the cost is high and the processing is difficult. Even so, European and American consumers are still keen on this kind of door panel with solid wood inside and outside.
Look at the skirting board
There are three kinds of materials for skirting boards on the market: the first is melamine veneer of shaving substrate, the second is a veneer of multi-layer solid wood board, and the third is pure solid wood. Because the skirting board contacts the ground, it is wet and there is much water, and the particleboard is easy to expand, so it is not suitable to be used as the skirting board material. Multilayer board is the ideal base material for skirting board. Of course, there is a large cost difference between the three.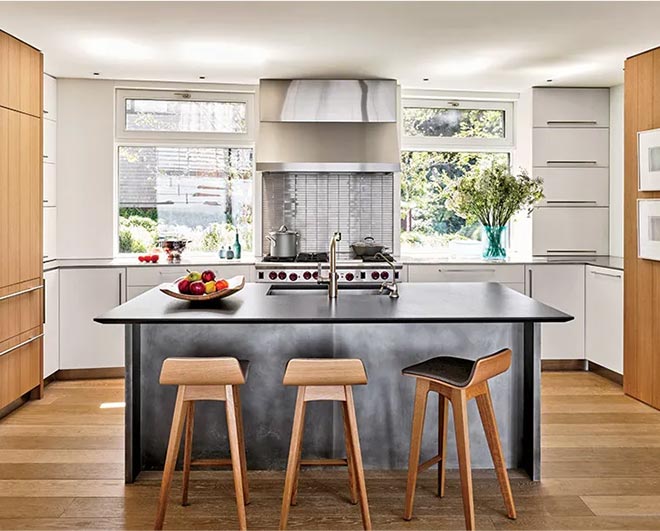 Right here on our website, you can buy any solid wood kitchen cabinet products personalized to your needs at a price you can genuinely afford. Is it worth it to buy solid wood cabinets Hanse? Yes, that's the simplest answer. In the end, cheap solid wood cabinets are always the best option when compared to other cabinet materials. It's a long-lasting, high-quality material that won't break the bank. Call us or send us an email if you have any problems while purchasing our solid wood kitchen cabinets for sale.