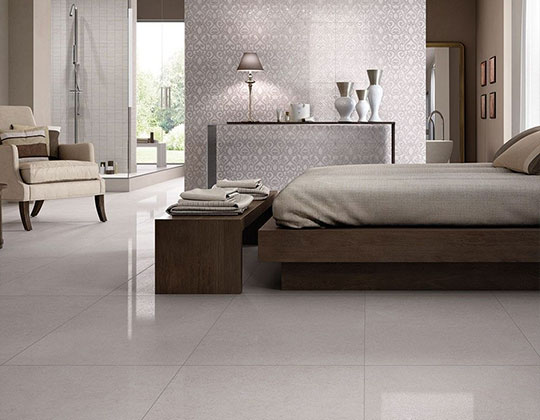 Hanseceramictile.com is one of the most reliable online wholesale bedroom tiles vendors in Foshan China, manufacturing high quality tiles at low bedroom tile prices.
Bedroom Tile designs contain

16 colors

,

8 finishes

,

6 features

and

17 sizes

,

485 bedroom tiles

in total.
All the hot selling cheap bedroom tile products online are of strict quality and produced by standardization of the management.
Buy cheap Hanse bedroom tiles for sale to add a touch of taste and personality to your house now!
In addition, gorgeous bedroom floor tiles online, bedroom wall tile are available at Hanseceramictile shop. If you are looking for wholesale bedroom tiles designs, you are at the right place! Welcome to buy floor tiles online from China Hanse!
Hanse - the professional Foshan China bedroom tile manufacturer & supplier will continuously wok on improving the designs of our bedroom tiles to ensure that you get the best import bedroom tile products for your project!
Related Tiles
Related Search
Bedroom Tiles
The bedroom is different from the living room/kitchen. The bedroom space is the most intimate, personal room of the house, it's the most relaxing place for people, and also the main place for people to rest. People spend most of their time resting in their bedrooms. Perfect bedroom design will not only bring a good environment but also affect our mood throughout the day. And bedroom tiles design often plays a fundamental role. An extensive range of floor & wall tiles has been created to decorate and make the bedroom unique. Due to their virtually unlimited aesthetic and color range, ceramic tiles and wood tiles are common options for bedroom wall tiles and bedroom floor tiles.
See All Bedroom Tiles Products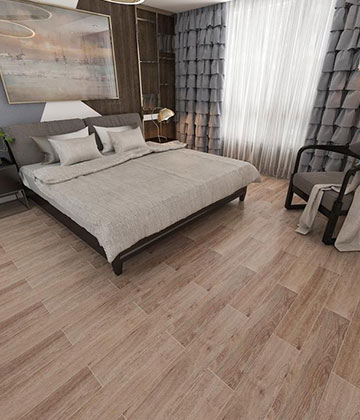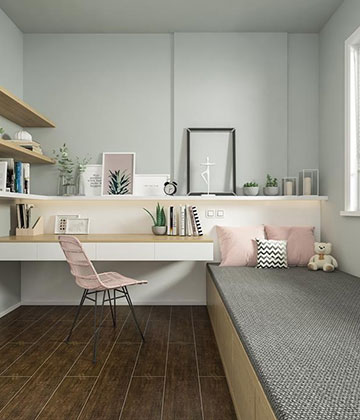 Bedroom Tiles Ideas
Hexagon tiles for bedroom: Adding characterful tiles to a wall space is a quick and easy way to give the bedroom a new burst of life. The humble hexagon is one of the trendiest shapes in the world of interior design. Our hexagon wall/backsplash tiles, with their wonderful stone effect patchwork of patterns, are perfect for creating a honeycomb feature wall in a bedroom.
Vintage wood tiles for bedroom: Wood effect tiles don't just come in natural browns and sands - there are white-washed versions too, such as the vintage wood plank tiles! Whitewoods are fundamental in creating that popular soothing Scandinavian look in your home. Adding white tiles with a wood effect into an interior space also helps to make the room seem larger and brighter, so if you want to refresh your bedroom, they're a great option!
Rectangular tile in running-bond pattern: If you want to break up the tile routine in bedrooms, consider breaking out of the box. Or break out of the square. Square tile has been overused for years. In the last few years, larger rectangular 12x24cm tiles have exploded onto the marketplace, along with their elongated cousins, ceramic tile planks. Why not install Hanse's beautiful rectangular tiles for the bedroom for creating a stylish space?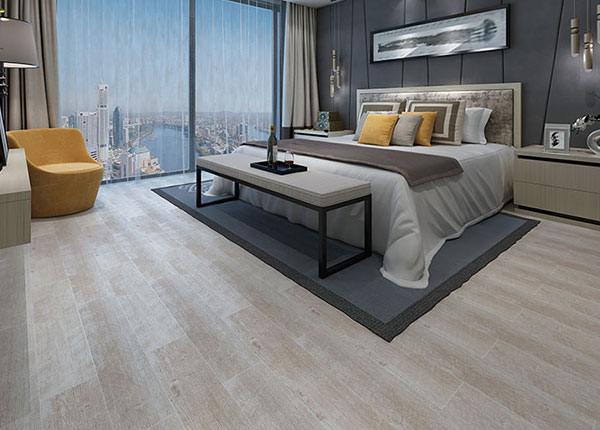 Which Are the Best Tiles For Bedrooms?
Glazed tiles for bedroom:
This kind of tile is formed by firing glaze. They are divided into clay and porcelain. It's off-white, so it works better. About 80% of home decoration buyers currently choose this kind of tile for bedroom floor decoration material. Its advantage is that it has a variety of patterns and textures. It has more colors and styles than polished tiles. The disadvantage is that the surface is glazed, therefore, the abrasion resistance is not as good as that of polished tile, cracks are easy to occur after thermal expansion and contraction, and sewage is easy to penetrate.
Wood tiles for bedroom:
Wood tiles not only have features of ceramic tiles but also have a real wood appearance, showing the classical and elegant style effect. With good antiskid performance, suitable for families with old people and children. Wood finish tiles are formaldehyde-free, healthy, and environmentally friendly. It comes in different patterns, shapes, and styles so that we can choose as we like, creating the best wood-look bedroom tile flooring/wall design.
Vitrified tiles for bedroom:
Vitrified tiles are also suitable for bedroom, which is widely used at present. It's the same as polishing. It is easy to understand that it is a kind of reinforced polished tile. It has higher requirements for production technology and needs all ceramic. Suitable for living room and bedroom. The advantages are that the surface is bright without polishing treatment, which to a certain extent solves the problem of easy to be dirty. The disadvantages are that the surface is bright, easy to dirty, and easy to penetrate, which are not suitable for use in wet places.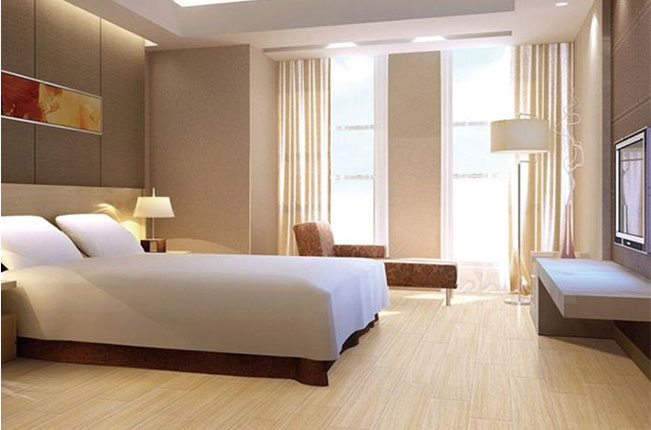 Bedroom Tiles Color Matching - Which Color Tiles To Choose For Bedroom?
1. Match according to home style
Bedroom tile color also needs to match the overall style, such as northern European style, modern simple style can choose grey white tiles, retro style or European decoration can choose black, red-brown, and other dark tiles.
2. Match according to wall color
The color of the wall also has an essential reference for us to choose the color of the tile in the bedroom. If the wall is warm, we should choose the corresponding warm color tiles, such as beige, original white, etc., which can make the bedroom warm and bright.
3. Match according to the light intensity
The color of the wall or floor tiles for the bedroom can also be matched according to the light. For the bedroom with bright natural lighting can choose the tile with a slightly dark color. If the light in the bedroom is poor, it is better to choose the tile with a light color.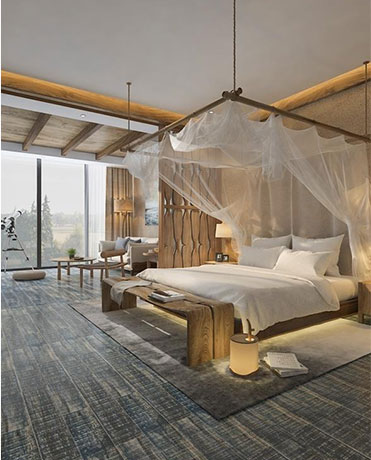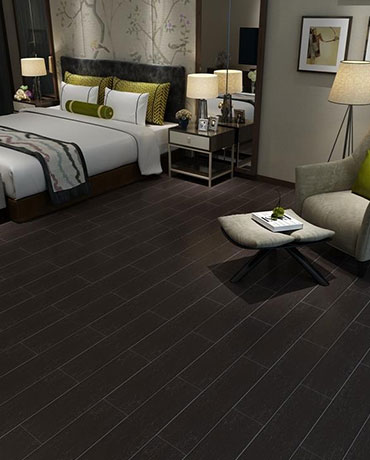 Should Bedrooms Be Carpeted?
Carpet is usually the best choice for bedrooms and master bedrooms because it is soft and cozy. It is warm and can reduce sound, versus hardwood, which helps sound resonate and makes bedrooms feel cold.
Bedroom Tiles Selecting Tips
When choosing the color for the bedroom tile, try to choose a color that does not stimulate people. Try to choose some warm colors, such as yellow, beige, and white. Some country-style tiles are usually more suitable for use in bedroom renovation.
As far as the environmental protection performance of tiles is concerned, the tiles used in bedrooms are often higher than those used in other aspects, so the tiles in bedrooms with environmental protection are more suitable.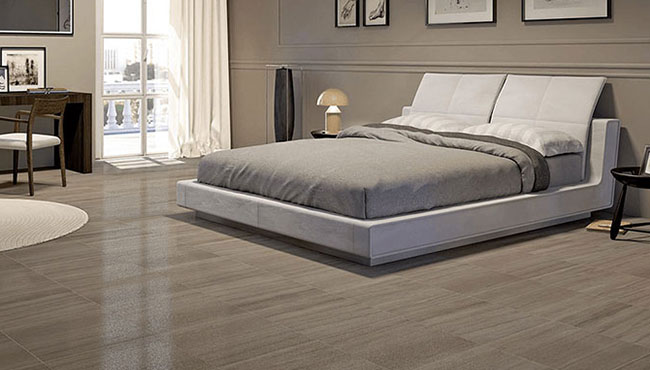 Chinese Bedroom Tiles For Sale - Buy Cheap Tiles For Bedroom Floor & Wall
Foshan Hanse is one of the China wholesale bedroom tile manufacturers & suppliers that mainly engaged in offering all kinds of ceramic/porcelain, wood tiles for bedroom walls or floors, polished tiles, matte tiles, glossy tiles, glazed tiles & more, which can be furnished in a classic, vintage, modern or minimal style. With unique specifications and sizes, various styles, beautiful appearances, and bright colors. Our wall and floor tiles can be widely used in various bedrooms and living spaces through creative design. The offered affordable porcelain/ceramic tiles for bedroom areas are processed in adherence with the industry-accepted norms of quality to furnish maximum satisfaction to our customers. Buy bedroom tiles at a low price in the Hanse Tile store, and create a space that is both warm and comfortable!
Features Of Hanse Wholesale Bedroom Tiles

Beautiful color combinations
Perfectly shaped
Lustrous shine




Alluring design

Stain-proof, scratch-resistant, slip-resistant, and frost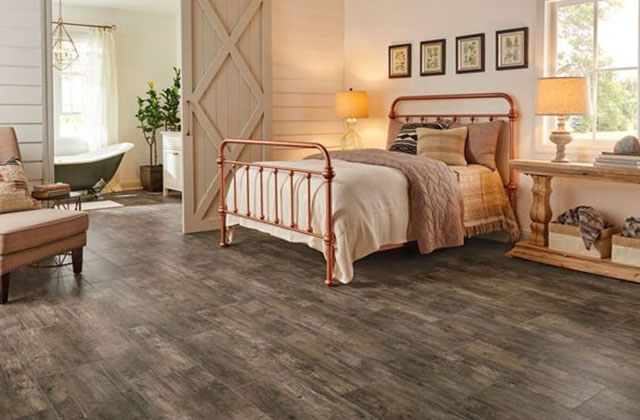 How to choose bedroom tiles?
Choosing bedroom tiles involves considering a number of factors, including the style and design of the tiles, their durability and practicality, and any certifications or standards they may have. Here are some functions and certifications you should consider:
Material: Bedroom tiles can be made from various materials such as ceramic, porcelain, natural stone, and vinyl. Ceramic and porcelain tiles are durable, easy to clean, and come in various colors and patterns. Natural stone tiles, such as marble and granite, offer a unique and elegant look but require more maintenance. Vinyl tiles are durable, affordable, and easy to install, but they may not be as long-lasting as other materials.

Slip Resistance: The bedroom is a space where you want to feel safe and secure, so it's important to choose tiles that have slip resistance. Look for tiles with a high coefficient of friction (COF) rating to reduce the risk of slips and falls, especially if you have young children or elderly individuals in your home.

Water Absorption: If you're planning to use tiles in your bathroom or near a water source, it's important to choose tiles with low water absorption. Look for tiles with a low porosity rating to ensure they are waterproof and won't absorb moisture.

Durability: Consider the durability of the tiles you choose, especially if you have pets or children who may scratch or damage the surface. Porcelain and ceramic tiles are generally more durable and scratch-resistant than other materials.

Certifications: Look for tiles certified by relevant authorities for quality and safety. In the United States, look for tiles that have been approved by the Tile Council of North America (TCNA), which ensures that the tiles meet industry standards for quality, safety, and durability.

Design and Style: Finally, consider the design and style of the tiles. Choose tiles that match your decor and personal preferences. There are various options available, including plain tiles, textured tiles, and patterned tiles. Consider the color and finish of the tiles as well, as this can have a significant impact on the overall look and feel of your bedroom.
Get Our Bedroom Tiles Prices List - How Much Does Bedroom Tiles Cost
The cost of bedroom tile material for indoor & outdoor depends on a few factors. These include: bedroom tile, style, color, size, sales tax, shipping, delivery fees and where you buy it from. If you are looking to buy bedroom tiles, there are a couple of the most well-known manufacturers of bedroom tile products in the market.
And one of the largest independent online ceramic & porcelain bedroom tile distributors in China - Hanseceramictile offers the best quality wholesale bedroom tiles for bathroom, kitchen, living room, bedroom and outdoors. The price for bedroom tile on sale Hanse is the most affordable compared with other ceramic & porcelain bedroom tile manufacturers & suppliers in China, range from 2.10 USD to 300 USD. So, whether you want to give your home a fresh new look or you want a durable flooring option for your new home or office, Hanse's cheap price bedroom tiles for sale online will be your ideal choice. You can buy bedroom tile online here with best service, fast delivery and safety guarantee. Get our cheap bedroom tiles prices list and buy bedroom tiles China now!
Hot Products