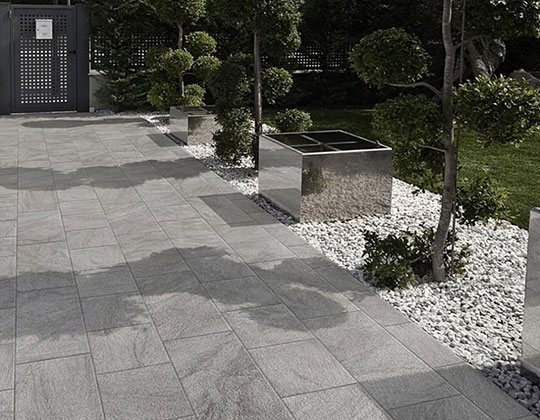 Hanseceramictile.com is one of the most reliable wholesale outdoor tiles vendors in China, manufacturing high quality tiles at low outdoor tiles prices.
Outdoor Tiles designs contain

13 colors

,

8 finishes

,

7 features

and

15 sizes

,

87 outdoor tiles

in total.
All the hot selling cheap outdoor tiles products are of strict quality and produced by standardization of the management.
Buy cheap Hanse outdoor tiles to add a touch of taste and personality to your house now!
In addition, gorgeous outdoor tiles are available at Hanseceramictile shop. If you are looking for wholesale outdoor tiles designs, you are at the right place!
Hot Products
Outdoor Tiles
Outdoor Tiles help you create an elegant and comfortable outdoor recreation area! For the outdoor floor, wall, patio, pool, kitchen, deck, roofing and other exterior hardscaping projects, tile is a stunning choice to design and decorate your outdoor living space. Outdoor Tiles can stand up weather and moisture with long-lasting durability, also are able to hold up abrasive wear, dirt and all hurt of everyday life, stain-resistant and easy-to-clean. With wide assortment of options in material, color, style, shape, pattern and right tile design adds distinct beauty and functionality to outdoor patio, pool, floor, wall, deck and other exterior areas.
See All Outdoor Tiles Products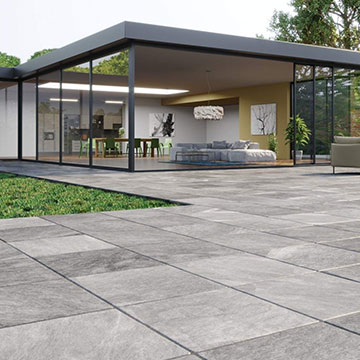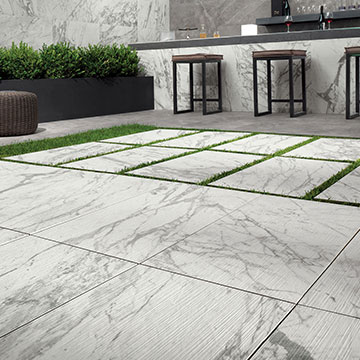 Hanse Outdoor Tiles - High Performance, Low Maintenance, Cost Effective
Hanse as the Top Ceramic Tile Manufacturer in China, provides a wide range of Outdoor Tiles, covering Outdoor Patio Tile, Outdoor Floor Tile, Outdoor Porch Tile, Outdoor Wall Tile, Pool Tiles, Deck Tiles, Countertops and more. Our outdoor tile meets any conditions you need to consider, such as water-resistant, fire-resistant, stain-proof, scratch-resistant, slip-resistant, and frost-resistant, high-definition beauty and simple maintenance. Choosing our Outdoor Tiles (exterior tiles) that where design meets durability for your outdoor entertaining spaces!
Outdoor Tiles Application & Design Ideas
Outdoor Wall Tiles & Outdoor Decor Tiles
Use marble, slate, quartzite or granite tile to create striking decorative walls in your courtyard. Ceramic Tiles are always a practical choice for your outdoor kitchen and bar area, durable, weather-resistant and easy to clean, giving your backsplashes, countertops and accent areas a chance to add beautiful eye-catching patterns. Among them, mosaic tiles are a great choice. They have a variety of colors, sizes and finishes, and popular wall tiles made of glass, porcelain, real stone or building stone for your outdoor areas (such as swimming pools, terraces and Exterior walls) have added colorful elements.
Outdoor Floor Tiles
Outdoor floor tiles not only have to adapt to the worst weather conditions, but also need to carry high-intensity pedestrian flow. Hanse outdoor floor tiles are carefully designed to cope with the large demand for outdoor activities, such as squares, parks, aisles, etc. Wood exterior tiles dominate and will bring a warm feel to your small terrace, large terrace or indoor courtyard. Wood look ceramic floor tiles make your terrace maintenance-free and will not fade in the hot sun. Natural marble tiles or marble effect tiles can also be easily used to create waterproof flooring on balconies, patios and sidewalks. Terracotta tiles are used for paving, garden paths or entire terraces based on their design. Choosing a tile with a natural look provides realism for outdoor access, pool areas and terraces.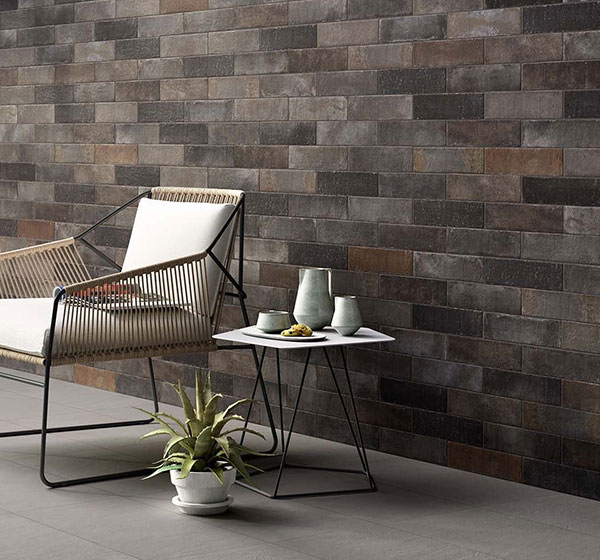 Outdoor Patio Tiles
The most commonly used patio tiles are made from unglazed clay, with laterite being the most common, such as terracotta tiles. Set ceramic tile patio or fire pit areas are ideal for entertaining guests outdoors, as ceramic tiles requires very little maintenance and can withstand extreme temperatures. Marble and granite terraces are also gorgeous. Patio floor tiles, especially ceramic exterior wall tiles, are usually more durable than natural stone. Ceramic Tiles not only give you a natural stone look, but also give you a gorgeous, realistic wood look, known for being super easy to clean and maintain. As we all know, the use of wood (composite wood grain, imitation wood tile and traditional wood) has become a timeless option, which can give your outdoor patio floor a rustic, home-like feel or chic, polished, modern look.
Outdoor Pool Tiles
Given its smooth nature, tiles are perfect for your swimming pool, especially mosaic tiles. On surfaces that come in contact with moisture and water, especially steps and stairs, non-slip mosaic swimming pool tiles are both stylish and safe. The hottest new tile trend in luxury pools is glass tiles, which are small square tiles with a clean iridescent appearance, with different tiles pieced together to form a unique design. Stone tiles provide natural, earthy tones to your swimming pool, and are the perfect choice for anyone pursuing a certain type of aesthetics.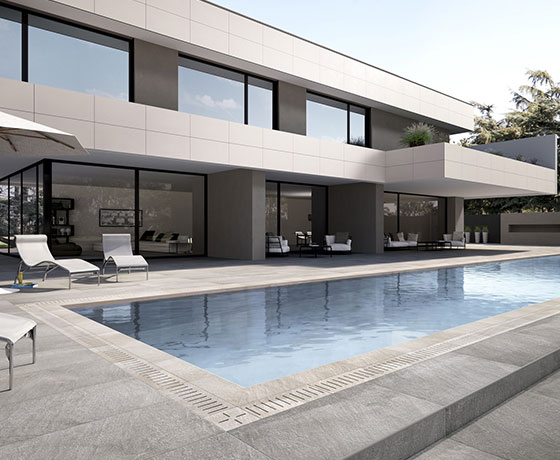 Outdoor Deck Tiles
Space near the pool, such as decks, borders, waterlines and fountains, are all suitable locations for installing tiles. You'll find many different textured ceramic tiles to choose from, teak-look wood tiles or non-slip tiles specifically for pool decks. If you want to recreate the warmth and vintage feel of stale wood on your deck, wood look tiles are a good choice. You can use one size tile or combine different size tiles into a pattern to create a deck floor design. Travertine tile is a natural stone product and is also very suitable for use on deck.
Countertop Tiles
There are many options for outdoor kitchen countertop: ceramic tiles, porcelain tiles, marble tiles, travertine tiles, slate tiles etc. Granite tile is the most durable. It is so difficult not to scratch or etch (get dim spots from acids such as mustard, wine, soda, etc.), has natural stain resistance, can absorb heat well and can keep it in any weather In good condition. Ceramic tiles are quite durable and will undoubtedly work well for outdoor kitchen countertops.
And other Exterior Tiles
No matter which tile you choose for your outdoor project, it should be resistant to corrosion and weather, durable, durable, and easy to clean and maintain. The correct tile design can complement your landscaping elements, add beauty and elegance to the terrace, swimming pool, patio or dining area, and change your outdoor living space.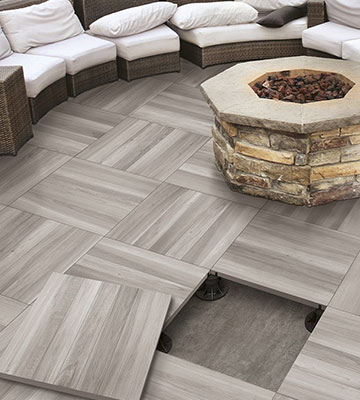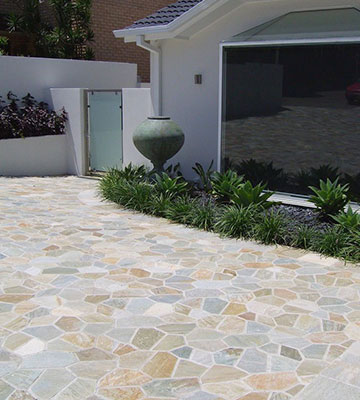 Benefits of Buying Outdoor Tiles From HanSen
We offer a wide selection of Outdoor Tile and Exterior Tiles for customers around the world, including a variety of materials, colors, styles, patterns, shapes, sizes, etc.
Buy Outdoor Tiles with the best quality at the most cost-effective price on the market, and guarantee the most profit for customers.
High-quality materials, top-of-the-line technology, experienced workers, and a strict quality control team ensure that every outdoor tile is flawless.
Design and manufacture according to customer design and requirements, free sample testing before you buy Outdoor Tile, professional OEM service.
Our outdoor tile products passed ISO9001:2000, CE, CCC, ISO14001 certifications, we also can produce according to industry standards and apply the corresponding certifications in the exporting area.
Provide one-stop service from pre-sales consulting, design, production, packaging, transportation, to after-sales.