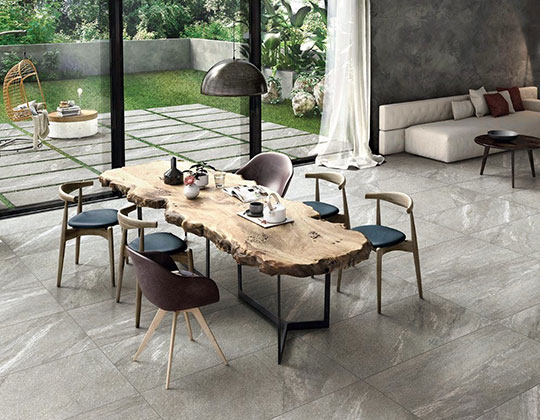 Hanseceramictile.com is one of the most reliable online wholesale lappato tiles vendors in Foshan China, manufacturing high quality tiles at low lappato tile prices.
Lappato Tile designs contain

11 colors

,

5 finishes

,

4 features

and

4 sizes

,

13 lappato tiles

in total.
All the hot selling cheap lappato tile products online are of strict quality and produced by standardization of the management.
Buy cheap Hanse lappato tiles for sale to add a touch of taste and personality to your house now!
In addition, gorgeous are available at Hanseceramictile shop. If you are looking for wholesale lappato tiles designs, you are at the right place! Welcome to buy floor tiles online from China Hanse!
Hanse - the professional Foshan China lappato tile manufacturer & supplier will continuously wok on improving the designs of our lappato tiles to ensure that you get the best import lappato tile products for your project!
Related Tiles
Related Search
In decoration materials, polished tile is popular among consumers because of its bright surfaces, such as mirrors, magnificence, elegance, nobility, corrosion resistance, wear resistance, and other advantages. However, the skid resistance of polished tile is poor, while the surface effect of semi-polished & lappato tile is rich, so semi-polished tile becomes another option. Explore Hanse's wide selection of visually appealing porcelain, ceramic, stone, and marble lappato tiles designs for walls and floors. Find the perfect tile with a lappato finish to decorate your bathroom, kitchen, balcony, or patio, leaving your home looking classy and welcoming!
What Is Lappato Tile?
What are Lappato tiles? Lappato tiles are ceramic or porcelain tiles with a semi-polished finish, featuring a higher shine than matt tiles but a gentler finish than traditional polished porcelain tile. Lappato is an Italian word that means "semi-polished", which is an elaborate technique in which the non-glazed surface of the tile is polished a few millimeters, whereby not every area of the tile is detected the same. Elegant and with stylish restraint, the tiles, which are processed using the elaborate Lappato technique, create an interplay between gloss and matt. Depending on the viewing angle, the light dances on the surfaces or disappears on the matt textures. Therefore, the beautiful transition from glossy to matte areas is characteristic of lappato tiles.
See All Lappato Tiles Products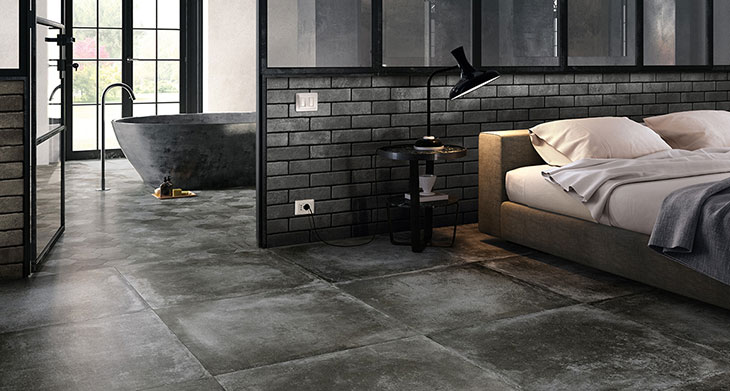 Lappato Tiles Ideas - Where To Use Lappato Finish Tiles?
If you're looking for the perfect balance between a matt and polished tile, a lappato finish on tile gives you exactly the look you're after. What's more, tiles with this finish tend to be more slip-resistant than fully polished porcelain tiles - making them a great choice for floors even in bathrooms. Regardless of color and pattern, all Lappato tiles have their special silky shimmer and are particularly in demand for the design of living areas. If the tiles are laid on the wall and floor, you can achieve effective contrasts with color combinations. You can also lay these tiles on the terrace.
If you're thinking of using lappato tiles in a commercial area such as a bar or restaurant – we'd recommend choosing an unglazed tile. They're far more hard-wearing than almost any other tile which is great for peace of mind – after all, you don't want to be replacing tiles in years to come.
Can Lappato Ceramic & Porcelain Tiles Be Sealed?
Lappato normally means that you have an unglazed, also known as a through-the-body, porcelain body tile that has been semi-polished. A semi-polished tile can be sealed, but it too is impervious. You can stain from micro pores where stains can be trapped in those pores. Sealing the tile will help keep it from staining and will help to maintain it too.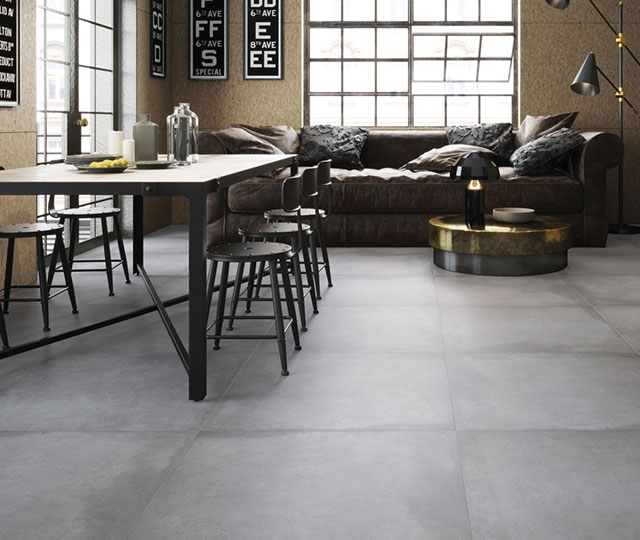 Semi-Polished Tiles Vs Polished Tiles - What Are the Difference Between Polished Tiles & Lappato Tiles?
Polished Tiles
Pros: Smooth and bright surface, easy for daily cleaning.
Cons: Poor skid resistance, special dirt is not easy to remove, regular waxing and maintenance are required.
Polished Tiles
Pros: The surface does not mirror or is partially polished, and the surface effect is rich. The skid resistance is better than polished tile.
Cons: If the polishing area is large, it is difficult to remove special dirt.
Both two have the following advantages:
Super low water absorption of less than 0.1%, no water penetration, no color change
High compressive strength
Good surface wear resistance
Uniform size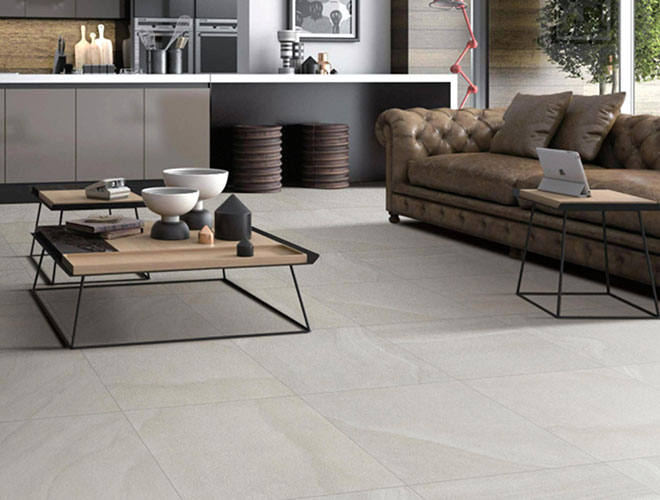 Buy Top Quality Lappato Floor & Wall Tiles – Best Hanse Lappato Tiles Vendor, Distributor
If you have convinced yourself of the noble look of lappato tiles, then order the best lappato tiles from Hanse now. Our lappato porcelain tiles and lappato ceramic tiles convince with high-quality elegance. Lappato tiles create charming center points in the room or delimitation certain room areas. The versatility of the designs also provides a nice match of floors and walls with the artfully polished porcelain tile. The beautiful semi-polished surface of our Lappato tiles offers infinite design possibilities for walls and floors, for indoor and outdoor areas. The wide range of colors and designs also allows attractive combinations of porcelain tile in color gradation.
Our lappato tiles are also characterized by easy-to-clean, high resistance, hardness, resilience, and weather resistance. So also in the design of outdoor areas, such as forecourts, entrances, terraces, verandas, and large balconies, the Lapatto tiles offer effective, beautiful floors. Buy lappato finish tiles at Hanseceramictile shop to add a gleam to your home like no other!
Benefits Of Hanse Lappato Tiles
A huge variety of shapes, sizes, styles, and colors are available
Modern and Classic design adds glamour to any room
A shiny finish makes a room feel larger
Easy-to-clean, high resistance, hardness, resilience, and weather resistance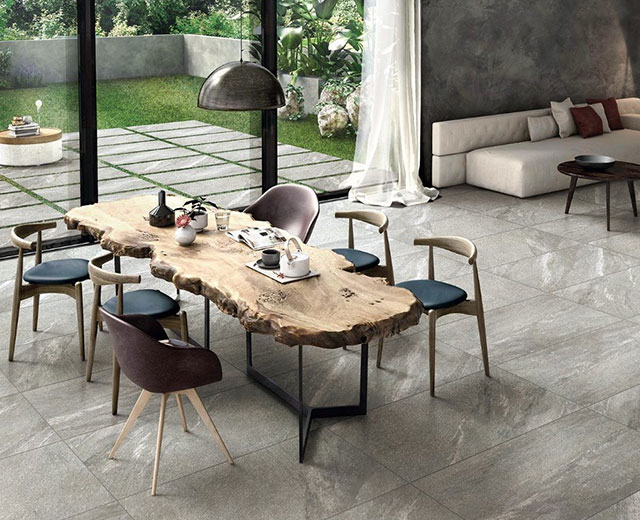 What is the difference between Matt and Lappato?
Matt and Lappato are both types of finishes that can be applied to tiles, but they have some differences.
A matt finish is a non-reflective finish that is created by removing the glaze from the surface of the tile. The result is a smooth and matte texture that is often used for flooring because it provides a slip-resistant surface.
A Lappato finish, on the other hand, is a hybrid finish that combines the characteristics of both glossy and matt finishes. It is achieved by polishing the surface of the tile with an abrasive wheel or brush after the initial firing. This process removes some of the glazes but leaves a subtle shine. The result is a slightly glossy finish with a textured surface that is less slippery than a full glossy finish.
In summary, the main difference between Matt and Lappato's finishes is the level of glossiness. Matt finishes are non-reflective, while Lappato finishes have a subtle sheen. Additionally, Lappato finishes tend to be less slippery than fully glossy finishes, which can make them a good choice for flooring in areas where slip resistance is important.
Are Lappato tiles slippery?
Lappato tiles are less slippery than fully glossy tiles but can still be somewhat slippery, depending on the texture and composition of the tile. The polishing process used to create a Lappato finish results in a slightly glossy surface that can provide some slip resistance, but it is not as slip-resistant as a fully matte or textured finish.
It's important to note that the slipperiness of a tile is also influenced by factors such as the slope of the surface, the type of footwear worn, and the presence of liquids or other contaminants on the surface. In areas where slip resistance is a concern, it's generally recommended to choose a tile with a more textured or matte finish or to add slip-resistant treatments to the tile surface.
Get Our Lappato Tiles Prices List - How Much Does Lappato Tiles Cost
The cost of lappato tile material for indoor & outdoor depends on a few factors. These include: lappato tile, style, color, size, sales tax, shipping, delivery fees and where you buy it from. If you are looking to buy lappato tiles, there are a couple of the most well-known manufacturers of lappato tile products in the market.
And one of the largest independent online ceramic & porcelain lappato tile distributors in China - Hanseceramictile offers the best quality wholesale lappato tiles for bathroom, kitchen, living room, bedroom and outdoors. The price for lappato tile on sale Hanse is the most affordable compared with other ceramic & porcelain lappato tile manufacturers & suppliers in China, range from 3.8 USD to 15.90 USD. So, whether you want to give your home a fresh new look or you want a durable flooring option for your new home or office, Hanse's cheap price lappato tiles for sale online will be your ideal choice. You can buy lappato tile online here with best service, fast delivery and safety guarantee. Get our cheap lappato tiles prices list and buy lappato tiles China now!
Hot Products