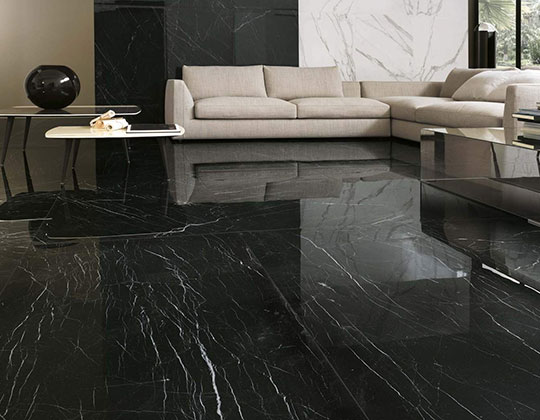 Hanseceramictile.com is one of the most reliable online wholesale black tiles vendors in Foshan China, manufacturing high quality tiles at low black tile prices.
Black Tile designs contain

15 colors

,

5 finishes

,

4 features

and

12 sizes

,

33 black tiles

in total.
All the hot selling cheap black tile products online are of strict quality and produced by standardization of the management.
Buy cheap Hanse black tiles for sale to add a touch of taste and personality to your house now!
In addition, gorgeous mosaic kitchen tiles online, mosaic wall tile, ceramic floor tile, ceramic wall tile, wood floor tile are available at Hanseceramictile shop. If you are looking for tiles designs, you are at the right place! Welcome to buy floor tiles online from China Hanse!
Hanse - the professional Foshan China tile manufacturer & supplier will continuously wok on improving the designs of our tiles to ensure that you get the best import tile products for your project!
Related Tiles
Related Search
Why Choose Black Tiles For Floor/Wall
many people will choose black tile for home decoration, not only because of the distinct personality of black tile, but also because it is not easy to see dirt after long-term use, which is especially good for daily cleaning and maintenance.
Black is absence of color, however, black tiles imbue the floor on which they are laid with a considerable character. A black floor attracts attention, arouses interest and it is the paramount colour for sophisticated contemporary houses.
Black floor tile is the most common ceramic tile. Because of its dark and pure color, it gives the environment in which it is located character and can create interesting contrasts, better highlighting the other colors and furnishing items. Solid color black tiles or those with light graphics can create a neutral, yet appealing floor that can enhance the colors of the walls and optimise the furniture and accessories that complete the room. So that black ceramic tile is easy to make the house have elegant and stable style.
Black tile is a way to add drama and sophistication to your home. From polished marble to glass mosaic, black is gorgeous in both shiny and matte finishes. Whether speckled or sleek, any shade of black will have an eye-catching effect in any room.
See All Black Tiles Products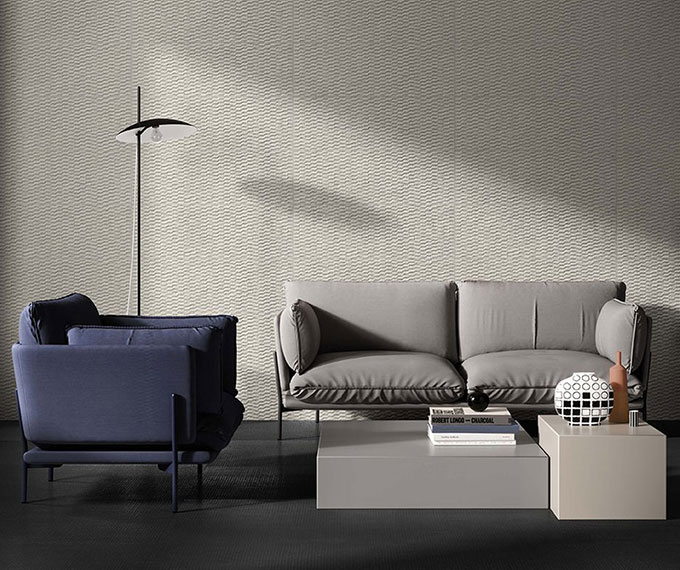 Where To Buy Black Tiles?
Hanseceramictile.com is one of the most reliable wholesale black tiles distributors in China, manufacturing high quality black tiles for floor, wall/backsplash or ceiling at best price. Our range of black tiles design has been carefully created to cover all styles and settings, which suit both a classic and modern style: in the lounge, kitchen, bathroom and bedroom. With so many variations, you're guaranteed to find the perfect product for your interior/exterior tile project. Our commitment remains to provide our customers for best ceramic & porcelain black tiles prices. Each hot sale black tile for floor/wall complies with international quality standards to ensure that we only offer the very best.
Black Tiles Design Ideas – How To Decorate Your House With Black Tile Flooring
Black kitchen floor tiles:
Because black color ceramic tile is pure, we can choose to match it with the color that is close to it. We can choose black and light grey tiles to decorate kitchen, black tiles can be used as floor tiles, light grey can be used as wall tiles, so that the effect is concise and generous.
Black and white tiles bathroom floor:
Black tiles can also be matched with white tiles. Black and white tiles can be widely used in bathroom areas. First, it is convenient to clean. Second, the color of black and white floor tiles can increase the compactness of the bathroom and make the narrow bathroom look more atmospheric. You can also choose the black patterned tiles to lay. The black bathroom tiles with patterns usually have a good reflective effect. Visually, they can also make the narrow bathroom look much more spacious.
Black living room tiles:
If using black ceramic tiles as living room floor tiles, the wall color should be bright as far as possible, such as green, red, orange, etc., but it can not be used in large areas, and can be painted in small areas such as wall pillars, small walls and so on.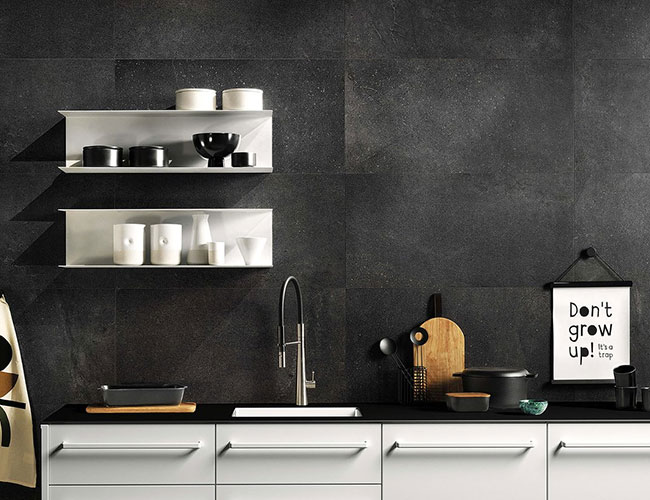 What Color Grout For Black Tiles?
Can be matched with the same color of dark beauty sewing agent, looks clean and simple, very neat.
White grouting can basically hold any color of tiles. Even if the color is more gorgeous ceramic tiles, with white grouting, it will be very harmonious. Black tile, with white grouting, will show its layering feeling incisively and vividly.
How To Clean Black Floor Tiles & How To Make Black Tiles Shiny?
Fill a spray bottle halfway with water. Do not add more water than half of the spray bottle because you will need room for the addition of the vinegar and soap, as well as, empty space for the ingredients to breathe.
Pour 1/2 cup of distilled white vinegar into the spray bottle of water.
Add five drops of castile soap to the mixture in the spray bottle.
Fasten the spray bottle's top and give the bottle a light shake to evenly disperse the contents. Spray the black floor tiles generously with the soap, vinegar and water mixture.
Mop the black floor tiles with a mop, going over the tile until you remove all buildup. Continue the process of spraying the tiles, and mopping until the black floor tiles sparkle and shiny.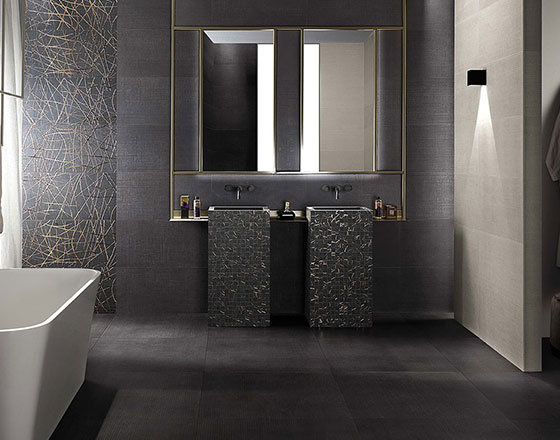 How To Remove White Stains From Black Tiles?
First use 20% - 40% sodium hydroxide solution to soak for 24 hours, then wipe with cloth, and then use 30% - 50% hydrochloric acid solution to soak for 30 minutes, then wipe with rag.
Get Our Black Tiles Prices List - How Much Does Black Tiles Cost
The cost of black tile material for indoor & outdoor depends on a few factors. These include: black tile, style, color, size, sales tax, shipping, delivery fees and where you buy it from. If you are looking to buy black tiles, there are a couple of the most well-known manufacturers of black tile products in the market.
And one of the largest independent online ceramic & porcelain black tile distributors in China - Hanseceramictile offers the best quality wholesale black tiles for bathroom, kitchen, living room, bedroom and outdoors. The price for black tile on sale Hanse is the most affordable compared with other ceramic & porcelain black tile manufacturers & suppliers in China, range from 2.50 USD to 53.4 USD. So, whether you want to give your home a fresh new look or you want a durable flooring option for your new home or office, Hanse's cheap price black tiles for sale online will be your ideal choice. You can buy black tile online here with best service, fast delivery and safety guarantee. Get our cheap black tiles prices list and buy black tiles China now!
Hot Products