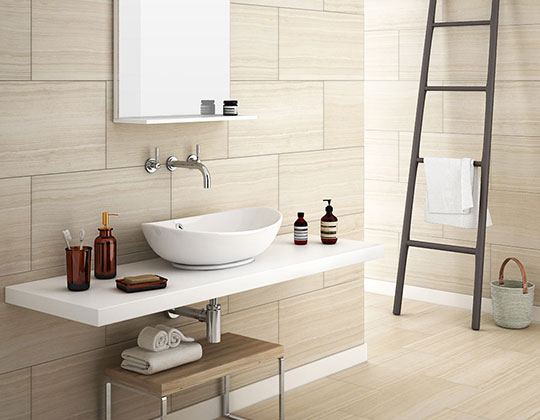 Hanseceramictile.com is one of the most reliable online wholesale beige tiles vendors in Foshan China, manufacturing high quality tiles at low beige tile prices.
Beige Tile designs contain

12 colors

,

6 finishes

,

5 features

and

16 sizes

,

51 beige tiles

in total.
All the hot selling cheap beige tile products online are of strict quality and produced by standardization of the management.
Buy cheap Hanse beige tiles for sale to add a touch of taste and personality to your house now!
In addition, gorgeous mosaic kitchen tiles online, mosaic wall tile, ceramic floor tile, ceramic wall tile, wood floor tile are available at Hanseceramictile shop. If you are looking for tiles designs, you are at the right place! Welcome to buy floor tiles online from China Hanse!
Hanse - the professional Foshan China tile manufacturer & supplier will continuously wok on improving the designs of our tiles to ensure that you get the best import tile products for your project!
Related Tiles
Related Search
Everyone wants to decorate the house in a beautiful and high-end way. The place that best reflects the grade is the floor and the wall. Simple and pure beige color floor/wall tiles can truly show the grade. Hanseceramictile shop has a stunning collection of wholesale beige wall & floor tiles for bedrooms, kitchens, bathrooms and living rooms. Available in a massive selection of sizes, finishes and materials. Choose Hanse beige bathroom tiles or beige living room tiles cheap to form a harmonious backdrop, highlighting or blending in with the other accessories in the house.
Why Choose Beige Color Tiles
Beige color is one of the main color of warm tones in home decoration, there are usually beige tiles in floor decoration. Beige is a simplistic and understated color, it is an urban color between white and light brown, has the elegant atmosphere of brown and the pure romance of white. Beige has a fascinating charm, adding harmony, comfort and amazing effect to the home. In addition, beige tile floor/wall has a characteristic warm and contemporary colour that suits all styles of decoration and furnishing. Choose a very clean beige tile can make your home stand out in an instant.
See All Beige Tiles Products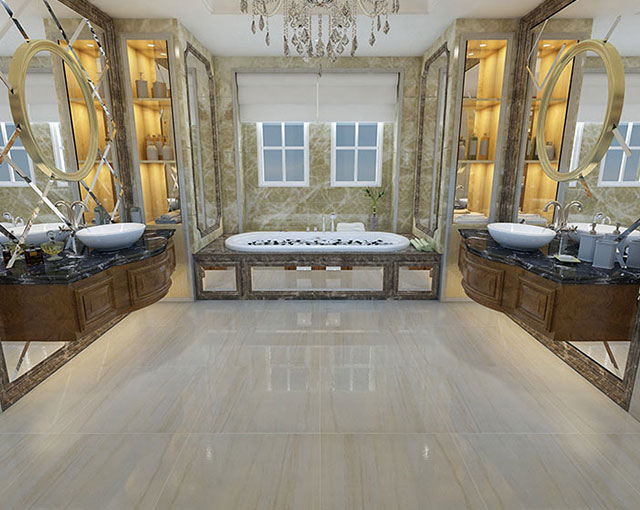 Beige Tiles Design Ideas, Matching Tips
Beige tiles for floor/wall can be matched with all color ceramic tiles. Because it belongs to all-purpose color. So you can match according to your home decoration style. If there are more white furniture in the house, beige porcelain floor tiles can be matched with black, and if there are more black furniture in the house, it can also be matched with black, because black is all-purpose. Also beige and black are classic matches, they form a strong contrast and can be eye-catching and elegant. If the furniture is solid wood, it can be matched with a red color similar to solid wood.
For Kitchen, beige porcelain tiles/ceramic tiles can be matched with dark cabinets, such as dark blue, coffee and so on. It can also be matched with the same color systems, such as milk coffee, baby blue and so on. If you use beige tiles for bathroom, it can be matched with patterned floor tiles, or pure floor tiles, very cooperative.
For the living room, choose creamy beige wall tiles, match with white color sofa, which can elevate the look of your flooring and wall. The ceiling of the hall adopts the solid wood beam shape of the well grid, and the candle light in the middle has a good finishing effect. Match with white curtains, which can shows the how the elegance and luxury of the house.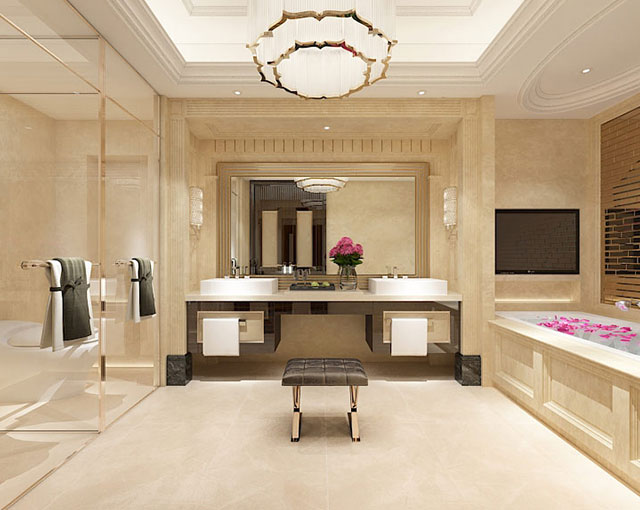 Our Range Of Beige Floor & Wall Tiles – Sizes, Shapes, Finishes, Materials
Hanseceramictile company's wholesale beige tiles are mainly ceramic and porcelain tiles – with new and updated versions in terms of their inspiration and tones, as well as wood effect and marble look. They come in popular polished, glossy or special matte, glazed finishes. However, there are still plenty of metals or more modern finishes, completing the range with delicate monochrome patterns. From large-format rectangles to charming little hexagons, herringbone shapes even subway beige tiles allow you to make your tiled floor and wall truly your own. When it comes to sizes, whether for classic 600×600mm, 800×800mm or large 1200×2400mm, we can meet your needs.
What Are The Advantages Of Beige Color Tiles?
Features beautiful neutral brown tones that elevate the look of your flooring and walls.
Floor or wall tiles beige color is a stylish base that offers a unique, elegant appearance in high-traffic areas or bathrooms.
With a wide variety of finishes and materials available for any room, beige tile can be eye-catching and elegant.
The room decorated with bone-colored/beige tiles add harmony, comfort and stunning effects to your home.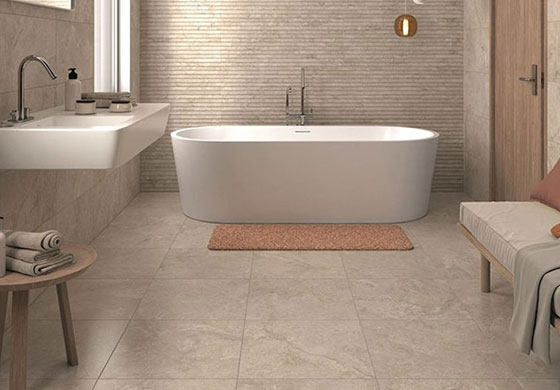 What Color Of Grout Does Beige Tile Match With?
White: Ivory white is a pure natural refined color with a whiteness of more than 95%. It is a relatively bright color, which can be matched with many colors. It is more suitable for those families who like elegant and comfortable.
Gold: Light gold tile grout is also a good choice. It is a kind of gold. The color it presents is like the rising sun in the morning. The beginning of the day is a new starting point. You can try this bold color grout for house decoration.
Brown Red: Similar colors will make people look comfortable, and the opposite colors will look good. For example, brown red will give people a bright feeling in front of their eyes so as to achieve the effect of color contrast and create a new visual experience.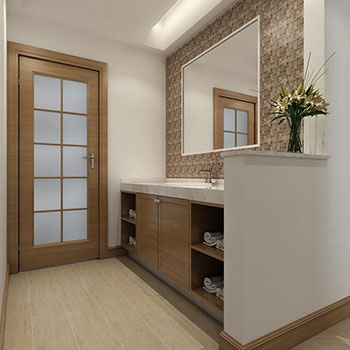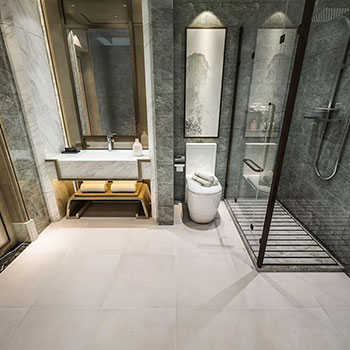 What Do You Clean Beige Tiles Floor & Wall With?
We recommend using superior tile neutral cleaner for everyday maintenance because it can be used on any material. The nonacidic, antibacterial cleaner is perfect for man-made tiles like porcelain and ceramic as well as marble and stone. Superior natural stone deep clean is great for deep cleaning set stains on stone tiles. You can also choose to use toothpaste for cleaning floor tiles beige color.
Get Our Beige Tiles Prices List - How Much Does Beige Tiles Cost
The cost of beige tile material for indoor & outdoor depends on a few factors. These include: beige tile, style, color, size, sales tax, shipping, delivery fees and where you buy it from. If you are looking to buy beige tiles, there are a couple of the most well-known manufacturers of beige tile products in the market.
And one of the largest independent online ceramic & porcelain beige tile distributors in China - Hanseceramictile offers the best quality wholesale beige tiles for bathroom, kitchen, living room, bedroom and outdoors. The price for beige tile on sale Hanse is the most affordable compared with other ceramic & porcelain beige tile manufacturers & suppliers in China, range from 2.60 USD to 15.90 USD. So, whether you want to give your home a fresh new look or you want a durable flooring option for your new home or office, Hanse's cheap price beige tiles for sale online will be your ideal choice. You can buy beige tile online here with best service, fast delivery and safety guarantee. Get our cheap beige tiles prices list and buy beige tiles China now!
Hot Products