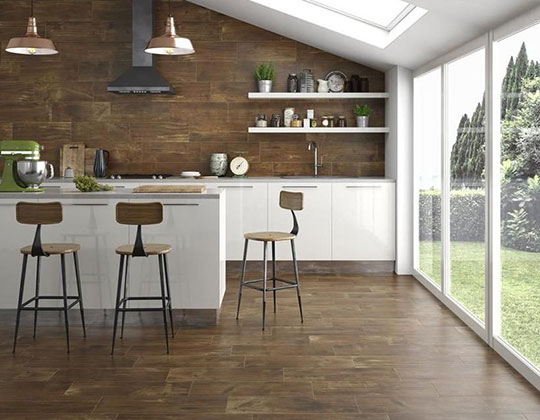 Hanseceramictile.com is one of the most reliable wholesale wood look wall tiles vendors in Foshan China, manufacturing high quality tiles at low wood look wall tiles prices.
Wood Look Wall Tiles designs contain

8 colors

,

2 finishes

,

2 features

and

5 sizes

,

6 wood look wall tiles

in total.
All the hot selling cheap wood look wall tiles products are of strict quality and produced by standardization of the management.
Buy cheap Hanse wood look wall tiles for sale to add a touch of taste and personality to your house now!
In addition, gorgeous wood look tiles and wall tiles are available at Hanseceramictile shop. If you are looking for wood look tiles or wholesale wall tiles designs, you are at the right place!
Hanse - the professional Foshan China wood look tile manufacturer & supplier will continuously wok on improving the designs of our wood look tiles to ensure that you get the best import wood look tile products for your project!
Hot Products
Related Search
Looking to update your kitchen with a wood tile backsplash? Or finding a retro style bedroom with chic wood tile wall? Check out our beautiful and durable ceramic & porcelain wood look wall tiles designs to find the most ideal one and headline your design!
Why Choose Wood Look Tiles For Wall
Wood effect tiles refer the tiles with the look or appearance of natural wood, wood look wall tiles can be made from durable ceramic, porcelain or other materials. With the wood look tiles for wall, you can get both a realistic look close to the traditional wood grain and high durability of porcelain tiles, compared to the real wood tiles, the wood like wall tiles remain or imitate the wood veins and patterns, but it's easier to clean and maintain, waterproof and stain-resistance, more suitable for modern home life. In addition, the designs allows numerous different textures for the wood effect tiles wall, which increases individuality and classic elegance for your wall areas.
See All wood look wall tiles Products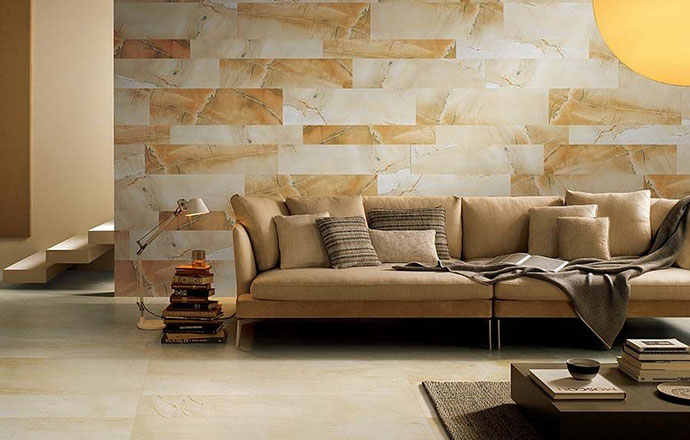 Wood Look Wall Tiles Ideas - Room To Room
Modern living room with wood tiles wall
Wood like tiles for wall can be used in different styles of residence, such as modern style, Chinese style, European style and so on. For creating a modern style living room, install light and elegant wood effect tiles on the wall, match with the gray fabric sofa and polished tiles floor, making the whole living room look particularly fashionable, warm and comfortable.
European style wood like tile kitchen wall
Ceramic wall tiles that look like wood can be used not only to decorate the living room wall, but also to decorate the kitchen backsplash. For creating a simple European style eating space, paste light yellow wood effect tile for backsplash in the kitchen, match with a blue and white chair, to create an elegant and warm eating atmosphere.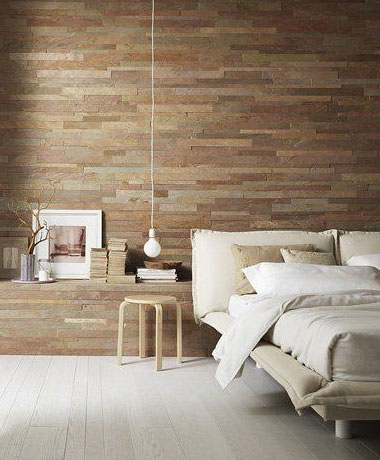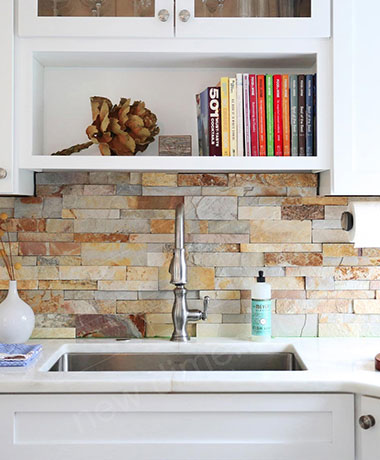 Bedroom with wood tiles wall
Bedrooms are places for people to rest and sleep. If the area is not decorated environmentally, it will affect the health of residents. Wood like tiles installed on wall just meets people's high requirements for home decoration. It is not only very environmentally friendly, but also has a good decorative effect, which can create a very natural and fresh sleeping atmosphere.
Wood Wall Tiles Laying Tips
Before laying wood tiles on wall, it is necessary to check whether the foundation treatment of wall meets the requirements of tiling. If it does not meet the requirements, it needs to be rectified first.
Before tiling, the wood wall tiles products shall be protected to avoid the damage of tiles in the process of handling or tiling.
Cement mortar shall be used for tiling. In order to prevent the tiles from absorbing the water in the cement mortar too quickly, the dry surface shall be watered, otherwise, hollowing and falling off will occur.
Wall tiles with wood look need to be treated with water, and can only be taken out for use after soaking until no bubbles appear.
In order not to affect the appearance, the wood tiles for wall need to be laid in advance before tiling, so as to avoid too small narrow rows and columns.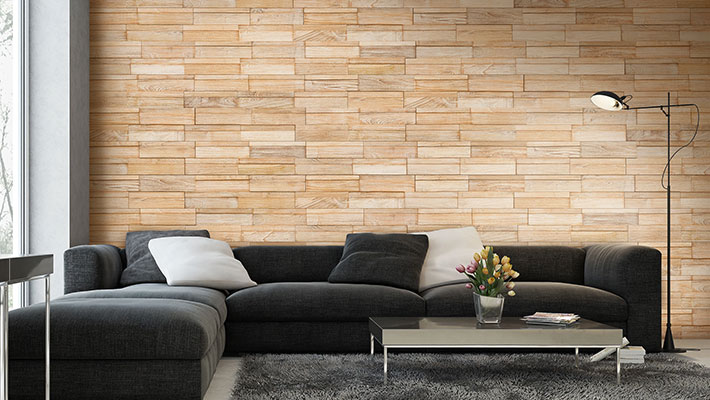 Buy Cheap Wood Look Tiles For Wall & Backsplash - Best Wood Wall Tiles Manufacturer In China
Wood effect wall tiles on Hanseceramictile.com comes in different lengths, widths, colors and textures, light grey, light brown, dark walnut or light ash, you can find a type of wall & backsplash wood look tiles designs fit your decoration style. Our wall tiles that look like wood are perfect for kitchens, bathrooms, living room, bedroom, mudrooms and even basements, they won't rot or warp and can last for a very long time.
Why Choose Wood Look Wall Tiles Hanse
Our ceramic wall tiles with wood effect are more durable and harder wearing than real wooden floor/wall tiles.
No fading or darken, waterproof, scratch resistant.
A wide selection of sizes, colors, styles, shades and designs.
Easier maintenance and cleaning, convenient to install and live with.
Against grime, dirt, stain, dust, grit and other tiny impurities from outside.
Step by step quality inspection and control, cheap factory wood like wall tiles prices.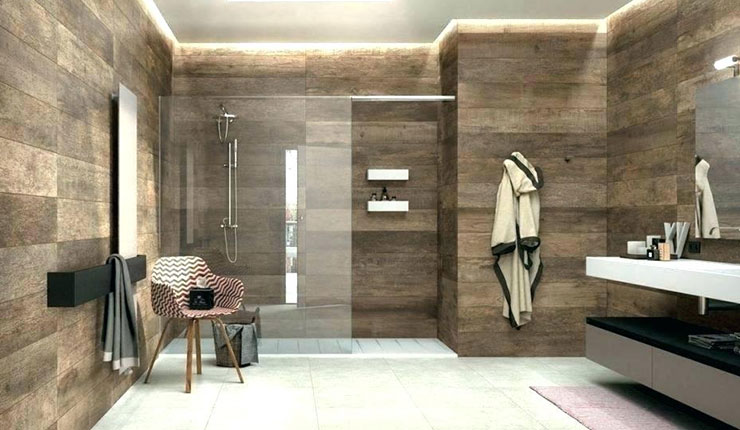 Other Wall Tiles
Other Wood Tiles