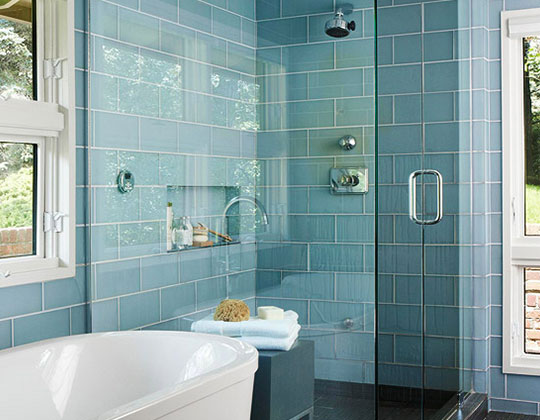 Hanseceramictile.com is one of the most reliable wholesale glass wall tiles vendors in China, manufacturing high quality tiles at low glass wall tiles prices.
Glass Wall Tiles designs contain

16 colors

,

2 finishes

,

4 features

and

2 sizes

,

44 glass wall tiles

in total.
All the hot selling cheap glass wall tiles products are of strict quality and produced by standardization of the management.
Buy cheap Hanse glass wall tiles to add a touch of taste and personality to your house now!
In addition, gorgeous glass tiles and wall tiles are available at Hanseceramictile shop. If you are looking for wholesale glass tiles or wall tiles designs, you are at the right place!
Hot Products
Glass Wall Tiles Brighten Your Room
The glass wall tile has become its darling of wall decoration with its unparalleled color and shiny appearance! Glass tiles are made of thin glass sheets and translucent glazes are fired on the back of each tile. The sight of this wall covering is overwhelming due to the glass colors, effect glasses and metals melted into the glass. The colorful glass wall tiles brighten the entire room with vitality and fashion. Glass Wall Tiles reflect light and make your kitchen, living room or bathroom look brighter and bigger.
See All Glass Wall Tile Products
Advantages of Glass Wall Tiles

- Unparalleled beauty & make room brighter and larger
Very easy to clean and maintain, mold and mildew proof
Impervious to water with an absorbency rate of 0%
100% recyclable at the end of their lifespan, eco-friendly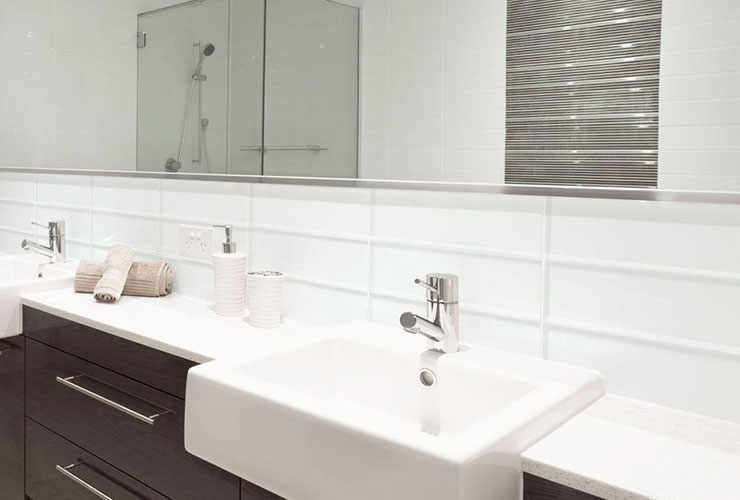 High Quality Glass Wall Tiles For Sale - Best Glass Wall Tiles Wholesale
Hanse has a large selection of glass wall tiles if you want to create a shiny wall for your room. We have affordable quality glass wall tiles in various color ranges, installation types, thicknesses, properties and usage classes. They can be sold individually or in a pre-designed mosaic pattern, mounted on a grid cloth. Our Glass Wall Tiles collection is ideal for: interiors, kitchens, wellness areas, bathrooms, sanitary rooms. In the most beautiful colors: metal black, gold, silver or patterned. Shiny effects are a matter of course when choosing glass tiles and very original in their design. The great tile discount offers you a huge selection of glass wall tiles in a breathtaking flashy look of different types of glass.
Benefits of Hanse Glass Wall Tiles

- High-quality glass material, durable
Water and stain resistant, permanent color
Of course with the well-known low price guarantee.
Efficient and high-quality customized production
Attentive service, fast delivery on time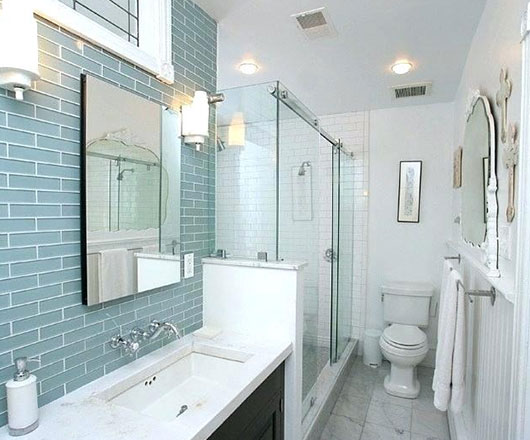 Glass Wall Tiles Designs & Applications
Subway (Metro) Glass Wall Tiles:
Communicate the nostalgia of the old world by introducing metro glass wall tiles of different shades and patterns into your kitchen wall. Glass subway tiles will reflect the light in your room, making it look fresh, clean and bright. Using subway bricks as a backsplash, you will add unique details to any bathroom, kitchen, around the hearth, and cottage or wall decoration. Works with other complementary stone or ceramic field tiles for dramatic installation.
Mosaic Glass Wall Tiles:
Vibrant and colorful mosaic glass wall tiles are ideal for your upcoming shower or pool project, suitable for those seeking an interesting and unique option to enrich their space while also adding vividness to the surrounding environment Color and texture of people. In Hanse, you can choose from a variety of different color schemes, and are available in square or round grid. Add color to any room with our beautiful glass mosaic tiles. This colorful design will give your kitchen, bathroom, swimming pool or any decorated room a bright and fresh look.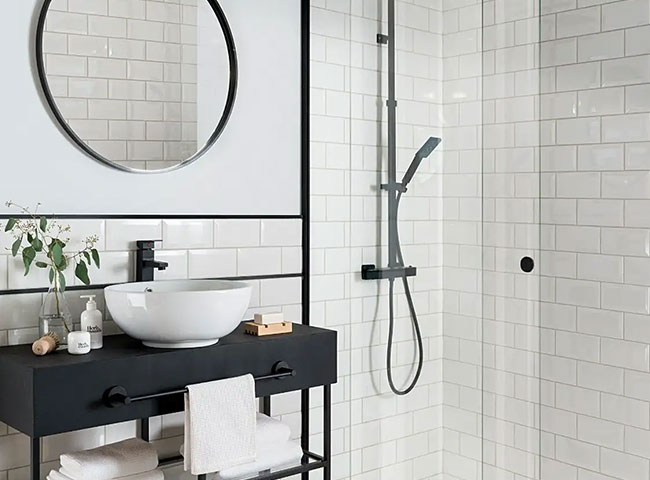 How To Lay (Install) Glass Wall Tiles?
Step 1. Check the materials, if necessary first. Clean it up. When handling, drilling, cutting or sanding glass tiles, always use appropriate personal protective safety equipment, such as (but not limited to) protecting eyes, ears, and hands.
Step 2. Make sure that any surface of the tile to be installed is strong and reasonably structured. Plywood should be avoided. Cement slabs, concrete or drywall are the best as these surfaces can handle the moisture during the paving process.
Step 3. For glass wall tiles, you can use tile-specific glue, such as dealcoholic TC tile glue.
Step 4. Apply as much adhesive as possible to the wall (within 10 to 15 minutes). It is highly recommended to use white adhesive in all glass wall tile installations to avoid affecting the color of the tiles.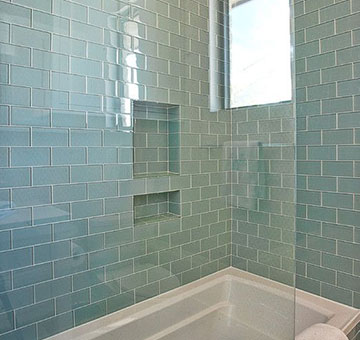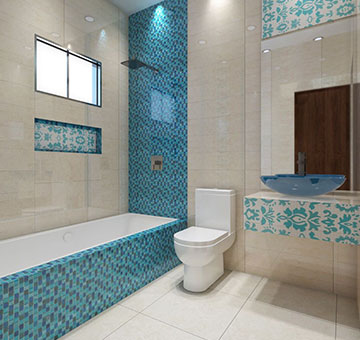 Step 5. After brushing the glue on the wall, you can lay the glass wall tile according to the drawings with the gaps aligned.
Step 6. Use a plaster or putty shovel to hold the glass wall tile tightly, or use a flat, thick wooden board to pad the tile surface, and hit it evenly with a rubber hammer to ensure a firm paste.
Step 7. It is recommended to grout the tiles with a grout release agent, and then use a sealant on the tiles.
Step 8. After grouting, wipe excess surface grouting with a slightly damp sponge-do not over-wash.
Step 9. When the adhesive layer and the joint mortar are finally set, you can start cleaning the mosaic surface.
Step 10. After the laying of glass wall tile is finished, leave it air-dried properly.
How Clean and Maintain Glass Wall Tiles?
For routine care and maintenance of glass wall tiles, it is sufficient to wipe the surface with a wet sponge (cotton) or with water or a mild vinegar solution.
If more powerful cleaning is required, a non-abrasive neutral PH cleaner can be used.
Prevent glass wall tiles from being damaged by hard or heavy objects.
Always replace damaged glass tiles immediately to avoid chipping or cracking that could cause injury to the sharp cutting edge.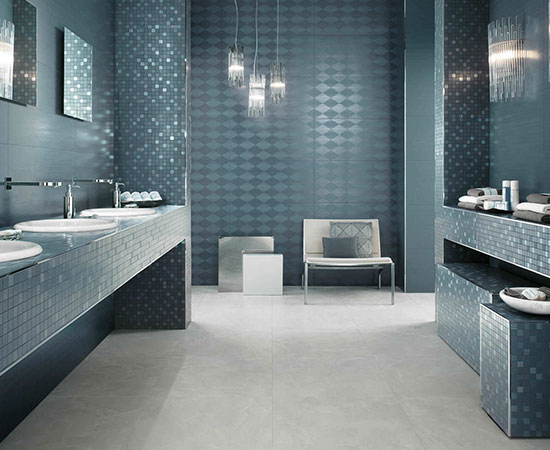 Other Glass Tiles
Other Wall Tiles