Product Details
Place Of Origin :

Guangdong,China (Mainland)

Brand Name :

Hanse

Model Number :

PY008

Size :

300 x 300mm
Product Description
This glass mosaic tile is 300 x 300mm with purple color. The color of royalty, rich purple tiles work beautifully on their own or paired with other colors to bring a sophisticated palette to life in your home. The purple glass mosaic tile is a really multi-purpose material, which appears very impressive due to its soft glow, translucent hues and spectacular light effects. It doesn't fade under the sun rays or artificial light sources, yet due to the polished finish and zero water absorption of the 300 x 300mm purple glass tile mosaic, it is most suitable for wall decoration of bathrooms and kitchens. And because of the compact size of the mosaic tile sheets, it can be combined into beautiful colors, gradients and patterns of various colors, causes striking glistening and radiates warmness delivering coziness into innovative places.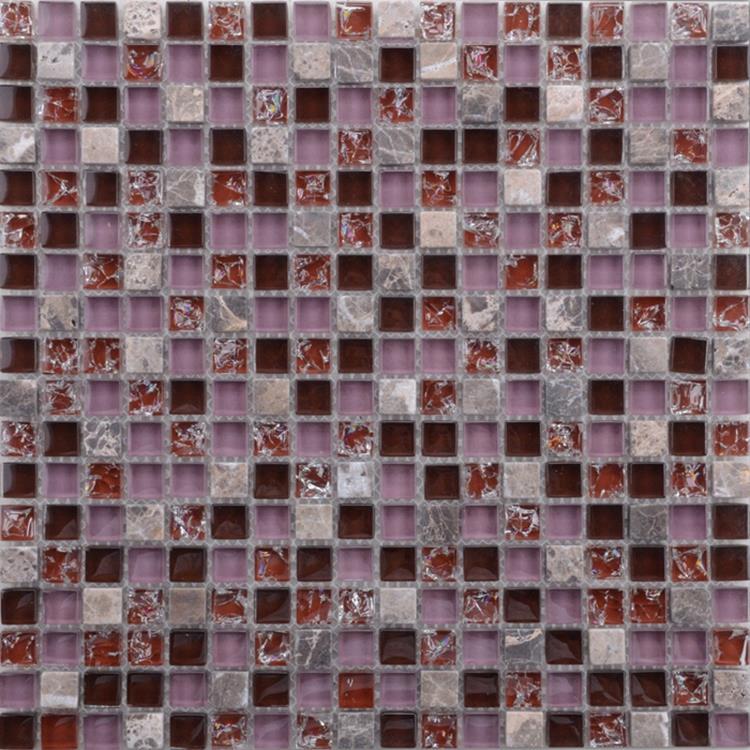 Our Services
Free Sample

Free sample order is provided, but the transportation fee should be paid by yourself. We ship the goods via Guangzhou port.

Design Scheme

We offer design scheme and effect drawing, helping you realise your vision for the most beautiful, effective and functional environments.

Product Types

Our products for sale including: bathroom accessories, sanitary ware, lamps, sockets, ceramic tiles and kitchen cabinets products.
Featured Reviews
Big brands are different!Hanseceramic tile, is worth having! After living in the ceramic tile for a while, I feel comfortable. Big brands are different. The effect is particularly good. The sales staff are also very enthusiastic. To help clean up and install it better, we still need Nobel.
Tile this kind of antiskid floor tile is really good. It's very suitable to put it in the courtyard. It's not afraid of slipping in rainy days. It's very good! The ceramic tile material is very good, the workmanship is meticulous, the appearance is beautiful, the quality is good, the delivery speed is fast, the service is good and satisfactory.
Although the tiles are irregular, they are almost the same size, so they are beautiful and flat after laying! The price is also very affordable! Tiles are very good delivery speed, the seller is very good, it is worth buying.
I asked my bricklayer to use a very thin cement paste. He chose a natural gray cement paste, which is perfect. This ceramic tile is easy to maintain (not easy to look dirty) and beautiful. The service is too good. The tiles are beautiful. The tiles have no water, and the adhesion is very good.
)This color matches the brick fireplace we are demolishing very well. We bought the same tiles five years ago. We tiled all the bathrooms. We have some left, but not enough to complete our new project
Tile is very smooth, glaze is very thick, lines are clear, very beautiful, paste out very generous, praise! The tiles have been received. They haven't been pasted yet. They haven't been disassembled. I don't know if there are any damaged tiles. If there are more damaged tiles, find Hanse.
Tile things are very good, good-looking color, no damage, easy to install, tile thank customer service in the middle of some small unpleasant may have misunderstandings to catch up with during the 11th Holiday things are more but solved thanks.
The packing is very good, without any damage. Tiles are good in color and texture! I love it! Tiles have been received, the quality is very good, the packaging is intact, it is very convenient to paste, the price is very affordable.
I like the color of ceramic tiles very much. The delivery is also fast. There is no violence in express delivery. I'm afraid I'll get broken ones. I didn't expect they are so perfect and well received. Tile floor tile things received, packaging is very professional, quality is very good.
Tile received, as in the picture, very thick, strong wear resistance, clear pattern, good glossiness, tile floor received a very good quality, anti-skid, wear-resistant thickness is just right. , the design is very beautiful, and there is no taste after dragging.
Load More
All Colors
Related Products
Products you may be interested in