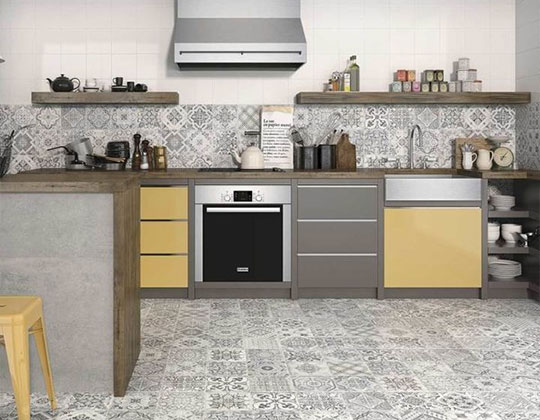 Hanseceramictile.com is one of the most reliable online wholesale patterned wall tiles vendors in Foshan China, manufacturing high quality tiles at low patterned wall tile prices.
Patterned Wall Tile designs contain

3 colors

,

4 finishes

,

4 features

and

4 sizes

,

6 patterned wall tiles

in total.
All the hot selling cheap patterned wall tile products online are of strict quality and produced by standardization of the management.
Buy cheap Hanse patterned wall tiles for sale to add a touch of taste and personality to your house now!
In addition, gorgeous patterned tiles and wall tiles are available at Hanseceramictile shop. If you are looking for patterned tiles or wholesale wall tiles designs, you are at the right place! Welcome to buy floor tiles online from China Hanse!
Hanse - the professional Foshan China patterned tile manufacturer & supplier will continuously wok on improving the designs of our patterned tiles to ensure that you get the best import patterned tile products for your project!
Related Search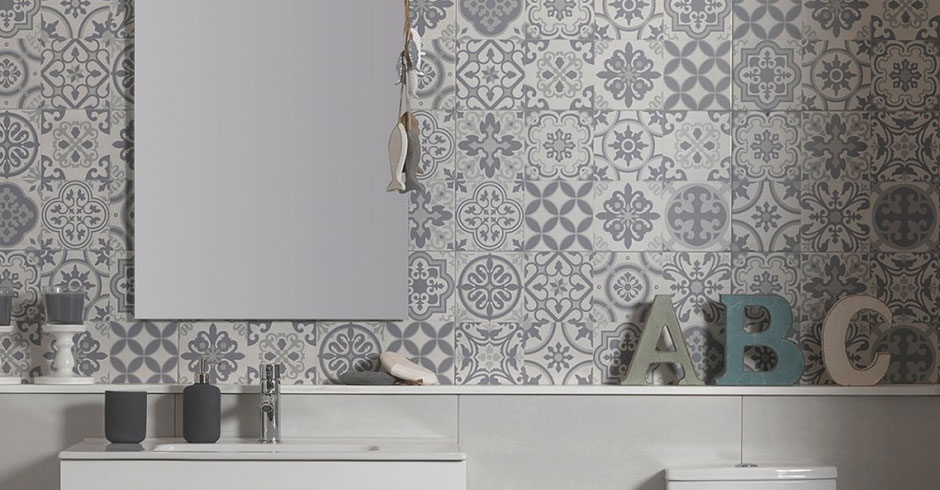 Patterned Wall Tiles Brings Romantic To Your Room
Patterned Wall Tiles, as well as unusual and specialized tiles with different tile textures, have been flourishing. Patterned tiles are a new trend for modern interior designers, which add vitality and romantic art to the space full of trivial life. Fancy patterned kitchen tiles with a wavy or ornamental design can be found more and more in apartments and houses, where the female gender determines the style of furnishing. You can combine the patterned tiles with simple colors, exclusive patterned wall tiles with a colorful design as flooring, then black or white simple furniture. In a simple room unit without a special pattern or other decorations in a neutral color, pattern wall tiles such as Moroccan tiles with a visible pattern or striking color can appear very beautiful, style-conscious and elegant.
See All Patterned Wall Tiles Products
Gorgeous Patterned Wall Tiles & Vintage Wall Tiles For Sale At Best Wholesale Prices
Hanse patterned wall tiles come with soft and delicate texture, it exudes cosiness and harmony - just typical aspects that are associated with femininity. Our Patterned Wall Tiles and Vintage Wall Tiles can be used perfectly in the kitchen, living room, bathroom, bedroom, drawing room, hall, restaurant as a special eye-catcher between the work surface and wall cabinets. Hanse, a manufacturer of high-end patterned wall tiles from China, sells a variety of vintage wall tiles at the lowest factory prices. Our patterned wall tiles have many outstanding colors and glossy surfaces that give the room a special flavor.
Excellent quality, rugged and durable
Resistant to dirt and mildew, not easy to fade, easy to clean
Various patterns, sizes, colors and materials to choose from
Lowest factory outlet prices make customers profitable
OEM according to custom specification and package
Attentive Pre & after-sale service, timely delivery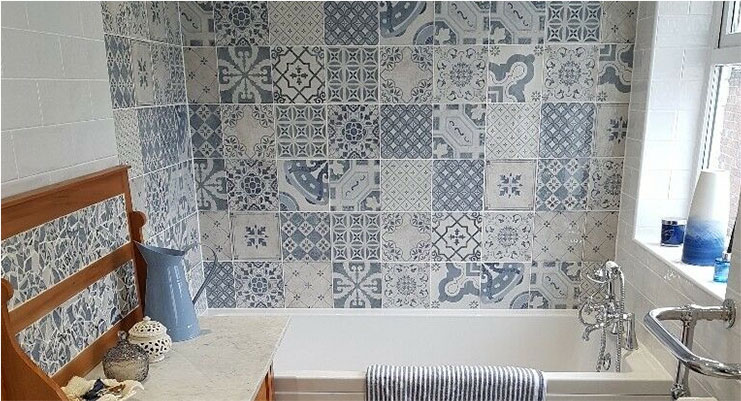 Hanse Offers Wide Range of Patterned Wall Tiles
Application

Living Room, Bathroom (Shower Room), Kitchen, Restaurant, Office, Entryways, Interior and Exterior Areas

Materials

Porcelain tile, Ceramic tile, Wooden tile, Natural Stone tiles (marble, granite), Glass tiles and more

Sizes of Our Wall Tiles

300x300mm,300x600mm,400x400mm,500x500mm, 600x600mm,800x800mm, 75x150mm
Pattern Style

Geometric tile, Vintage tile, Field tile, Floral tiles, Art Deco tiles, Moroccan tiles etc.

Color

Gray, White, Beige, Blue, Brown, Golden, Yellow, Green, Red, Purple, Orange, and more

Finish

Polished, High Gloss, Matte, T extured, Mirrored, Glazed, Honed, and more
Hanse Patterned Wall Tile Collection To Create Unparalleled Personal Space
Geometric Patterned Wall Tiles
Endlessly varied geometric patterns and shapes, including squares, rectangles, triangles, hexagons, prisms, waves, water jets, and stars bring unlimited possibilities to your space. Our geometric pattern wall tiles are extremely versatile and can be used in a variety of environments from commercial to residential. Revitalize your interior by bringing geometric beauty to your space, while also adding a timeless and chic visual appeal to your environment.
Field Floral Patterned Wall Tiles
Colorful and lifelike floral patterns are engraved on ceramic, porcelain, marble, and even glass wall tiles, no matter where they are placed, it will become the most striking place in the entire space, making the dull space full of romantic elegance. These easy-to-maintain decorative floral patterned tiles are not only a complement to design, they are also art, bringing a charming rural idyllic touch to your rooms and family.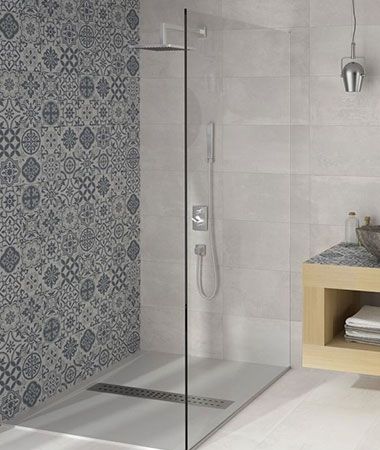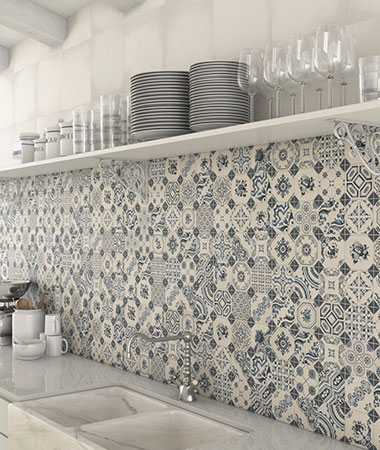 Vintage Patterned Wall Tiles
Elegant, ornate vintage patterned wall tiles bring nostalgia to your room, awaken your nostalgia for those old times, and retain those beautiful things that have passed away in reality but have existed! Take inspiration from old-world fashion and pay tribute to the classics. Vintage checkered wall tiles are a great choice for most indoor and outdoor installations, including showers, kitchens and backsplashes.
Art Deco Patterned Wall Tiles
Integrating painting elements into the tile design, creates fascinating art deco wall tiles, injecting elegance and charm into the space. Laying art deco wall tiles in any space is like hanging a work of art on the wall. Any of your paintings or photographs can be perfectly displayed on the decorative wall tiles, and only a few pieces can be misspelled for unparalleled beauty. Ideal for accented interior tile walls, restaurant, theme hotel, living room, backsplashes, fireplace enclosures, bathroom and shower walls, kitchen and craft projects.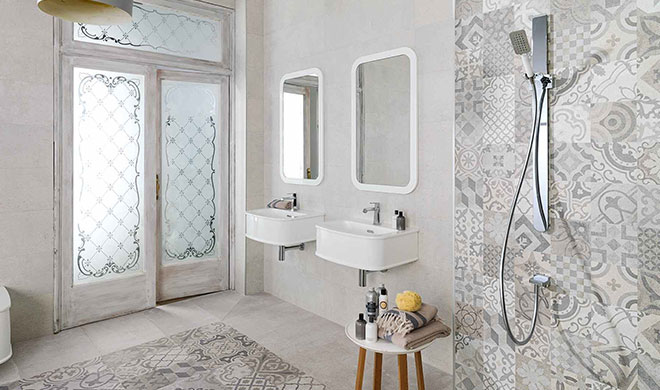 Moroccan Patterned Wall Tiles
Different styles of Moroccan style wall tiles are fascinating with their colorful patterns. If you need creativity to light up your life in this era of personalized fullness, Moroccan pattern wall tiles are your best choice! Moroccan style, exquisite and complicated patterns have endless variations, and at the same time, bright yellow, terracotta red, Moroccan blue and other colors perfectly combine to create a unique pattern. Moroccan pattern wall tiles are very decorative and can bring highlights and special scenery to any space.
How To Clean Patterned Wall Tiles?
Hanse's Patterned wall tiles have a low maintenance surface, making cleaning very easy and cost effective. Regular maintenance will keep your tiles fresh, shiny and scratch-free.
Regular cleaning: Remove dirt and dust from tiles. If it is a wall tile, just wipe it with a lint-free cloth.
Deep cleaning: Use soap and warm water or a mild acid (such as vinegar). We recommend a portion of distilled white vinegar and a portion of water. Scrub the tiles with a cloth or sponge, then dry. The grout line can be scrubbed with a small, bristle brush. If necessary, soak the cleaning solution for a few minutes before scrubbing.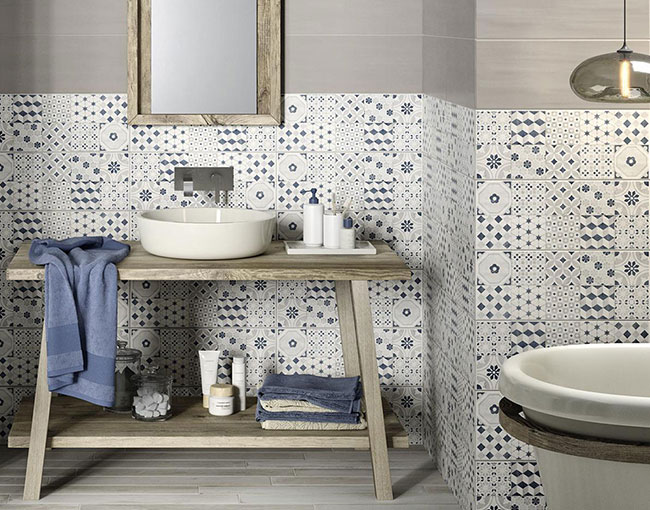 Other Wall Tiles
Hot Products