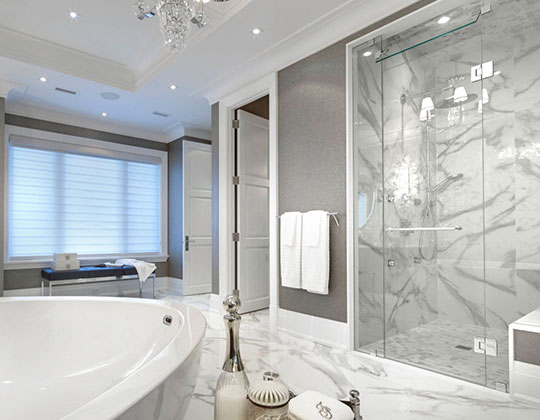 Hanseceramictile.com is one of the most reliable wholesale marble wall tiles vendors in China, manufacturing high quality tiles at low marble wall tiles prices.
Marble Wall Tiles designs contain

8 colors

,

1 finishes

,

4 features

and

3 sizes

,

18 marble wall tiles

in total.
All the hot selling cheap marble wall tiles products are of strict quality and produced by standardization of the management.
Buy cheap Hanse marble wall tiles to add a touch of taste and personality to your house now!
In addition, gorgeous marble tiles and wall tiles are available at Hanseceramictile shop. If you are looking for wholesale marble tiles or wall tiles designs, you are at the right place!
Hot Products
Marble Wall Tiles Designs & Wall Tiles With Marble Effect
Marble wall tiles are loved by people. In many ceramic wall tile categories, marble wall tiles can be said to be the most popular product. The lines with natural beauty, coupled with the excellent performance of low water absorption, high antifouling, high hardness and high wear resistance, marble wall tiles conquer the hearts of most consumers and designers. The color, texture, hand feel and visual effects of marble effect tiles completely reach the realistic effect of natural marble, and the decorative effect is even better that of natural stone. If you're looking to master high-end interior design in your home, our opulent range of marble-effect tiles will help you to find one key ingredient for this luxurious look.
See All Marble Wall Tiles Products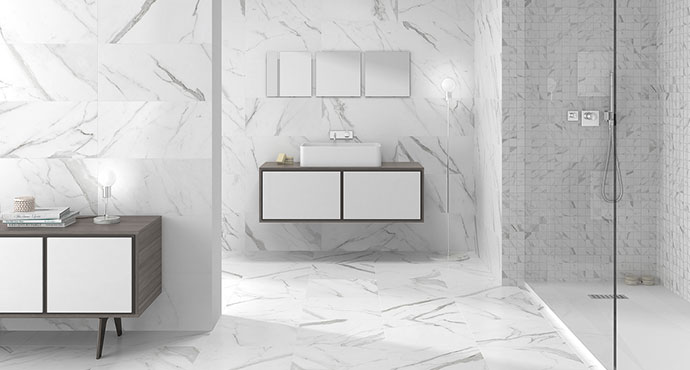 Why Choose Marble Effect Wall Tiles
Increase the sense of space extension and hierarchy. Use multi finish marble effect tile for wall, with the change and nature of marble texture, the whole space will be more natural and hierarchical.
Unrivalled durability, good antifouling property. Among all the expected splashes and spills associated with daily use, it's easy for your wall to lose its shine. With our marble-effect tiles, you can rest assured that your wall or backsplash will remain looking pristine for years to come.
Low maintenance: Unlike the real stone marble tiles, Hanse marble effect wall tiles do not need daily sweep and mop.
Environmental friendly, no radioactive contamination. Marble effect tile for wall has excellent performance and is environmental friendly. It not only makes more people enjoy the realistic effect of natural marble, but also reduces the demand for natural marble.
The color difference of the natural stone is avoided, but the texture of the natural stone is maintained.
The unique, whirling patterns and shade variations bring a one-of-a-kind look to your room.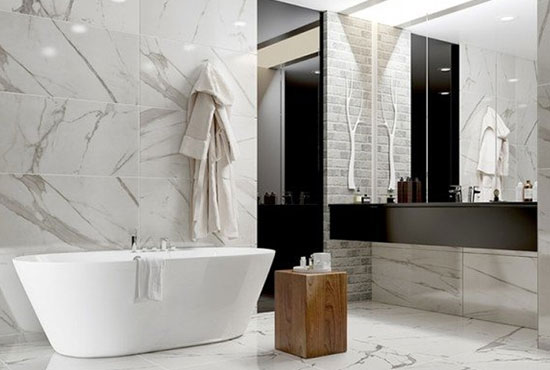 Marble Wall Tiles Ideas
European style:
European style is based on Romanticism in form. Marble wall tiles are often used as decoration materials. Choose white, grey, beige marble tile for wall paving, can create a simple noble luxury temperament, so that the whole space has a strong cultural atmosphere, while reflecting the owner's elegant quality of life.
Classical style:
Choose the light marble wall tiles for such as coffee, yellow or white, which can dilute the dim and dull of the classical home decoration. Classical home decoration is generally dark in color. Marble tiles with soft color, uniform texture are selected for tiling, which can not only dilute the dull atmosphere of the house, but also enhance the stretching sense of the space, making the space very quiet and soft, which is a classic luxury style.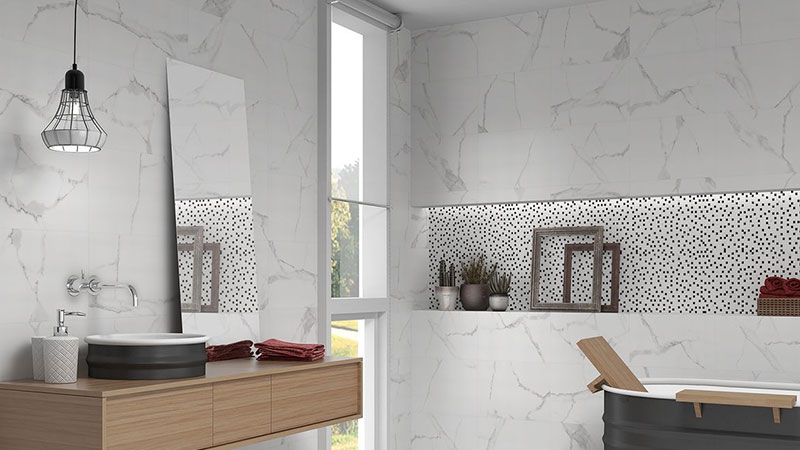 Marble Tiles Wall For Any Room
Living room marble wall tiles:
The decoration of living room reflects the color of the whole home. Choose marble tiles wall with natural beauty can set off the luxurious temperament of the room, and the living room becomes more elegant and vivid.
Marble tiles wall in bedroom:
As the place for people to rest, the layout of bedroom style directly affects people's life. Choose warm color, pure white color marble tile series to ease vision.
Marble tiles for backsplash/wall in kitchen:
Beige marble tile installed for backsplash or wall also set off the style change of the kitchen. Hanse marble wall tiles with light color will expand the space of kitchen vision, making the kitchen space inclusive and infinite.
Bathroom wall with marble tiles:
Install light color marble tiles for wall to make the whole space more clean and tidy, while dark color marble wall tiles will set off the three-dimensional and fashionable feeling of the bathroom.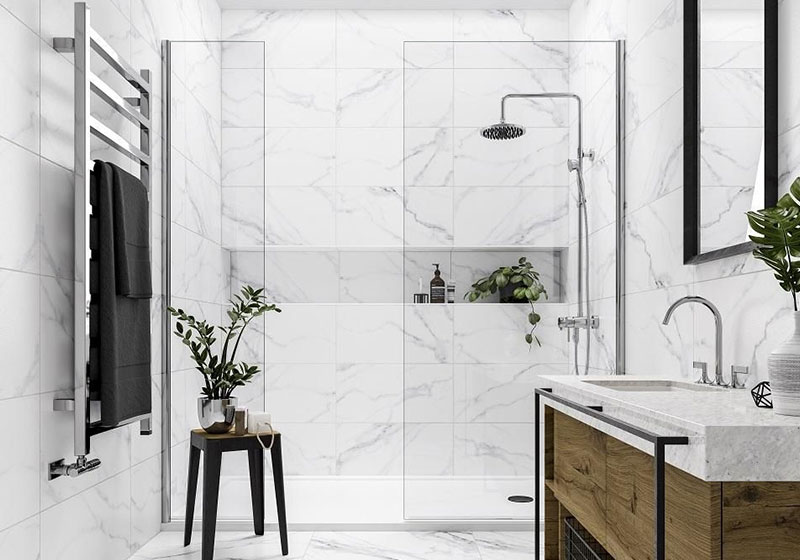 Buy Marble Effect Tiles For Wall In Kitchen, Bathroom, Living Room - Hanse Marble Wall Tiles Wholesale Supplier
As one of the China's leading marble tiles designers, Hanse is the perfect supplier to bring your series of marble effect tiles for wall. Our marble tiles designs come in multiple colors, patterns, sizes and finishes, from polished to honed and brushed to tumbled, making it an elegant wall tile for any room such as kitchen, bathroom, living room and exterior areas. On top of all that, we also designed square, hexagonal and herringbone tiles with marble look, helping you to create a unique and high-end feature wall in your home.
Why Order Marble Wall Tiles At Hanseceramictile Shop
At Hanseceramictile, we understand that the right tile has the power to make any interior or exterior design project a stunning success. That's why we have a wide range of interior & exterior marble wall tiles in different colors, sizes, shapes, finishes and patterns for you to select, meaning you're guaranteed to find the perfect product for your tile project. Each tile complies with international quality standards to ensure that we only offer the very best.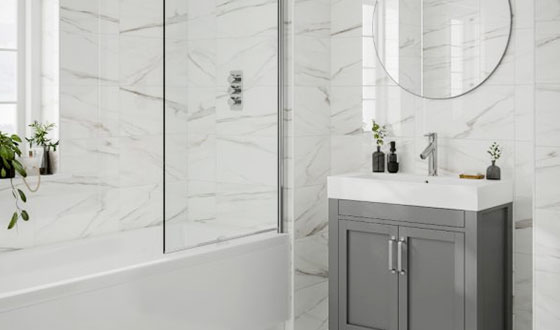 Other Marble Tiles
Other Wall Tiles