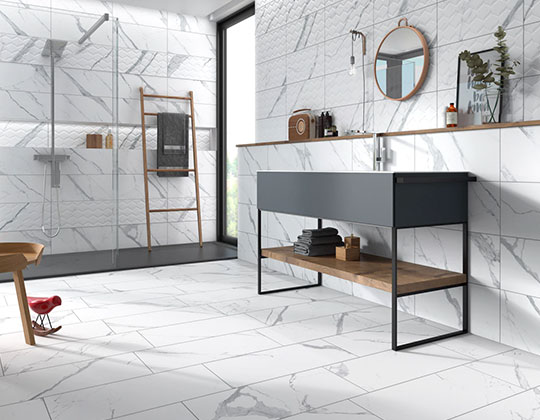 Hanseceramictile.com is one of the most reliable wholesale marble floor tiles vendors in China, manufacturing high quality tiles at low marble floor tiles prices.
Marble Floor Tiles designs contain

5 colors

,

1 finishes

,

3 features

and

2 sizes

,

4 marble floor tiles

in total.
All the hot selling cheap marble floor tiles products are of strict quality and produced by standardization of the management.
Buy cheap Hanse marble floor tiles to add a touch of taste and personality to your house now!
In addition, gorgeous marble tiles and floor tiles are available at Hanseceramictile shop. If you are looking for wholesale marble tiles or floor tiles designs, you are at the right place!
Hot Products
Marble Floor Tiles - Marble Tiles Flooring
Marble flooring and furnishings are often found in luxurious buildings, which represents classic, elegant and eternity. The real top-grade marble seems out of reach, but now it's affordable choices for you. A broad range of marble floor tiles with varying design, textures, patterns, shapes, colors and sizes are popular on the market. Marble tile has not only the beautiful appearance and natural veins of real stone, but also adds durability, wear resistance, stable properties and versatility after treatment of modern processing technology, with both practicability and aesthetic.
See All marble floor tile Products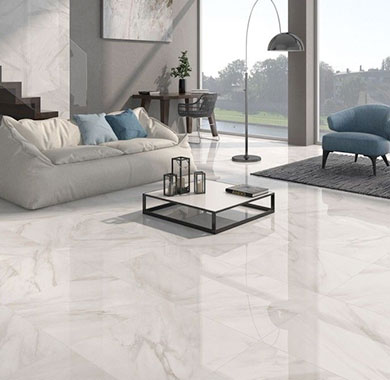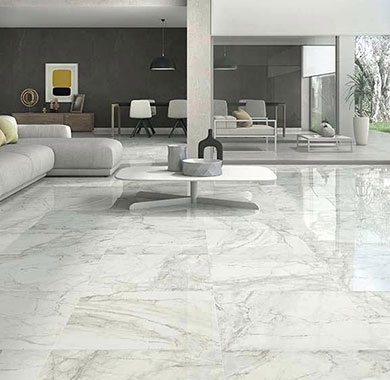 Why Choose Marble Tile for Floor?
Elegant appearance, unique texture, and natural material
High bending resistance and shearing resistance
Longer life than expected and durable
Easy to polish, to achieve a silky smooth and shiny surface
Heat conductive, suitable for radiant heat systems
Marble Floor Tile Designs & Ideas
Repeat Pattern: A repeating pattern with a collection of different colors can create dazzling design, or simple checkered flooring, choose the color according to your furniture and other decor.
Grey Floor Mosaic: Hanse polished light grey marble mosaic tile designed with luxurious hexagonal pieces sized on a mesh sheet are perfect for your bathroom floors. Try the mosaic runway in a hall or entryway will create amazing effect.
Create a Lush Space: You can create a lush space with mixed textures and colors, natural marble tiles in shades of grey, brown, beige, green and more can add warmth and ambiance to the space.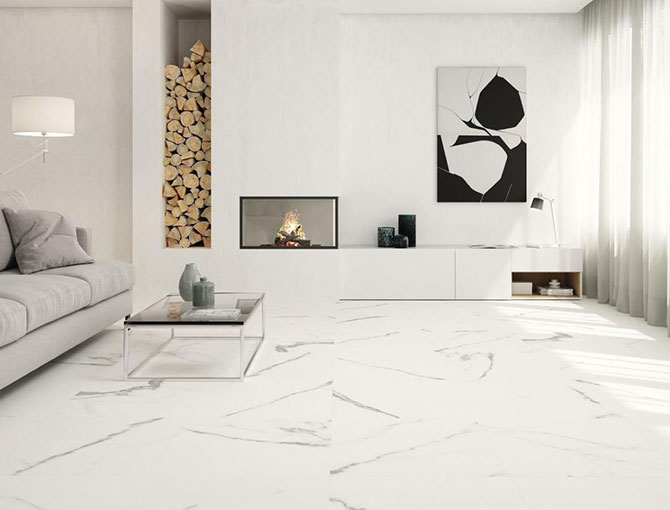 How to Install Marble Floor Tiles? - Marble Tile Laying Tips
The installation of marble floor tiles is suggested to be done by professional construction team.
When laying the marble tile, leave a seam with width of not less than 1mm, if applying wet paving, use the base mortar to set the square, pay attention to the width and depth, and add appropriate amount of fine sawdust into the mortar and plain ash, the sawdust can be replaced with rice bran and vermiculite.
The sand used in the bottom mortar is medium size, coarse sand and fine sand are not suggested, the mortar is made in a ratio of 1:4 cement and sand, the contact surface plain mortar can be made with pure cement.
Before installation, the four surrounding surfaces of the marble flooring tiles should be coated with a waterproof paint layer of mixed color to prevent the gap between the tiles from seeping into the sewage and mapping out the muddy color mark, especially the white textured product.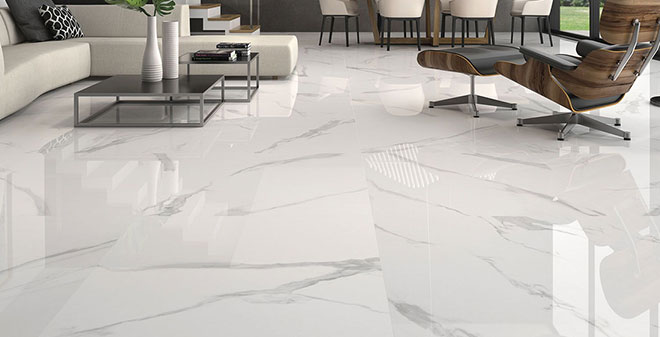 It's generally commended to pave the tile according to the direction indicated by the arrow at the bottom of tiling. If there is different shape or design request, lay it as the stripes or directional image features.
When sealing the marble flooring, the seams, connecting area and joints should be cleaned first, then apply the paint layer on the four surrounding surfaces, then use the grout to fill in it.
It's necessary to cover the installed tiles, with thick cardboard or thin wood board, to avoid sand particles caused by personnel walking during construction, and the damage of wear on the surface of the board.
For the formed cement pollution spots, clean them with clean cloth and water in time, do not allow the cement to harden, then scrape them with force.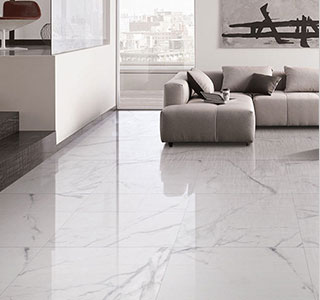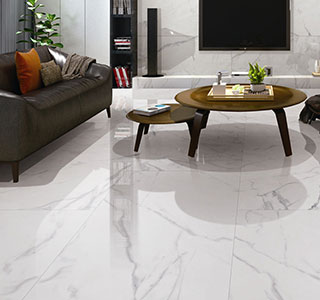 China Top Marble Floor Tiles Manufacturer - Beautiful Cheap Marble Look Floor Tile
Marble look floor tile makes the natural stone style become the trend in modern home decoration, brings your house a timeless and elegant charming. As a leading China floor tiles manufacturer, supplier, shop and exporter, Hanseceramictile.com is proficient in marble flooring processing technology and deliver quality marble tiles with high efficiency and fast turn-around time. There are a large selection of different colors and textures for you to choose from, especially white marble floor tiles and grey marble tiles, custom size are accepted.
Our Range of Marble Floor Tiles
Hanse Marble Tiles for Flooring available in a range of applications, sizes, colors, finishes, shapes and features.
Applications: living room, kitchen, bathroom, bedroom, etc.
Sizes: 300 x 600, 300 x 300, 600 x 600, 600 x 1200, 12x12 inch, etc.
Colors: grey, brown, beige, white, etc.
Finishes: polish, honed, matt, etc.
Shapes & Features: square, rectangle, herringbone, mosaic, hexagon, etc.
Why Choose Hanse Marble Floor Tiles
Classic and natural design, shows full reality and elegance
High durability, ideal for areas with large foot traffic
Easy to clean, simple wipe is enough in ordinary cleaning
Resistant to fungus and mold, great hardness
Versatility, suitable for bathrooms, kitchens, living rooms, bedrooms, etc.
Limitless design options to suit different styles and fancy
Cheap marble floor tiles prices for creating ideal rooms with low cost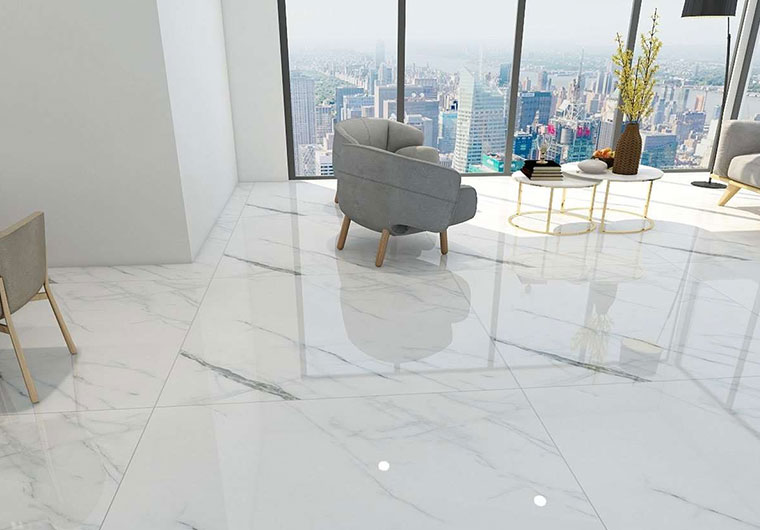 Other Floor Tiles
Other Marble Tiles