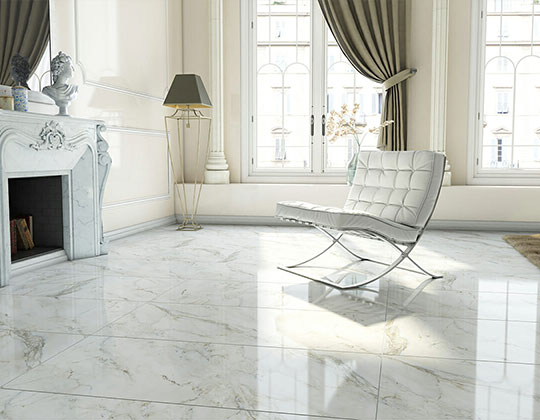 Hanseceramictile.com is one of the most reliable online wholesale large floor tiles vendors in Foshan China, manufacturing high quality tiles at low large floor tile prices.
Large Floor Tile designs contain

9 colors

,

5 finishes

,

3 features

and

8 sizes

,

24 large floor tiles

in total.
All the hot selling cheap large floor tile products online are of strict quality and produced by standardization of the management.
Buy cheap Hanse large floor tiles for sale to add a touch of taste and personality to your house now!
In addition, gorgeous large tiles and floor tiles are available at Hanseceramictile shop. If you are looking for large tiles or wholesale floor tiles designs, you are at the right place! Welcome to buy floor tiles online from China Hanse!
Hanse - the professional Foshan China large tile manufacturer & supplier will continuously wok on improving the designs of our large tiles to ensure that you get the best import large tile products for your project!
Related Search
Looking for an area with an ageless upgrade? Want to expand your home space? Hanse's stunning range of large format floor tiles, large ceramic/porcelain floor tiles will be your ideal choice. Whether you are renovating your kitchen or updating the bathroom, Hanse's stylish extra large tiles floor can transform any room and add a touch of splash to your home!
Extra Large Ceramic & Porcelain Floor Tiles
There are many ceramic tile products for floors in the market, and the specifications are even more diverse. Large format floor tile has become more popular in recent years because of its clean look and ability to make a space feel bigger. These large tiles flooring come in rectangular and square shapes, perfect for home decorations like kitchens, living rooms or bathrooms, can also be used in any room of the house to make a dramatic statement. Using a large floor tile can not only help a room to look more fluid and smoother due to the fewer grout lines needed, but also make the room more cool and big.
See All Large Floor Tiles Products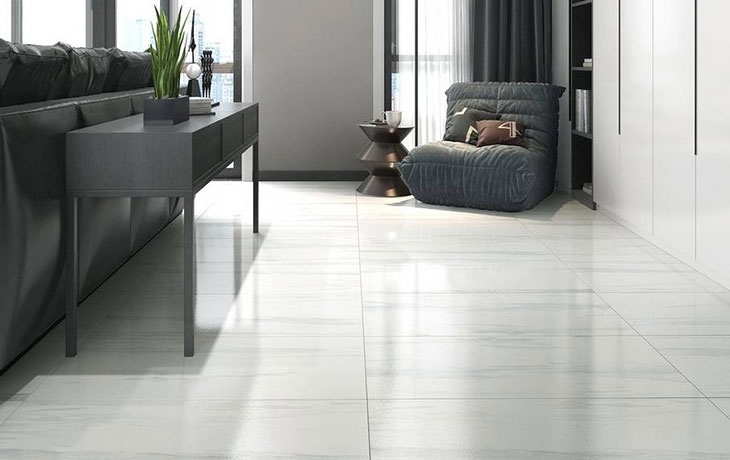 Why Choose Extra Large Floor Tiles?
Add a sense of luxury to your home
Create the illusion of space
Easy maintenance
Durable, scratch-resistant, water and stain resistant
Expand the space in the room
Large Floor Tiles Design Ideas
Modern style: Create a modern style with large format tiles flooring. From a traditional stone look to a sleek high-gloss finish, the best looks are expanding to stunning proportions. Choose dark big floor tile is obviously much warmer. With white sanitary ware, has layers and texture, and has a strong sense of three-dimensional space
A similar color scheme: Designing a room with a monochromatic look or similar color scheme throughout can create a calm, serene space, and large stone-look tile flooring makes the room feel more open and airy. Hanse polished glazed porcelain tiles large size have a soft white background and warm gold veins and are available in 12x24 and 24x24.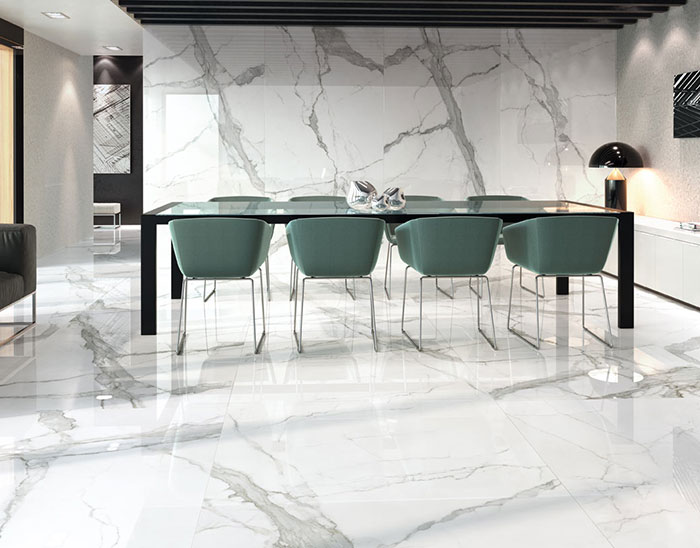 Large Floor Tiles For Any Room
In kitchens - As one of the busiest rooms of the home, your kitchen flooring needs to be resilient and easy to clean, making all our large format floor tiles an ideal option. Additionally, the large surface area of these tiles will really emphasize the spaciousness of an open-plan design, while functionally complementing increasingly popular underfloor heating features.
Large tiles floor for living room:
In the living room, the large format tile 24x24 with cream and beige porcelain in a matte finish creates a spacious, seamless and cohesive backdrop that pulls the different areas together as one, lending a contemporary feel to the room.
Large tiles floor bathroom:
For a timeless, whitewashed look in your bathroom, installing large white bathroom tiles can provide a great base layer to build upon with colourful accents. What's more, with durable and slip-resistant qualities, our extra large format tiles floor not only provides a stylish bathroom flooring solution, but a practical one too.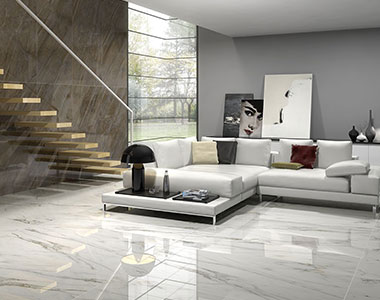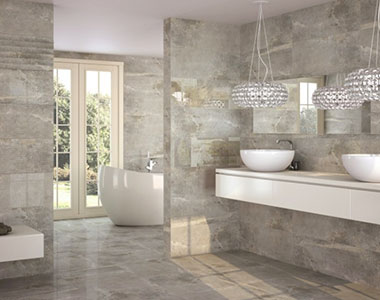 Large Format Tile Installation - How To Install Large Tiles For Floor
Base leveling. In order to ensure the best paving effect, the paved base course shall be flat, solid and clean, without cracks, oil stains, dirt and other defects. Before construction, the foundation surface shall be watered and wetted, and the construction can be started only when there is no water on the foundation surface.
Apply tile glue. When laying large-size tiles, it is recommended to use tile glue instead of cement, and use professional tile glue with adhesive to avoid hollowing and cracking.
Laying, compaction and leveling. Use a strong suction cup to lift the tiles to the construction surface, and lay them flat on the base. The tiling sequence is from inside to outside. The fullness of the adhesive must be ensured to avoid hollowing.
Cleaning. After the large format ceramic tile floor is paved, it is necessary to clean the residual adhesive and dust and sand in time, and lay a protective layer on the surface.
Fill grout. After 24 hours, the joints shall be filled with grout, which can not only increase the overall aesthetic feeling of the tiles, but also resist pollution and mildew.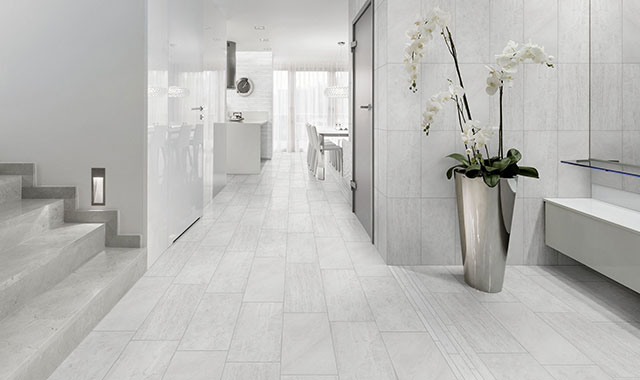 Buy Big Tiles For Floor - China Best Large Floor Tiles Manufacturer Hanse
There is no better way to enhance the space than with beautiful extra large tiles flooring. If you are looking for cheap large format tiles floor China of high quality, Hanseceramictile shop is your ideal choice for buying best large format tiles for floor of home decoration. We offer a range of large size floor tiles 12×24, available in a variety of colors, styles and finishes. They come in rectangular and square shapes. With well-equippedtiles manufacturing facilities and experienced workers, we can produce high-quality extra large porcelain & ceramic floor tiles with fast delivery for your quick installation. Use our wholesale large format tiles floor to improve the sense of expanse and make the floor the feature in your home!
Other Floor Tiles
Hot Products