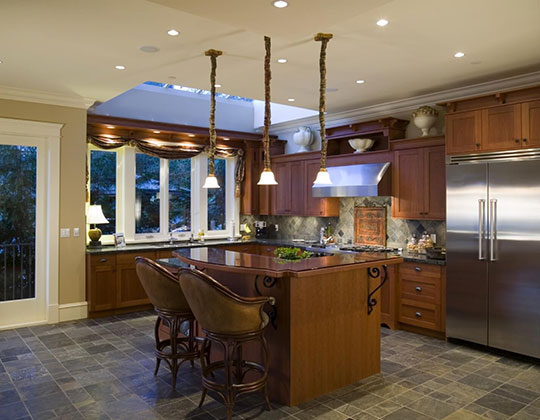 Hanseceramictile.com is one of the most reliable online wholesale slate floor tiles vendors in Foshan China, manufacturing high quality tiles at low slate floor tile prices.
Slate Floor Tile designs contain

2 colors

,

1 finishes

,

2 features

and

2 sizes

,

1 slate floor tiles

in total.
All the hot selling cheap slate floor tile products online are of strict quality and produced by standardization of the management.
Buy cheap Hanse slate floor tiles for sale to add a touch of taste and personality to your house now!
In addition, gorgeous slate tiles and floor tiles are available at Hanseceramictile shop. If you are looking for slate tiles or wholesale floor tiles designs, you are at the right place! Welcome to buy floor tiles online from China Hanse!
Hanse - the professional Foshan China slate tile manufacturer & supplier will continuously wok on improving the designs of our slate tiles to ensure that you get the best import slate tile products for your project!
Related Search
Natural Slate Floor Tiles & Slate Effect Floor Tiles
Slate floor tiles not only combine the durability of tiles with the hard nature of natural stone, but also bring unique aesthetics to the installation environment. Slate floor tiles has been one of the most popular indoor tiles for several years - both as an original natural stone and as a slate look made of porcelain stoneware. Especially in new buildings, slate floor tiles harmonize well with the architecture and large window fronts. In addition to the mostly dark and uniform coloring, the practical properties are also impressive. Slate floor tiles are usually relatively easy to install, easy to maintain and very robust, so that they can also be easily installed in stressed areas such as bathrooms and kitchens.
See All Slate Floor Tiles Products
Advantages of Slate Floor Tiles

Inherent durability
Resistant to cracks, scratches, breaks, and chips
Very exclusive look
Easy to clean and maintain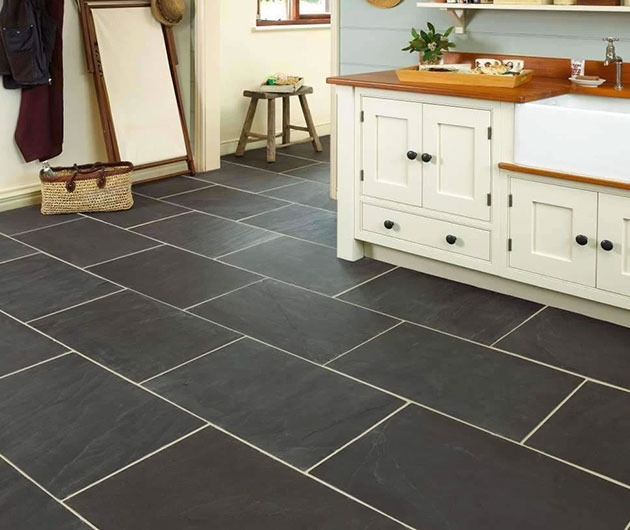 Best Slate Stone Floor Tiles Wholesale - China Top Slate Floor Tiles Manufacturer
Hanse Natural Slate Floor Tiles is made from the strongest standard natural stone flooring material and has been one of the most popular natural stone tiles. Hanse Slate Effect Floor Tiles also have received good reputation in global market with top quality and favorable price. A wide variety of solid and multicolored slate floor tiles can be matched to almost any decorative style scheme you are trying to create. With inimitable natural stone character of the split surface, our Slate Floor Tile makes your rooms look modern and individual, adding real estate value to an entire home. If you are looking for a reliable Slate Floor Tiles vendor, Hanse has 100% confidence to be your partner.
Benefits of Hanse Slate Floor Tiles

Carefully selected top-quality upscale materials
Solid color and multicolored slate floor tiles available
Very good flooring material for heavy-traffic areas
Favorable Slate Floor Tiles ensure great profit
Cost-effective custom design and OEM production
One-stop service and timely shipment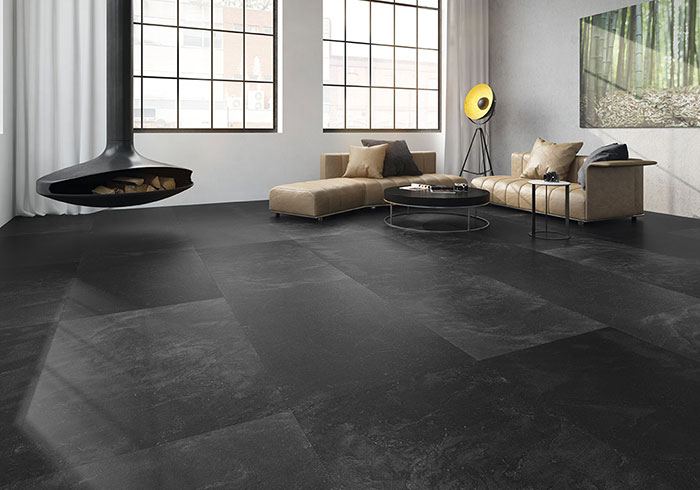 How To Clean and Maintain Slate Floor Tiles?
The maintenance of the slate is relatively simple. As with many natural stones, a water and oil repellent treatment is recommended immediately after installation. This treatment is in the form of an oil which is applied with a roller. Once the slate floor tile is protected, routine maintenance is quite simple, water and a neutral detergent are perfect. You can nevertheless favor the products developed for this type of stone, some revive the shine.
Slate Floor Tile Regular Cleaning
Maintaining your slate tiles regularly is a necessity, but it is essential to respect the characteristics of this natural material. You should therefore use mild (non-abrasive) products free of any detergent.
The cleaning will be done with a microfiber cloth or broom, soaked in warm water with mild soap, which you will gently rub on the surface to be cleaned.
In the case of an oily stain, immediately scrub the deposit with a toothbrush coated with liquid black soap sprinkled with baking soda, then rinse and dry immediately.
To remove waste from the surface, you must sweep the floor. Brooms with soft bristles are preferred to avoid scratching.
Immerse the mop in the cleaning solution, wring dry to promote drying, and slowly mop the slate floor. In order to maintain a good washing effect, rinse frequently.
Wipe the tiles with a soft fiber towel to absorb as much water as possible. Opening windows and doors will speed up this step. When the floor is completely dry and free of moisture, wipe it with a cloth.
Teak oil can also be used on slate. But caution is advised as slate will absorb liquid. A small amount is sufficient. You also buy oils specifically designed for slate floors.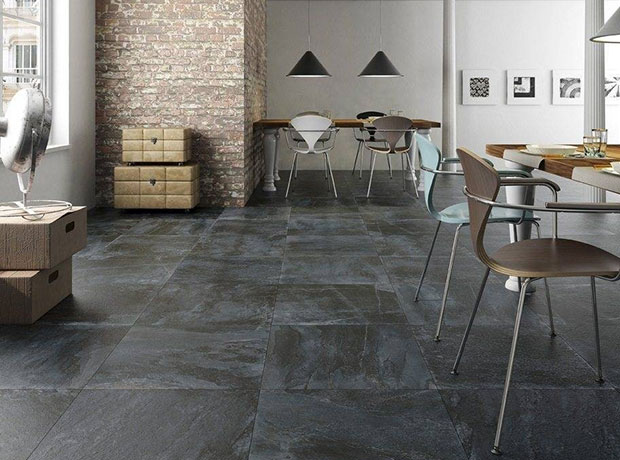 Slate Floor Tile Deep Cleaning
It is advisable to completely clean your slate at least twice a year. Also it is essential to carry out a thorough cleaning from time to time, in order to clean the tile joints and dislodge stubborn stains.
For remove stains, water with baking soda (1 glass of bicarbonate for 1 liter of warm water) and a broom (or a toothbrush) are enough.
After rubbing the slate tile with the above solution, it is imperative to rinse well and then dry it with a clean cloth or mop.
After taking care of the joints, you can use your broom soaked in a solution of baking soda, black soap and lukewarm water.
Remember to rinse and dry your tiles well with a clean mop, to avoid any white traces due to lime.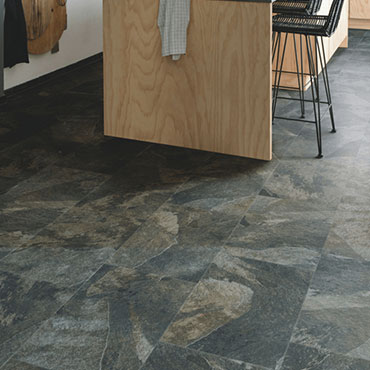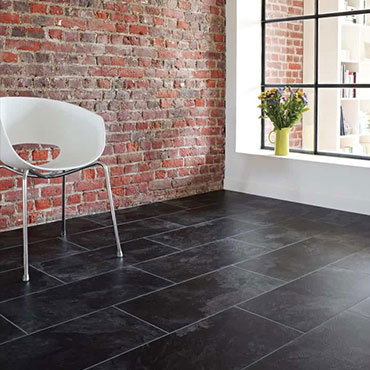 How To Revive Your Slate Floor Tile?
Your slate is clean, but has lost its luster? To make your slate floor tile shiny again, you only need to follow the below steps:
Rinse with vinegar (1 cup of white vinegar against 1 liter of water), then rinse thoroughly with water.
It is also possible to scrub the surface with a wrung, wet towel slightly soaked with milk.
To make the slate more shiny, you can also use two layers of colorless wax (you must choose to be silicone-free, as this will pollute the porous texture).
If you want to accentuate the color of slate tiles, use turpentine.
After drying, wipe the slate surface with a soft, non-abrasive cloth.
It is also possible to purchase specific maintenance services and treatment products from the market to maintain the appearance and durability of slate for a long time.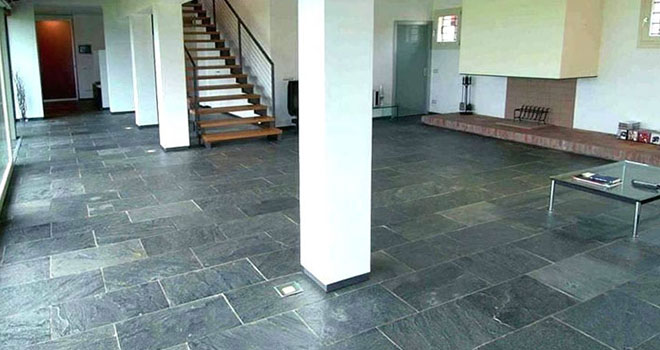 Other Floor Tiles
Hot Products