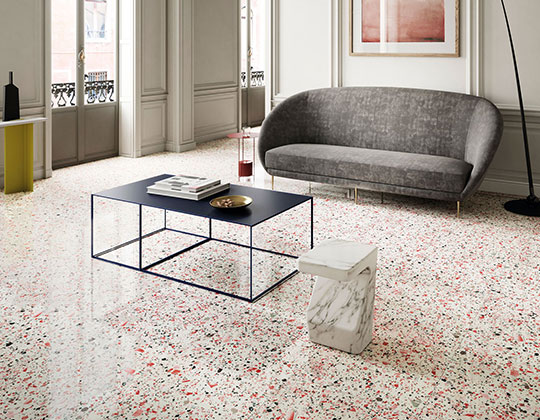 Hanseceramictile.com is one of the most reliable online wholesale terrazzo floor tiles vendors in Foshan China, manufacturing high quality tiles at low terrazzo floor tile prices.
Terrazzo Floor Tile designs contain

2 colors

,

3 finishes

,

2 features

and

2 sizes

,

2 terrazzo floor tiles

in total.
All the hot selling cheap terrazzo floor tile products online are of strict quality and produced by standardization of the management.
Buy cheap Hanse terrazzo floor tiles for sale to add a touch of taste and personality to your house now!
In addition, gorgeous terrazzo tiles and floor tiles are available at Hanseceramictile shop. If you are looking for terrazzo tiles or wholesale floor tiles designs, you are at the right place! Welcome to buy floor tiles online from China Hanse!
Hanse - the professional Foshan China terrazzo tile manufacturer & supplier will continuously wok on improving the designs of our terrazzo tiles to ensure that you get the best import terrazzo tile products for your project!
Related Search
Terrazzo Flooring - Terrazzo Floor Tile
Terrazzo is a common flooring material used in public building, the terrazzo flooring will go through many kinds of colored chips mixed with the panels, hand-trowel or use a lightweight roller to make the surface become smooth and uniform, then grind it when it's dry. Based on the natural stone sources and sturdy cement material, terrazzo floor tile has an incredibly long lifespan, the average life cycle for terrazzo tiles is 75 years. It's suitable for almost any spaces, whether for outside or inside flooring, like kitchen, living room, or balcony and corridor, terrazzo flooring tiles are also great choices for high traffic areas including lobbies, hallways.
See All terrazzo floor tile Products
Why Choose Terrazzo Tiles for Floor?
- Retains the aesthetic qualities of the non-cement material
Made from mixing lots of materials, unlimited designs are allowed
Exceptional durability, longevity and minimal maintenance
Impervious to water and stain damage after sealed
Can be re-finished and polished
Can endure heavy traffic and messy weather
Cost-effective, customizable, practical and economic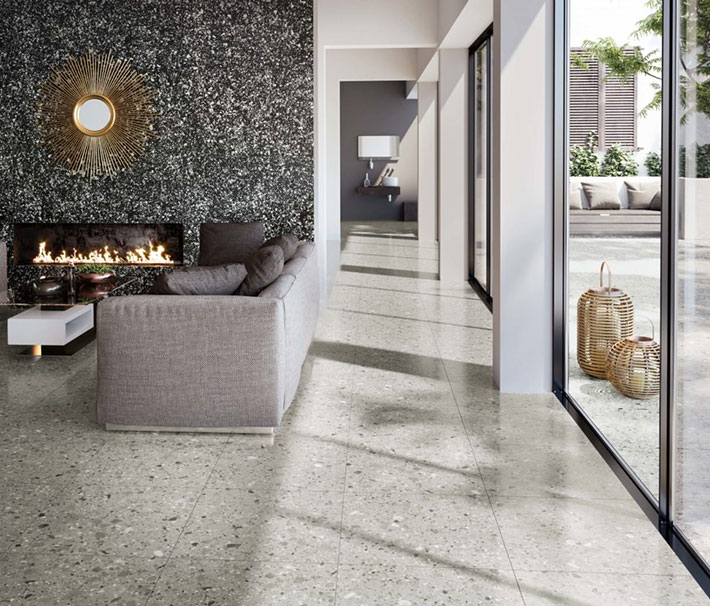 How to Clean Terrazzo Floor Tiles - Terrazzo Flooring Maintenance
Initial maintenance: In the first few months, mop the floor everyday and seal it properly with wax when the minerals on the surface have cleaned completely.
Regular clean: Clean the terrazzo floor tiles regularly, remove the loose dirt, crumbs and other debris, and polish with synthetic fiber pad.
Wet and brush: The terrazzo floor also needs to be brushed regularly, first wet the floor with clean water, then wash with mop or vacuum cleaner and flexible cleaner, then dry the floor.
Polish with synthetic polishing agent: The terrazzo floor tile maintained by polishing technology can be free of waxing for several years.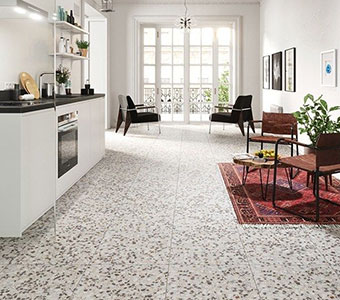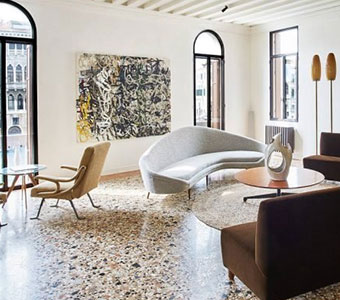 How to Make Terrazzo Tiles Look New?
The terrazzo tiles are bright as mirrors because there is a layer of glassy film formed on the surface of terrazzo after manufacturing. The film not only has the mirror luster, but also can transparently show the internal structure of the stone, which is the pattern observed by people.
To restore the beauty of weathered and abraded terrazzo, the key is make it form the glass film again, the technical principle is to remove the weathering and abrasion aging layer on the surface of terrazzo and expose the fresh layer, use a special mechanical method to produce a new glassy film through complex effect on the surface, so as to restore the natural light and decoration effect.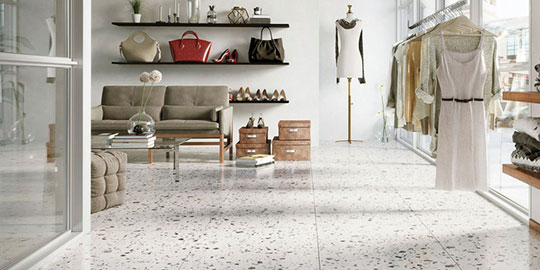 Durable Terrazzo Tiles for Sale - Online Cheap Terrazzo Floor Tiles Manufacturer
As a reliable online floor tiles manufacturer, supplier, shop, and exporter,
Hanseceramictile.com is engaged in a broad range of flooring tiles design, manufacturing and processing, we are supplying custom terrazzo floor tiles with different size, color and patterns options, for any commercial, industrial and residential space. Terrazzo flooring are the perfect substitute of the traditional terrazzo, but add more aesthetic qualities and functions. With well-equipped manufacturing facilities and seasoned workers, we can produce high quality terrazzo tiles with fast delivery time for your quick installation.
Our Range of Terrazzo Floor Tiles - Colors, Sizes, Applications
Hanse is engaged in a variety of wall tiles and floor tiles types, providing quality terrazzo floor tiles with different colors, sizes and application areas.
Sizes: 600 x 600mm, 600 x 1200mm, 800 x 800mm, customized, etc.
Colors: grey, brown, etc.
Applications: bathroom, kitchen, living room, outdoor, etc.
Why Choose Hanse Terrazzo Floor Tiles

Extreme longevity, lasting even longer than the building
Low cost, affordable competitive prices and no needs for replacement
Design versatilities and flexibility, can combine any aggregates with different resin color
Unique speckled appearance and custom terrazzo flooring design
Environmental friendly and quality assurance
Resistant to water, fire, chemical spillage, and other stain risks.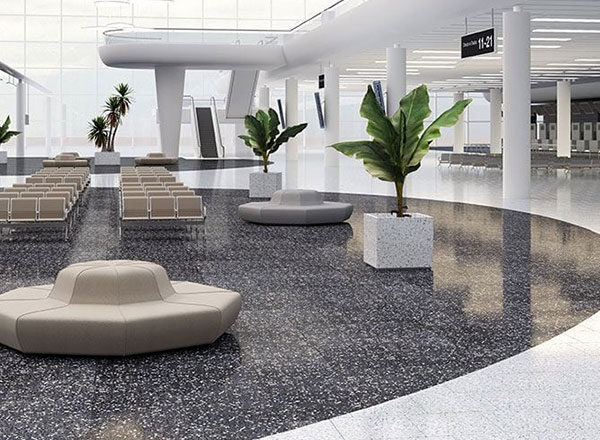 Other Floor Tiles
Hot Products