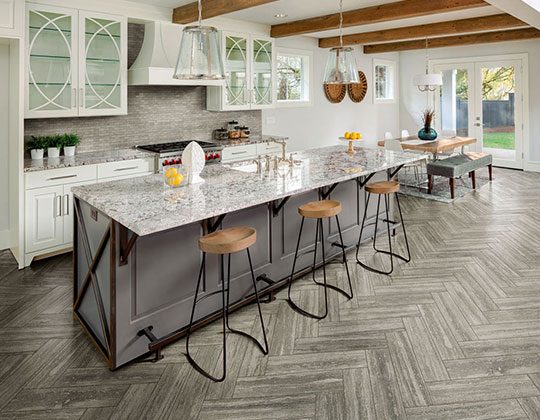 Hanseceramictile.com is one of the most reliable online wholesale herringbone floor tiles vendors in Foshan China, manufacturing high quality tiles at low herringbone floor tile prices.
Herringbone Floor Tile designs contain

3 colors

,

3 finishes

,

3 features

and

2 sizes

,

3 herringbone floor tiles

in total.
All the hot selling cheap herringbone floor tile products online are of strict quality and produced by standardization of the management.
Buy cheap Hanse herringbone floor tiles for sale to add a touch of taste and personality to your house now!
In addition, gorgeous herringbone tiles and floor tiles are available at Hanseceramictile shop. If you are looking for herringbone tiles or wholesale floor tiles designs, you are at the right place! Welcome to buy floor tiles online from China Hanse!
Hanse - the professional Foshan China herringbone tile manufacturer & supplier will continuously wok on improving the designs of our herringbone tiles to ensure that you get the best import herringbone tile products for your project!
Related Search
Herringbone Floor Tiles For Bathroom, Living Room, Kitchen, Bedroom, OutDoor
If you don't feel like simple rooms, you can transform your floor and implement creative looks with herringbone floor tiles. Herringbone floor tiles can also be combined in other laying patterns, which makes this series incredibly versatile. Now the special pattern floor - herringbone tile floor is getting more popular! As the name suggests, the pattern of the floor tile is reminiscent of fish bones, which is easy to lay and is similar to the cross-braid laying. The herringbone floor tile is particularly suitable for large rooms, gives your living room a modern and rustic retro look. Different colored tiles in stone look give the room a lively appearance. The herringbone floor tiles in wood look looks natural and noble, and are ideal for outdoor flooring.
See All herringbone floor tile Products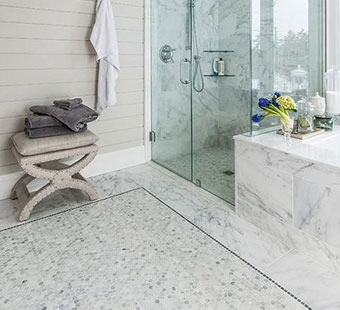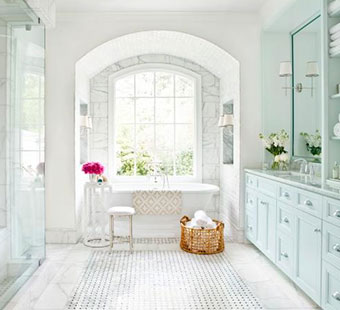 Top Grade Herringbone Floor Tiles from China Top Floor Tile Supplier & Manufacturer
Our herringbone pattern floor tiles create spectacular floor designs. Hanse - China Top Floor Tile Company and Factory, offer you a wide selection of Herringbone Floor Tiles. We strive to offer you only the best quality Herringbone Floor Tiles at a fair price-performance ratio. You simply send your inquiry to us in our tile shop online, we will response and quote as soon as possible, and take care of the rest. In any case, you can look forward to great affordable Herringbone Floor Tiles for your personal style. Design your bathroom, living room, bedroom, kitchen or any other room with contemporary, high-quality Herringbone Floor Tiles. We are a well-known, renowned tile manufacturer in China, you can feel free to buy Herringbone Floor Tiles from our collections in direct factory purchases. So you only appreciate the quality of Hanse Herringbone Floor Tiles, but also the low price. In Hanse Tile Store, you will find Herringbone Floor Tiles for your room.
Why Should You Choose Hanse Herringbone Floor Tiles?
Advantages of Hanse Herringbone Floor Tiles

Best quality ceramic, glass, porcelain, marble, stone Mosaic Floor Tiles
A variety of sizes, colors, patterns, textures, styles are available
Durable, versatility, wear-resistant and long lasting time
Water absorption, stain resistance, corrosion resistance
Lowest factory price, fastest delivery, most thoughtful service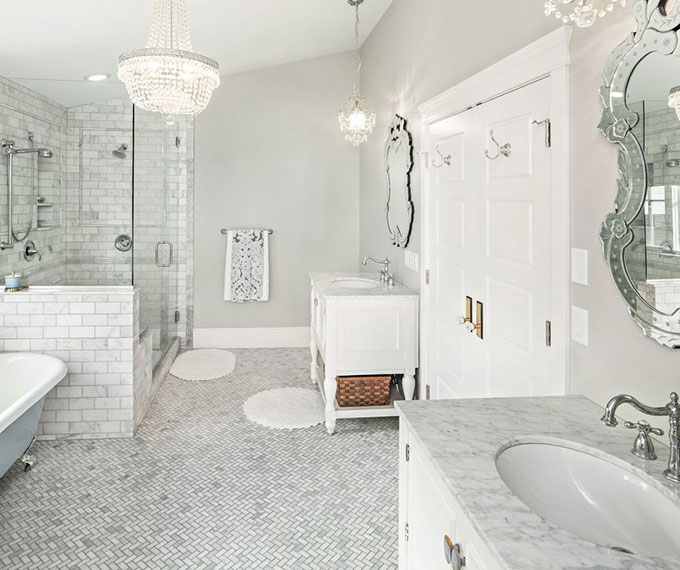 Herringbone Floor Tiles Design Ideas
Herringbone Floor Tiles is suitable for any style in any room, so you can feel free to lay it in your living room, bedroom, bathroom, kitchen, dinning room, restaurant etc. Herringbone tiles give rooms a special atmosphere that is suitable for representative areas such as galleries, but also for commercial spaces and catering areas. Hanse Herringbone Floor Tile collection offers various formats that, when put together, create a complete pattern.
The color palette of the Herringbone Floor Tile offers a flexible basis for different styles. Whether classically elegant black or enchanting light blue, the nuances can be reconciled with a wide variety of interiors.
The Herringbone Floor tiles provide creative designs, not just in a herringbone pattern. Other laying patterns also give a great look.
In combination with the hexagon tiles and other types of floor tiles, a unique floor design is created.
If the herringbone tiles are laid alternately with a matt and glossy surface, a spectacular effect is created. Discover more colors and laying examples in the product details.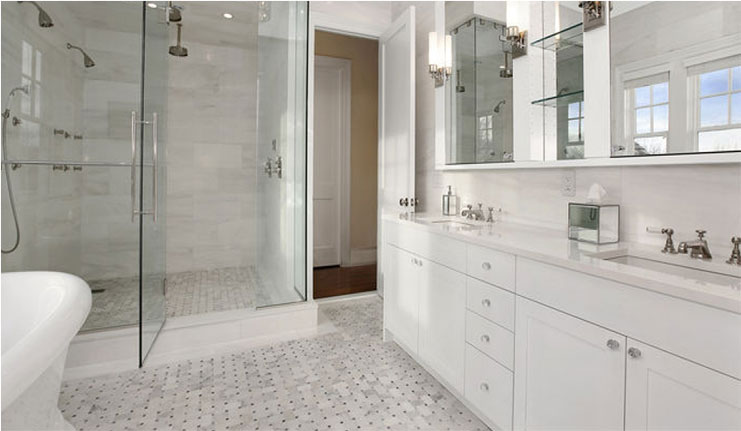 How To Lay (Install) Herringbone Floor Tiles?
In order for tiles to be laid in a herringbone pattern, preliminary considerations such as the laying direction are important.
Preparations and Considerations for Laying Herringbone Floor Tiles
Laying tiles in a herringbone pattern is not much more difficult than laying in a cross structure. In addition to some manual skills, the right preliminary considerations as below are important for success.
It should be noted that this technology creates a particularly large number of joints. Accordingly, it is advisable to plan a sufficient amount of joint material to fill in the gaps. A tile cutter is useful for trimming the individual elements.
Place The Herringbone Pattern Correctly
There are two different variants for laying floor tiles in a herringbone pattern. With the 0-degree installation, the herringbone braids are oriented parallel to two walls, with the 45-degree installation, the herringbone pattern runs diagonally through the room. With the diagonal variant, it is important to start laying in a corner.
Check the surface for unevenness and remove it if necessary.
Define a starting point according to the chosen installation variant.
Draw an orientation line on the floor.
Place the next tile on the first tile at a right angle.
Continue the started herringbone braid in the same procedure until the end of the room.
Apply tile adhesive and tap the individual tiles into position with a rubber hammer.
Cut and insert the appropriate edge pieces at the end.
Grout the individual tiles laid in a herringbone pattern and let them harden.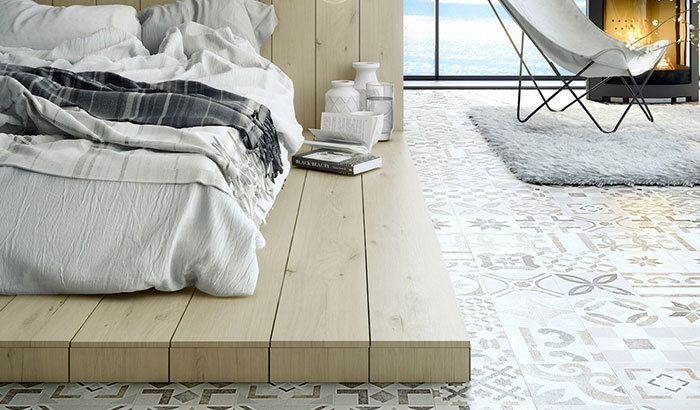 If there is any uncertainty as to which of the two types of herringbone floor tile installation works better, a drawing will help. For this, a few rows are recorded in the original format of the tiles in the 0 and 45 degree versions. A direct comparison is possible by laying out the drawings in the room.
Other Floor Tiles
Hot Products