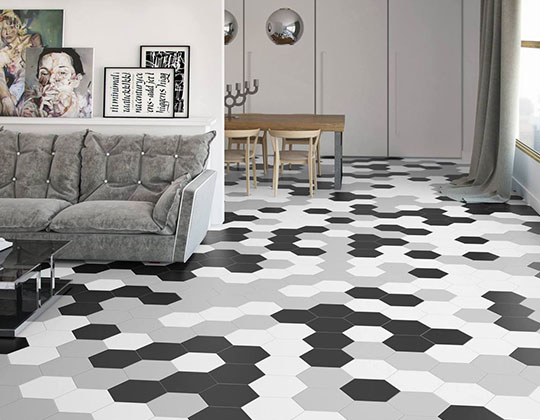 Hanseceramictile.com is one of the most reliable online wholesale hexagon floor tiles vendors in Foshan China, manufacturing high quality tiles at low hexagon floor tile prices.
Hexagon Floor Tile designs contain

4 colors

,

3 finishes

,

3 features

and

1 sizes

,

4 hexagon floor tiles

in total.
All the hot selling cheap hexagon floor tile products online are of strict quality and produced by standardization of the management.
Buy cheap Hanse hexagon floor tiles for sale to add a touch of taste and personality to your house now!
In addition, gorgeous hexagon tiles and floor tiles are available at Hanseceramictile shop. If you are looking for hexagon tiles or wholesale floor tiles designs, you are at the right place! Welcome to buy floor tiles online from China Hanse!
Hanse - the professional Foshan China hexagon tile manufacturer & supplier will continuously wok on improving the designs of our hexagon tiles to ensure that you get the best import hexagon tile products for your project!
Related Search
Hexagon Floor Tiles For Every Decor
When choosing the right floor tiles for the decoration of your living room, kitchen, bedroom, shower room even garden, hexagon floor tiles are ideal choice for an extravagant look. With high demands on exclusivity, they offer extravagance and contribute to the special look of your floors. Hexagon Floor Tiles are the right choice if you are looking for tiles for your modern home, as they can help you create an avant-garde floor with plain-colored articles. At the same time, Hexagon Floor tiles are eye-catching and enhance the space. In combination with subtle nuances such as beige, black or gray hexagon floor tiles, this results in an aesthetic look. Hexagon Patterned floor tiles in form a real work of art on your floors. they are suitable for people with the highest demands on the exclusivity and extravagance of their floor design.
See All Hexagon Floor Tiles Products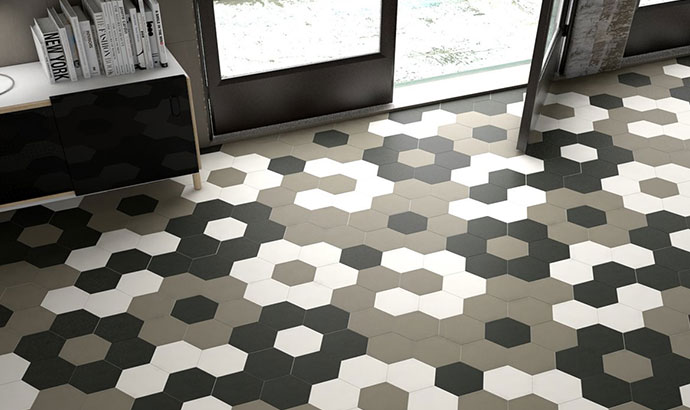 Top Quality Hexagon Floor Tiles Wholesale - China Top Floor Tile Manufacturer
Want to buy favorable hexagon floor tiles for your project? Hanse can be your best supplier for hexagon floor tiles wholesale! We are professional Floor Tile Company from China, have ability to offer cheap but quality hexagon floor tiles in stock, also can accept massive custom production! Hanse hexagon Floor tiles are suitable for various styles in interior and exterior decoration, you can pursue various design concepts here. Even more exclusivity is achieved through a wide variety of patterns and colors, which are offered in our wide range. Our hexagonal floor tiles in the form aesthetic mosaics and stand out from the classic tiles in the square. Mediterranean, classic, baroque, unusual-patterned hexagon tiles harmonize with numerous furnishing styles and make your floors an eye-catcher.
Benefits of Hanse Hexagon Floor Tiles

Wide range of Hexagon Floor Tiles in various materials, colors, patterns, sizes, styles
Our High quality Hexagon floor tiles is also suitable for wet rooms, indoor and outdoor
Satisfy customers even after years and enables easy installation
Competitive prices, custom OEM, timely delivery, and one stop service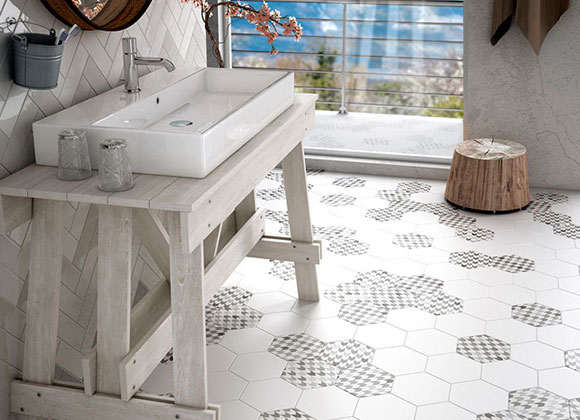 Hexagonal Hexagon Floor Tiles for Various Styles of Interior Design
Hanse hexagonal floor tiles are suitable for various styles of interior design. If you are looking for tiles for modern homes, then they are the right choice. Because even a solid-colored hexagonal floor tile can create a unique gorgeousness, placing multi-colored hexagons to form a more wirelessly possible pattern. So if you are loyal to timeless elegance and futuristic style, get monochrome hexagonal tiles. Combining nuances such as gray, black, or beige can create an aesthetically pleasing work of art, and avant-garde luxury taste can be value for money. Here you can pursue various design concepts. Mediterranean-style, classic, baroque, unusual hexagonal pattern tiles complement a variety of furniture styles to make your floor stand out.
Living Room & Bedroom Hexagon Floor
When choosing the floor tiles of your living room, hexagon tiles are suitable with an extravagant look. With high demands on exclusivity, they offer contribute to the unique looking of your floors in monotonous designs. Hexagon Floor tiles in the form aesthetic mosaics stand out from the classic tiles in living rooms, bedrooms or restaurants. Even more exclusivity is achieved through a wide variety of patterns and colors, which are offered in our wide range. In this sense, Hanse hexagon floor tiles are suitable for people with the highest demands on the exclusivity and extravagance of their floor design.
Bathroom & Kitchen Hexagon Floor Tiles
If you want to design and aesthetically pack your bathroom, we can help you. The high quality of our Hexagon floor tiles is also suitable for wet rooms, and is also popular in bathrooms and kitchens. They convey special talent in these wet areas and ensure the uniqueness of the space.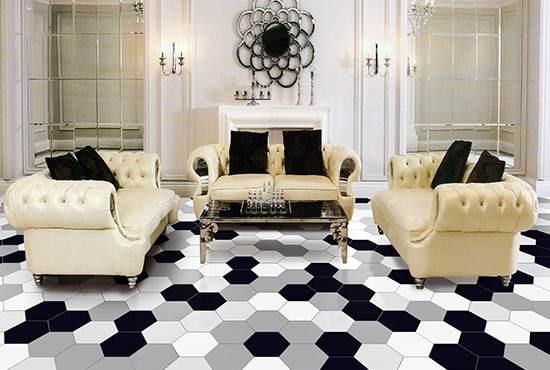 Terrace Hexagon Floor Tiles
If you have a passion for personalized design and want to design a terrace in the style of a villa, a hexagonal patterned wide area floor tile is suitable. Here they can be perfectly combined with decorative fences and elegant interiors.
Our hexagon flooring tiles ensure every area is eye-catching, and the product range is suitable for everyone because of its diversity, not only giving you a timeless look, it won't wear out even after a long time. After many years, the quality of our hexagonal floor tiles will still satisfy you and be easy to install. In addition, the product can be installed with heating under the floor, so it has the highest degree of personalization.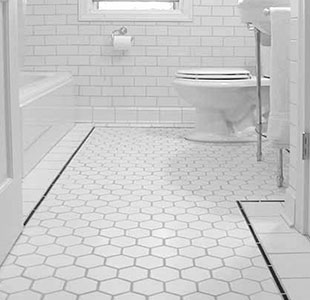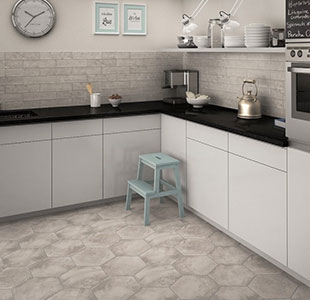 How To Install Hexagon Floor Tiles To Create Unique Style For Your Room?
Monochrome Laying - Monochrome flooring is a conservative way of laying. Not easy to make mistakes, making the space more playful and vivid.
Two-tone Laying - White and gray tiles, gray dining chair, small wood-colored dining table, warm and comfortable home screen makes you feel extra comfortable.
Gradient Hexagon Floor Tiles Laying - Selecting the Gradient Pavement will give a shiny effect, which is very eye-catching. It should be noted that the space should not be too verbose, the simpler the better.
Transitional Laying - The floor decorated with hexagonal tiles and wooden flooring makes a unique feeling. The black, white and gray tiles are matched with the original wood color wooden floor. This transitional paving not only naturally separates the dry and wet areas, but also creates a more artistic atmosphere in the space. For example, the kitchen floor is too wet, you can use hexagonal tiles, and the aisle outside the kitchen is decorated with wooden floors, the effect is really good.
Irregular Laying - Using two or more tile combinations, suitable for European or rustic style. The paving methods are more abundant, and can better accentuate the atmosphere of the space.
Patterned Laying -Incorporate bricks of different colors to inspire the infinite possibilities of hexagons, and you will get a more wonderful geometric world.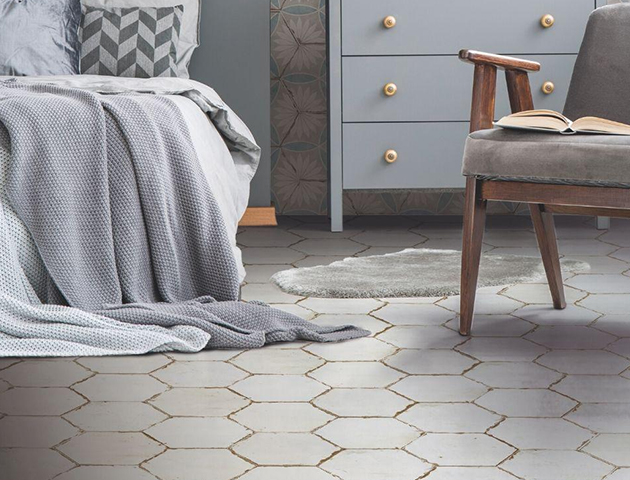 How To Clean Hexagon Floor Tiles?
Hanse hexagon floor tiles are easy to maintain and can be cleaned with basically all common cleaners, even acid cleaners will not damage them. However, learn the best home remedies and tips for cleaning floor tiles.
General Cleaning
When cleaning floor tiles, first use a broom, dustpan or vacuum cleaner to remove dust, lint and other loose dirt from the floor. To avoid leaving scratches on tiles, use a hard brush on the floor. Then put the neutral detergent in a bucket of water, and then wipe the floor with a commercially available mop or a mop with a microfiber cloth.
Natural Stone Hexagon Tile Cleaning
Never use acidic products to clean natural stone floors such as marble, slate, travertine or granite. Because natural stone contains lime that dissolves in combination with acid, it can damage the stone structure. It is recommended to use special natural stone cleaners or weak alkaline cleaners-a bit of core soap or household detergent in clean water, and then use a soft cloth to wipe away streaks, dust and other coarse dirt. Then rinse with water-and dry with a piece of absorbent cotton cloth until the floor shines again.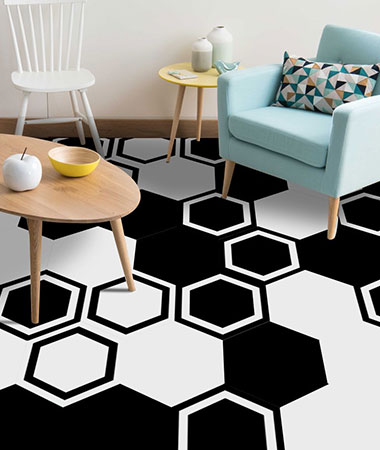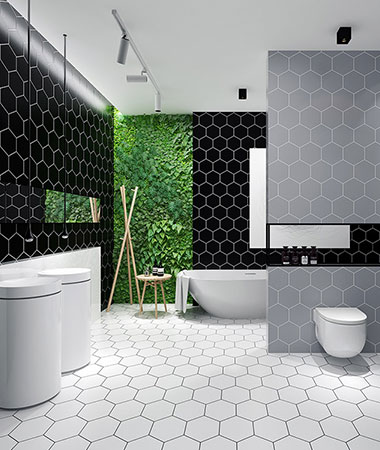 Remove Scale
If you want to remove limescale from tiles, you need something powerful. Solution: vinegar or citric acid. To do this, dilute some vinegar flavor with water or dissolve citric acid in water. Both liquids are acidic and dissolve lime. After standing for 10 to 15 minutes, wipe and dry the tiles with water.
Clean Oil Stains
If accidentally dripping grease stains are on the kitchen or dining room floor, a oil dissolving detergent is preferred. Alternatively, you can dissolve some curd soap or add some detergent in hot water. These cleaners reliably dissolve fat. Also make sure the water is hot, not just warm water!
Clean Joints
The joints between the individual tiles are made of concrete. Because it contains lime, it should be kept in contact with acidic cleaners as little as possible. You will use the clean joints that the tile likes at the same time, you go to water the only good ones. Then sprinkle regular baking powder on it and use it with an old toothbrush. After 30 minutes of contact, rinse the joints with water and then wipe them with a clean cloth.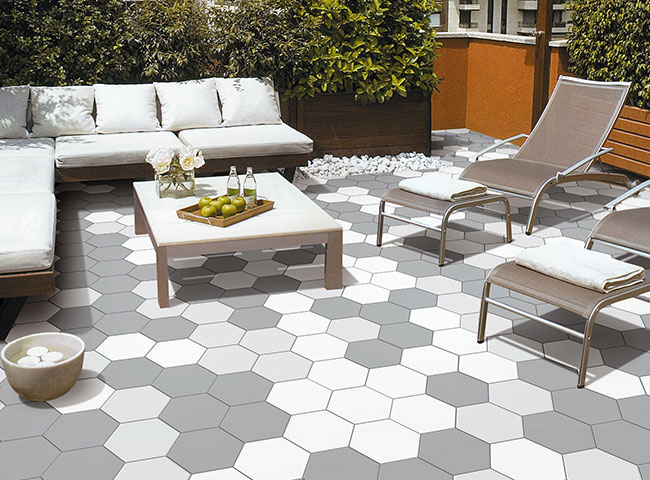 Other Floor Tiles
Hot Products