Product Details
Place Of Origin :

Guangdong,China (Mainland)

Brand Name :

Hanse

Model Number :

HZ06

Size :

300 x 300mm
Product Description
This beautiful polished marble mosaic tile 300x300mm lends a unique pattern to your floors, walls/backsplash. Each piece fits into the next like a perfect puzzle. The luxurious hexagonal pieces are sized on a mesh sheet for easy installation. This flooring option is designed with a smooth, polished finish. Offering supreme style and strength, the impervious, frost-resistant tile absorbs less than 0.5 percent of water. Perfect for some floor applications as well as a backsplash or feature wall in the kitchen, bathroom, shower and more. With its smooth, unglazed surface, beautiful light grey color and its random shade variation, this stone effect marble tile will bring warmth and a natural feeling to your house. Choose Hanse light grey marble mosaic tile 12x12inch to create natural feeling for your indoor area!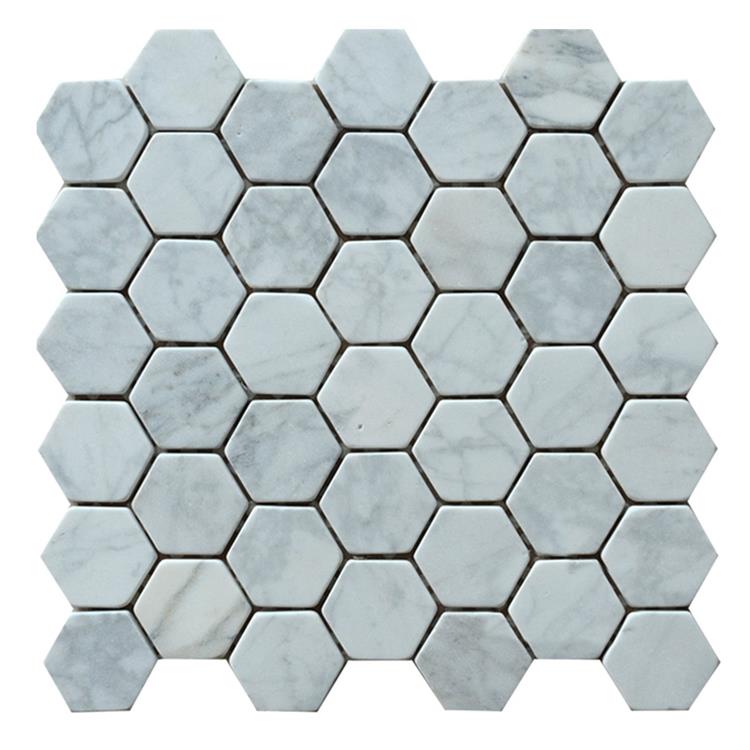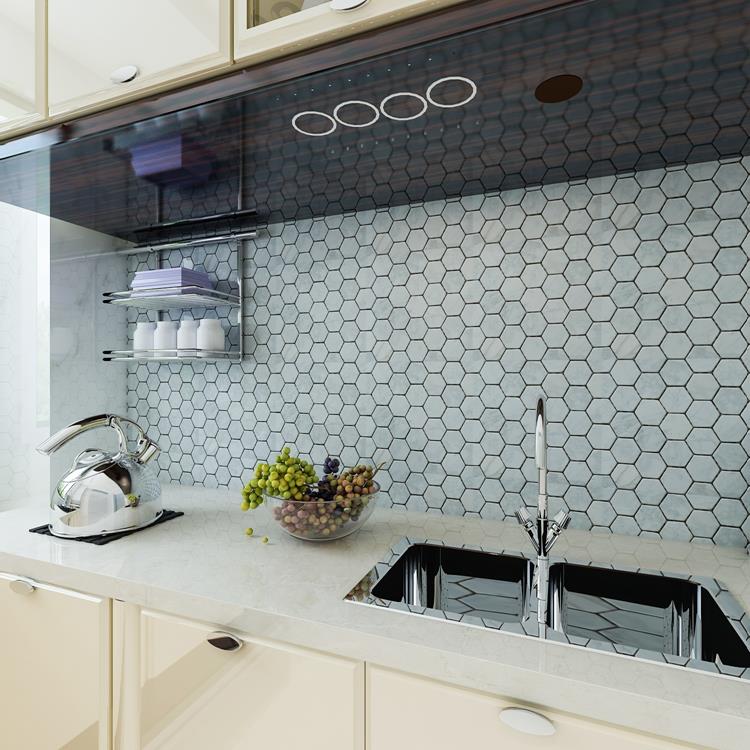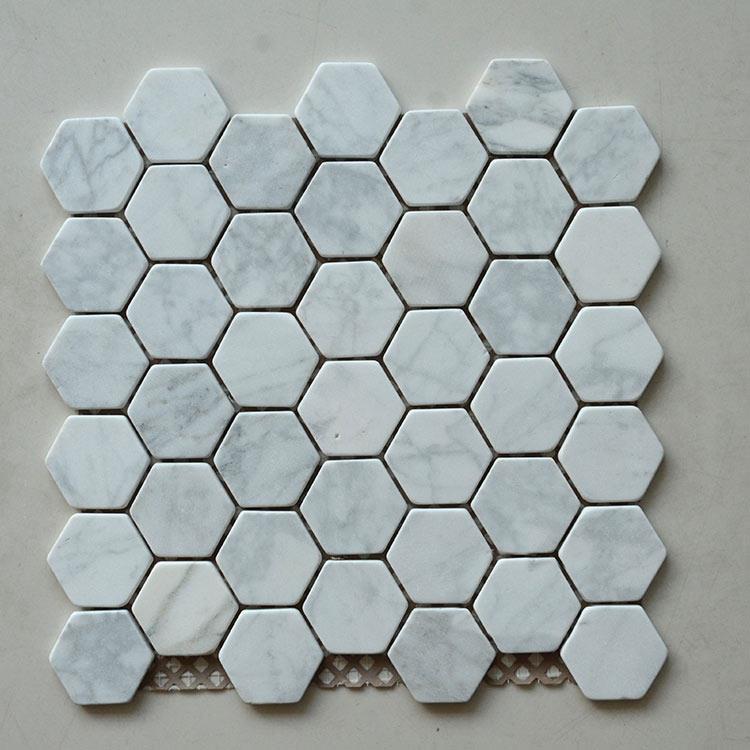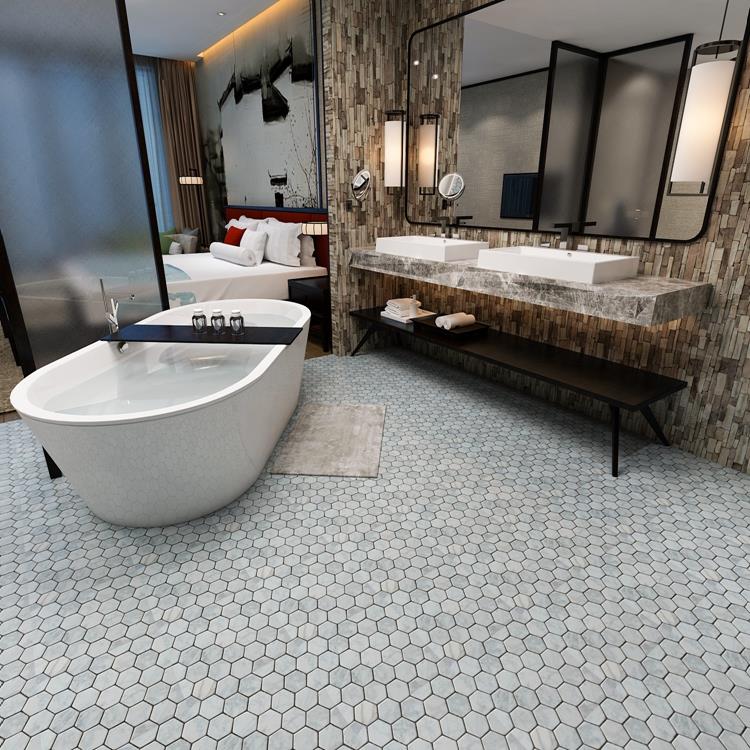 Our Services
Free Sample

Free sample order is provided, but the transportation fee should be paid by yourself. We ship the goods via Guangzhou port.

Design Scheme

We offer design scheme and effect drawing, helping you realise your vision for the most beautiful, effective and functional environments.

Product Types

Our products for sale including: bathroom accessories, sanitary ware, lamps, sockets, ceramic tiles and kitchen cabinets products.
Featured Reviews
I passed it several times, went back to see it six times, and then settled down in the shadow forest. I was afraid that it might be too dark. It would match a light gray vanity, and it would not go with the gray paint in the power room
It's hard to find dark tiles in 8x48. Read some horror stories about tile bows, but they're almost flat. There's no problem with the installation. The tiles are transparent and bright. The quality of Hanse tiles is really good! Good quality tiles, I like them very much.
The quality of tiles is very good. They have been pasted. The color is good and the anti-skid effect is good. After half a month's selection, I finally chose this house to buy. If I'm not disappointed, the color is nice and generous, and the popular high-grade ash. Each tile has excellent workmanship, smooth surface and clear lines. Even the decoration tiles have been agreed well, with high cost performance. Provide the flat house type chart to the customer service to calculate the amount of tiles, Customer service gold is really professional. The calculated amount is just good. It has been decorated. Let's have a picture for reference. The family is satisfied. It's worth recommending!
The first online purchase of ceramic tiles, the quality is not to say, very durable, the seller's service is very good, in a word, very satisfied. The quality is very good, super thick, much cheaper than other brands of tiles, guaranteed.
Here's the tiles! The quality is very good, Hanse's service attitude is good and special, and the packaging is also very attentive! It's worth buying. The quality of tiles is very good. The packing is tight and undamaged. Hanse's service attitude was also very good.
This is my first time to use larger tiles. It has a good separation effect with 1 \ / 8 ". For large tiles, it is important to make sure that the floor is completely flat, otherwise you will need to use a thick thin layer in some areas
I read every comment and was able to get a fantastic floor design, similar to slate or natural stone as realistic as possible, I also used brick / lining design, but used Mocha grout for a beautiful appearance
Tilers always praised that the price can buy the quality too much, the budget for decoration is limited, the price is not expensive, and the quality is a bar drop! All the tiles in the whole house have bought this one. The big brand really has quality assurance!!! And the delivery is also super fast, a day in advance call notice, customer service thoughtful patient answer all questions, high evaluation!!! The tile packaging is good and undamaged. It's the same as the seller's description. It's a pleasure to shop.
In my kitchen, the end result is a beautiful, rich palette, which offsets the boring white cabinets above the tiles. I'm really happy with this tile, because it adds a complex but interesting aspect, a beautiful vanilla kitchen
The quality is very good, the price is affordable, much cheaper than other brands of ceramic tiles, the hardness is very good, the quality of ceramic tile package is very good, the workmanship is very fine, the style is good, the package is tight, there is no damage and the logistics is very fast.
Load More
All Colors
Related Products
Products you may be interested in