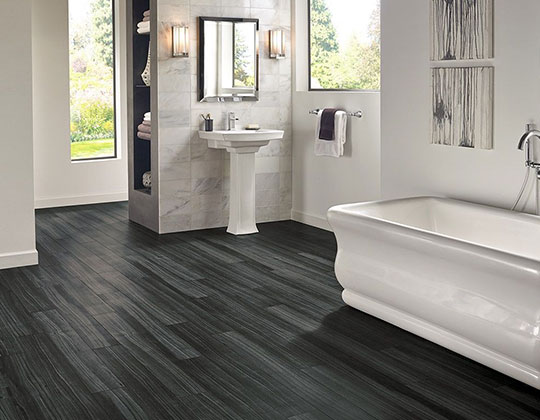 Hanseceramictile.com is one of the most reliable wholesale black wood look tiles vendors in Foshan China, manufacturing high quality tiles at low black wood look tiles prices.
Black Wood Look Tiles designs contain

3 colors

,

2 finishes

,

2 features

and

1 sizes

,

1 black wood look tiles

in total.
All the hot selling cheap black wood look tiles products are of strict quality and produced by standardization of the management.
Buy cheap Hanse black wood look tiles for sale to add a touch of taste and personality to your house now!
In addition, gorgeous black tiles and wood look tiles are available at Hanseceramictile shop. If you are looking for black tiles or wood look tiles designs, you are at the right place!
Hanse - the professional Foshan China black tile manufacturer & supplier will continuously wok on improving the designs of our black tiles to ensure that you get the best import black tile products for your project!
Hot Products
Related Search
Looking to bring your living room, bedroom or patio, garden a sense of retro and elegant? Whether you are finding industrial chic or ravishing retro, Hanse enormous range of beautiful and durable black wood porcelain & ceramic tiles offer the perfect the way to make your space distinctive. Buy our vast selection of black tiles that looks like wood for floor/wall - available in all shapes, sizesm and styles to renovate your house!
Why Choose Black Wood Look Tiles For Floor & Wall
Black color is no longer the dark and cold representation of the past. It's now become the fashion color that will never lose. It's not only used in our clothing, it's also widely used for floor & wall decoration. The appearance of wood look black tiles greatly satisfy people's need for dark color tone in home decoration. They are very suitable for home environment with extremely good illumination. They can set off the white walls to be more holy, and can also set off the bright and full colors in the room to be more vivid. The natural texture stripes of black wood effect tiles present the beauty of rigidity, with bold and mysterious personality. It is mostly used in bathrooms and bedrooms and can produce strong cleaning effect.
See All Black Wood Look Tiles Products
Features & Advantages Of Wood Look Tile With Black Color
Low water absorption for indoor and outdoor use and is frost resistant
Easy to clean, no special cleansers needed
Wear resistant, acid and alkali resistant
Moisture-proof, colorfast
Comfortable and beautiful, with excellent elasticity
First-quality wood like tile for commercial and residential floor and wall use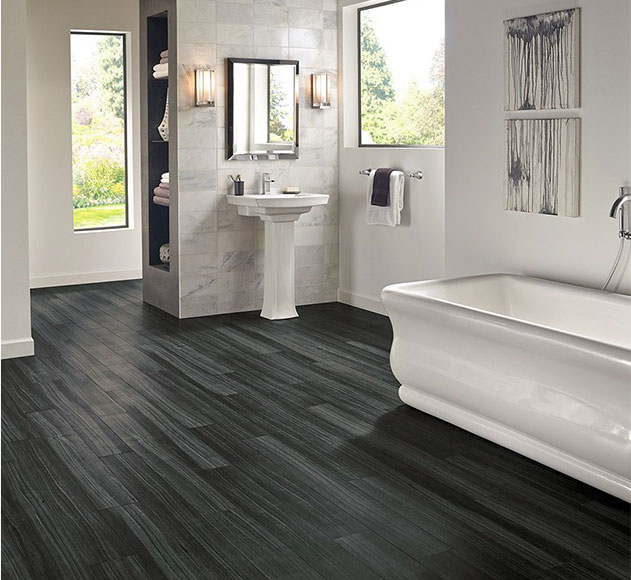 Black Wood Tiles Design Ideas - How To Decorate Your House With Black Woo Tiles Floor & Wall
Modern bedroom with black wood tiles floor:
The bedroom is a place to rest. If the color is too deep, it will be oppressive and affect sleep. Some large areas of white will be simple and generous, without losing the feeling of modern fashion. It is suggested to paste a light gray wallpaper with dark lines on the background wall at the head of the bed, so that if there is an excessive connection, it will not feel that black and white are independent of each other.
Luxurious and elegant:
Large area of black makes the living room a little darker, with more bright white curtains, although the color is monotonous but fashionable and luxurious. Black cabinet door board matches white mesa, add silver droplight, simple, fashionable and full of modern feeling. Black wood floor with white sanitary ware, plus black wood lockers, elegant temperament.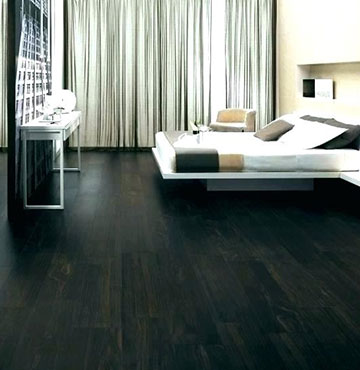 Ultra-minimalist:
The whole house is designed in a very simple way, with few furniture to make it look empty. The cabinet of cooking area can choose the same black as wood like floor, and the doors and windows are painted white. The collocation of black and white, not boring at all.
Buy Black Tiles With Wood Grain Online - China Best Black Wood Tiles Manufacturer Hanse
If you are looking for a way bring old-style charm to your floors or walls, Hanse black wood look tile is the perfect choices, which can brings a touch of contemporary industrialism. Our black ceramic & porcelain tile that looks like wood comes in a wide range of sizes, finishes and shapes. Easy to clean and maintain, perfect for both indoor and outdoor areas. From a style perspective, our dark and black wood effect tiles also can be incorporated within a range of home design themes, from traditional farmhouse style kitchens to contemporary open plan living spaces.
Why Order With Hanse Wood Black Tile Flooring & Wall
At Hanseceramictile shop, we understand that the right tile has the power to make any interior and exterior design project a stunning success. That's why we have a wide range of wholesale wood like tiles black in different sizes, finishes, shapes and patterns for you to select. With so many variations, you're guaranteed to find the perfect product for your interior/exterior tile project. Our commitment remains to provide our customers for best ceramic & porcelain wood look black tiles prices. Each hot sale black tile with wood effect complies with international quality standards to ensure that we only offer the very best.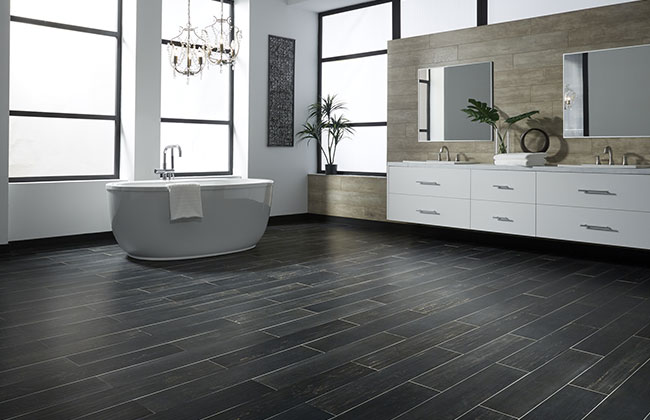 Other Black Tiles
Other Wood Tiles