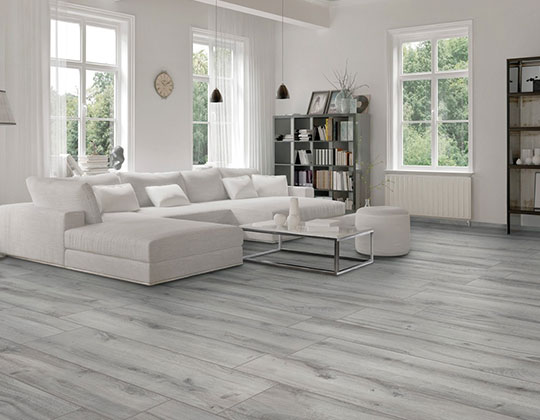 Hanseceramictile.com is one of the most reliable wholesale grey wood effect tiles vendors in China, manufacturing high quality tiles at low grey wood effect tiles prices.
Grey Wood Effect Tiles designs contain

6 colors

,

2 finishes

,

2 features

and

4 sizes

,

18 grey wood effect tiles

in total.
All the hot selling cheap grey wood effect tiles products are of strict quality and produced by standardization of the management.
Buy cheap Hanse grey wood effect tiles to add a touch of taste and personality to your house now!
In addition, gorgeous grey tiles and wood effect tiles are available at Hanseceramictile shop. If you are looking for wholesale grey tiles or wood effect tiles designs, you are at the right place!
Hot Products
Grey Wood Effect Tiles - Grey Tiles That Look Like Wood
Grey wood effect tile is a hot seller on the market, it has lifelike texture, fresh and smooth lines are similar to the pattern of solid wood, which imitates the fine grain of the wood, in line with the modern people's pursuit of nature. Grey wood look tiles are also more durable and more affordable than wooden tiles, cheaper materials, high hardness, long-term wear-resistant, colorfast, waterproof, no fading, non pollution, easy to clean and care. Wood like tiles in grey increase elegant shades of wood, easy to match inside and outside design, and need less maintenance than white tiles.
See All grey wood effect tile Products
Why Choose Grey Wood Look Tiles?
- Natural wood tones and realistic veins, textures
Cozy, relax, and warm effect throughout your room
Lower maintenance than real wood tile
Combines appearance of wood and durability of modern tiling
Resistant to water, scratches and wear
Unique design and textured finish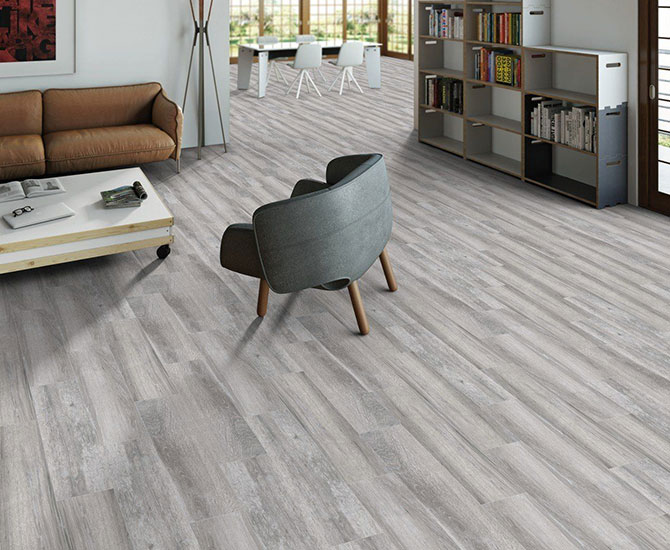 Grey Wood Look Tile Designs & Ideas
Rustic bathroom: Cover the wall from top to bottom with grey wood look ceramic tile in your bathroom, to create a rustic look.
Staggered pattern: Wood-like tiles installed in a staggered pattern with grey and other random colors are popular in living room flooring.
Chevron parquet pattern: Grey wood effect tiles in strips can create chevron parquet pattern with a rustic and creative look.
Mimicking: You can apply the shades and textures of wood look tile mimicking the decorated bedroom headboard.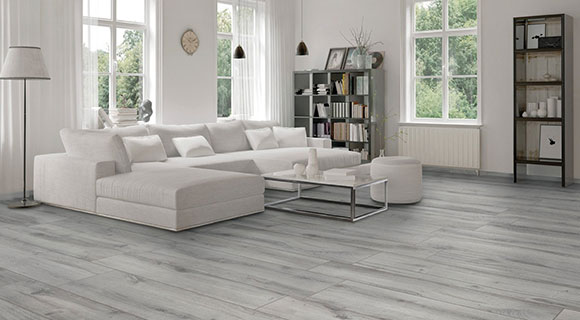 How to Choose Best Grey Wooden Effect Tiles?
Wooden effect tile is a kind of tile with wood texture, which is a very popular flooring tile decoration at present. In order not to regret after installing, it is very important to choose a good product.
Less texture: The texture of every wood effect tile is different, high-end wood look tiles often have less texture and the decoration effect is better, and more closer to nature.
Design: When selecting the gray wood like tiles, observe the design and style of the product. The good design can change the sense of your space and adds value to your room.
Technology: The manufacturing process and method are also important, know about the production technology and material, you can have a better knowledge of its properties. The products manufactured by skilled and advanced technology will have a better effect and performance.
Touch: We also need to touch the tile with our hands, the high-end wood effect tiling product can even feel the bumpiness close to the log, and the textures on it.
After-sale service: It's important to buy cost-effective tiles, but the after-sales service need to be considered as well. When we buy grey wood effect tile, ask the sales staff problems about product your interested in and its after-sales service. Hanse offers online customer service for instant communication with customers.
Final decoration effect: When selecting grey wooden like tiles, you can check out the decoration effect showing image, is it the same as you think? Does it match your room furniture? Then determine if to buy it according to the actual effect.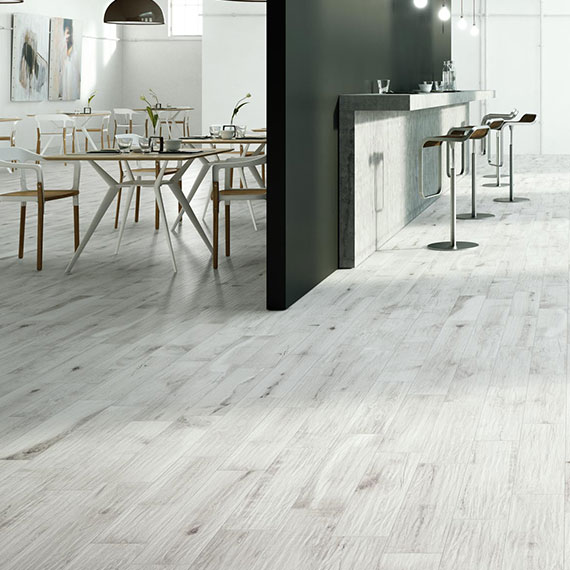 Buy Grey Wooden Effect Tiles - Top China Gray Wood Like Tiles Manufacturer
Hanseceramictile.com is engaged in tile production for years, we are offering a wide range of grey tiles with wood theme, our grey wood effect tiles comprise natural wood appearance and modern porcelain and ceramic tiles features, enable you to create a long-lasting genuine wood look with lower cost and practical benefits. Hanse Grey wood like tiles available in standard or customized sizes, glossy, glazed, polished or matte finishes, and varying materials. Choose our grey wooden effect tiles to present a timeless character in your bathroom, kitchen, living room, throughout the space.
Our Range of Grey Wooden Effect Tiles
Hanse is experienced at manufacturing light grey and dark grey wood look tiles in different materials, textures, sizes, finishes and applications.
Materials: ceramic, porcelain, etc.
Sizes: 150 x 600mm, 150 x 800mm, 200 x 1000mm, 150 x 900mm, etc.
Finishes: glazed, polished, matte, glossy, etc.
Applications: bedroom, living room, bathroom, kitchen, office, outside, etc.
Why Choose Hanse Grey Wood Effect Tiles

Waterproof, anti-fade, no mildew, no moth
No cracks, stain resistant, easy to clean and wipe
Hard wearing, not easy to scratch and break
Anti-slip, easy to walk with on wood effect floor tiles
Vivid, realistic, and textured traditional wood grains
Other Grey Tiles
Other Wood Tiles