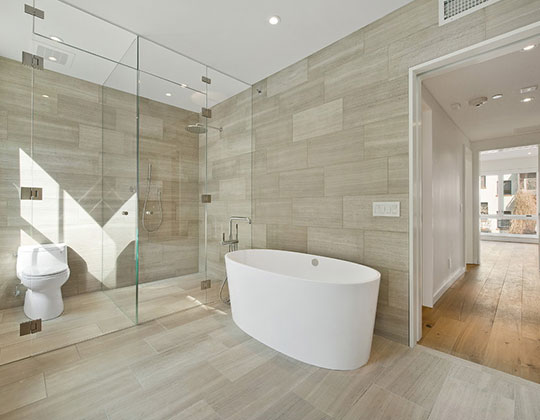 Hanseceramictile.com is one of the most reliable wholesale wood look bathroom tiles vendors in Foshan China, manufacturing high quality tiles at low wood look bathroom tiles prices.
Wood Look Bathroom Tiles designs contain

8 colors

,

3 finishes

,

2 features

and

5 sizes

,

26 wood look bathroom tiles

in total.
All the hot selling cheap wood look bathroom tiles products are of strict quality and produced by standardization of the management.
Buy cheap Hanse wood look bathroom tiles for sale to add a touch of taste and personality to your house now!
In addition, gorgeous wood look tiles and bathroom tiles are available at Hanseceramictile shop. If you are looking for wood look tiles or wholesale bathroom tiles designs, you are at the right place!
Hanse - the professional Foshan China wood look tile manufacturer & supplier will continuously wok on improving the designs of our wood look tiles to ensure that you get the best import wood look tile products for your project!
Hot Products
Related Search
Wood look tile gives a beautiful, organic, and unique look to home design. For durability and resistance to moisture, it's a fantastic option for bathroom floors and shower walls. With Hanse's wide range of superior quality cheap wood look bathroom tiles, nature lovers come at your cost!
Wood Tiles Bathroom - Why Choose Wood Look Tiles In Bathroom
Thanks to the state-of-the-art wooden tiles, we create a warm atmosphere and thus neglect the comfort in bathroom with wood planks. Instead of swelling like prolonged contact with water like wooden floors, wood effect tiles for bathroom wall/floor are insensitive to moisture. Ceramic & porcelain tile that looks like wood is resilient, water resistant, and so similar in appearance to the real wood, are therefore suitable for inner wet place and outdoor use. Wood like tiles give the bathroom the warm charm of a wooden floor.
The benefit to install porcelain wood look tiles in bathrooms is the ease of cleaning and maintaining it. No resurfacing, refinishing, waxing, or shining is required. Wood effect bathroom tiles also offer a unique opportunity to incorporate natural textures into your bathroom - something that would be impossible with natural wood floors, which are susceptible to water damage.
See All Wood Look Bathroom Tile Products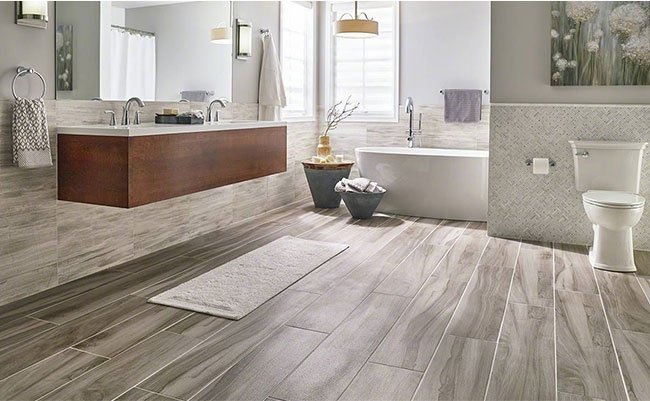 Bathroom Wood Tile Design Ideas
Retro bathroom flooring with wood like tile:
Retro bathroom features a reclaimed wood floor that adds to the aged style of the space. It adds warmth in contrast to the cooler grey subway tile and modern frameless shower, bringing a wonderful balance to the whole room.
Natural bathrooms with wood like tile wall:
Embrace nature with a stunning new look in your bathroom using gorgeous wood-effect tiles on floors and walls. Whether you go for washed out greys paired with antique furniture or warm browns on walls that are complemented with green foliage, pulling off a natural aesthetic in bathrooms is a breeze.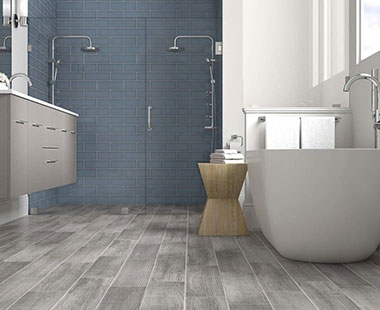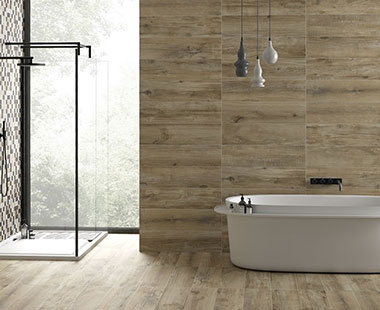 Classical style:
There's nothing like a traditional bathroom with classic feeling. Choose medium-tone bathroom wood tile flooring, match with the white and beige paint, the pedestal tub, and the marble countertop. The warm, beautiful wood effect floor brings it all together to make for a relaxing bathroom/shower space.
Shabby chic bathroom with wood tile flooring:
With prefinished wood effect tile flooring, wood wall decor and freestanding tub painted to look like oxidized copper. Choose the wooden separator screen pulls the whole together by providing privacy and adding style to the space.
Larger floorboards bathroom:
Large format Shower wood look tiles offer a cool and contemporary finish - ideally suited to neutral and earthy colour schemes in bathrooms. Available in three popular colours - pale white, sleek grey and dark brown - you can create an impactful wood-effect tiles bathroom that are incredibly easy to match up with your existing home decor.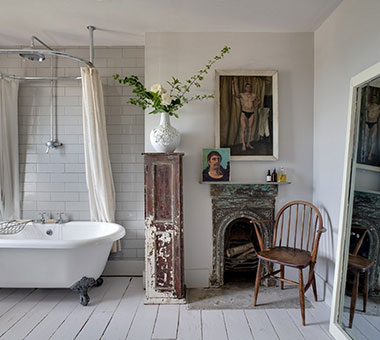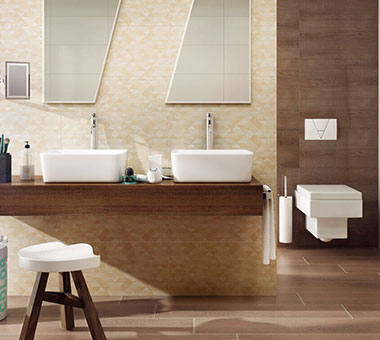 Best Wood Look Bathroom Tiles Wholesale - Buy Cheap Bathroom Wood Tile Online
Hanse wood bathroom tiles for wall/floor create the perfect and comfortable bathroom for you to relax your body and mind. Our extensive range of bathroom tiles in wood look is a perfect alternative. Hanse bathroom wood look tile series inspire on the one hand with their wonderfully natural appearance and, thanks to their insensitive material, are used as tiles for the bathroom (shower) more and more common use. So if you want to give your bathroom a touch of nature, when choosing the bathroom tile, there is no way around Hanse wood effect shower tiles.
Why Choose Wood Bathroom Tiles Hanseceramictile?
Great quality, durable, versatility and great performances
nsensitive, non-slip and easy to clean, install, and maintain
Factory direct prices, cost-effective OEM production
Warmly instant service and timely delivery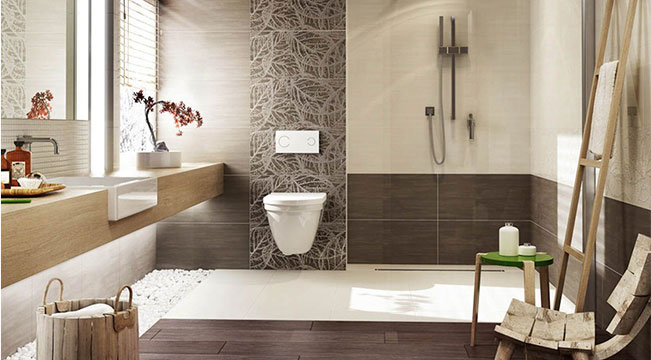 Other Bathroom Tiles
Other Wood Tiles