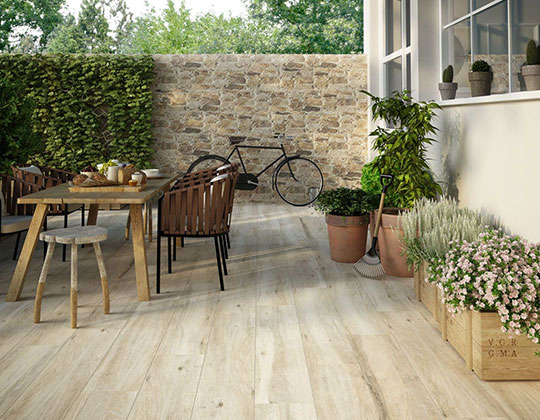 Hanseceramictile.com is one of the most reliable wholesale outdoor wood look tiles vendors in China, manufacturing high quality tiles at low outdoor wood look tiles prices.
Outdoor Wood Look Tiles designs contain

8 colors

,

3 finishes

,

2 features

and

6 sizes

,

29 outdoor wood look tiles

in total.
All the hot selling cheap outdoor wood look tiles products are of strict quality and produced by standardization of the management.
Buy cheap Hanse outdoor wood look tiles to add a touch of taste and personality to your house now!
In addition, gorgeous outdoor tiles and wood look tiles are available at Hanseceramictile shop. If you are looking for wholesale outdoor tiles or wood look tiles designs, you are at the right place!
Hot Products
Wood Effect Outdoor Tiles For Gardens, Patios
Due to a lot of natural and environmental factors of outdoor areas, it's difficult to choose the floor and wall materials. If you want to get closer to nature, how can you satisfy the beauty and durability under the protection of better use and maintenance? Wood look tile is a good choice. Quiet outdoor garden, matched with ceramic/porcelain wood effect tiles, brings us the beauty of natural creation. Most wood effect tiles for outdoor space are resistant to loads and wear, waterproof, frostproof, anti-slip and resistant to stains and chemicals. Moreover, even if exposed to the sun and to the weather, its' colors do not fade over time.
See All Outdoor Wood Look Tile Products
Why Choose Wood Tiles For Outdoor Space
Excellent physical properties
Wear-resistant, chemical corrosion-resistant
Durable, sun and rain-resistant, waterproof, high-density
Beautiful appearance with realistic texture, brings outdoor space a sense of nature
A variety of colors, styles, textures or designs to choose from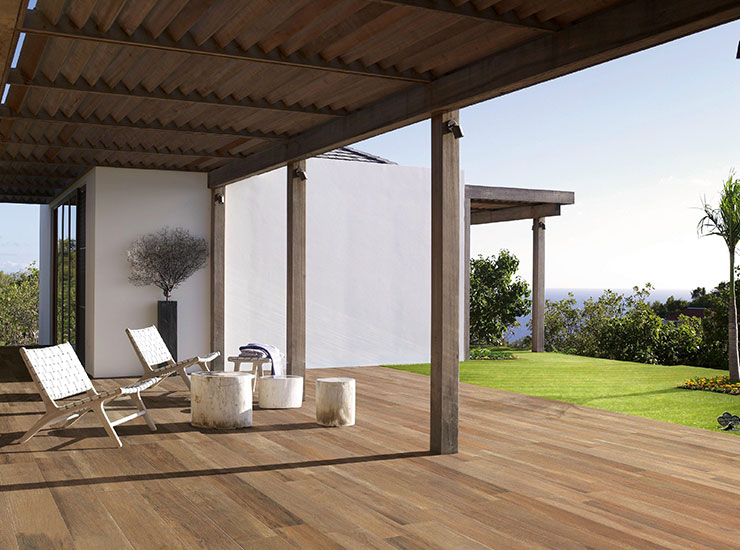 Outdoor Wood Like Tiles Ideas - How To Use Wood Look Tile For Your Outdoor
Outdoor garden wood tile:
The quiet outdoor garden, matched with lifelike porcelain/ceramic wood like tiles, brings the natural beauty. Walk into the garden full of birds and flowers with light steps, appreciate the vitality under the bright sun, taste the freshness overflowing in the morning! The environment space that advocates nature and returning to nature is what everyone yearns for!
Outdoor wood like tiles hallways floor:
As the thoroughfare in many modern homes, the hallway sees its fair share of footfall, so it pays to give it some much-needed TLC with a flooring solution that's hard-wearing, durable, easy to clean and impossibly stylish. With wood look floors well-protected with scratch and water-resistant tiles, you can focus on creating a welcoming space to ensure your home always makes a good first impression.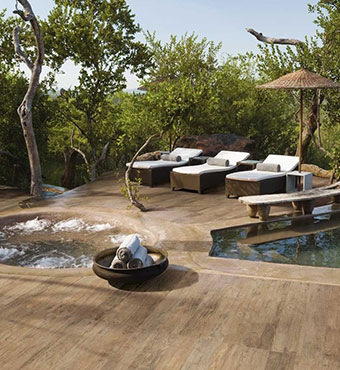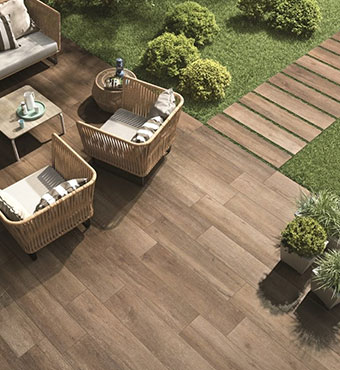 Outdoor balcony tile with wood effect:
As a high-quality substitute for wooden floor, outdoor wood effect tile not only has comfortable and natural wood grain texture, but also is waterproof, anti-slip and anti-corrosion. It is also very convenient for daily care and maintenance. The wood like tile flooring immediately fills your balcony with the flavor of nature. In addition, different colors of wood like tiles for outdoor balcony can also create different styles.
Outdoor patio with wood effect tile floor:
Whether you want to embrace the transterior trend and create a seamless flow from inside to outside (with the same tiles used in both areas) or you're looking to spruce up a tired patio Hanse outdoor wood tiles floor are functional, stylish and incredibly versatile.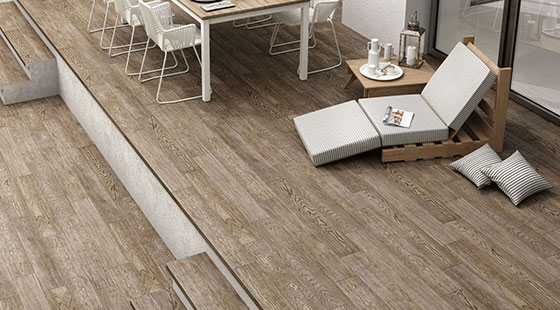 Outdoor Wood Look Tiles Maintenance - How To Take Care Of Wood Outdoor Tiles
If there is any stain on the outdoor wood look tiles floor or wall, it should be cleaned in time. Wipe the tiles with the special detergent.
Generally, good quality tiles are easy to get scratches. After scratches, we can use toothpaste and soft cloth to wipe them, and they will recover gradually.
When cleaning the wood like exterior tiles, you can put some detergent, soap, etc. to keep the tiles bright. Can make tile cleaner and brighter. For the more valuable tiles, it is recommended to wax the polished tiles regularly within 2-3 months. In addition, pay attention to daily cleaning, when common household detergent and soapy water are used for cleaning and maintenance.
We can choose the way of water immersion, and then use a soft brush to gently brush, instead of using sharp things such as wire balls for destructive cleaning. At the same time, we must dry immediately after cleaning, do not leave water stains, so as to maintain the long-term and new outdoor ceramic wood look tiles.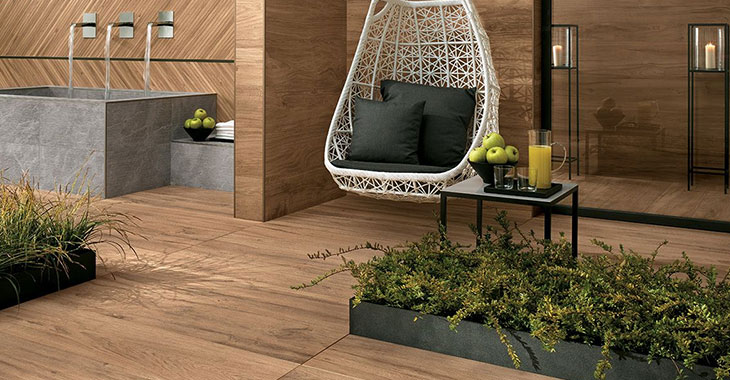 Buy Wood Tiles For Exterior Floor & Wall - Best Outdoor Wood Look Tiles Manufacturer & Supplier
As a popular and practical material, the wood look tile is not only suitable for indoor area, but also suitable for outdoor spaces. Hanseceramictile.com specialized in selling cheap wood look tiles for outdoor areas such as garden, Balcony, terrace, atrium, etc. All the outdoor tiles with wood effect are made from high quality materials to achieve a natural and authentic appearance. You can choose different colors, finishes and styles of wood look tiles for installing your garden or balcony floor & walls, making your outdoor garden a simple and peaceful space.
Our Range Of Wood Look Tiles For Outdoor - Sizes, Shapes, Colors
Hanse wood effect exterior tiles come in various colors from white, grey, black, to brown and beige. Sizes range from 300×300mm all the way to 600×600mm. You'll find ample choice when it comes to outdoor wood look tiles in various shapes - with traditional rectangular tiles available, as well as offbeat hexagonal tiles and the classic metro tile. Metro wood like tiles evoke the cool, retro aesthetic of London and New York's underground stations while introducing some functional style to any outdoor space.
Why Order With Hanse Wood Look Outdoor Tiles?
At Hanseceramictile, we understand that the right tile has the power to make any exterior design project a stunning success. That's why we have a wide range of wholesale exterior tiles with wood look in different colors, sizes, shapes and finishes for you to select, meaning you're guaranteed to find the perfect product for your tile project. Our commitment remains to provide our customers for best wood look outdoor tiles prices. Each hot sale outdoor tile that looks like wood grain complies with international quality standards to ensure that we only offer the very best.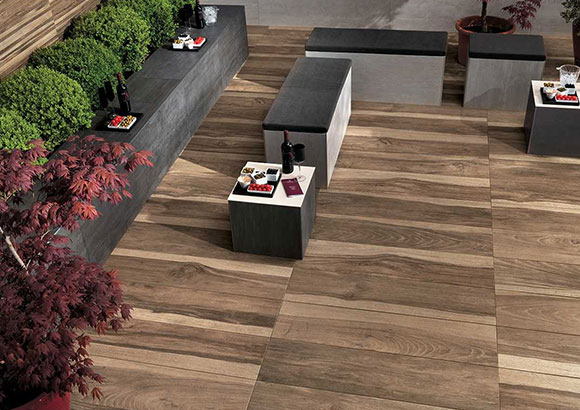 Other Outdoor Tiles
Other Wood Tiles