Product Details
Model Number

SR-C10009

Cri(Ra≫)

80

Certification

ce

Lightsource

LED

Cri

93+

Brand Name

HANSE

Brandname

HANSE

Power

5/7/9W

Installstyle

Embeded

Warranty

elegant

Inputvoltage(V)

170-250V

Place Of Origin

Guangdong

Province

Guangdong

Application

WAREHOUSE

Colortemperature(Cct)

Warm White

Feature

Hotels etc.

Itemtype

ceiling lights

Lampbodymaterial

aluminum alloy

Beamangle

15/24/36 Degree

Applicationplace

Commercial shops

Productname

modern ceiling led light
Product Description
LED ceiling lamp can be adjusted according to different places of projection light. With aluminum in both lighting design, no glare and high efficiency at the same time, the structure characteristics and design technology of classic implicit combined with optical, create elegant, exquisite, romantic, home furnishing lighting space.

About us
Hanse light is a professional manufacturer of Led lighting specialized in development, design, production and export marketing. Our main products are the crystal chandelier, LED lamp, pendant light, ceiling light, modern lamp, hotel project lighting, wall lamp, table lamp and floor lamp, wedding decoration, home decoration etc. We adhere to conforming to high-quality standards. We have had achieved the CCC certification by ensuring our operations and processes strictly follow and comply with the ISO 9001 quality management system.

1. Are you factory direct?
We are as a professional led lighting manufacturer, specialize in ceiling light, down light, surface mounted down light, grille light, track light. Our products are mainly exported to Europe, South America, and some other countries and areas.

2. Do you have a special price and service for wholesale?
Hanse is keeping search a long term business cooperation with our clients, as a professional led lighting manufacturer, we fully support and assist on service, to offer you the most competitive price with high quality product is our responsible.

3. What payment methods can I use? And how secure is my payment?
Accept your payment through Bank Transfer, Western Union, LC, etc.

4. How long does it take for my order to be shipped? And how long can I receive it?
Generally, your order will be shipped within 7-18 working days after your payment received by us. We devotes to be a fastest delivery led lights supplier.

5. How about the warranty?
We offer 2/3/5 years warranty. All products are gone through strict test by our experienced QC before shipment. During in warranty time, if any quality problem, we will be fully responsible for it.

6. How about the after sale service?
Welcome you to contact us at 24 hours per day, 7 days per week, any question will be highly appreciated.

About Hanse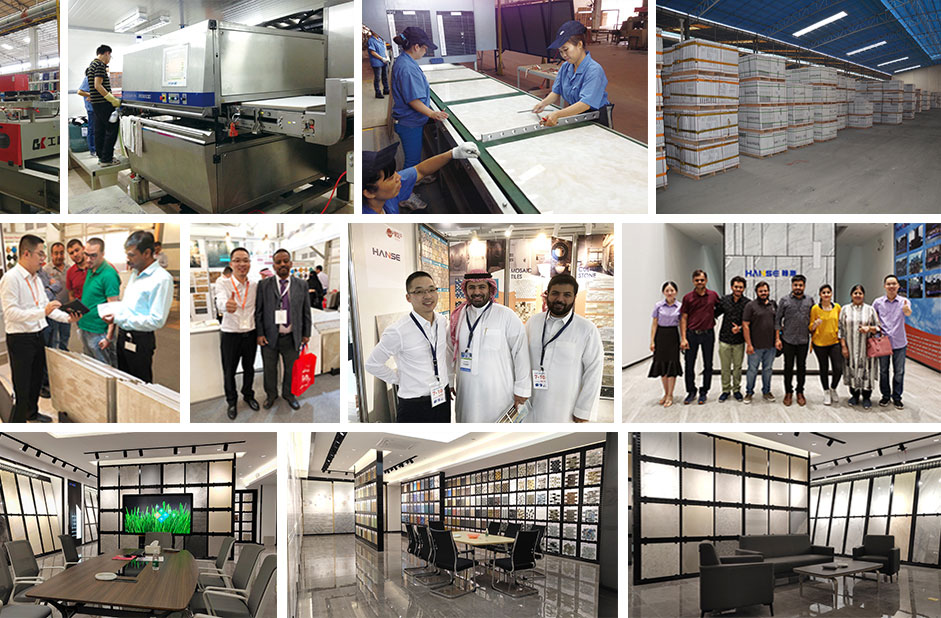 Our Services
Free Sample

Free sample order is provided, but the transportation fee should be paid by yourself. We ship the goods via Guangzhou port.

Design Scheme

We offer design scheme and effect drawing, helping you realise your vision for the most beautiful, effective and functional environments.

Product Types

Our products for sale including: bathroom accessories, sanitary ware, lamps, sockets, ceramic tiles and kitchen cabinets products.

Online Showroom

For more products please feel free to contact us. We accept online video chat that(whatsapp/wechat: +13927765473) you can get closer to visit our showroom and we'll show you all of our ceramic tiles, switch & socket, lighting, sanitary ware, bathroom products and cabinet products.
Featured Reviews
The ceramic tile packaging is very good. Unlike other miscellaneous brands, it has been pasted and has not been cleaned. The gray ceramic tile is very bright. The whole bathroom is very bright. The ceramic tile is very good and the quality is good. Thank you.
The decoration at home is basically bought online, ranging from electrical appliances to decoration tiles. The same brand and style, the same quality, many price concessions, the appearance of tiles is good, and the hardness is also very good. When the trim corner needs to be cut, it won't be as easily broken as other materials, which is very satisfactory.
I think the biggest challenge is to get a clean cut on the back panel glass and metal, because our installation personnel initially encountered problems in getting a clean cut, the end of the cut is a bit zigzag, I am also worried about any type of repeat mode, but he has done a good installation, so I did not notice any setting mode
christian muiños lusquiños
The first type of the product is recommended, purchased and purchased.
Tile floor tiles are in place. Tiles said that the quality is very good, the color specifications are very standard, the packaging is also in place and there is no damage. Overall, I am very satisfied that the specific visual effect can only be known after completion. The tile shop delivered goods very quickly, the package was tight and there was no damage. It was shown to the Tilers that the quality was very good and the price performance was very high.
Ceramic tile terrazzo has good wear resistance. It looks high-grade and endurable. Received the logistics very fast, the packing is very solid. Tile side looks very thick, bright and transparent surface, tested anti-skid and wear resistance are very satisfied, installed to look very tall.
Ceramic tile packaging is very fine, the color is good-looking, there is no color difference, very good! For the new houses built for my hometown in the countryside, my hometown is quite partial. I thought that the tiles would only be delivered to the town at most and then I would pick them up by myself. As a result, they were delivered to the construction site directly, which is very gratifying. The house was built for the parents of my hometown and some elder brothers and sisters. The parents have been thrifty and thrifty. They say that it's OK to live in a house. The decoration is not too good and money is wasted. Some friends who do business together say that it's cheap to buy these decoration materials from the Internet. They can see that they are really much more favorable than the market of building materials. Now the decoration effect is very good On the grade, the bathroom and living room are antiskid, poured water, antiskid effect is very good. Cheap and good-looking.
Tile style good-looking, good-looking design, fast logistics, the seller's service is very good, installed! Beautiful high-end high-grade, the price is much cheaper than other brands of ceramic tiles, and the effect is better, cost-effective is very high!
Very good material, good lighting, good quality, good customer service.
Lighting packaging is very good, there is no damage, and every detail of the process is very good. Today, we asked the assembly workers to press the installation and test the light. The lighting is good. We have time to evaluate it today. The logistics is super fast, and the packaging is intact. The key point is that the quality is very good. After a bright new year's day, the lights are very beautiful and the brightness is very good. My family all like it.
Load More
Related Products